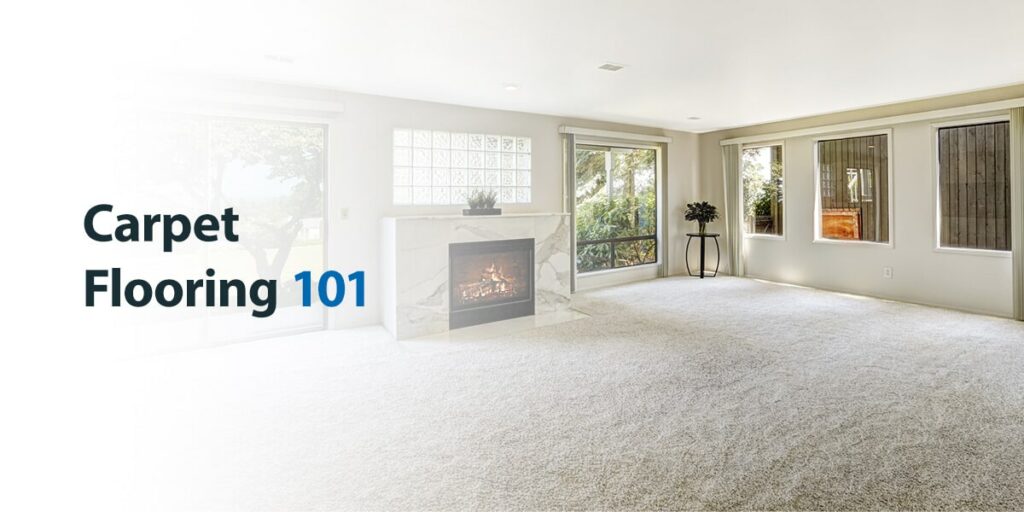 Whether you're ready to install new flooring or just looking for carpet help, our carpet flooring 101 guide has all the information you need to start your re-flooring process. Carpet is the perfect flooring for bedrooms, living rooms, hallways and more. With its soft fibers and wide range of colors and patterns, it's easy to find a carpet that complements your home without blowing your budget.
Learn more about carpet care, styles and installation with our article below.
Carpet is a soft flooring material famous for its soothing and comfortable feel. Carpets are made of woven fibers, which can be incorporated into a virtually unlimited variety of patterns, colors and styles.
The plush fibers of carpet allow it to absorb sound, provide warmth, cushion feet and help you grip when walking. Its comfortable feel and wide range of options make it ideal for gathering spaces, bedrooms and lounge areas.
If you want comfortable, affordable flooring, carpet can be a great addition to any room.
What Are Carpets Made of?
Carpet is made of wool, polyester, nylon or olefin fibers, woven together to create a soft floor. Different fiber cuts affect the look, durability and texture of your carpet. Some styles, like cut and loop, allow your carpet to feature geometric patterns for added visual interest. Ultimately, the fiber and density of the threads you choose will depend on your budget, needs and desired look.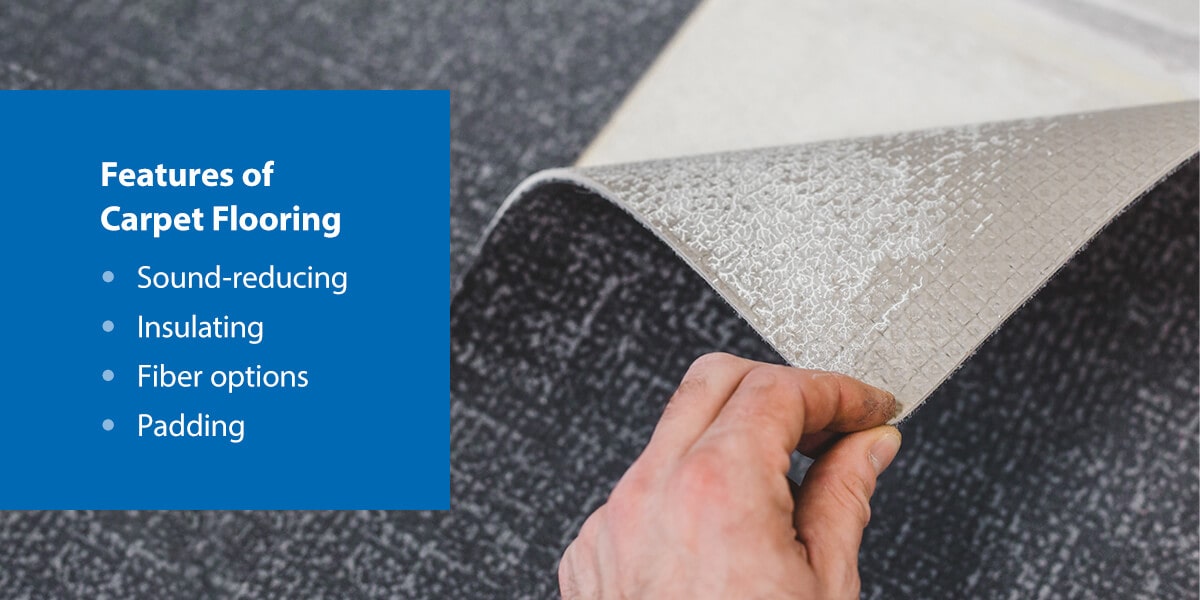 Features of Carpet Flooring
Carpet is an affordable, attractive flooring option for any home. While it should be kept out of rooms that experience moisture, it has several features that improve other rooms:
Sound-reducing: Carpet fibers help to absorb sound. Unlike wood or vinyl, carpet absorbs sound instead of causing it to bounce back around your house. This helps make your home a quieter, cozier space.
Insulating: The fibers that absorb sound also help to insulate your home, making it more comfortable. Carpet helps keep your home's air inside, maintaining the indoor temperature without making your heating and cooling system work harder to keep a constant temperature.
Fiber options: Different fiber options allow you to pick the carpet that best suits your needs.
Padding: You can choose your padding, making your carpet even more insulated and comfortable to walk on.
Pros and Cons of Carpet Flooring
Before getting new flooring, you should consider all of your options carefully. You want to ensure your new flooring works well in your home and easily stands up to regular wear. To help you decide if it's right for you, let's look at some carpet flooring pros and cons.
Pros
There are many benefits to installing carpet flooring in your home:
Insulation: Insulation from plush carpet fibers help keep warmth inside your home during the winter. With better padding underneath the carpet, you can have even better insulation.
Noise-control: The noise-reduction of carpet fibers helps make your home a quiet and relaxing environment, even if you have kids playing somewhere else in the house.
Versatile: Carpet comes in many patterns, colors, designs and textures. You can customize your carpet to fit your home design and your desired level of comfort with ease.
Safe: Because carpet is soft, it's safer to walk and play on than hardwood or vinyl. Its fibers help your feet grip the floor and make trips or falls much less severe than landing on a hard surface.
Affordable: Carpet is a highly affordable flooring material. It's easy to install and doesn't cost as much as hardwood.
Cons
There are a few downsides to consider with carpet, including:
Allergens: Carpet fibers attract and trap dirt, dust and other allergens. Vacuuming regularly will help keep your home clear of irritating allergens, but even regular vacuuming won't stop the carpet from absorbing particles. If you kick up the allergens in carpet fibers, they can re-circulate into the air. Prevent this with regular vacuuming and deep cleaning.
Fading: Fading is one of the common problems experienced by carpet owners. Harsh cleaning and long-term exposure to direct sunlight can lead to fading and discoloration. Read the carpet manufacturer guide carefully to avoid damaging your carpet's color. You can get curtains to help protect your carpet from sun damage through your windows and keep it looking new for years.
Stains and moisture: Absorbent carpet fibers will soak up water and stains quickly, leaving you with potential mold growth and permanent discoloration. Avoid having carpet in moisture-heavy areas and try to clean up spills immediately to avoid carpet damage.
How Long Does Carpet Last?
Carpet will typically last you around eight to 10 years. With regular care and maintenance, you can extend the life of your carpet and keep it in good condition for a long time. The better quality your carpet, the better it'll withstand regular wear and tear before needing replacement.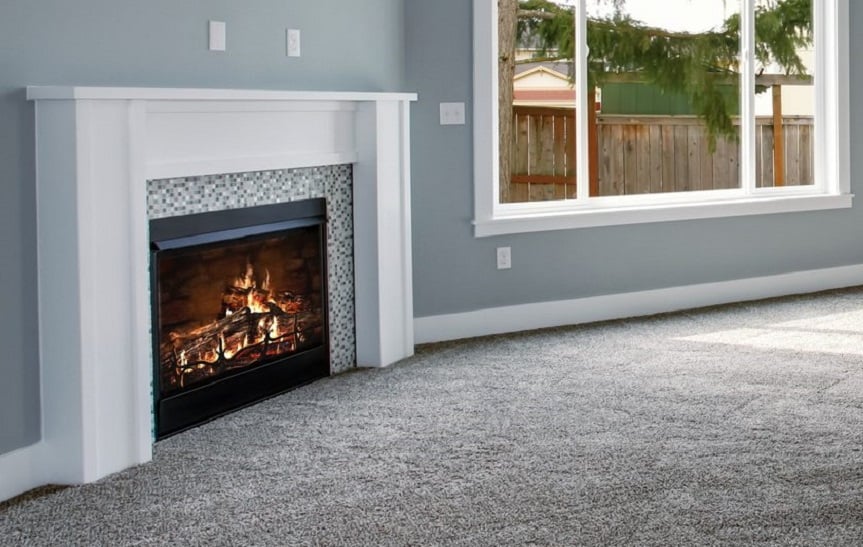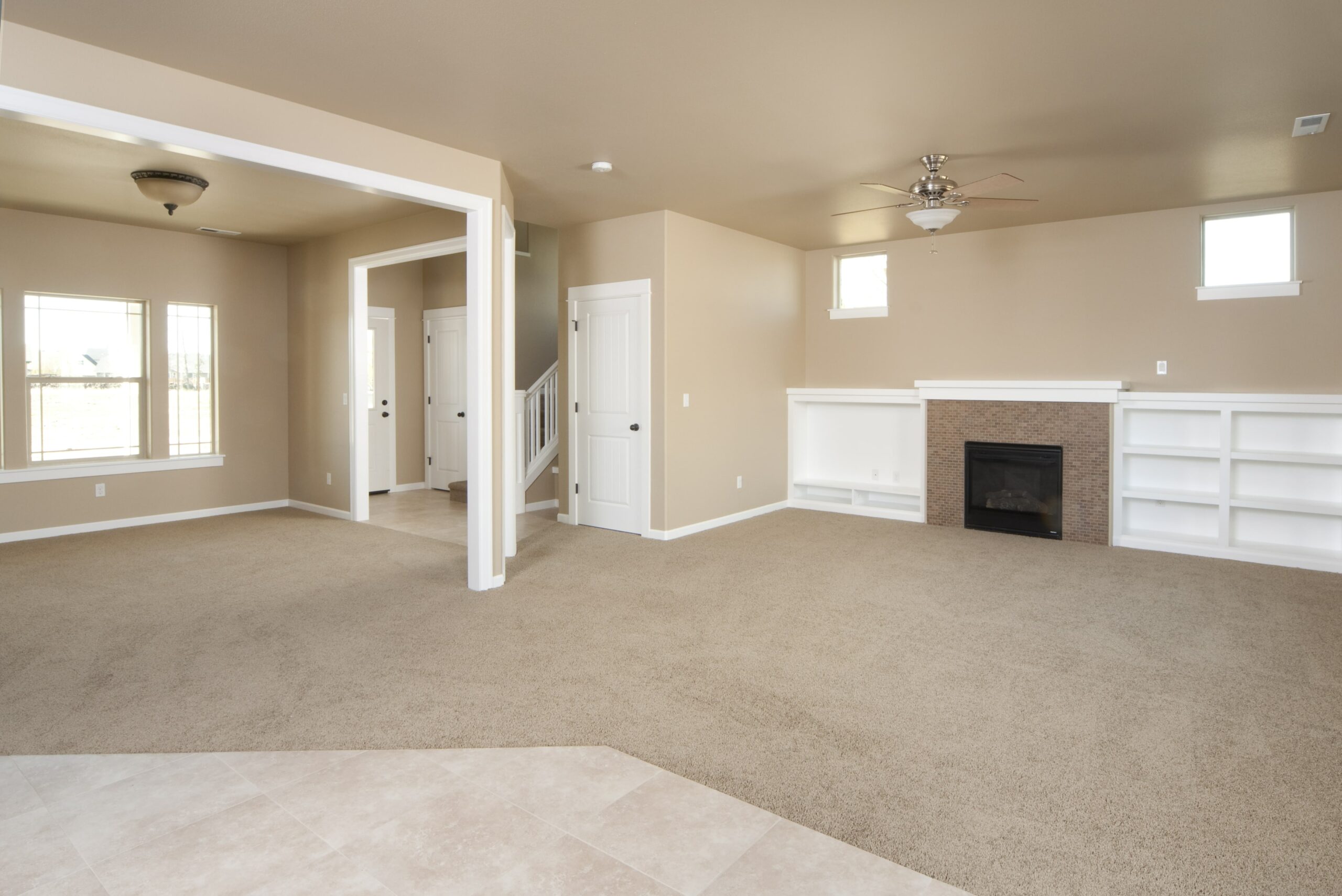 Types of Carpet Flooring
At 50 Floor, we offer several types of carpet flooring. The different fibers and constructions allow you to select the carpet you find the most comfortable, stylish and affordable. Our carpet types include:
Cut pile: For cut pile carpets, fabric loops are attached to the backing material and then cut. This makes the carpet look and feel softer and plusher than an uncut carpet.
Loop pile: Loop pile carpets feature the same loops as cut pile but aren't cut. This makes the carpet highly durable, although it isn't always as soft as cut pile carpet.
Patterned loop: This carpet style uses different-sized loops to create patterns on the carpet. None of the loops are cut — it's the different loop heights that create exciting patterns.
Cut and loop: Cut and loop carpets use a combination of cuts and loops to create geometric patterns on the carpet without using different colors.
Styles of Carpet Flooring
Our available carpet styles give you complete control over the level of comfort, durability and sleekness you want in a carpet. We carry several high-quality carpet styles that will provide you with comfort for many years.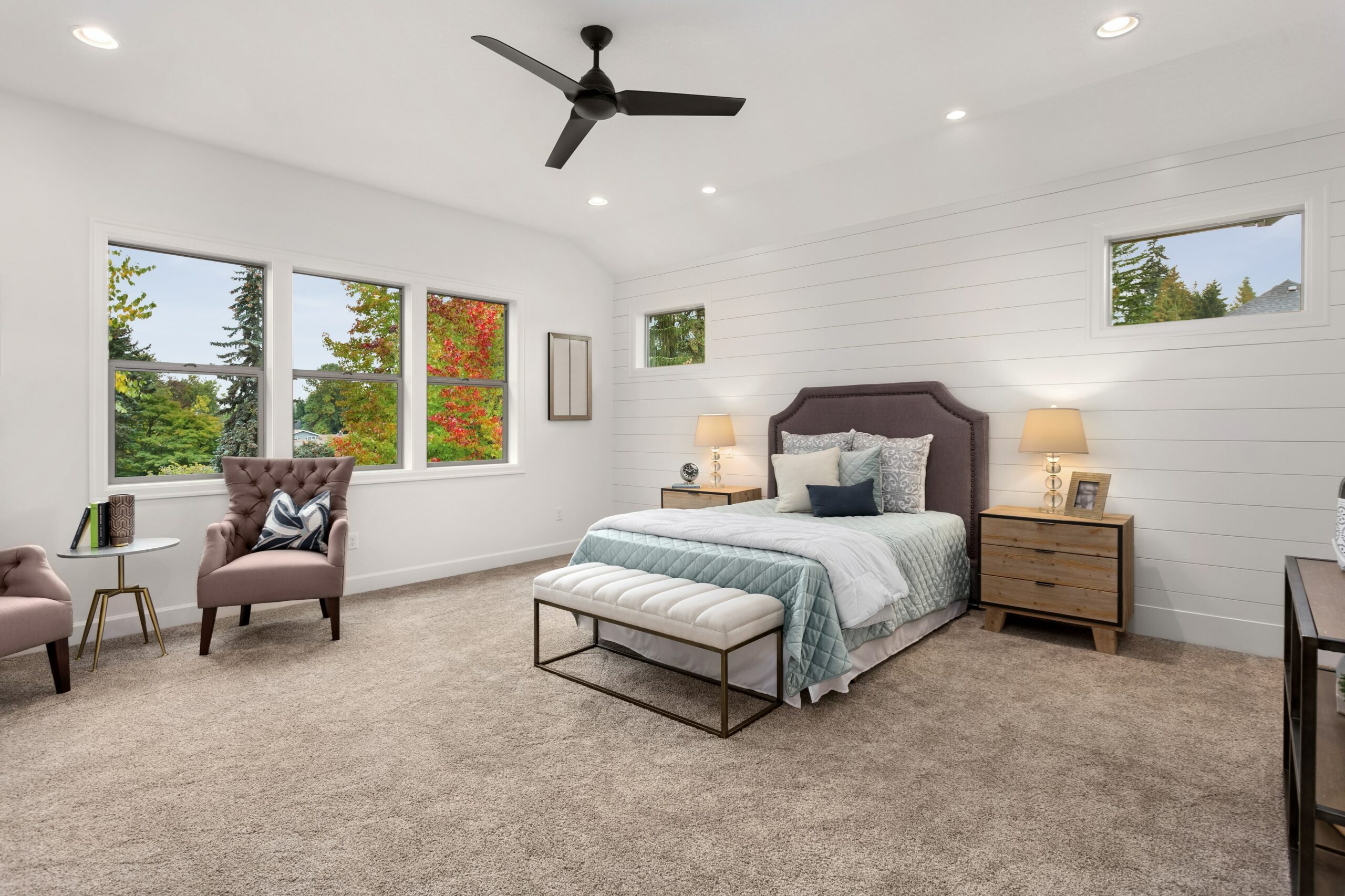 How to Choose Carpet Flooring
Installing new flooring is a big task — you want to weigh all the costs and benefits, along with designs, to ensure you get the right material for your home. You'll need your flooring to hold up well — as a home investment — you should get the most use out of your budget for a comfortable, stylish home.
Choosing the right carpet will depend on several factors, including:
Room size: Your room size might affect the color and style of carpet you get. The bigger the room, the more expensive carpeting will be. Light colors are often the best carpet choice for smaller rooms, as helping the room appear more open. Think about how your carpet will influence the way your space is perceived.
Room: The room you want to put your flooring in will influence the material you get. Carpets are perfect for lounge spaces and bedrooms — you want to relax with a soft, comfortable floor. You should avoid carpeting areas that involve heavy moisture and food use, like bathrooms, laundry rooms and kitchens. The water can collect in the fibers, leading to mold or a musty-smelling carpet. Keep the room you're re-flooring in mind so you get the best floor for the space.
Material: Consider the material of your carpet before buying. Do you prefer wool or nylon carpets for your house? Each has its advantages — some people prefer using natural fibers like wool in their homes and others prefer easy-to-clean materials like nylon. Talk to your flooring company about the best material for your home.
Design: Pick a carpet style and color that complements your home. Choose carpet colors and textures that work with your home's existing design — play with tones, neutrals and patterns to find a carpet that fits easily into your aesthetic.
Budget: Budget is an essential factor when remodeling your floors. However, note that spending more upfront will give you a higher-quality carpet that might last longer than a less expensive one. Talk to your flooring company about carpet flooring costs to find good options for your budget and tastes.
How to Install Carpet Flooring
Installing carpet flooring yourself can lead to many issues down the road. Without quality and professional installation, you could end up with uneven, poorly laid carpet. Incorrect installation can shorten the life span of your flooring, so always be sure to get flooring professionally installed to ensure quality, lasting results.
At 50 Floor, we handle the installation for you, so you don't have to worry about stressful, incorrect carpet installation. We work with you at every step — exploring samples, picking your carpet and installing your flooring — for an easy, professional installation.
On the day of your installation, our team will arrive at your home. We'll review and confirm payment, floor material and job parameters with you before beginning the installation. Then, we'll give you a timeline so you know when the job should be finished.
Our team will complete the installation, moving some of your large furniture pieces for you and ensuring everything gets installed correctly. After job completion, we'll review a few closing details and provide you with a care guide for your new flooring material.
Carpet Flooring Care
Your carpet needs specific care based on its warranty — you'll receive care information after installation. Carpet, like all flooring, needs regular maintenance to keep it in top condition for as long as possible. The more you neglect your carpet, the more wear and tear it'll show. Every carpet will need replacing eventually, but you can extend the life of your carpet with gentle cleaning and upkeep.
To clean your carpet, simply vacuum regularly. Vacuuming removes crumbs, hair, dirt, debris and allergens from your carpet, making it look brighter and fresher. Additionally, wipe up spills and stains as soon as possible. The longer they sit on your carpet, the more they'll sink into its fibers, making them harder to get out. Spot cleaning is a great way to prevent wear and tear without needing to deep clean your entire carpet.
Consult your 50 Floor care guide for more tips and information on carpet care.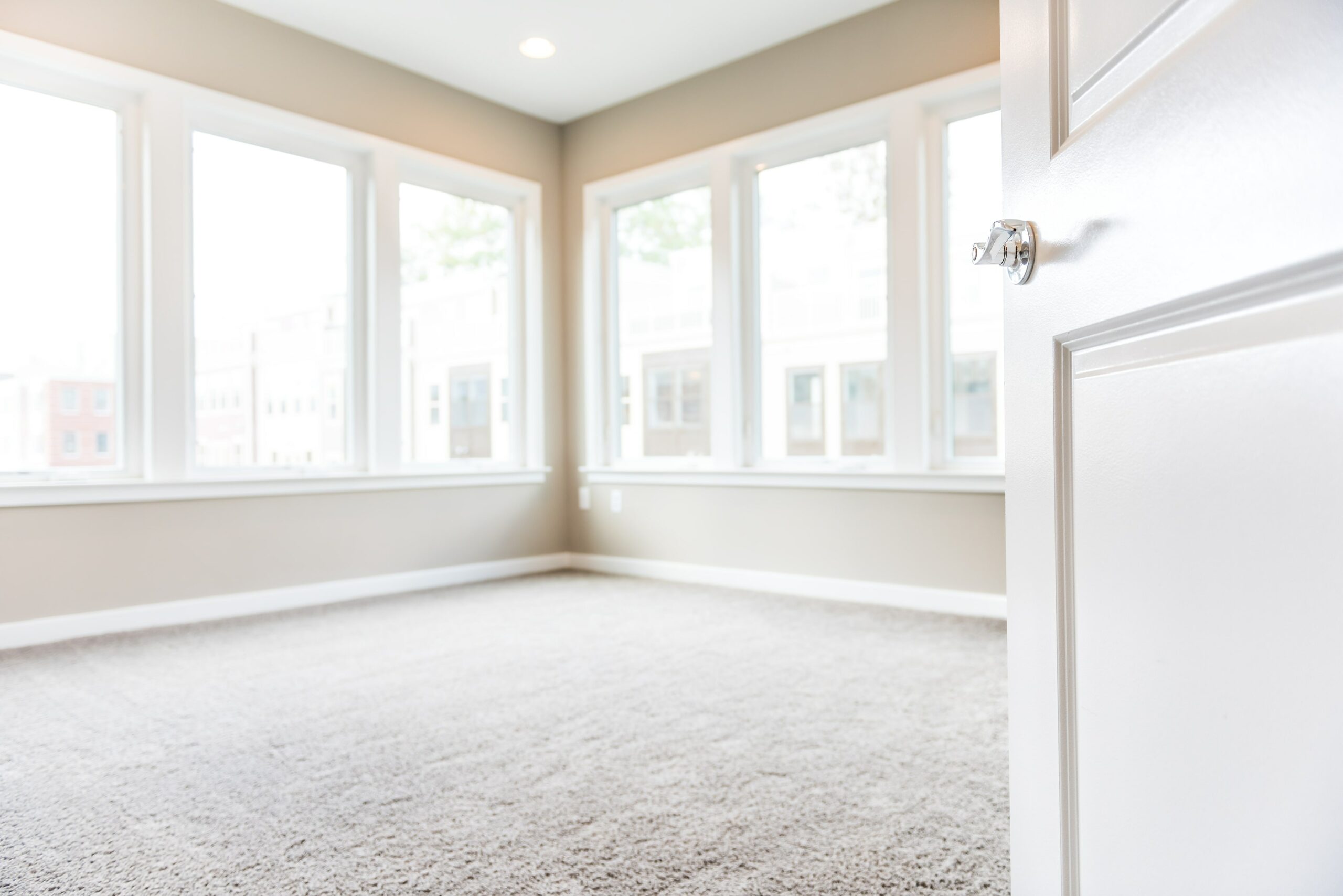 Shop 50 Floor for Carpet Flooring and Installation
Picking and installing carpets can be an overwhelming task for any homeowner. You want to be sure you've chosen a quality, stylish carpet you'll love for years.
At 50 Floor, we carry a variety of carpet types and styles that are sure to bring out the best in your home. Trust our expert installers to provide you with well-made, durable carpet flooring you'll enjoy for a long time. We'll even bring samples to your home so you can see what the carpet would look like in your own space.
Get started on your new carpet flooring, and schedule an appointment with us today!