Hardwood Flooring
Choose Solid Hardwood Flooring
Your home is a unique expression of your style, self, lifestyle and the vision you have for spending time in your space. When you invest in a house, you want it to be beautiful, functional, convenient and comfortable in a way you can feel. As the aesthetic base of every room that offsets the walls, accents the furniture and makes or breaks the mood for the setting, your flooring is an essential part of your home design, functionality and longevity.
Looking for an attractive, high-quality flooring option for your kitchen, living room, dining room and more? When it comes to a material that's affordable, attractive and long-lasting, many homeowners choose hardwood floors. 50 Floor's stunning natural wood flooring is a fantastic option for giving your home a classic look that will last for years – and you'll love all the choices in our beautiful selection.
Featuring hardwood by:

Schedule An Appointment
Schedule a Free In-Home Estimate
What Is Hardwood Flooring?
As opposed to laminate flooring or artificial materials made to look as natural as possible, our solid hardwood flooring is all-natural and made entirely of timber from traditional and exotic materials like red oak, maple, walnut, cherry, bamboo and more. In addition to the variety of materials, natural wood flooring comes in a plethora of finishes, colors, sizes and styles.
Elegant, durable and stylish, new hardwood floors are an excellent choice for your home. Not only are they affordable and cost-effective — adding to your home's overall value — but they are also harvested from a sustainable resource, healthy for your home's air quality and your family's well-being and easy to maintain with regular cleaning. Your solid hardwood floors are a lifetime product — once you have installed them, they will be with you for the long-haul. They also fit perfectly into any home design, from contemporary to rustic to traditional.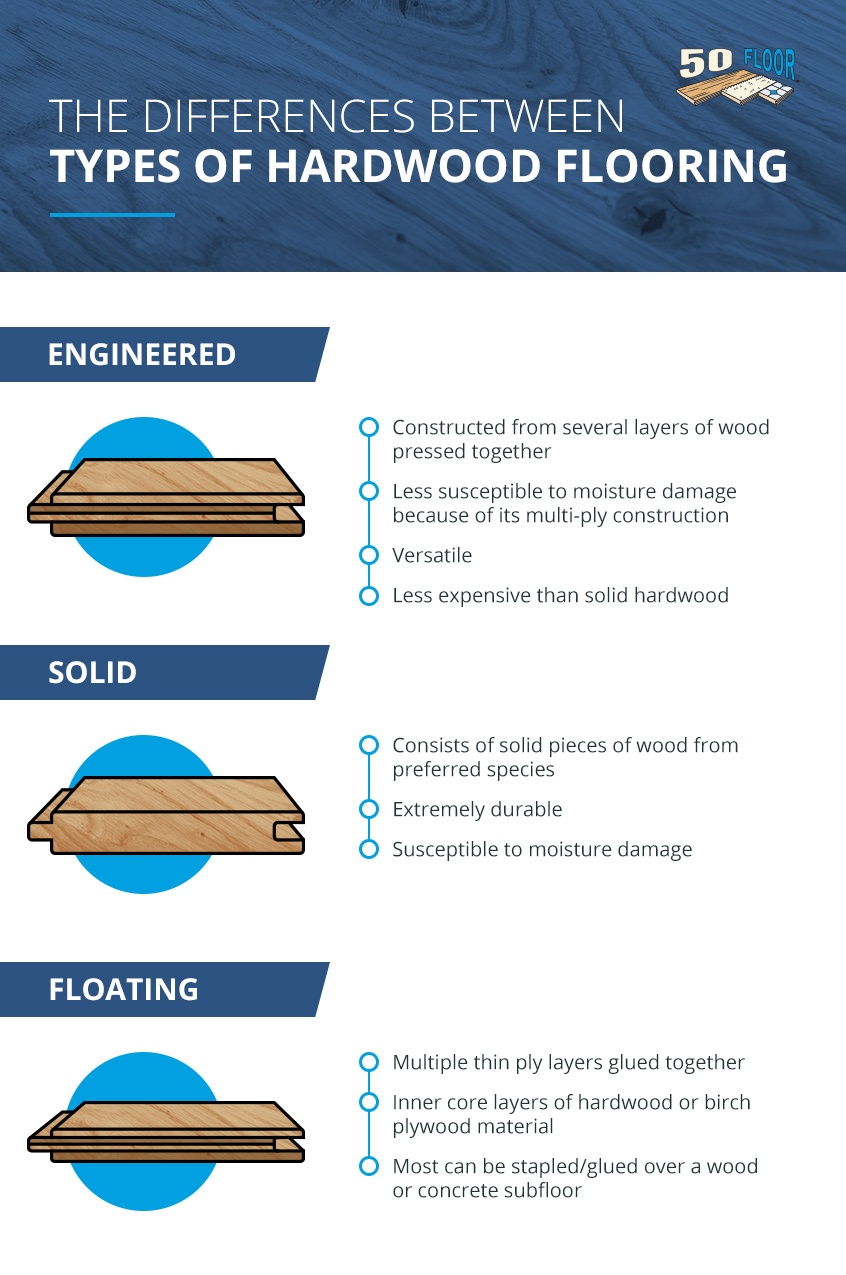 Types of Solid Hardwood Floors
Wondering what your options are for beautiful, prefinished hardwood flooring to revitalize your home? From size and style to color and finish, you can choose from a wide, stunning selection of light, medium and dark solid wood flooring in both exotic and traditional materials. Here are just a few of the stylish options you can select from:
White Oak
Red Oak
Maple
Walnut
Cherry
Birch
Brazilian Cherry
Bamboo
And more!
In addition to your species and finish, you can choose the width and cut of your wood for a traditional, rustic look, a modern, exotic aesthetic and everything in between — hardwood flooring is extremely versatile.
How to Find Quality Hardwood Flooring and Have It Installed
So you're sold on solid hardwood flooring, but where can you find it and who should you choose for hardwood floor installation? When it comes to shopping for new floors, 50 Floor brings you convenience, expert knowledge and a huge variety of attractive options — all in the comfort of your own home.
Our trained professionals will come to you with an enormous selection of flooring samples and a store of expert knowledge to help you consider your flooring options in the setting they'll be installed and choose the hardwood floor that fits your home. When you've made your final choice, we'll expertly and carefully handle all steps of the installation – from moving your furniture, removing your previous floors, installing your beautiful new flooring and replacing your furniture – we handle everything quickly and conveniently – usually in one day.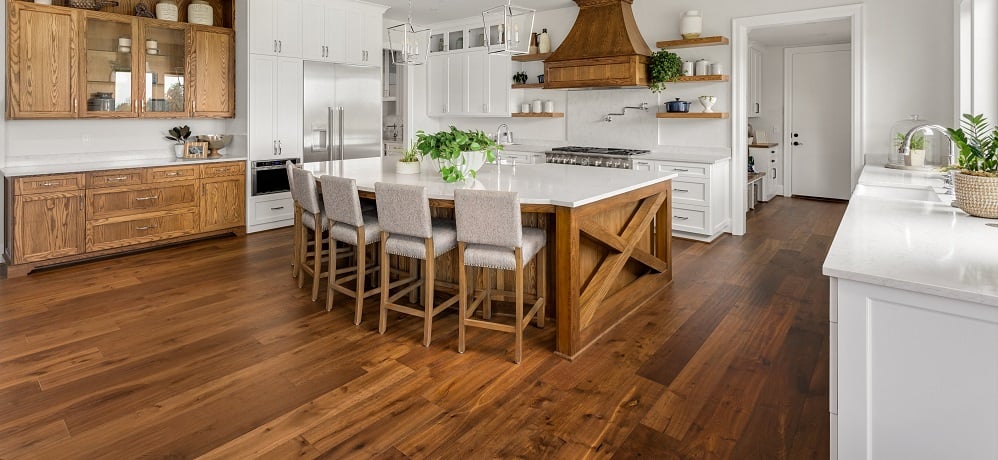 Make an Appointment for Hardwood Flooring Installation With 50 Floor
Ready to refinish and revitalize your home to enjoy the look and feel of authentic hardwood flooring? When it comes to hardwood floor companies, there's no better option than 50 Floor. Offering convenience, competitive pricing, excellent quality and an incredible variety of options, we'll handle your hardwood floor installation with expertise. Make an appointment for your free in-home consultation to see flooring samples and kick-start installing hardwood in your home.
Schedule An Appointment
Floors from 50 floor
See All Flooring Types
Reviews
Hear From Our HAPPY CUSTOMERS

Trish Conrad DeGrace
From start to finish this company was professional and took a genuine interest in my satisfaction. My rep Tommy was incredibly helpful Been guiding our flooring choices and stayed on top of every step leaving me with the peace of mind of knowing I was in good hands. I would recommend these guys to anyone looking for new flooring. They will certainly be our choice in the future.

George Stavros
I had some issues from the original install and they came back asap to fix the issue. Very professional. Thank you 50 Floor.

Jonathan Isaacs
Excellent customer service. Excellent attention to detail. Fantastic customer oriented organization that has been amazing to deal with. Would most definitely recommend using 50 Floor for any and all flooring projects. Very happy with the results and the way they took care of me.

Donna Mitchell
Great fast response to a small residential installation for our rental property.

carlotta l. Johnson
Our Contractor Derian here @ Houston's 50 Floors is over and beyond an outstanding person. He, takes his job seriously but most of all he's there to work for you and he hears what you're looking for and he's already has all material on hand. Trust me he's the best at what he does when it comes to flooring. So if you'd want someone who knows all about flooring and is there to work for you and is kind hearted he's your guy most of all over everything he's honest.

Patti Coultas
High quality product, good customer service, professional installation. I had no issues during the entire process.

Pat Bonello
50 floors was fantastic from start to finish. The installers were fantastic they did a wonderful job and cleaned up afterward they were very friendly professional. They did a really good job
Schedule an Appointment Now!