Hardwood Flooring
Choose Solid Hardwood Flooring
Your home is a unique expression of your style, self, lifestyle and the vision you have for spending time in your space. When you invest in a house, you want it to be beautiful, functional, convenient and comfortable in a way you can feel. As the aesthetic base of every room that offsets the walls, accents the furniture and makes or breaks the mood for the setting, your flooring is an essential part of your home design, functionality and longevity.
Looking for an attractive, high-quality flooring option for your kitchen, living room, dining room and more? When it comes to a material that's affordable, attractive and long-lasting, many homeowners choose hardwood floors. 50 Floor's stunning natural wood flooring is a fantastic option for giving your home a classic look that will last for years – and you'll love all the choices in our beautiful selection.
Featuring hardwood by:

Schedule An Appointment
Schedule a Free In-Home Estimate
What Is Hardwood Flooring?
As opposed to laminate flooring or artificial materials made to look as natural as possible, our solid hardwood flooring is all-natural and made entirely of timber from traditional and exotic materials like red oak, maple, walnut, cherry, bamboo and more. In addition to the variety of materials, natural wood flooring comes in a plethora of finishes, colors, sizes and styles.
Elegant, durable and stylish, new hardwood floors are an excellent choice for your home. Not only are they affordable and cost-effective — adding to your home's overall value — but they are also harvested from a sustainable resource, healthy for your home's air quality and your family's well-being and easy to maintain with regular cleaning. Your solid hardwood floors are a lifetime product — once you have installed them, they will be with you for the long-haul. They also fit perfectly into any home design, from contemporary to rustic to traditional.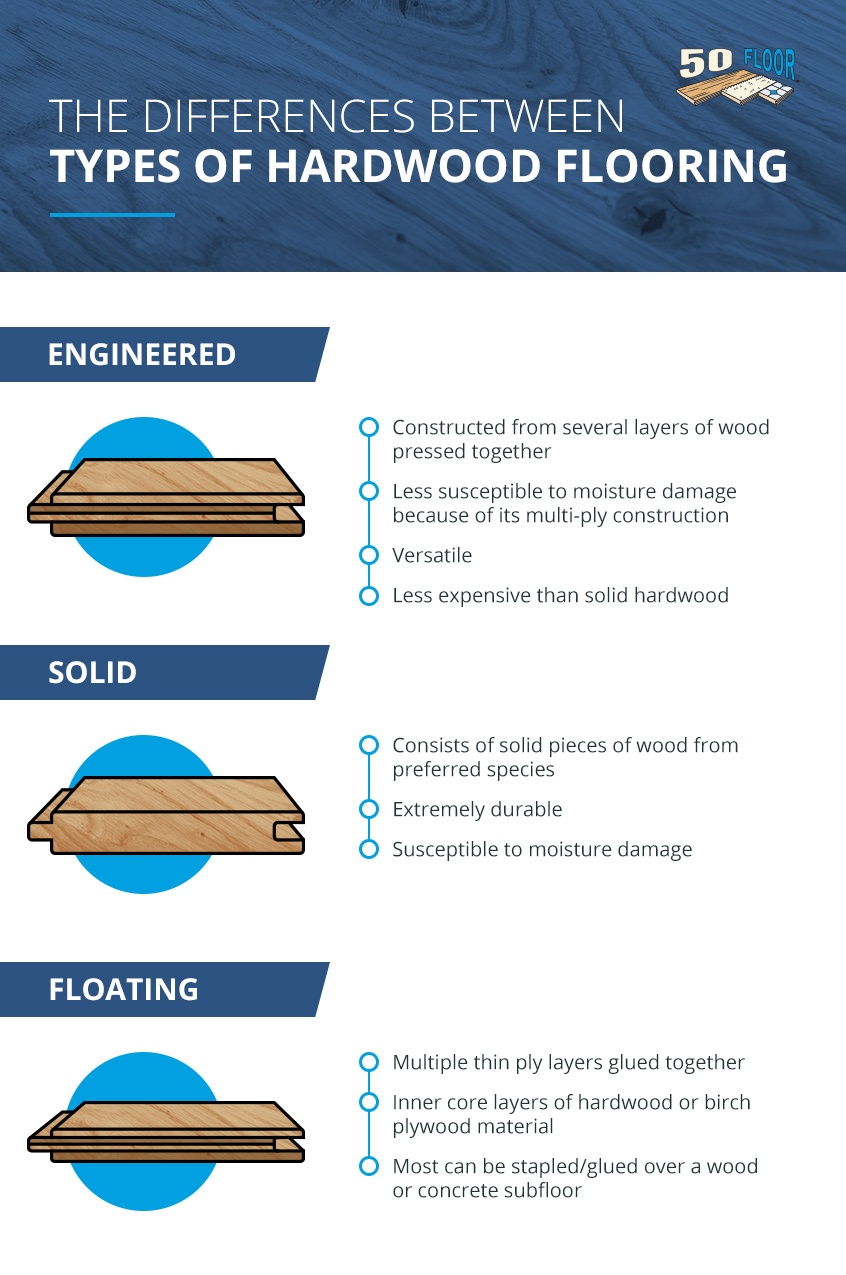 Types of Solid Hardwood Floors
Wondering what your options are for beautiful, prefinished hardwood flooring to revitalize your home? From size and style to color and finish, you can choose from a wide, stunning selection of light, medium and dark solid wood flooring in both exotic and traditional materials. Here are just a few of the stylish options you can select from:
White Oak
Red Oak
Maple
Walnut
Cherry
Birch
Brazilian Cherry
Bamboo
And more!
In addition to your species and finish, you can choose the width and cut of your wood for a traditional, rustic look, a modern, exotic aesthetic and everything in between — hardwood flooring is extremely versatile.
How to Find Quality Hardwood Flooring and Have It Installed
So you're sold on solid hardwood flooring, but where can you find it and who should you choose for hardwood floor installation? When it comes to shopping for new floors, 50 Floor brings you convenience, expert knowledge and a huge variety of attractive options — all in the comfort of your own home.
Our trained professionals will come to you with an enormous selection of flooring samples and a store of expert knowledge to help you consider your flooring options in the setting they'll be installed and choose the hardwood floor that fits your home. When you've made your final choice, we'll expertly and carefully handle all steps of the installation – from moving your furniture, removing your previous floors, installing your beautiful new flooring and replacing your furniture – we handle everything quickly and conveniently – usually in one day.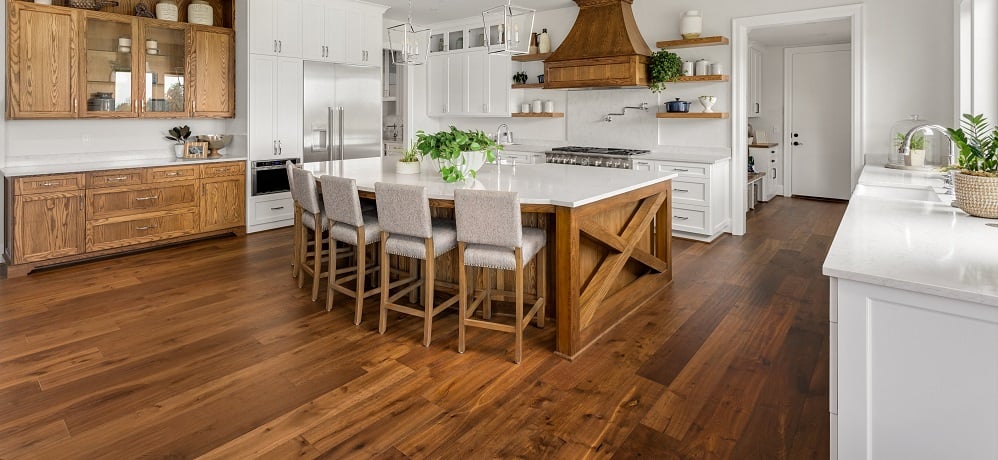 Make an Appointment for Hardwood Flooring Installation With 50 Floor
Ready to refinish and revitalize your home to enjoy the look and feel of authentic hardwood flooring? When it comes to hardwood floor companies, there's no better option than 50 Floor. Offering convenience, competitive pricing, excellent quality and an incredible variety of options, we'll handle your hardwood floor installation with expertise. Make an appointment for your free in-home consultation to see flooring samples and kick-start installing hardwood in your home.
Schedule An Appointment
Floors from 50 floor
See All Flooring Types
Reviews
Hear From Our HAPPY CUSTOMERS

L Levy
Had a great product to offer, the floor was installed in one day with the old floor, including tile removal, professional, priced right for the product. Completely satisfied.

Veronica Davis
They where very professional and they did a beautiful job! I would definitely refer 50 floors to family and friends! Thank you!

Tillman Keller
50 Floor did a great job. Had three average sized rooms done and they knocked it out in about 2 hours. Took about 2 weeks to get product in and installed (understandable). Sales rep, although old-school approach and little pushy, very knowledgable. Id reccomend you push back on price as you can get a quote from anyone. I took off about $1000 doing this. Overall great service, with a good deal once negotiated, and would use again!

Valerie Foster
Ryan is an awesome salesman, very honest and ensures your needs are met in a timely fashion. The 50Floor team, Orlando, did a wonderful job! My floor looks amazing!

Emily Ash
50 Floor communicated with us well through the whole process and we're very professional. Everything went as planned and they did a great job installing our floors. We love them!

Linda Cain
Eric our salesman was wonderful explained everything completely. No surprises. The crew came and were on top the job from start to finish. Carpet looks wonderful. Would definitely use 50Floor again. Great experience. Thank you

Robbie GrahamExley
The floors are beautiful. No errors. Just some sawdust in the yard.
Schedule an Appointment Now!