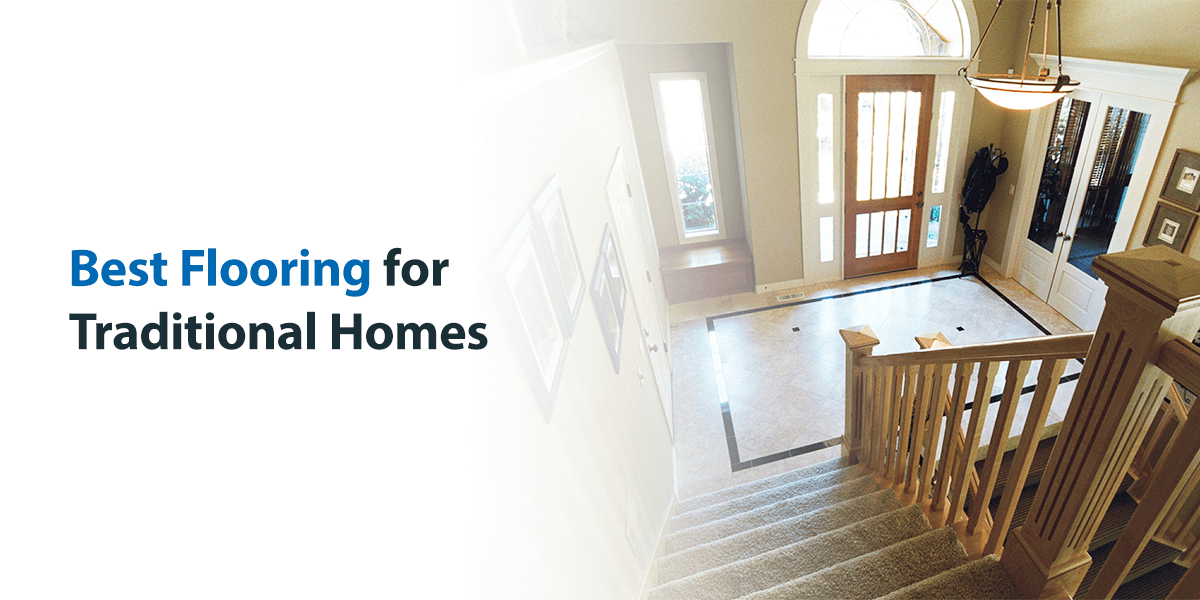 As the most popular interior design style among homeowners, the traditional home style combines classic and modern elements for a timeless look. From modest details to simple rooflines to symmetrically placed windows, traditional home features add a charming touch to your space.
If you're seeking ways to incorporate the traditional interior design style into your home, flooring is an excellent starting point. Read on to explore the defining features of a traditional-style house and some of the best types of flooring to reflect this beloved style.
What Is a Traditional-Style House?
The traditional home style developed in 18th- and 19th-century France and England. Not much has changed since then, as European decor continues to influence design trends worldwide.
Traditional interior decor usually incorporates one or two colorful pieces — like a rug, painting or flowers — while a neutral and consistent color palette serves as the foundation. It's also common to find intricate, dark-wooded chairs and tables and textures like linen, silk and velvet in upholstery and curtains. Traditional design is generally symmetrical and structured, with intentional layering and ornate patterns for added depth and contrast.
Traditional homes built in the 20th century often combine features from one or multiple historical architectural styles, mixing various elements from farmhouse, neoclassical and colonial styles. Newer and modern traditional homes usually integrate contemporary interpretations of those classic elements.
Traditional-style houses can be described as simple, welcoming and elegant. Their classic and modest appearance can blend in seamlessly nearly anywhere, from cities to rural areas to suburban neighborhoods. Regardless of the location, traditional-style homes virtually always appear to be in the right place.
Take Our Quiz to Find Your Flooring Style
Features to Expect in a Traditional-Style House
Below are some common characteristics you'll find with traditional-style homes.
1. Basic and Flexible Floor Plan
Often designed to accommodate families, traditional homes generally have two stories with a defined dining room and living room on the first floor, up to four bedrooms on the second floor and a basement below the structure. Some traditional homes have an entryway or foyer and an attached garage.
Most contemporary traditional homes feature separate laundry rooms, but older ones typically have washers and dryers in the basement. Open floor plans are becoming more common, but dining and living rooms are well-defined despite the lack of walls.
2. Warm and Welcoming Exterior
Traditional homes have warm and inviting exteriors, featuring a unique mix of architectural styles for a classical, serene appearance. They have simple, modest rooflines, usually with at least one front-facing gable.
They can feature any style of windows, which are generally placed symmetrically around the house. Some traditional-style homes feature big covered porches supported by columns, but many don't include a functional front porch.
3. Traditional Materials
Some popular materials for traditional home exteriors include brick, stone and stucco. Most older traditional-style houses are built entirely from brick. However, newer ones often use brick exclusively for the exterior and framing, building the remainder of the house with contemporary materials. The builder can use any type of siding and color.
4. Classic Color Combos
It's common to find neutral walls in traditional-style homes, but color has its place, as well. Decorative accents like artwork and textiles can bring bright pops of color to a room. Brown, red, green and dark wood help create a warm and relaxed color palette.
5. Various Sizes and Styles
Because there are no specific guidelines regarding the shape and size of traditional homes, they can range from quaint starter homes to expansive mansions with modern amenities. A notable benefit of traditional-style houses is that they're incredibly versatile, fitting in naturally with essentially any location.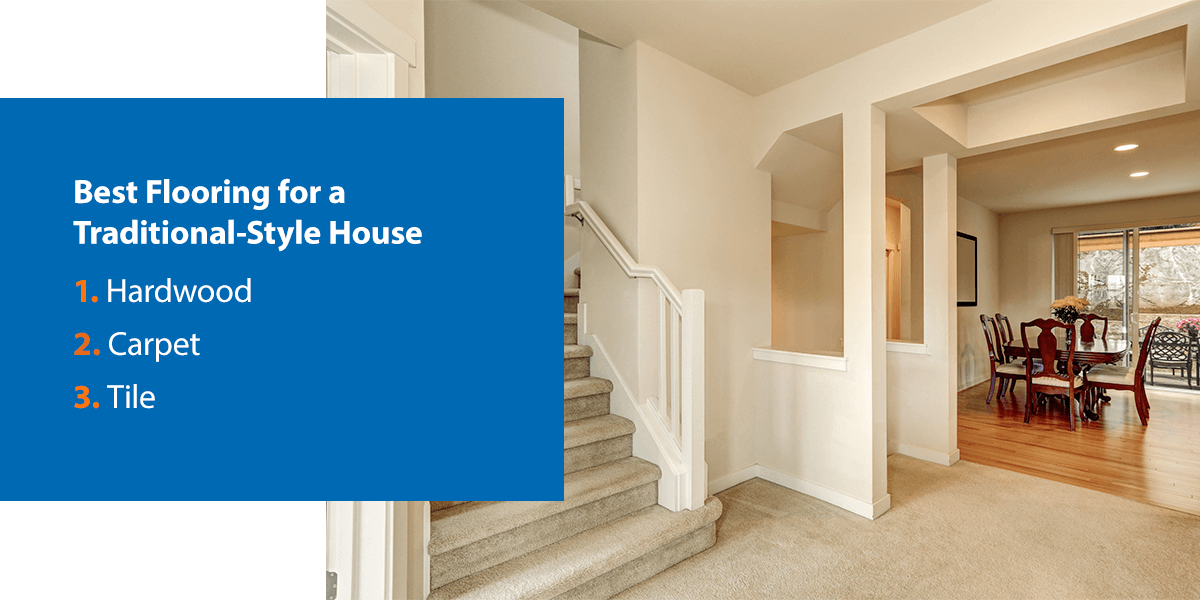 Now that we've explored several of their popular features, let's look at some of the best flooring types for traditional-style homes.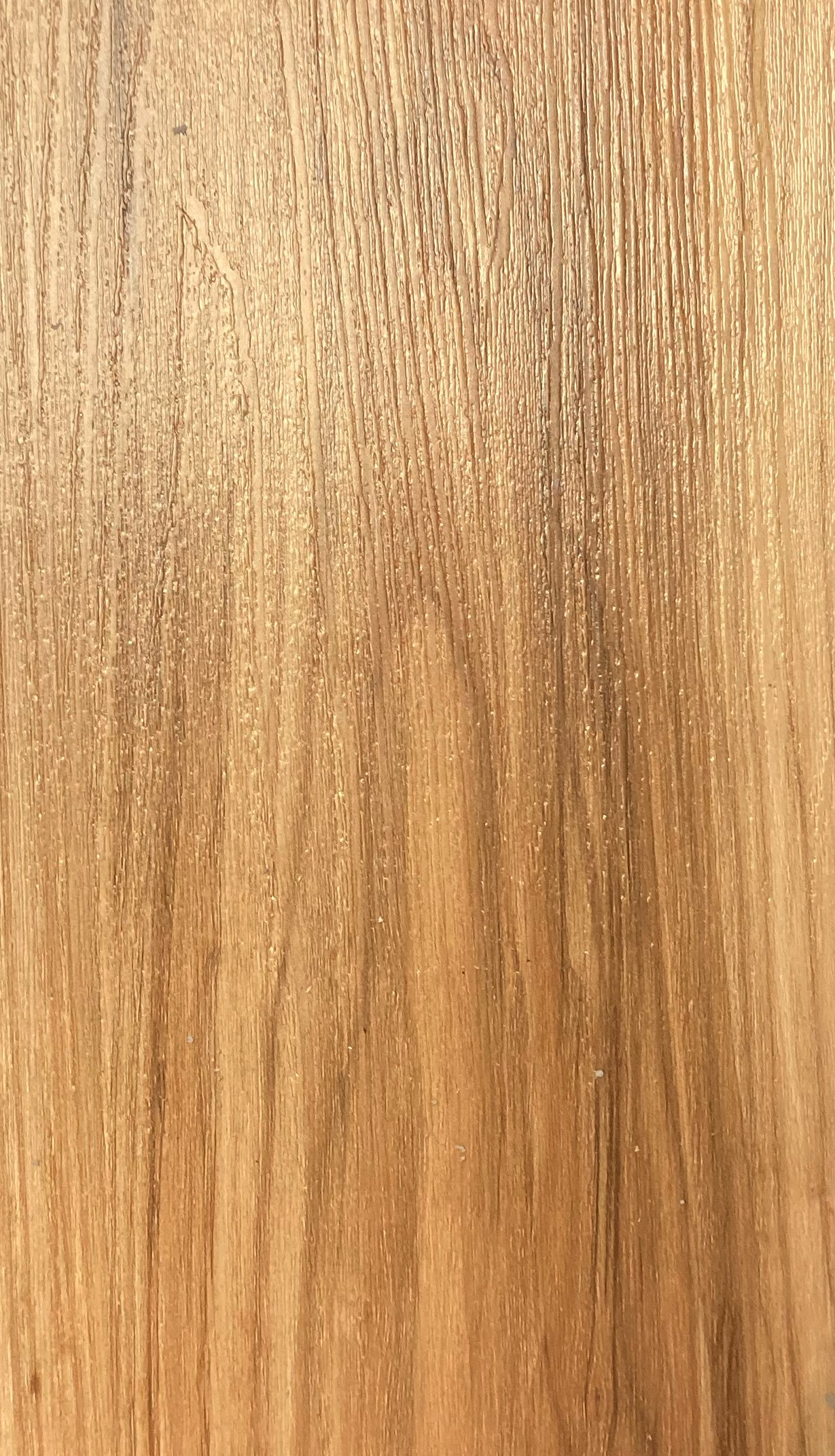 1. Hardwood
Timeless and beautiful, hardwood flooring is a wonderful addition to traditional-style homes. Its natural look, durability and wide range of options make it a highly appealing option for homeowners.
Honey-toned oak wooden flooring is ideal for adding a relaxed, welcoming feel to a room. It can also complement traditional oak features like beams, furnishings and wooden doors. If you'd like to add a bit of modern flair to your traditional home, you can opt for a cooler gray or light-toned finish instead.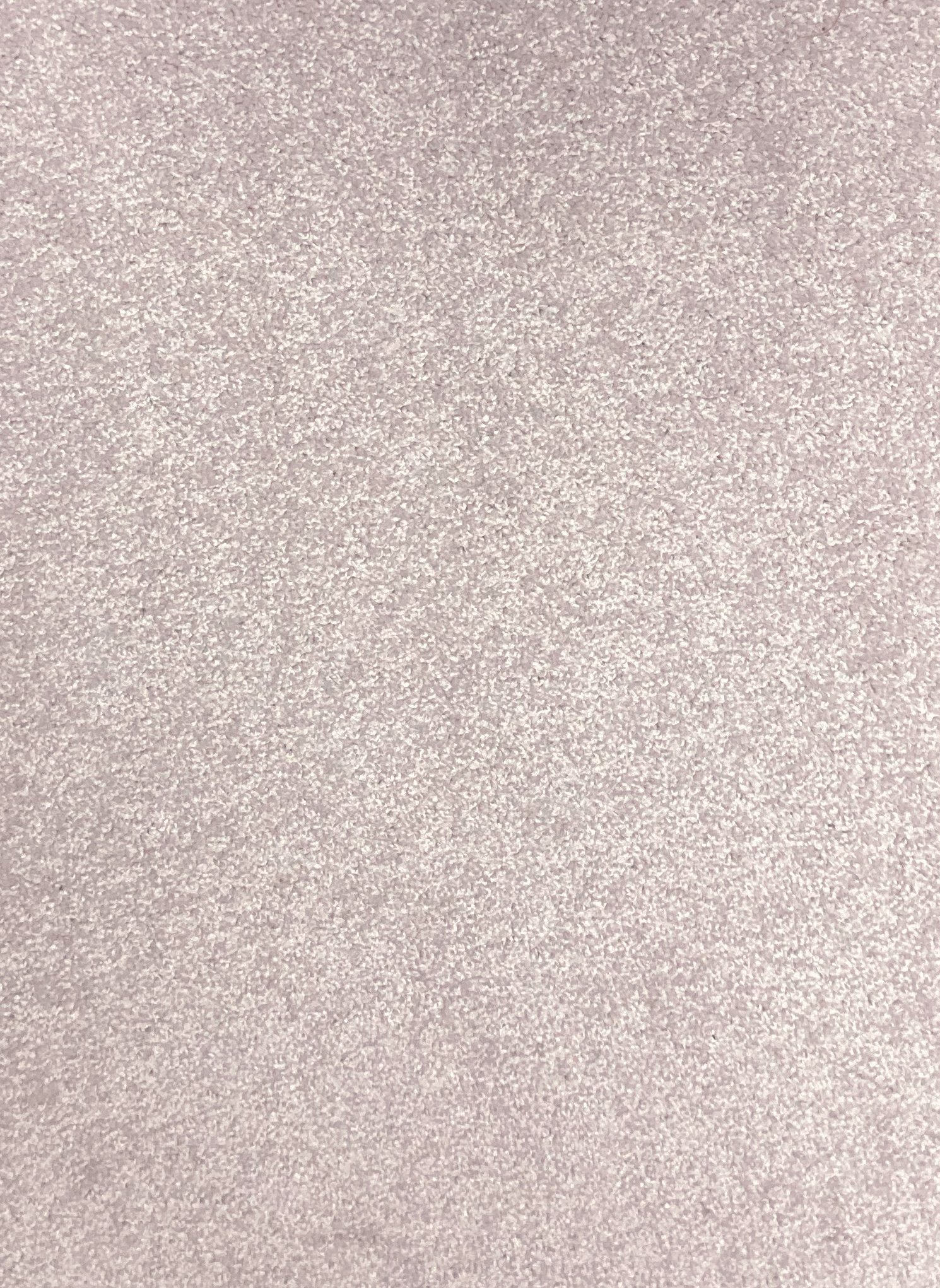 2. Carpet
Arguably the most comfortable option, carpet flooring is another popular choice for traditional-style living rooms and bedrooms.
Lighter-colored carpets can add a lovely neutral touch to your space, but they can be more challenging to keep clean, especially if you have children or pets. Dark-colored carpeting is an elegant choice that's more forgiving of dirt and stains, but it's known to make rooms look smaller. Opting for a middle-ground color can be a great compromise for any room size.
Pattern carpeting can also make a charming addition to traditional interiors. Bold patterns may be excessive for smaller rooms, but they can be a warm and inviting option for larger living rooms. Just be sure to pair pattern carpeting with neutral furnishings and walls so the room doesn't feel overwhelming.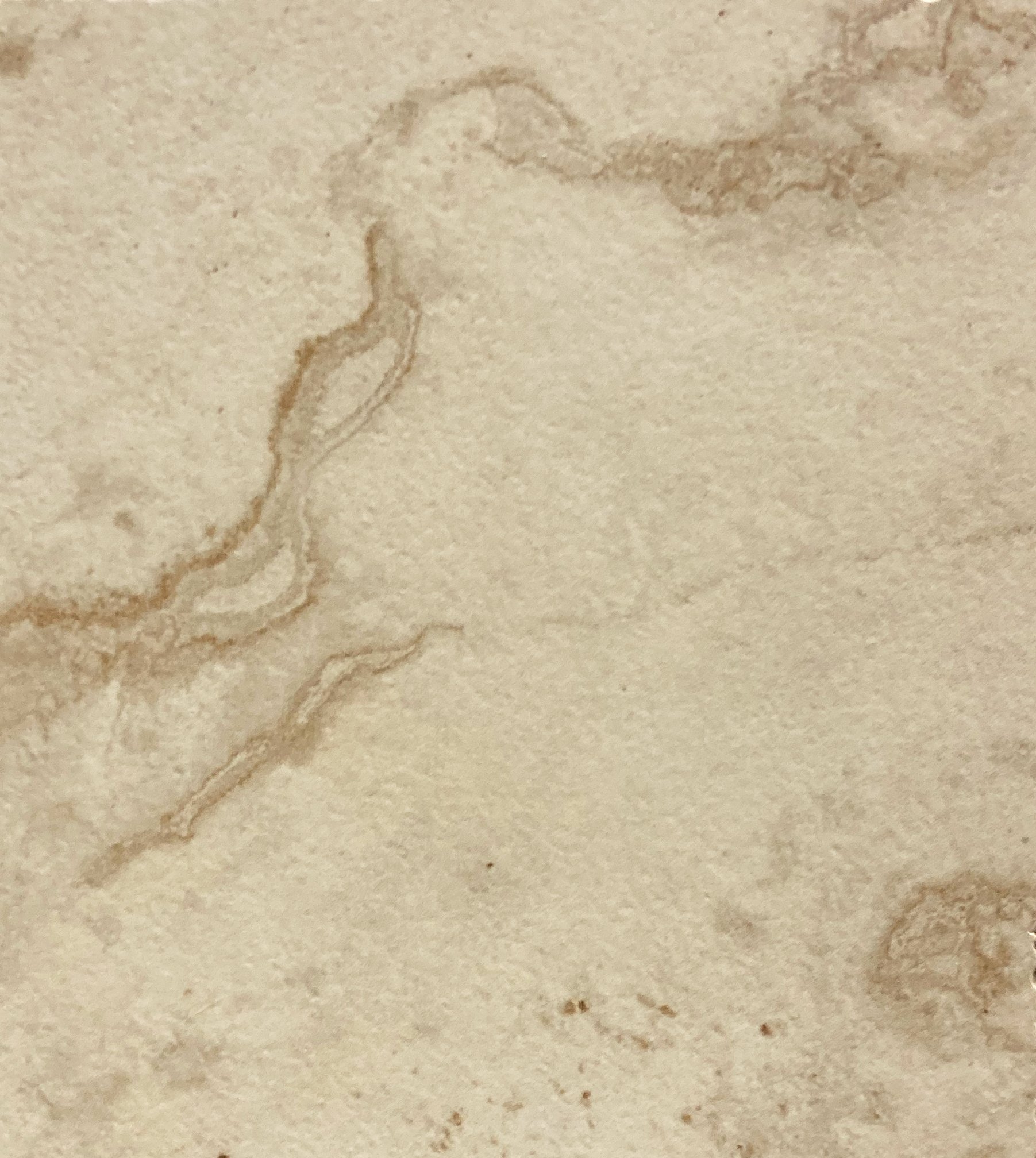 3. Tile
With a variety of colors, textures and styles to choose from, tile flooring is a timeless and versatile option for traditional spaces. It's particularly suitable for kitchens, bathrooms and front entrances.
Limestone ages wonderfully, so it's a great choice for traditional and modern houses alike. Choosing a darker shade can add a trendy flair to a kitchen, making it less prone to marks and staining than its lighter-colored counterparts.
Marble flooring makes an elegant addition, but it often comes with a hefty price tag. Porcelain tiles with a marble effect allow you to achieve the stone's lovely color variation and veining effects at a more affordable price.
Additionally, ceramic tile flooring is created from clay or synthetic materials, usually heat-treated and coated with a protective finish or glaze. Ceramic tiles are available in a range of colors and can mimic various materials like slate, stone and wood.
Shop 50 Floor for Your Traditional-Style Flooring
If you're looking to incorporate traditional flooring into your home, 50 Floor can help make your vision a reality. With our comprehensive flooring services, you can browse and shop flooring from the comfort of your home to see what looks best with your space.
Our flooring experts will bring multiple samples to your home, helping you select the ideal flooring for your needs and budget. We'll then proceed with ordering and prompt flooring installation once you've made your purchase.
Let us help you find and install the perfect flooring for your traditional home. Schedule your appointment for a free in-home flooring consultation today!