Laminate Flooring
Choose Wood Laminate Flooring
Your home is a haven, a culmination of your hard work and an investment in your future. As the place where you build your family, spend time together, experience special moments, host special occasions and kick off your shoes after a long day, it should be something you're proud to call yours. Part of investing in and appreciating the home you own is enjoying its aesthetic and styling your interior to suit your personality and tastes.
When it comes to your home design, picking the perfect flooring is essential to set the mood for each room, accent your décor and furniture, offset your furniture and provide long-lasting functionality and durability. That's why so many home-owners choose laminate floors for the strength, longevity and aesthetic they love. With 50 Floor's beautiful variety of laminate flooring in multiple materials, you're sure to find the floor that fits your home and vision.
Schedule An Appointment
Schedule a Free In-Home Estimate
What Is Laminate Flooring?
Favored by home-owners and design-lovers for their extreme durability and fantastic stain-resistance, laminate floors are synthetic composites made of four layers of materials fused into an incredibly hard surface. Designed to resemble wood, tile and other flooring materials, laminate is much harder and more resistant to wear and tear, fading, staining and moisture. The four layers of all laminate floors are:
Back Layer: Providing moisture resistance and structural stability, the back layer of the flooring includes melamine reinforcement to keep the base sturdy.
Fiberboard Core: Providing both stability reinforcement and impact resistance with a solid coreboard center, the fiberboard core layer also includes an edge sealing treatment for further stability and durability in the structure.
Decorative Layer: The signature layer in laminate flooring, the decorative layer provides the floor's beauty and iconic appearance with the addition of an in-depth, detailed photo to make the flooring look like wood, tile, ceramic or another material.
Wear Layer: As the top layer, the wear layer is composed of melamine and aluminum oxide, making a clear, tough finish that provides extreme resistance to wear, moisture, staining and fading.
Styles of Laminate Wood Flooring
One of the best parts of laminate flooring is its ability to appear as attractive and authentic as many different types of real wood flooring without posing some of the wear-and-tear or maintenance issues – and at a fraction of the cost. Whatever style you choose, your laminate wood floor will provide incredible durability and stain-resistance, fit together seamlessly without leaving gaps between the pieces and offer you the ability to reassemble if necessary.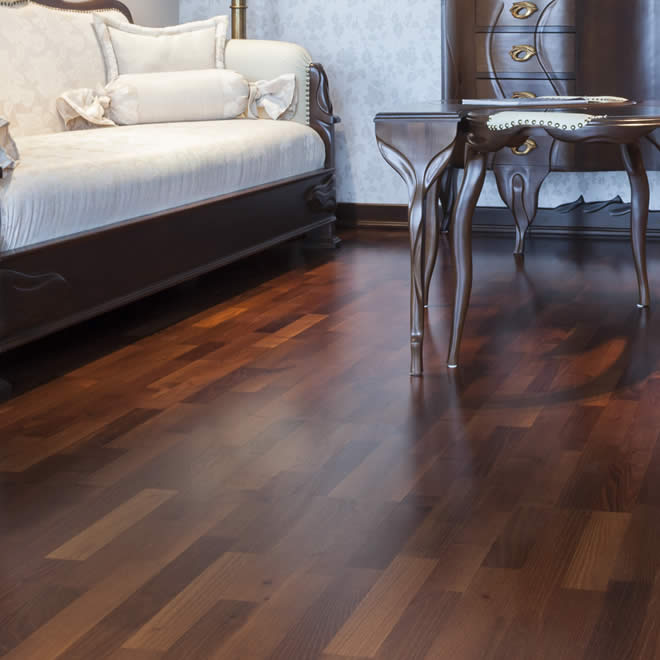 How to Find Quality Laminate Flooring and Have it Installed
When you're looking for the best place to find laminate floors to fit your home, there's no better source than 50 Floor. We offer a broad, stunning selection of choices with a unique, at-home shopping experience.
We'll help you decide on your ideal flooring by bringing our samples straight to your home and letting you consider them in the exact room where you plan to install them. When you've made your final choice, we'll take care of your installation with expert care — all in one day.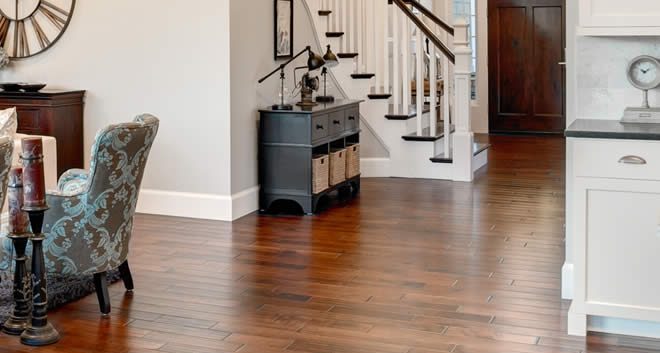 Make an Appointment to Install Laminate Flooring With 50 Floor
When it comes to choosing the wood laminate flooring that fits your home best, 50 Floor has the variety, quality and expertise you need. Plus, we offer the comfort and convenience of shopping in your own home. Make an appointment for your free consultation today to get started revitalizing your home.
Schedule An Appointment
Floors from 50 floor
See All Flooring Types
Reviews
Hear From Our HAPPY CUSTOMERS

NiTasha Woods
Quick, effective and efficient! The price was great and the carpet feels AMAZING 🤩!

Brenda Carter
Timing was exactly as stated and job was completed sooner than expected. Awesome installers, very professional and cleaned up completely after the job was finished. Will definitely use them again for other projects.

Debbie Hardy
From start to finish I highly recommend this company. Erich, our sales rep was knowledgeable, polite and professional. The install went smoothly. CJ and his dad make a great team. They were awesome!!! It was a pleasure working with them. They were professional and paid attention to detail.

Alyssa Leeds
Work was done professionally very quick and clean love my new floors

Debbie Thole
Awesome floors and a great company to work with!!!

Beverly Banks
My husband has wanted the Sunroom/Porch floors done for a few years now. The sales person Edward Collins was referred by a friend. Our visit was quick because we knew what we wanted. Our install was done a week and a half later. The install crew led by Freddie was great. They were quiet and quick with the work. My husband was very happy with the way everything's turned out. I would totally recommend 50 floors.

Dustin Theis
We had a great experience with 50 floor. We saw their advertising on Live in the D. Our Sales Representative, Paul, was great & explained everything to us. He was a really good guy who I highly recommend. Our installation guys, Marvin and Erick, were incredible. They were on time, friendly & clearly knew what they were doing. They did very clean work and put in quite a large area of flooring in one day! I recommend 50 Floor & will use them again in the future.
Schedule an Appointment Now!