Waterproof Laminate Flooring

Choose Waterproof Laminate Flooring
Choosing the best flooring for your home is a critical process. As you weigh your options, there are so many different variables to consider, from your individual style and your home's decor to your family's lifestyle. If you love the appearance of hardwood but need durability that can stand up to day after day of wear and tear, you'll be happy to know that laminate floors offer an attractive alternative at a fraction of the cost.
Now, the next generation of laminate is here. This new, big trend in flooring gives you everything you love about laminate with improved waterproof capabilities.
If you would like to learn more about waterproof laminate flooring, let 50 Floor be your guide to this beautiful wood-look floor option. Spills and accidents happen, so you need a laminate with water-resistant properties that stand up to life's messes. This flooring material is it.
Schedule An Appointment
Schedule a Free In-Home Estimate
What Is Waterproof Laminate Flooring?
With waterproof laminate flooring, you will have affordable flooring that can withstand the everyday chaos of high-traffic areas like your kitchen or bathrooms.
Laminate flooring has been the go-to option for homeowners who love its affordability and versatility. The only drawback to this material is its trouble withstanding water. Some laminate can absorb moisture, leading the flooring to swell or bow. Special construction technology now allows laminate flooring to have improved waterproof features that offer superior protection from both spills and moisture due to a specialized four-layer design:
Water-resistant film overlay: This impenetrable surface coating protects against moisture and stands up to everyday wear and tear.
Design layer: The design layer provides an ultra-realistic wood appearance and texture.
Water-resistant HDF core board: Compressed high-density fiberboard (HDF) adds strength and water protection by ensuring that planks are less susceptible to swelling in water.
Balancing layer: This water-resistant underlayer increases stability and keeps water from penetrating the flooring from underneath.
In addition, each plank's tight locking joint prevents liquids from seeping through the interlocks. This added layer of protection stops moisture damage in its tracks, making it a nearly fully waterproof laminate flooring option.
Schedule a Free In-Home Consultation
Benefits of Waterproof Laminate Flooring
Whether you live in an area with high humidity or just want to protect your flooring from everyday messes and spills, there are tons of advantages you'll enjoy when you choose waterproof laminate flooring from 50 Floor, including:
Watertight seams: These seams keep liquids from seeping through

 

the floor.

 

Moisture under your flooring can lead to the formation of black mold or subfloor damage.
Eight times more scratch resistance: From beach houses to homes with active kids and pets, this added scratch and moisture protection is best at preventing wear and tear.
Dent resistance: Dent resistance protects against indentations caused by heavy furniture, stiletto heels and more.
Stability even in direct sunlight: The flooring won't fade, grow or expand when exposed to direct sunlight the way vinyl can.
A more realistic appearance: The textured, beveled design appears more

 

natural

 

and less

 

plastic-looking.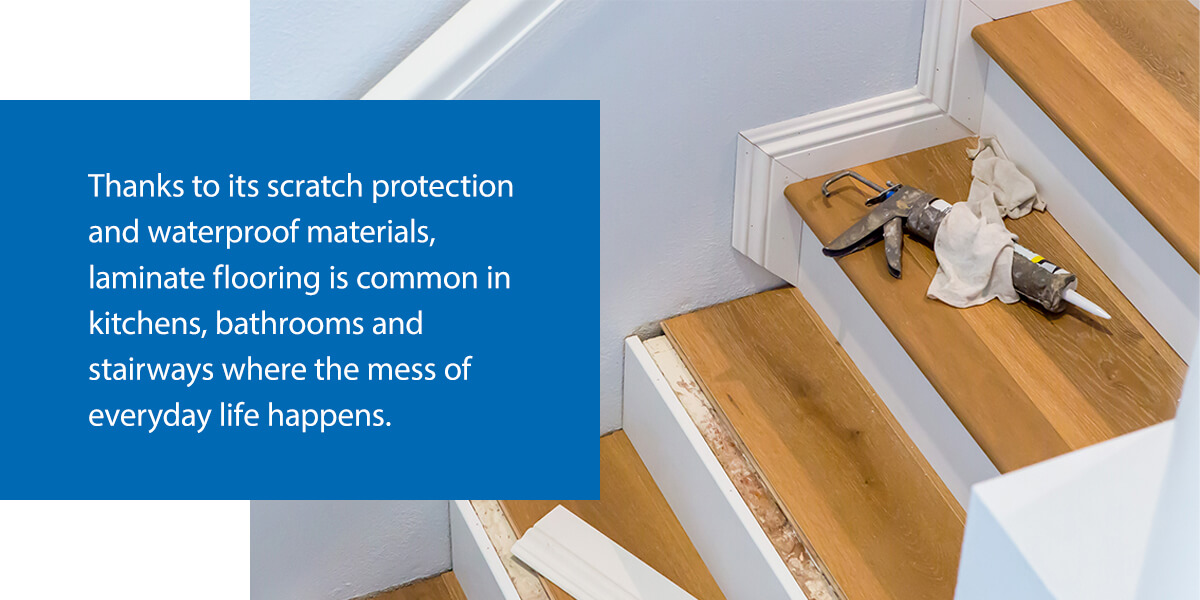 Laminate Flooring FAQs
If you are interested in installing laminate flooring in your home, consider commonly asked questions from other homeowners. 
Is Laminate Flooring Waterproof? 
Natural laminate flooring is not waterproof — water can damage this type of flooring without the proper protection. Luckily, homeowners who own laminate flooring or want to install this material in their homes can choose to add water-resistant features to the floor. 
Although the natural material does not protect against water, a professional can supply added protection from moisture to make your laminate floors waterproof. This additional protection is essential for families with pets and young children. 
Where Should I Install Laminate Flooring? 
When water-resistant features complete the look of laminate flooring, homeowners can place this material in any room they desire. Thanks to its scratch protection and waterproof materials, laminate flooring is common in kitchens, bathrooms and stairways where the mess of everyday life happens. 
If you plan to install laminate flooring that does not have water-resistant protection, avoid placing it in rooms with high moisture levels. These spaces include laundry rooms, bathrooms, porches, decks and saunas. Laminate flooring without waterproof properties can begin to lift, buckle or warp from excessive moisture. Since you use these areas daily, we recommend using waterproof laminate flooring as part of your installation plans. 
How Do I Clean Laminate Flooring? 
Adding scratch and water resistance makes cleaning quick and easy for homeowners. To preserve the shine of your floors, sweep and vacuum at least once a week. Although laminate floors have added protection from scratches, keeping your vacuum on a low setting lets you avoid creating dents or weak spots in the floor, preserving its life span. 
For a deeper clean, use mops and microfiber cloths to clean the surface with a gentle cleanser or cleaning solution made specifically for laminate flooring. Always check your flooring's warranty before trying a new cleaning method.
How Long Is the Average Life Span of Laminate Flooring?
Laminate flooring can last several years with added protection from scratches, water damage and dents. The average life span of this material is about 15-25 years, depending on how much use your flooring sees. Taking great care of your floor can increase your chances of having this material in your home for as long as possible. 
How Can I Preserve My Laminate Flooring?
Increasing the life span of your flooring only takes a few extra steps each day. You can preserve your laminate flooring by:
Adding soft rugs to the space.

Removing your shoes at the door.

Installing rubber or felt stubs to the bottom of furniture and rolling chairs.

Picking objects up off the floor instead of dragging them across the surface.

Cleaning stains and other messes immediately to avoid permanent damage.

Trimming your pet's claws.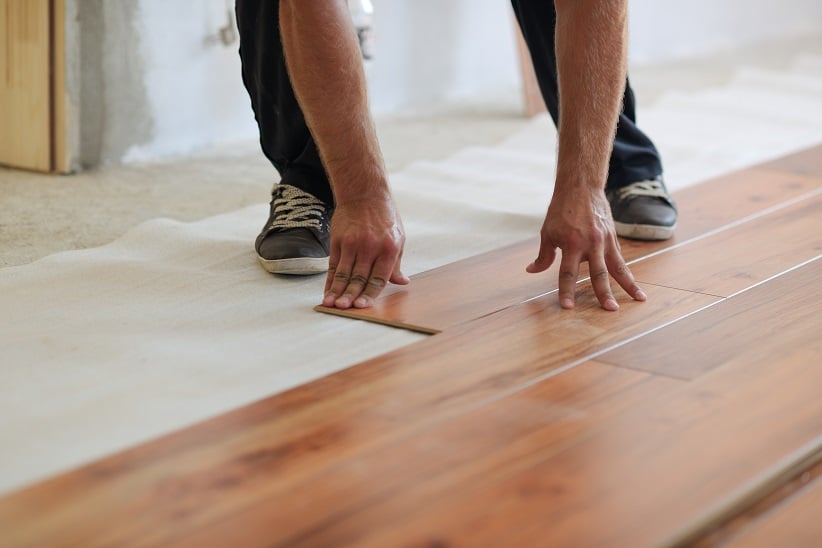 Schedule an Appointment With 50 Floor to Get Waterproof Laminate Flooring
At 50 Floor, we provide the best waterproof laminate options from top brands, including cutting-edge waterproof laminate flooring by Quick Step NatureTEK Plus™. Its superior design and functionality are perfect for homes requiring an added moisture protection boost. We invite you to make your appointment for a free consultation with 50 Floor today. One of our flooring experts will come to you and guide you through the process of installing new waterproof laminate floors for your home.
Schedule An Appointment
Floors from 50 floor
See All Flooring Types
Reviews
Hear From Our HAPPY CUSTOMERS

Christiana Bruce
I was very unfortunate to experience some water damage in my home that required a lot of repairs. One major repair was that I had to replace the floors in my front room and hallway. After getting a few estimates on flooring, i decided to go with 50 floor because of my sales person Derian. He made me feel comfortable with my decision without any added pressure. Unfortunately, i wasn't approved for financing, so I wasn't able to do install as soon as i had hoped. Derian was very understanding and checked in with me occasionally to assure me they were willing to help when I was ready. It took a few months, but I was finally able to get my floor just in time for the holidays! Thank you Derian and your floor crew. Thank 50 floor!

Christie Deaton
We had a great experience with 50 floor. The installer was highly knowledgeable and even fixed a few issues we were having with squeaks in the floor prior to install. The carpet is beautiful and high quality!

Hollowayformula Ted Rock
Showed up on time and was very professional. They communicated with me through the entire process. Brandon the sales was awesome and stayed in touch. Shout out to Alex and his team. They were awesome and professional.

Tracy Forde
I am extremely satisfied with the entire process. Mathew was wonderful! He had excellent customer service, thorough and very personable. The installers were awesome and ensured that we were all on the same page. I would definitely recommend.

Steve Browning
Great Job from beginning to finish.

Keidre Adams
50 Floor did an amazing job on my floors. The workers were super fast and did not disrupt my day since I work at home.n I would definitely recommend their services.

Tamara Thomas
Easy and fast process to schedule appt on line. Sales Rep, David showed up on time. Very friendly, courteous and knowledgeable of products and respected our decision while providing feedback. Even the young lady that called to setup installation appt was very polite and professional. Installation manager was courteous and polite, installation crew was the best. Eduardo and his team done an amazing job. Cannot say enough about them. They showed up at the beginning of the window time ready to work! Afterwards, help put back big furniture and cleaned up debris. We love our new waterproof laminate floors! Thank you 50 Floor for providing excellent service from the beginning to the end! No complaints at all
Schedule an Appointment Now!