Waterproof Laminate Flooring
Choose Waterproof Laminate Flooring
Choosing the best flooring for your home is a critical process. As you weigh your options, there are so many different variables to consider, from your individual style and your home's decor to your family's lifestyle. If you love the appearance of hardwood but need durability that can stand up to day after day of wear and tear, you'll be happy to know that laminate floors offer an attractive alternative at a fraction of the cost.
Now, the next generation of laminate is here. This new, big trend in flooring gives you everything you love about laminate with improved waterproof capabilities.
If you would like to learn more about waterproof laminate flooring, let 50 Floor be your guide to this beautiful wood-look floor option. Spills and accidents happen, so you need a laminate with water-resistant properties that will stand up to life's messes. This flooring material is it.
Schedule An Appointment
Schedule a Free In-Home Estimate
What Is Waterproof Laminate Flooring?
With waterproof laminate flooring, you'll have an affordable flooring that can withstand the everyday chaos of high-traffic areas like your kitchen or bathrooms.
Laminate flooring has been the go-to option for homeowners who love its affordability and versatility. Its only drawback is that it's never been prized for its ability to withstand water. Some laminate would even absorb water, leading the flooring to swell or bow. Special construction technology now allows laminate flooring to have improved waterproof features that offer superior protection from both spills and moisture due to a specialized four-layer design:
Water-resistant film overlay:

 

This i

mpenetrable surface coating protects against moisture and stands up to everyday wear and tear.
Design layer:

 

The design layer p

rovides an ultra-realistic wood appearance and texture.

Water-resistant HDF core board:

 

Compressed high-density fiberboard (HDF) adds strength and water protection by ensuring that planks are less susceptible to swelling in water.
Balancing layer:

 

This water-resistant underlayer increases stability and keeps water from penetrating the flooring from underneath.
In addition, each plank's tight locking joint prevents liquids from seeping through the interlocks, which stops moisture damage in its tracks.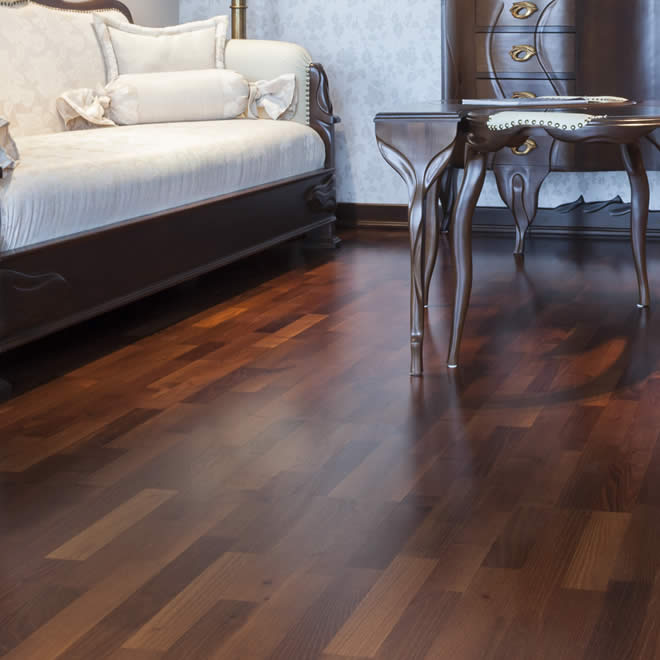 Benefits of Waterproof Laminate Flooring
Whether you live in an area with high humidity or just want to protect your flooring from everyday messes and spills, there are tons of advantages you'll enjoy when you choose waterproof laminate flooring from 50 Floor, including:
Watertight seams:

 

These seams keep liquids from seeping through. Moisture under your flooring can lead to the formation of black mold or subfloor damage.
Eight times more scratch resistance:

 

From beach houses to homes with active kids and pets, this added scratch and moisture protection is best at preventing wear and tear.
Dent resistance:

 

Dent resistance protects against indentations caused by heavy furniture, stiletto heels and more.
Stability even in direct sunlight:

 

The flooring won't fade, grow or expand when exposed to direct sunlight the way vinyl can.
A more realistic appearance:

 

The textured, beveled design appears more realistic and less plastic looking.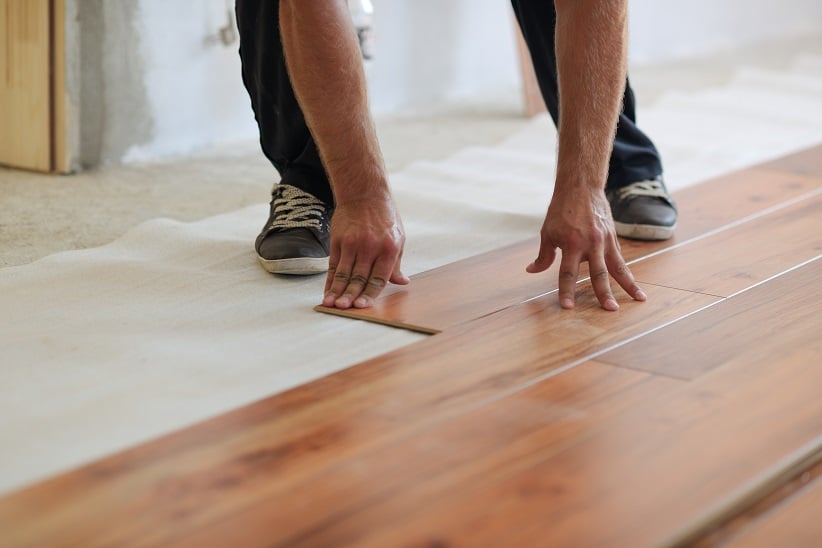 Schedule an Appointment With 50 Floor to Get Waterproof Laminate Flooring
At 50 Floor, we provide the best waterproof laminate options from top brands, including cutting-edge waterproof laminate flooring by Quick Step NatureTEK Plus™. Its superior design and functionality are perfect for those whose homes require an added boost of moisture protection.
We invite you to make your appointment for a free consultation with 50 Floor today. One of our flooring experts will come to you and guide you through the process of installing new waterproof laminate floors for your home.

Schedule An Appointment
Floors from 50 floor
See All Flooring Types
Reviews
Hear From Our HAPPY CUSTOMERS

James Grant
This is the second time we have had 50 Floor do work in our home. We had Hardwood floors done in late 2020, and more recently Vinyl done September 2021.. I would highly recommend 50 Floor , and will be doing future business with them.

adrian farmer
VERY SKILLFUL EMPLOYEES.

Janice Brooks
I chose 50 floors after a bad experience with another company that I ended up cancelling my order. I contacted 50 floors and was very satisfied with their service and carpet installation. They were honest, reliable and restored my confidence in choosing a reputable carpet company. I love my carpet. The installers were courteous, respectful of my home and did a fantastic job. Thank you 50 Floors.

Valerie Presha in Alpharetta
Installation service was perfect!

PC Charnley
I had some flooring installed in 2019. The salesperson was really good, but there were some issues with the installation like they put the old quarter round back onto my floor. I just had the rest of my house completed. Shawn H. and Ibis Mejia were great to work with. The installation was so much better than 2019, and they really took care with my furniture, and my dog. It really looks wonderful! I would and have recommended this company especially Shawn and Ibis!

TheLazeryDiamond T
We are very pleased with Leo's work on our tile flooring. He was prompt, hard working, and an expert at the detail work. A small problem with the grout was rectified the very next day. We are very happy with the final results.

Jesus Morales
Schedule an Appointment Now!