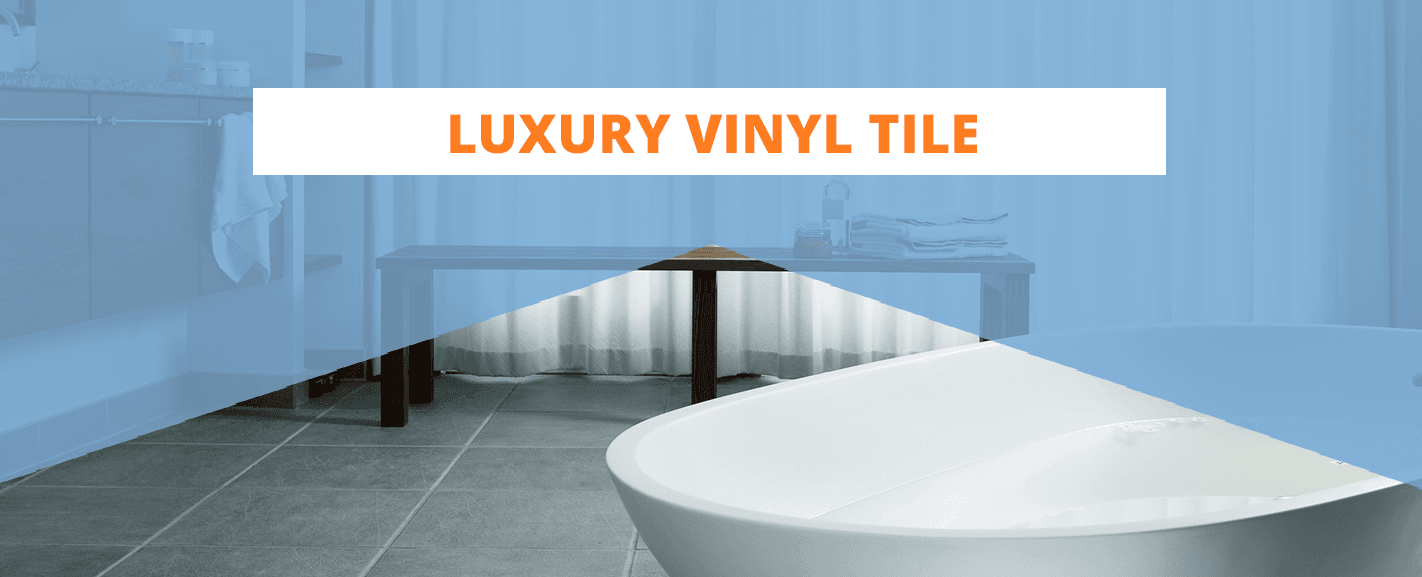 High-traffic rooms in households need an economical, durable option that can stand the wear and tear. Vinyl is a popular and cost-effective flooring option for kitchens, bathrooms and elsewhere. Luxury vinyl tile (LVT), a type of vinyl flooring, is a quickly growing flooring trend. There are lots of options with LVT, and it can be challenging to know where to start.
50 Floor has LVT vinyl flooring options that will bring the right look to your home. We will guide you through the various LVT tile flooring options and help you select the appearance and color you want. Soon, you will have beautiful luxury LVT for your home.
What Is Luxury Vinyl Tile?
Luxury vinyl tile — called LVT for short — is a type of vinyl tile. LVT luxury vinyl floors have the same layers as vinyl floors:
Wear layer: The wear layer is the clear, topmost layer that protects the image layer so it looks its best for as long as possible.
Image layer: The image layer is the colorful, printed part of the tile that can look like stone, wood or other flooring types.
Core:

 

The core layer provides rigidness to the floor for durability, so the floor feels sturdy to walk on.
Backing: The backing is the bottommost layer for vinyl flooring. It provides softness and sound absorption to make the floor easier to walk on.
The key difference is that luxury LVT is thicker, providing better durability and wear and a better-looking design. These designs can replicate truly anything, perfectly mimicking the appearance of another flooring type. With luxury vinyl tile, you can get the performance of vinyl with a natural wood or stone look.
LVT Flooring Options
At 50 Floor, you can get luxury vinyl tile in these styles:
Classic stone:

 

Travertine tiles, concrete planks, slate and marble.
Texture and finish effects:

 

Liming, rough-hewn reclaimed and white-washing.
Wood:

 

Traditional grains like birch, oak and walnut, as well as exotic woods with bold grain patterns.
Benefits of Luxury Vinyl Tile
If you're looking for flooring for a high-traffic area of your home, consider luxury vinyl tile. You can install luxury LVT flooring in virtually any room due to its various benefits. The LVT vinyl flooring from 50 Floor provides these advantages:
Wide array of visuals:

 

LVT tile flooring comes in many styles to replicate other flooring types. You can install luxury LVT that looks like hardwood, tile, marble and more. With the various style and color options available, you can install LVT that meets your expectations in every way.
Cost-effective:

 

Get the look of

 

hardwood, stone, slate and more for less with luxury LVT flooring. The manufacturing techniques used for luxury vinyl tile allow it to imitate different looks while costing less than other floor types. You'll gain additional savings through the low installation costs, minimal maintenance requirements and long life span of up to 30 years.
Waterproof:

 

LVT luxury vinyl is totally waterproof. If the floor is exposed to water from wet shoes, spilled drinks or shower spray, the flooring will keep its integrity without swelling or buckling. It can also withstand the dampness found in basements and humidity in certain regions of the U.S.
Durable:

 

LVT vinyl flooring is a

 

very durable flooring option

 

designed for busy homes. It will

 

resist scratches, chips and wear from everyday activities while maintaining its attractive appearance.
Less maintenance:

 

LVT is easier to maintain than other types of flooring since it is durable and waterproof. Regardless of the type of mess, it can easily be cleaned with a mop or wipe. LVT also does not require professional cleaning or certain substances to upkeep its appearance.
Safe:

 

Luxury LVT flooring meets flammability, slip resistance and other standards for floor materials.
Eco-friendly:

 

LVT vinyl flooring is made from environmentally friendly products.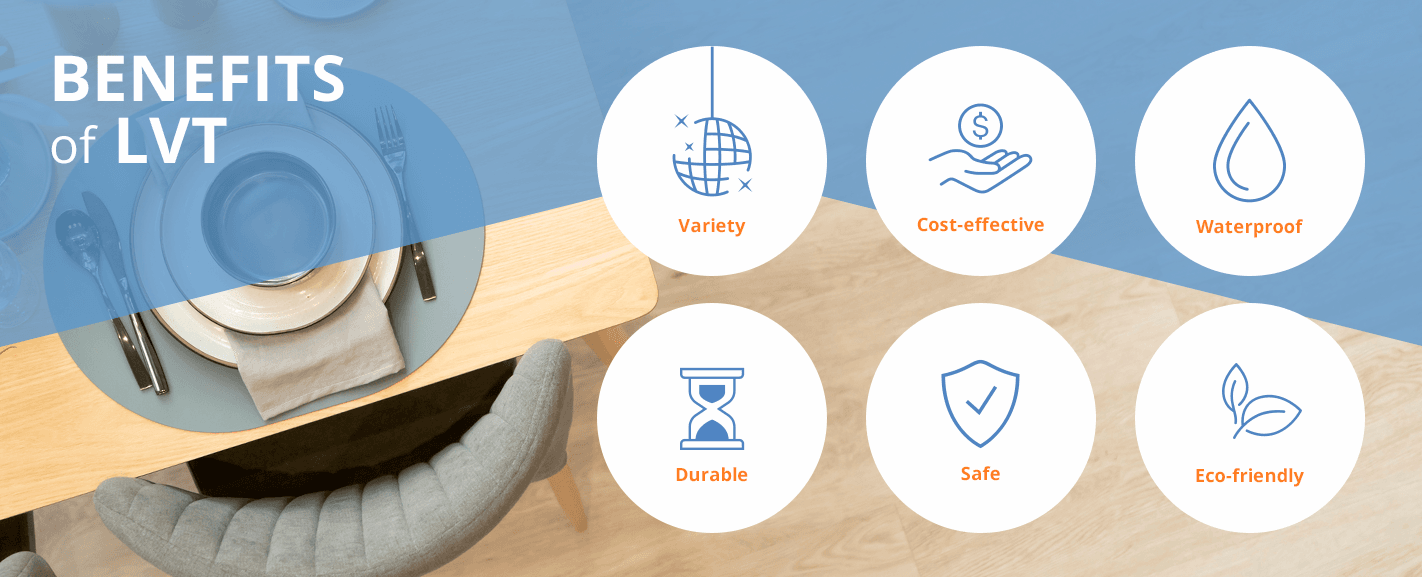 Best Places to Use Luxury Vinyl Tile in Your Home
Due to the incredible durability and various design options of LVT tile flooring, it is an excellent flooring option for any floor of your home, including high-traffic areas. If you want the hardwood look in rooms where moisture may be present, use luxury vinyl tile. Since it's waterproof, you can use LVT in bathrooms and laundry rooms without concerns for floor damage. LVT luxury vinyl is also an alternative for ceramic. LVT offers the same level of durability against foot traffic while being warmer, softer and grout-free.
Install luxury vinyl tile in rooms that have flat, level surfaces, including:
Basements
Bathrooms
Bedrooms
Gathering spaces
Kitchens
Laundry rooms
Living rooms
Mudrooms
Playrooms
Utility areas
There are a few areas that luxury LVT is not suited for:
Sunrooms:

 

Sunrooms with windows can have very hot floor temperatures, and LVT reacts to high heat. If you are considering installing LVT luxury vinyl in your sunroom, it must have air conditioning or a similar climate control system.
Outdoors:

 

LVT tile flooring cannot be installed in outdoor spaces.
Stairs:

 

Luxury vinyl tile is not intended for installation on stairs.
How to Find and Install Quality Luxury Vinyl Tile
50 Floor has the various luxury LVT flooring options you are looking for. We understand that quality, durability and appearance are all important factors to consider when choosing your floor.
We offer a shop-at-home experience by bringing samples to you during your free consultation. One of our flooring experts will come to your home with several flooring samples from the best brands available, such as Beaulieu of America and Congoleum. This consultation appointment allows you to see how the various colors and textures will look in your home and save you time from driving to flooring stores to find the right LVT option.
Our experts will guide you through the process of installing luxury vinyl tile in your home. We will make sure that each phase of your flooring project is timely and professional, so you get LVT tile flooring right away that's properly installed. We will provide you with valuable advice about the luxury vinyl tile options, help you select an option and install the flooring to your specifications.
Schedule an Appointment With 50 Floor Today
50 Floor is an expert flooring specialist with locations across the United States. We are committed to providing customers with top-quality flooring options for a competitive price so that you can get the beautiful luxury LVT flooring you need for your kitchen, bathroom or elsewhere for an affordable cost. All flooring options are durable and attractive, so your floor will look its best for years.
Get luxury LVT from 50 Floor today. Schedule a free consultation to bring this popular flooring option to your home.