Choose Engineered Hardwood Flooring
Choose 50 Floor for Your Engineered Hardwood Flooring
Flooring plays a role in how your home feels because it can completely transform the space. Many people choose hardwood floors to bring a natural and elegant look into their homes. Solid hardwood is a traditional option, but there is also another choice to consider — engineered hardwood.
To get the best engineered hardwood available, use the best floor installation company available. 50 Floor makes it easy to bring something new to your home's flooring. Our in-home consultation and excellent customer service and satisfaction will provide expert care at every step.
Make an appointment with us today to start the process of getting hardwood floors in your home.
Featuring hardwood by:

Schedule An Appointment
Schedule a Free In-Home Estimate
What Is Engineered Hardwood Flooring?
Engineered hardwood is made out of layers of wood compressed together in a criss-cross construction. These layers are a thin strip of real durable wood species on top of high-grade plywood.
One of engineered hardwood's greatest strengths is its ability to stand up to humidity and moisture. The plywood is stable enough that it won't flex and bend in the presence of moisture. Its durability means it won't contract and expand with the changing seasons, so the floor won't warp or cup over time. As a homeowner, you can enjoy hardwood without moisture concerns.
Because of this construction, you have more freedom with engineered hardwood. This flooring can go in rooms that solid hardwood could not, such as a below-grade basement, the kitchen or bathrooms, as long as these spaces do not have major problems with moisture.
Perhaps the best feature is engineered hardwood's price tag. In many cases, engineered hardwood is more cost-effective than solid hardwood. It is an affordable wood flooring option for a large space, such as your living room.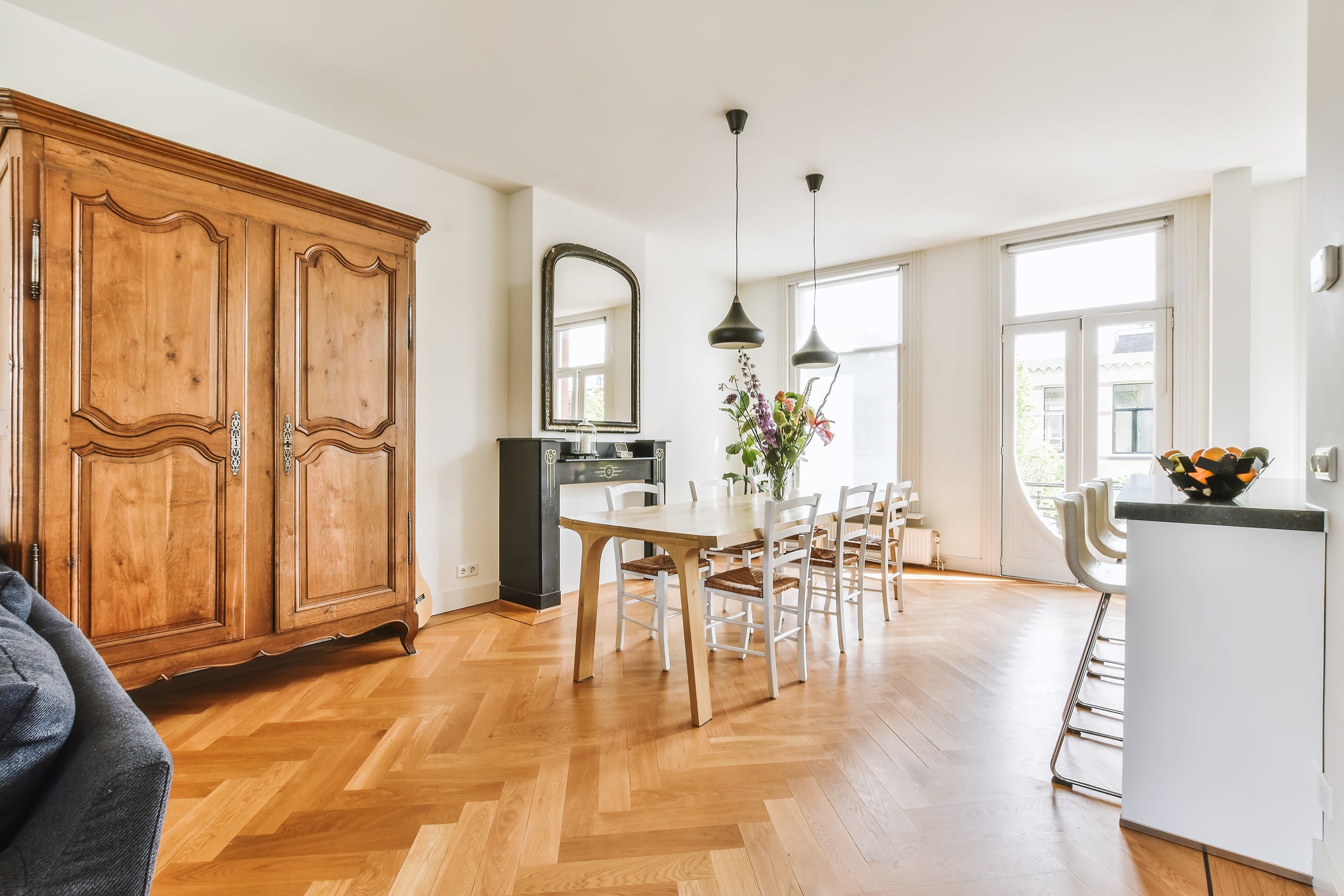 Types of Engineered Hardwood Floors
Engineered hardwood comes in a wide variety of beautiful wood selections, such as:
Hickory
Birch
Maple
Red oak
White oak
Walnut
Cherry
Brazillian cherry
Bamboo
And more
Each of these wood species will bring a different look to your home. Our technician will work with you to decide which engineered wood best suits your needs.
How to Get Engineered Hardwood
If you want engineered hardwood floors in your home, you need to make sure the wood is durable and appropriately installed by industry professionals. 50 Floor has the experience and options for your hardwood flooring.
We offer an in-home consultation service that brings the flooring to you! Our technician will deliver wood flooring samples to your home, so you can see which samples will look best with your home's lighting and room decor. The technician will guide you through your various options to match you with the best hardwood flooring.
When you're ready to install, 50 Floor will take care of everything, including moving the furniture, removing the original flooring, installing your new hardwood floor and moving your furniture back. In one day, 50 Floor will give your home beautiful hardwood floors you'll love for a long time.
Schedule An Appointment Now!
Floors from 50 floor
See All Flooring Types
Reviews
Hear From Our HAPPY CUSTOMERS

Vicky Artelli
We couldn't be more pleased with our new floor. William B. knew the product so we'll and made sure we were confident in our purchase. David and his crew did a great job with installation going above our expectations. This is a great company from start to finish!!!

Shelia Miller
Very professional, great customer service, they did our floor very quickly and cleaned up nicely..Great job 50 floors…

Heather Starck
I just updated my floors on my main floor from a mix of carpet and vinyl to luxury vinyl planks. Everyone at 50 Floor from the salesperson to the office manager was professional and timely in their responses. The crew that came to install the floors were top notch! They did it all in a day. I have never seen anything like it. They clearly had a system that allowed them to work efficiently. When they removed the carpet, they would roll it in bundles and then one guy was the runner. He would take the waste materials outside. Every extra material had a specific place they would put things, they all knew and followed the system. It was actually quite beautiful to watch. They worked hard, took their time on the details, and made sure to double check everything. I absolutely LOVE how the floors turned out. They are beautiful and much better suited for life with my two dogs. I will certainly be recommending 50 Floor to my friends.

Marnie Brooks of Dynamic Recycling in Nashville
Had a wonderful experience. The crew was very accommodating and helped move the heavy items that we were unable to move. Our floors look great and we are very pleased. Thank you 50 Floor! -The Dynamic Recycling Team

Parke Kuntz
My interaction with the people at 50 Floor was pleasant and professional. The installer, Lucas, arrived on time. Lucas did a fantastic job. I cannot say enough good things about Lucas or about people at 50 Floor.

Elaine Estes
I am so proud and happy with my new laminate flooring in my bedroom. Emilio and Angel worked together well and professionally. They answered my questions and prepared me for what they had to do to complete the work. When I need new flooring for the guest bedroom, I know I will call 50- Floor again!

MellyVG257
Zack communicated well and was very knowledgeable. He knew his carpet, pricing, was fast and efficient. He was also very friendly! Great service! Looking forward to working with him in the future!
Schedule an Appointment Now!