Pattern Carpet Flooring
Pattern Carpet
If you want to create interest and texture with your carpeting but don't want multiple colors, pattern carpeting may be the answer. If you've seen patterns embossed on paper or fabric or walls decorated with molding in the same color as the walls themselves, you've already seen this idea in action. Pattern carpet can add a sophisticated, designer feel to virtually any room.
Schedule An Appointment
Schedule a Free In-Home Estimate
What Is Pattern Carpet?
Carpeting is made by attaching loops to a carpet backing. On some carpets, the loops are cut to create a pile. In others, they are left as loops. In pattern carpeting, some of the carpet is strategically left as loops, while the rest is cut to create a unique pattern or geographic designs. Usually, this is done by varying the height of loops at the manufacturing stage. When the loops are cut, only the higher loops are cut while those tufted lower remain loops.
Pattern carpet can be made with virtually any design, including waves, stripes, stars, diamonds and more. While in some cases the textiles can use different colors as well as patterns, in most cases, the carpet is the same color throughout.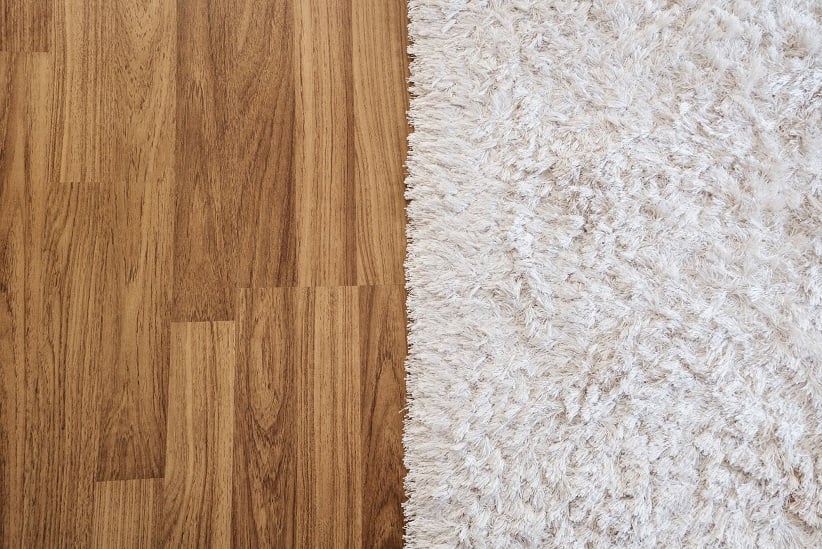 Benefits of Pattern Carpet
Pattern carpets add texture and visual interest to your floors, which can add to the stylishness of your space. If your floors are uneven or unusually shaped, the patterns of the carpet can help disguise that to some extent.
This type of carpeting is easy to keep clean and works in almost any room. Since the visual interest is in the pattern and not various colors, it can be easier to match this flooring to different styles of décor. Whether you have a traditional, classical or modern look, patterned carpets can work.
Pattern carpets also offer a sophisticated and designer look. They are not quite plain, but they don't have the busy feel of a carpet with multiple colors, creating an understated but stylish feel.
You can also use pattern carpets to fool the eye and create specific effects in your room. For example, aligning the stripes or waves of the carpet in particular ways can draw the eye to a stunning view or fireplace. In some cases, you can use carefully selected patterns to make a room look larger.
Since this carpet has different levels, it can hide dirt and footprints effectively, making the pattern carpet look better between vacuuming. This is one reason this flooring is a popular choice for families.
How to Find Quality Pattern Carpeting and Have It Installed
With so many patterns and colors to choose from, it's easiest to have carpet samples come to you. This is the premise behind 50 Floor, a flooring company with more than four decades of combined experience. We save you time and provide a better carpet buying experience by bringing carpet to you in a free flooring appointment. No matter how busy your schedule, you can look at flooring to see how it works in your home instead of trying to recall the exact lighting and decor of your home in a showroom.
50 Floor sells quality carpeting and offers timely, professional installation. Above all, we work to deliver quality carpeting with better service at affordable prices. To see for yourself, schedule your free flooring appointment with us today.
Schedule An Appointment Today!
Floors from 50 floor
See All Flooring Types
Reviews
Hear From Our HAPPY CUSTOMERS

John Metheny
Very professional and accommodating. We love our floors!

Jeffrey in Mooresville
First carpet installed, discovered as they are installing the last piece the carpet is defective. Mark Perez from Charlotte has been wonderful to take this ugly situation and make it turn out right. They really do care about their customers. We are planning on having more work performed by 50 Floor next year. Great job!

Demita Ross-Jefferson
I called 50 Floors because of an advertisement on Live In The D. I was going to call Home Depot for my flooring needs, but glad I didn't. The entire experience exceeded my expectations. Adam my floor guy, as I will now call him was awesome. He was knowledgeable, courteous and friendly. So much so I decide to have carpeting after I made my decision on floors and called Adam directly. The installers were professional and very courteous as well. Good Job 50 Floors, satisfied customer.

Chuck Mencke
Our 50 Floor's install experience was incredible from start to finish. Steve, our sales consultant helped us choose the right laminate for our needs and the install crew was super getting the furniture moved and back in place.

Marla Veretto
Derian and the rest of the team gave me a good price and were very professional. The install was done quickly yet the quality is great. I'm very happy with my new carpet.

Anita Parker
Everyone from the salesman, to the carpet installers were excellent. We are very happy with our flooring.

Kimberly Heberling
Floor coverings look fantastic.Installers were great cleaned up everything
Good prices.
Schedule an Appointment Now!