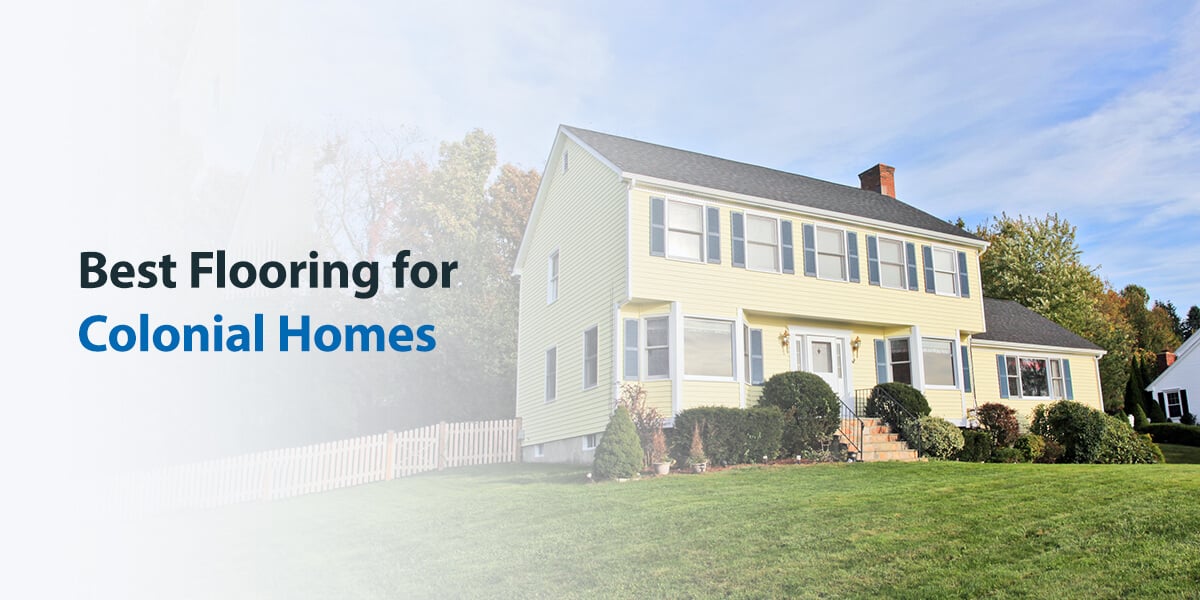 Though popularized during the 17th century, American Colonial-style architecture remains beloved with its simple yet stately appearance. With symmetrical and aesthetically pleasing features like shuttered windows, columns, dormers and chimneys, Colonial homes radiate elegance and historical charm.
However, more than the exterior contributes to their formal style. Many interior features — including flooring — are key to achieving a Colonial look and feel. Explore the fundamental traits and best flooring for Colonial homes with 50 Floor.
What Is a Colonial-Style House?
The Colonial house style emerged during the 1600s when colonists settled in America, hence its name. Using available materials like wood, brick and stone, they built homes based on the architectural designs of the countries they came from. Colonial houses incorporate several different home styles like Federalist, Georgian, Spanish Colonial, Dutch Colonial and others.
While true Colonial-style houses were not constructed after the American Revolution, their signature framework remains incredibly popular in residential architecture. Over time, Colonial homes were modernized using new construction techniques, materials and technologies. By the late 1800s, they had developed into a style called "Colonial Revival" that can be seen in many of today's homes.
Take Our Quiz to Find Your Flooring Style
Features of a Colonial-Style Home
Let's look at some key features of Colonial-style architecture.
1. Symmetry
Colonial-style houses can be described as simple, rectangular and symmetrical. The central front door — which is often crowned by a columned portico or pediment — is located directly in the center of the home, flanked by straight rows of double-hung sash windows. This traditional home design was simple as can be, leaving room for additions and alterations.
2. Medium-Pitched Roofs
Colonial-style homes typically have medium-pitched, sloping gabled roofs with gutters and shingles. Older styles have double chimneys in the center of the roof, which lead down to two ground-floor fireplaces. Modern Colonial house styles may feature these double chimneys for aesthetics.
3. Spacious Interiors
Most Colonial revival homes have at least two stories and ample space to accommodate large families. Inside, you'll likely find a central staircase with large ground-floor rooms on each side.
On the second story, a hallway usually connects at least four bedrooms and one bathroom. Roomy kitchens, living areas and finished basements provide additional space for hosting visitors. Details like formal entryways, upscale crown molding and intricate fireplaces give Colonial homes a sophisticated flair.
4. Neutral Colors
Early American homeowners were limited in paint color options, as imported pigments were expensive and scarce. Many used locally mined earth pigments for the trim and frame pieces only, leaving the masonry body exposed and untreated. These earth pigments produced colors like ochre, umber and sienna.
When Georgian architecture emerged during the 18th century, paint pigments imported from Europe resulted in more colorful exteriors like red, orange and Prussian blue. By the second half of the 18th century, however, vibrant hues would give way to more subdued shades like white and light grays and blues. White would eventually become the dominant shade seen in most modern Colonial-style homes.
We've covered some defining features of Colonial-style houses, but what are the best flooring choices for this architectural style? Below are four lovely options to consider.
Choose the Right Flooring for Your Colonial Home With 50 Floor
Are you looking for the best flooring for Colonial homes? 50 Floor can help! With our convenient in-home flooring shopping, one of our flooring experts will bring a variety of samples to your home and help you select a material and color that fits your space, budget and lifestyle.
Once you've purchased the ideal hardwood, carpet, tiles, luxury vinyl or laminate flooring for your Colonial-style space, our team will proceed with the ordering and flooring installation process to turn your interior vision into a stunning reality.
Enjoy a hassle-free shopping experience from the comfort of your home with 50 Floor. Schedule your appointment for a free in-home consultation today!