Don't wait!
Finish filling out the free home estimate form today to get started!
Schedule Now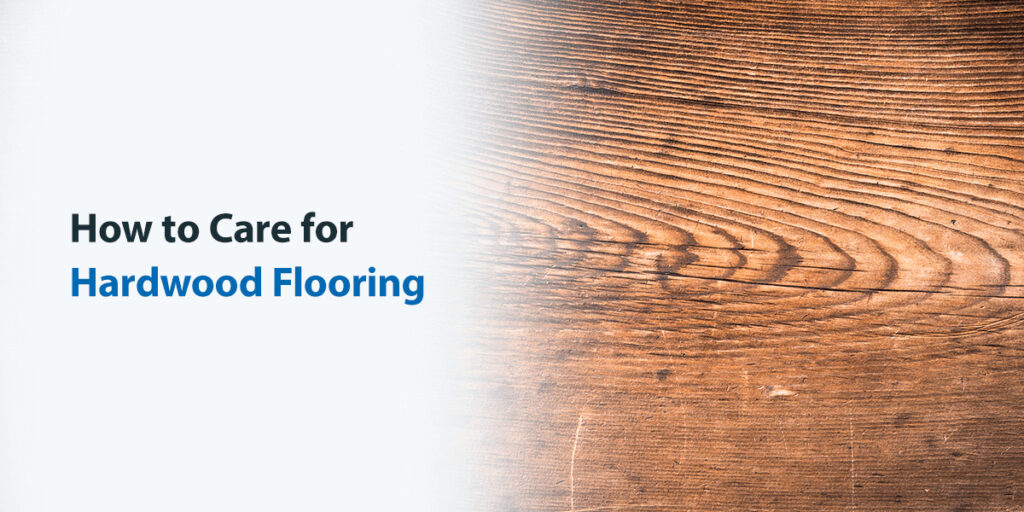 Hardwood floors are a popular choice for many homeowners. Beautiful, functional and durable, this flooring type makes an excellent addition to most rooms in your home. To keep your hardwood floors in their best shape, it's crucial to use the correct cleaning and care techniques. Hardwood floor maintenance can help your floors stay functional and attractive for longer.
Maintenance Tips for Hardwood Floors
The right cleaning and care will protect your floor and prevent costly repairs. The best way to care for your floors is by referring to your manufacturer's warranty. This document lists your floor specifications and the correct maintenance techniques. By following your warranty, you can use the best maintenance methods at the right intervals.
In general, here are a few maintenance tips that apply to most hardwood floors:
Set a cleaning schedule: Establishing a maintenance routine can help you remember to clean your floors. For instance, you could pick a specific day of the week to focus on cleaning your hardwood so it doesn't slip your mind.
Dust regularly: You should dust your hardwood consistently. Experts recommend dusting daily to prevent the buildup of dust, dirt and grime. Dusting can also prevent scratches, keeping your floor in a good condition.
Use the right materials: Using the proper cleaning liquids and materials is crucial. It's best to refer to your floor's warranty before selecting a product because different finishes require different materials. The right product will thoroughly clean your floor without leaving a chemical residue.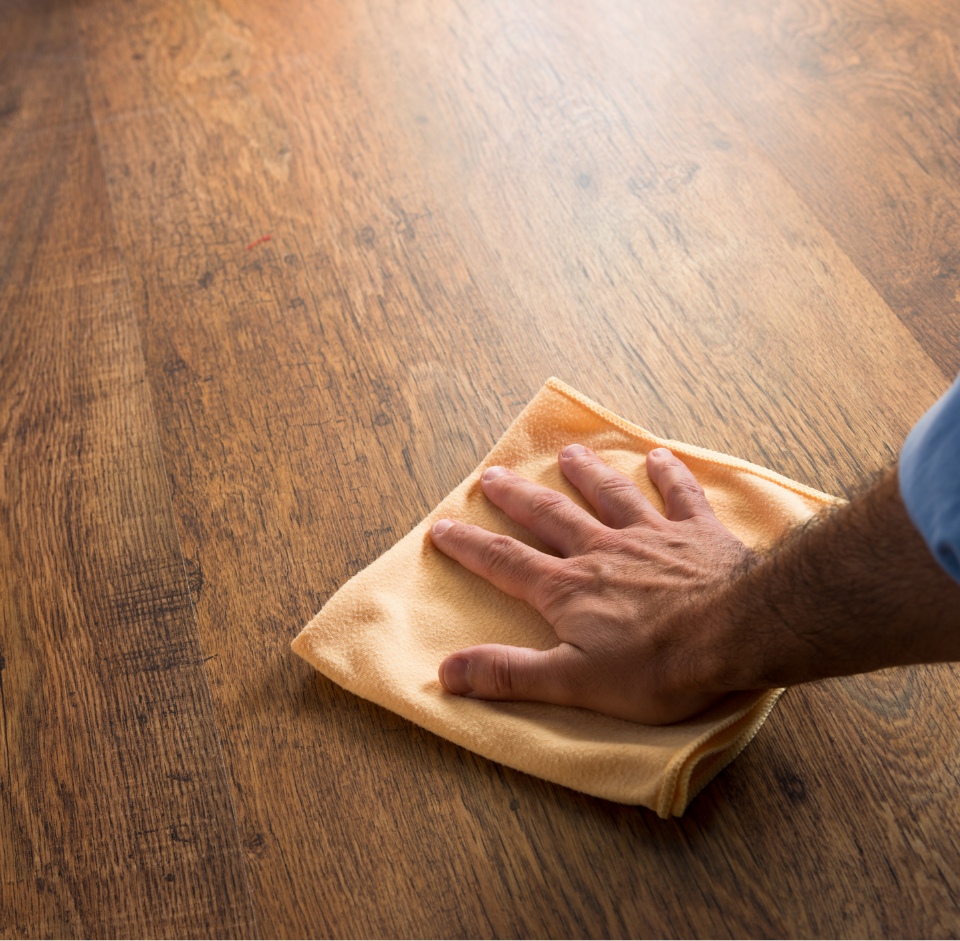 How to Care for Engineered Hardwood Floors
Engineered hardwood is made from multiple layers pressed together in a crisscross pattern. It has a thin layer of genuine wood on top that lays on plywood. It can withstand humidity and moisture better than typical hardwood, making it a great option for any room in your home. You can install engineered hardwood in a variety of wood types, from hickory to red oak.
The tips mentioned in the previous section, like using a cleaning routine and the correct cleaning product, also apply to engineered hardwood floors. Here are other tips for engineered hardwood care:
Sweep regularly: You should sweep up dust, dirt and other debris as often as possible. Many homeowners use a vacuum or broom daily to get rid of dirt. Consistent sweeping prevents contaminants from scratching or causing other wear.
Use furniture pads: Homeowners constantly move chairs and other furniture pieces during the day. These movements can result in scratches on your hardwood floor. One way to prevent this is by using furniture pads. When you place these protective materials on the bottom of chairs, they keep the furniture from scratching the floor.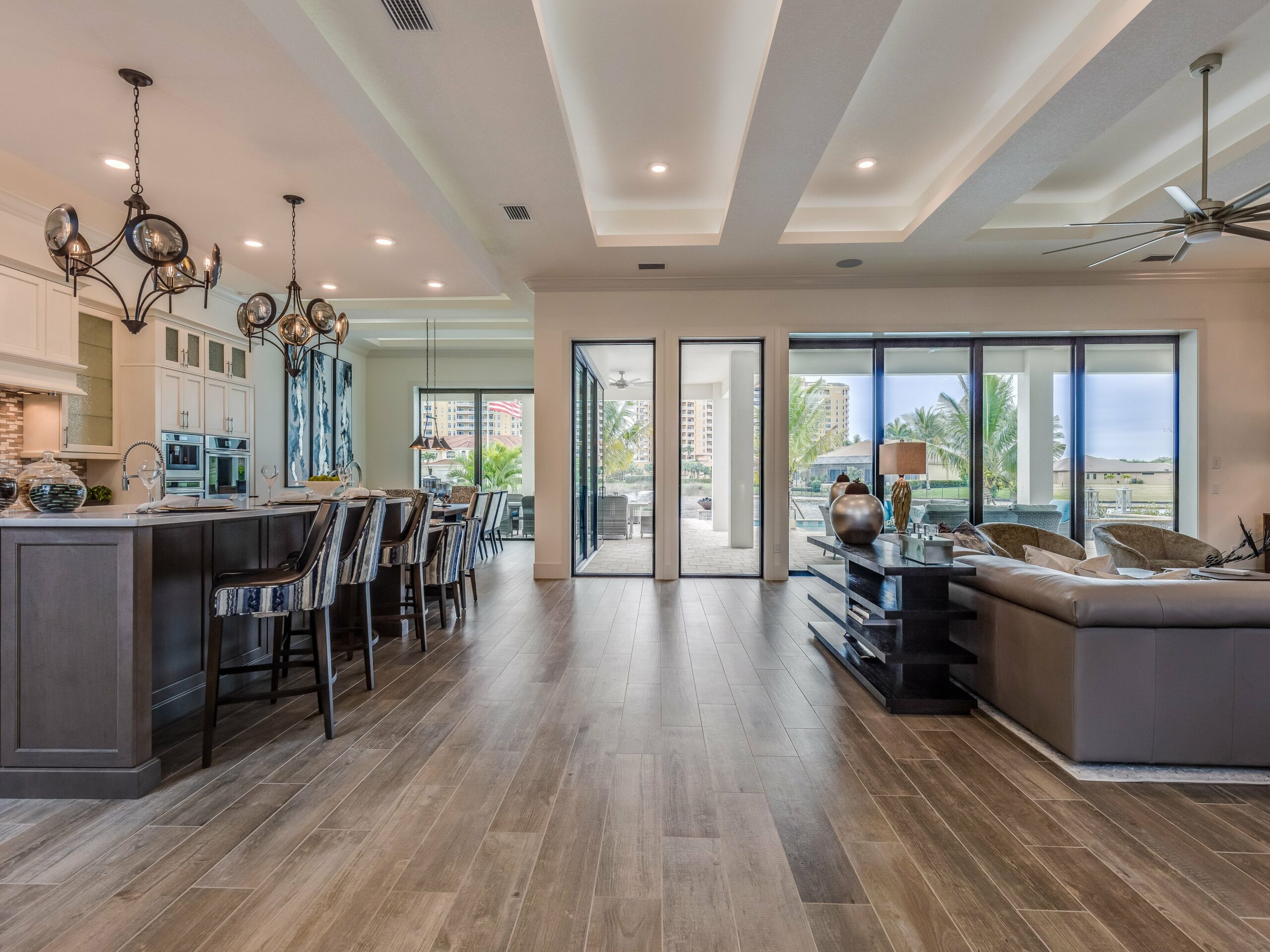 How to Care for Hardwood Floors When You Have Dogs
Maintenance for hardwood floors can vary depending on the specific nature of your house. For instance, if you have dogs or other pets, your maintenance techniques will be a bit different. Dogs add more considerations to preventative maintenance, such as:
Stains
Scratching from paws
Noise
To protect against dog scratches or other damages, follow practices like:
Trim your dog's nails: By keeping your dog's nails short, you can prevent harsh scratching on your hardwood floor. Some owners also buy protective boots for their dog's feet.
Clean regularly: When you have a dog, regular cleaning of your hardwood floor becomes even more important. Dogs shed their fur and might bring in more dirt from outside, so it's crucial to regularly sweep up debris. The more you clean, the more you can keep your hardwood flooring in a good condition.
Use rugs: Rugs also protect your floors from scratches. These coverings can reduce scratching and excess wear, even when the floor endures high amounts of foot traffic. If your dog has a favorite place to run or play, consider placing a rug there. That way, the rug can absorb most of the impact instead of your hardwood floor.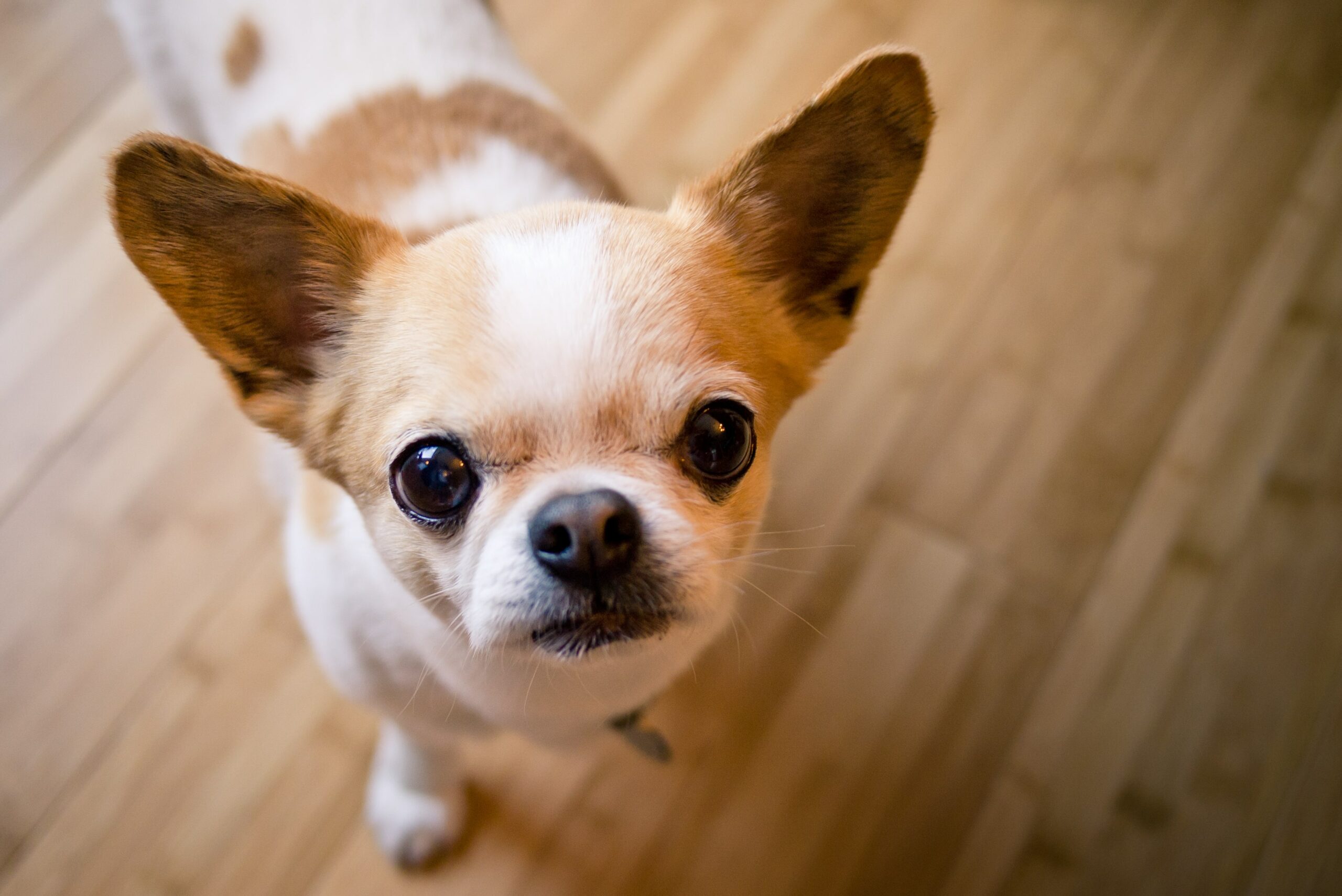 How to Care for Hardwood Floors When You Have Children
If you have children, they can add to your considerations for hardwood flooring maintenance. Here are some ways to keep your floors protected:
Clean up spills quickly: As soon as spills occur, clean them up with a paper towel or a soft cloth. A swift cleanup prevents liquids from sinking into your hardwood and causing further damage.
Use door mats and rugs: Rugs and door mats are also a smart idea if you have kids. Door mats can catch outside dirt before it enters your home, while rugs protect the floor from wear and scratches.
Leave shoes at the door: Keep kids from bringing in outside dirt by encouraging them to leave their shoes at the door. Instead, they can wear socks or slippers while inside. These foot coverings are less impactful on floors, reducing wear over time.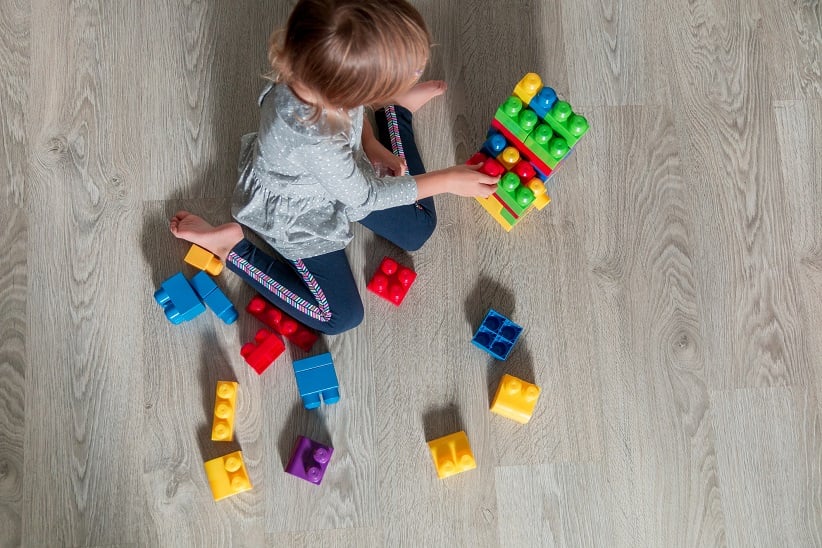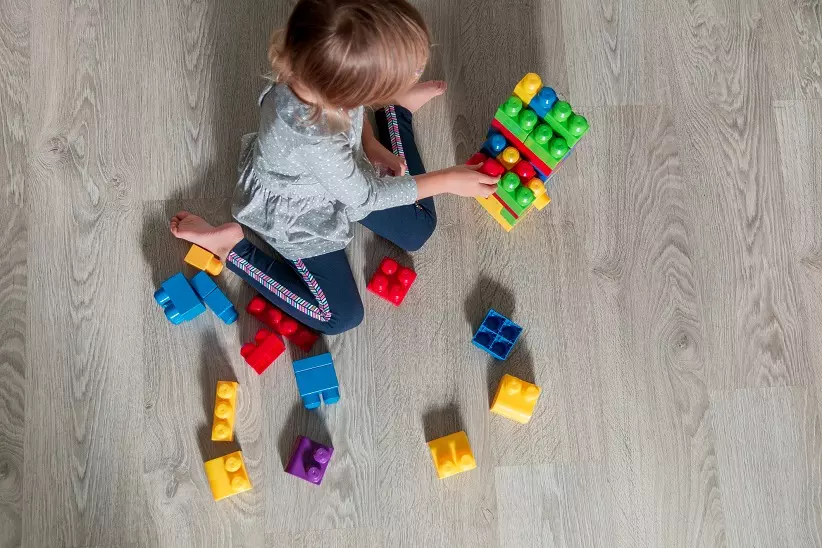 FAQs About How to Care for Wood Floors
When navigating hardwood floor cleaning and care, you might run into a few questions:
Do hardwood floors require maintenance?
Yes, hardwood floors need regular cleaning to stay in good condition. You should dust or sweep daily, clean spills as soon as they occur and use furniture pads and rugs to protect your floor.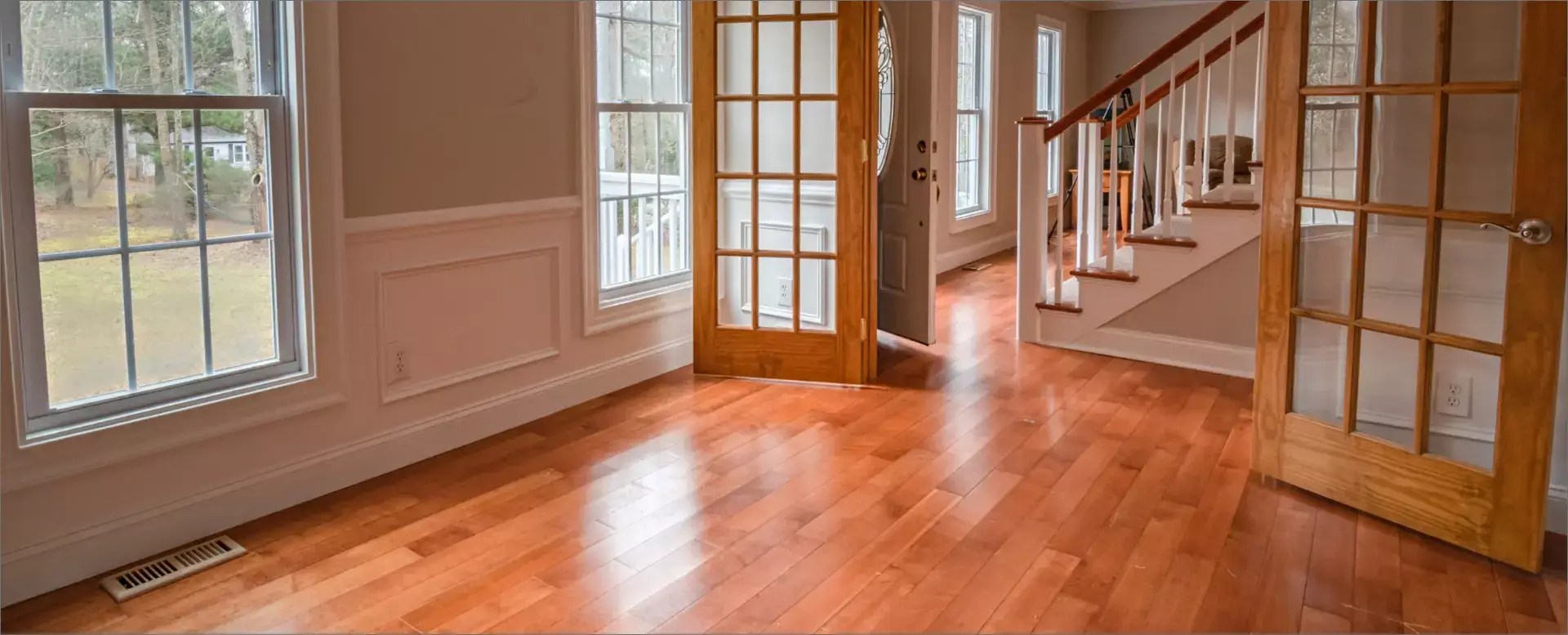 Can you mop hardwood floors?
Remember that too much water can cause wood planks to swell. Instead of using a typical bucket of water and mop, use a mop head to sweep up dirt and dust. Then, refer to your manufacturer's warranty to determine the best cleaning solution for your floor.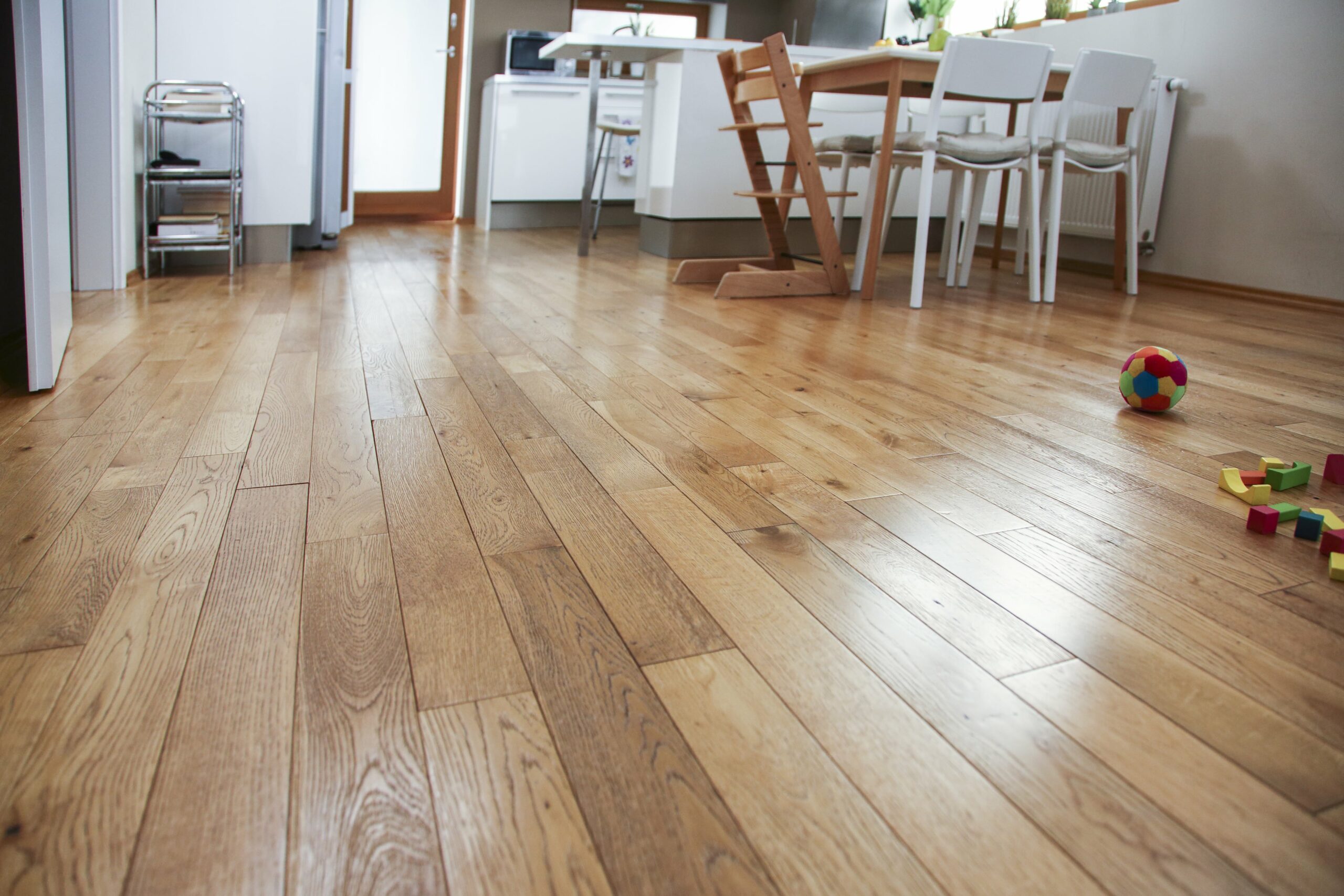 How often should you wash hardwood floors?
Clean your hardwood floors at least once a week. High-traffic areas that accumulate more dirt might require more frequent cleanings. As mentioned above, spot-mopping with minimal water is fine, but the best way to keep your hardwood floors in great shape is with regular sweeping and dusting according to your warranty.
Above all, check your warranty for the best cleaning guidelines.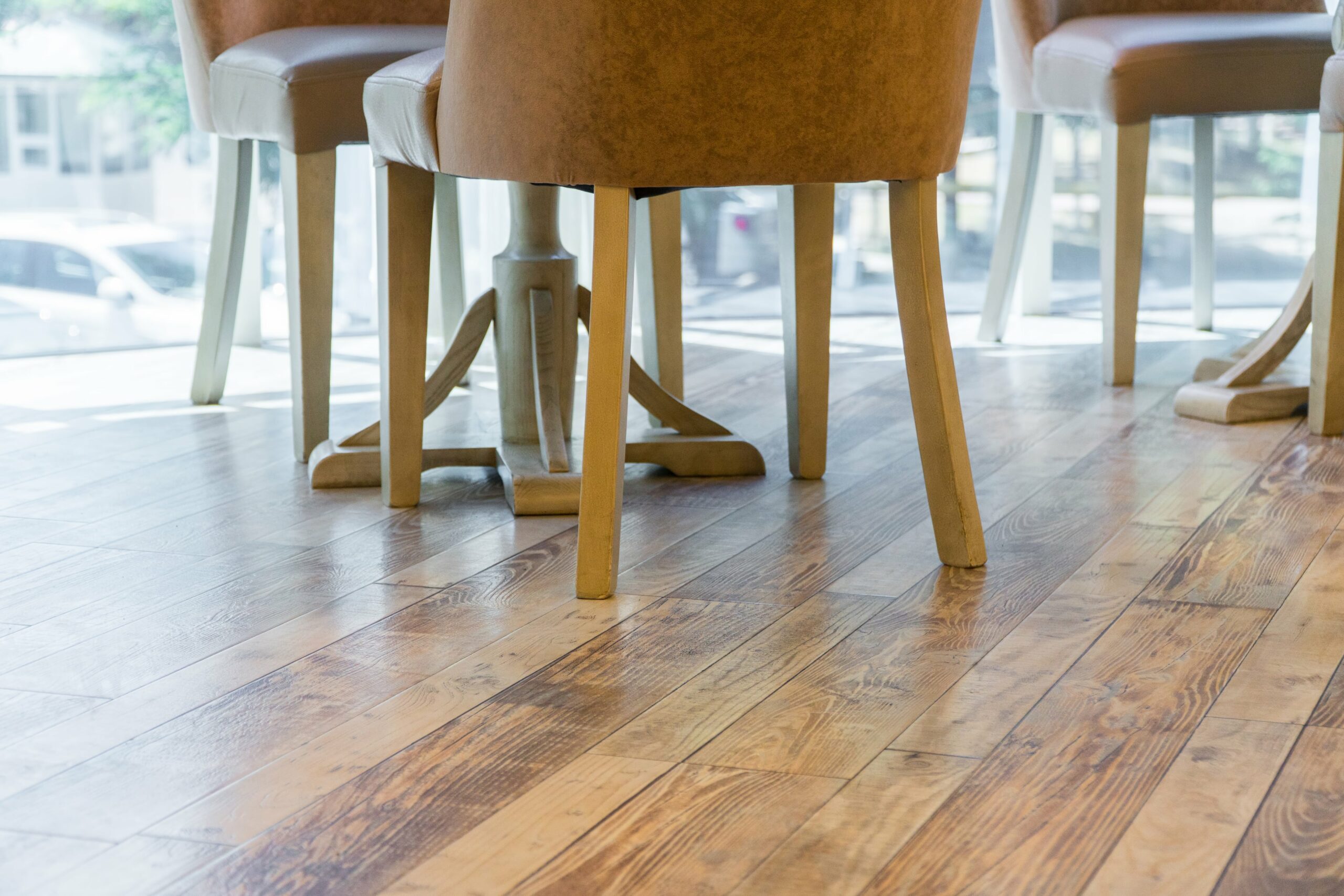 Looking to Replace Your Flooring? Contact 50 Floor Today
Regular care for your hardwood floor is essential. The proper care techniques can extend your floor's life span and keep it looking excellent long after your purchase.
If you're interested in replacing your hardwood floor, turn to 50 Floor. We offer a wide selection of flooring services, from installations to repairs. Our high-quality hardwood floors will make the perfect addition to your home.
Our team can expertly install a new floor and provide essential tips for maintenance and upkeep. We offer free in-home consultations that include a free floor measurement. These visits allow us to suggest a tailored solution for your home so you get the best flooring experience possible.

Reviews
Hear From Our Happy Customers
"Our representative Ron Armant was extremely professional, knowledgeable, and personable. He brought several samples for us to choose from, explained all aspects of the process with great detail, and he made sure we felt comfortable asking any and all questions we may have had. On the day of installation, Vito and his team were timely and did their jobs with precision. They came in, moved our furniture and appliances, installed our floors, cleaned up, and made sure everything was put back in its place. Our floors are gorgeous! We highly recommend 50 Floor!"
Read More
David & Robin Smith
"We got our tile-grout cleaned and it was very well done. Rich was knowledgeable and explained the cleaning options clearly. He was very professional and went the extra- mile to ensure good results. We appreciate his services and recommend him to anyone!!"
Read More
Reena
"Zack was amazing sales man and helped us out with it all! Great guy to work with!"
Kimberly Loftin