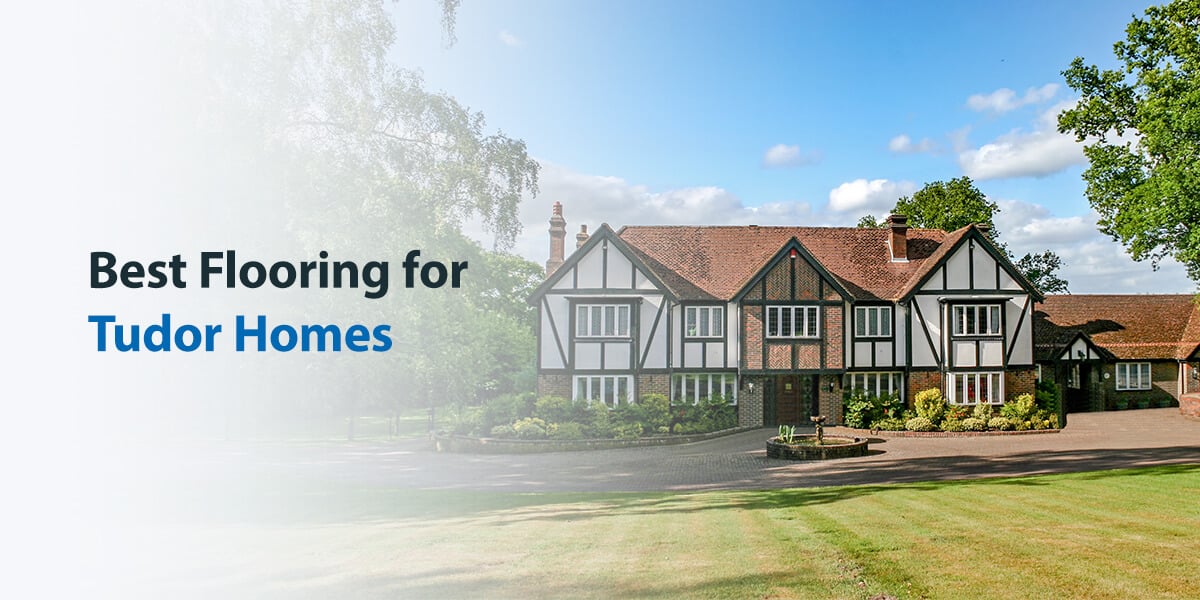 "Tudor" is an architecture and decor trend that originated in the United States in the mid-19th century. The style takes elements from late Medieval and early Renaissance architecture, making the architecture and decor highly reminiscent of these times. The distinct appearance of Tudor-style homes makes them recognizable and unique among other homes.
If you have a Tudor home or you're renovating a Tudor-inspired room, several flooring options pair well and will help you maintain the beauty and character of this style. Keep reading to learn about the Tudor house style and attractive flooring options to preserve its look.
What Is a Tudor-Style Home?
Tudor-style houses are easily identifiable with their unique style of exposed black timber frames and brick or cream-colored walls. The design dates back to 19th-century English architecture and Medieval and post-Medieval styles. Tudor-style houses come in all sizes, with smaller versions appearing as quaint storybook homes and larger Tudors embodying the romantic ideal of an English country manor.
The charming, old-world feel of these homes continues to appeal to Americans today. While Tudors mimic a style designed for colder climates and are ideal for the northern part of the U.S., they're popular across the country, often being situated in suburban areas.
Take Our Quiz to Find Your Flooring Style
Features of a Tudor-Style Home
Tudors are characterized by dark woods, warm colors and intricately patterned fabrics. The style of home is recognizable for its many distinct features, including:
A steeply pitched roof: The steeply pitched roof of the Tudor house style often has several front-facing gables — the triangular section of the roof — of variable heights.
Arches: One of the most distinctive features of a Tudor-style room is the arches. Arches revolutionized the way buildings were constructed in Renaissance times, with arched doorways and windows becoming prominent in Tudors.
Fireplaces: Fireplaces are another Tudor feature. Wall fireplaces were introduced in the 16th century and became common in all buildings from that time on. Tudor fireplaces are often made from a natural brick or stone with dark and ornate wood mantels.
Casement windows: The windows on a Tudor home are typically casement windows with small leaded panes in a rectangular or diamond pattern, held together with lattice.
Plaster and wood walls: Tudor-style houses typically use plaster and wood or stone materials on their walls. Weathered or dark wooden panels or half-timbers are standard for the style, creating a distinctive exterior and interior design. Oak paneling is also a prominent feature of Tudor homes, making interiors appear more ornate and rich.
Ornate interior features: Interior decorative features of Tudors include gold or silver thread and leafing, patterned fabrics, tapestries and symbols harkening to Medieval or Renaissance times. Furniture is often made from dark, heavy and ornately carved oak.
The best flooring for Tudor homes includes dark wood and stone materials or floors that look as though they're made from wood or stone. Large rugs on top of the wood flooring or ornate carpeting also make excellent choices when renovating a Tudor-style house. The design is meant to reflect styles of the late Medieval period, so keep this in mind as you select floor materials and styles.
Choose the Right Flooring for Your Tudor Home With 50 Floor
At 50 Floor, we'll help you choose the perfect flooring for your Tudor home. Several of our flooring styles can complement your home and help preserve that old-world charm. Choose from elegant, durable and stylish flooring options, including carpet, hardwood, tile, laminate and luxury vinyl, to make your dream home a reality.
To get started, schedule a free in-home estimate or call us today.