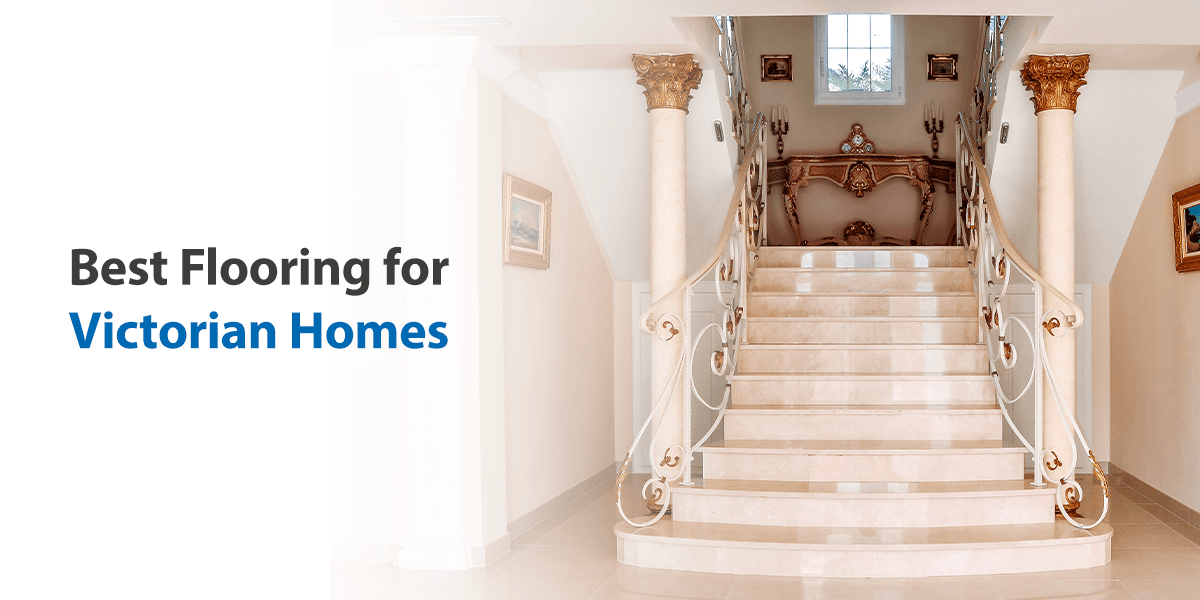 Though castles and royal European architecture may sound like a thing of the past, they remain highly prevalent in modern design trends, and Victorian-style houses are a prime example. With their vibrant colors, ornate detailing and stately structures, Victorian homes are nothing short of regal and elegant. Read on to explore the unique features of this refined architectural style and some of the best flooring for Victorian homes.
What Is a Victorian-Style Home?
Victorian-style houses emerged in the United Kingdom during Queen Victoria's reign from 1837 to 1901, hence the name. Known for its intricate woodwork and Gothic-inspired stylings, Victorian homes typically feature large wraparound porches, pitched roofs, turrets and roof towers. These houses are often large and vast with almost castle-like appearances.
The original occupants of Victorian homes didn't hold back with color, which is why their exteriors range from bold, vivid shades to darker hues. Before the Victorian period, houses were usually painted in one uniform color like beige or white. By 1887, many Victorians were experimenting with bright paint colors like mustard yellow and burnt sienna, striving to be the height of fashion.
The homes' exteriors alone are enough to catch your eye, but the interiors are just as majestic and ornate — if not more. From spacious multipurpose rooms to statement chandeliers to intricate molding, merely stepping through the doorway instantly makes you feel like royalty.
Take Our Quiz to Find Your Flooring Style
Features of a Victorian-Style Home
Let's look at some distinguishing features of the Victorian house style:
Two or three stories: Grand and extensive, most Victorian-style houses have two or three stories with a den, living room and library. Families typically occupied the first two floors during the Victorian era, while servants lived in the smaller third story.
Vast interiors: Victorian homes typically feature high ceilings with long and narrow sun-soaked rooms. These nooks and crannies are key to the signature Victorian style. Additionally, these homes often boast intricate window molding and doorways, with ceilings featuring unique framing or designs.
Vibrant color schemes: Interior Victorian color palettes often included deep, rich shades of burgundy, green, blue and chestnut, though modern Victorian homes can feature more neutral walls and furnishings.
Stone or wood exteriors: Most Victorian houses have wood siding, but Romanesque styles often feature outer walls constructed from stone.
Complex and asymmetrical shapes: Unlike the boxy, uniform Greek revival architectural style, Victorian homes often feature bays and wings in various directions.
Embellished roofs: Victorian-style homes feature steep rooflines with gables facing multiple directions. Second Empire Victorian houses have flat-topped Mansard roofs with side windows. Higher-end Victorian houses often boast an octagonal or round tower with a pointed, steep roof.
Textured wall surfaces: Patterned masonry, scalloped shingles and half-timbering are common additions to decorate Victorian siding.
Ornate trim: Many Victorian homes are embellished with extravagant metal or wood trim. This is often referred to as "gingerbread" trim.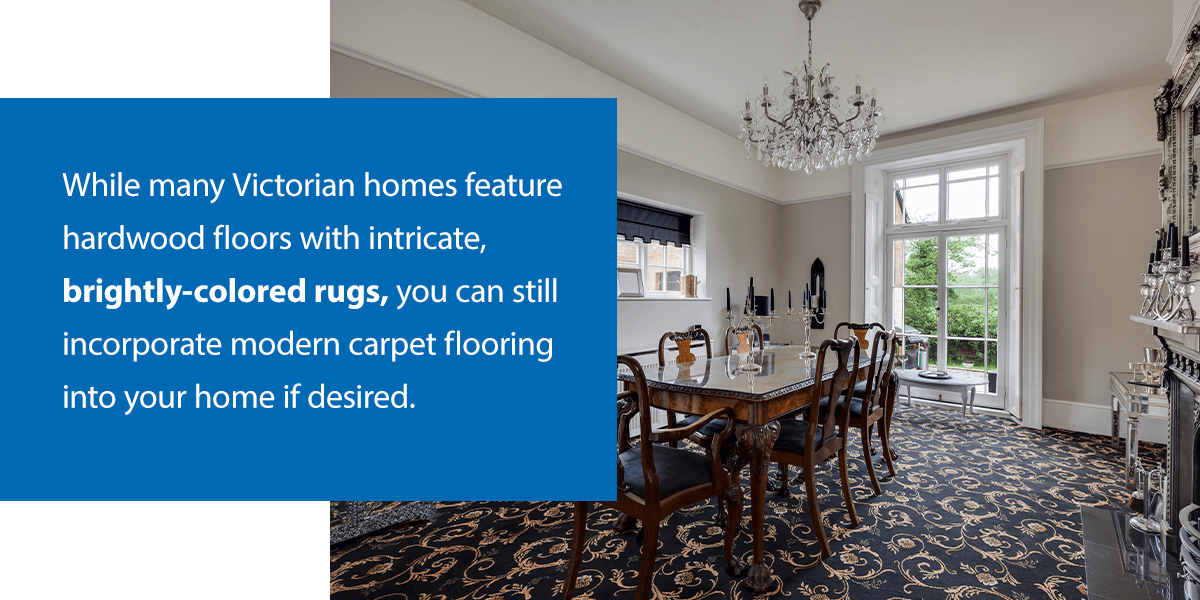 Here are some of the best flooring types for Victorian homes.
Choose the Right Flooring for Your Victorian Home With 50 Floor
If you're seeking out the best flooring for Victorian homes, look no further than 50 Floor. Our highly trained flooring specialists can help you choose and install the ideal hardwood, tiles, carpeting, laminate or luxury vinyl for your space.
Our in-home flooring experts will bring an array of samples to your home so you can browse potential options for your space. These professional insights can help you choose the flooring that accommodates your budget and style. We'll then proceed with the ordering and flooring installation process after you've completed your purchase.
Enjoy convenient, in-home Victorian flooring shopping with 50 Floor. Book an appointment for a free in-home consultation today!