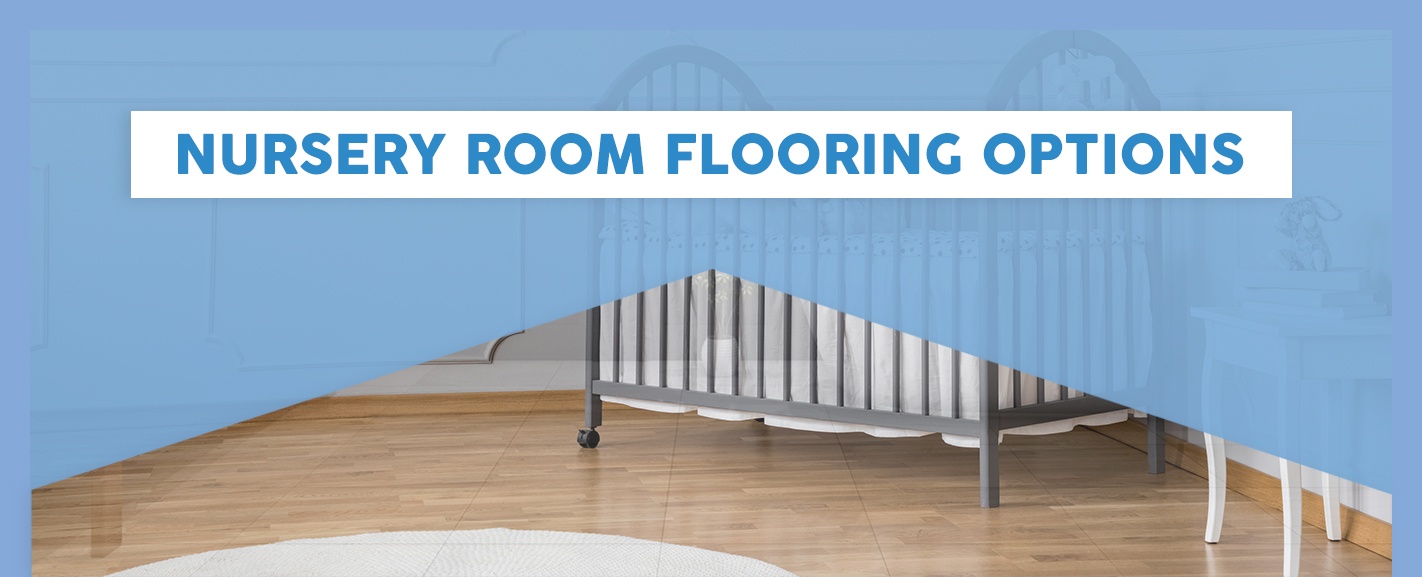 ---
Table of Contents
---
The arrival of a new baby is an exciting time. It's also a time filled with preparations. You've taken birthing classes, spent hours debating names and chosen a pediatrician. But what about the nursery?
If you're anticipating the pitter-patter of little feet, then you're likely spending a lot of time figuring out where your little one will sleep when they make their grand entrance. Creating a comfortable space where you and your little one can relax during late-night feedings and after diaper changes is a rite of passage for first-time and seasoned parents alike.
It's easy to focus on choosing a paint color and selecting a crib. But have you considered what kind of nursery flooring you need? Why is the flooring for babies such a big deal?
Sure, the floor in your nursery should be beautiful to look at, but it's also important to choose baby room flooring that will hold up to the demands of a young child — that means it should also be durable and safe. It should help maintain warmth — both in temperature and aesthetics — and it should prevent extra noise from interrupting your little one's sweet dreams.

Schedule a Free In-Home Consultation
Best Types of Flooring for Nurseries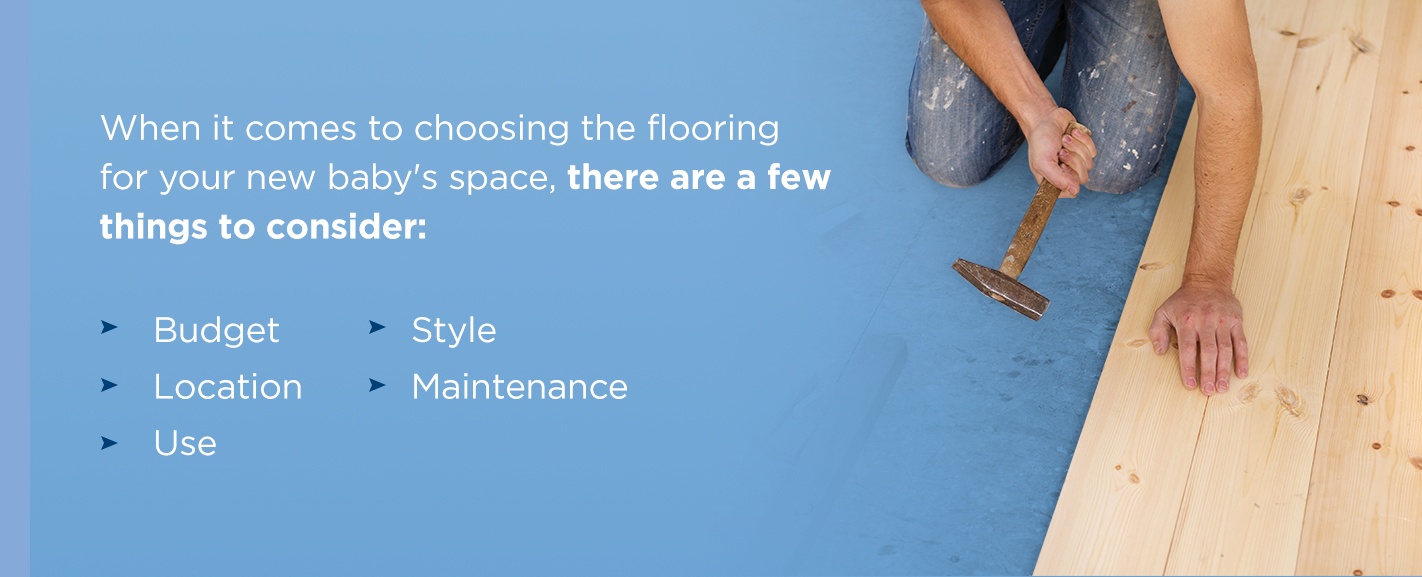 There are many different types of flooring on the market today, including hardwood, tile, vinyl and laminate, to name a few. But are there specific kid-friendly flooring options? Which flooring is the safest flooring for babies?
Before you dive into the benefits of specific types of flooring, it's a good idea to take a few minutes to figure out what you're looking for. When it comes to choosing the flooring for your new baby's space, there are a few things to consider:
Budget: How much flooring will I need? How much can I afford to spend?
Location: Is the baby's room next to an older sibling's room? Is it upstairs or downstairs? Does it tend to get cold in the winter?
Use: Do I plan to spend most of my time in nursery, or will it simply be a sleeping place? Do I expect baby continue to use this bedroom as they grow?
Style: Will the décor be modern or traditional? Bright or pastel-colored? Wood or painted furniture?
Maintenance: How much time do I have to devote to cleaning the floor?
There are no "right" or "wrong" answers to these questions. The point is to figure out what you need your flooring to do and how much you can spend. Once you have the answers to those questions, you can easily sort through available flooring options to find the one that's best for you and your baby.
Take Our Quiz to Find Your Flooring Style
There are many different kinds of flooring on the market today, but when it comes to flooring for a baby's nursery — or any child's room for that matter — the top options to consider are:
1. Vinyl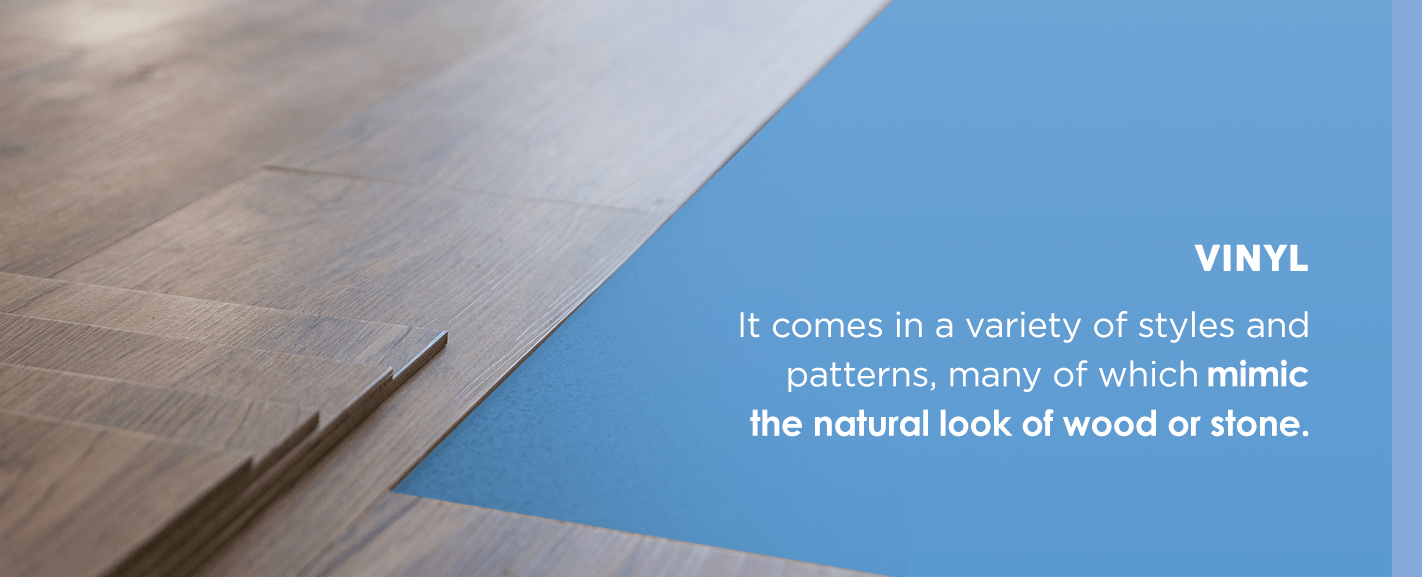 Vinyl flooring is a man-made product typically sold in planks, sheets or tiles. It comes in a variety of styles and patterns, many of which mimic the natural look of wood or stone. Why consider vinyl for a nursery floor?
Pros of Vinyl
Some of the reasons vinyl may be a practical option for nursery flooring include:
Soft: Vinyl is manufactured with either a felt or cork backing, which makes it more forgiving than natural hardwood. This makes it softer underfoot, and it also goes a long way toward absorbing sound.
Longevity: When installed correctly, vinyl can last up to 30 years.
Low-maintenance: Vinyl won't require re-staining or refinishing to keep its appearance. And it's water-resistant, making it easy to quickly wipe up spills and messes. It doesn't require special cleaners or products to keep it looking nice.
Cost: Compared to other materials like hardwood, vinyl is a more affordable option.
Cons of Vinyl
While vinyl flooring has a lot of benefits, there are also some cons to consider, like:
Inconsistent quality: The quality of vinyl varies among brands. When you're looking for high-quality vinyl flooring, pay attention to the vinyl's thickness, as well as its construction — rigid core planks are more durable and also more forgiving than peel-and-stick or vinyl tiles.
Potential swelling: Although most vinyl is water-resistant, if a large spill occurs and isn't detected for a while, there is the possibility that the vinyl could swell. Homeowners should remember that just because vinyl is low-maintenance doesn't mean it shouldn't be kept clean and dry.
2. Laminate
Laminate flooring is a man-made composite that is designed to mimic the look of natural hardwood.
Pros of Laminate
The most significant pros of laminate flooring are:
Durability: Laminate flooring has the look of hardwood, but it isn't as delicate. A laminate floor will hold up to the wear-and-tear that comes with life in the nursery, and it won't fade over time either.
Stain-resistant: Since laminate flooring is man-made, it doesn't absorb liquids. This means it won't stain, and it's easy to clean up when messes happen. You don't have to keep special cleaners on hand to mop up spills.
Cost: Laminate is a more affordable alternative if you want the look of hardwood, but your budget just won't allow it.
Cons of Laminate
If you're considering laminate flooring for baby's nursery, it's important to keep in mind some of the cons, like:
Cold underfoot: Because it's man-made, laminate doesn't retain heat the way hardwood will. This can make for a chilly landing for your feet on those cold winter mornings. If you decide to go with laminate flooring, you'll definitely want to purchase a cozy rug to keep yourself — and baby — more comfortable.
Potential swelling: Like vinyl, laminate flooring can also swell if a spill is left uncleaned. Regularly checking for — and cleaning — spills and stains is important to protect the integrity of the product.
3. Hardwood
Who doesn't love the classic look of hardwood floors? They never go out of style, which means the room won't look dated as your child grows. Although everyone is familiar with what hardwood floors look like, not everyone is familiar with the pros and cons of hardwood flooring, especially when it's installed in a child's room.
Pros of Hardwood
Some of the pros of hardwood for a nursery include:
Beauty: Hardwood floors complement any décor, giving any room a clean, elegant look.
Durability: These floors hold up to whatever you — or your baby — can throw at them. Of course, over time, the finish may fade or become slightly scratched, but that's nothing a little refinishing can't correct.
Easy to clean: Hardwood floors are easy to clean. When something gets spilled, all you need to do is quickly wipe it with a damp cloth and then dry the area.
Warmth: Hardwood floors retain heat fairly well, which can be helpful for keeping your baby comfortable during the winter months. Wood floors also look warm and inviting, especially when you add an area rug and some comfy furniture.
Cons of Hardwood
There's a lot to love about traditional hardwood floors, but there are also a few cons to consider before installing them in a baby's nursery, including:
Cost: Hardwood isn't the cheapest option out there, although it's durability over time does make it a sound investment. Besides the upfront cost per square foot, you'll also want to factor in the cost of an area rug to your budget. Leaving hardwood exposed to constant foot traffic can shorten its lifespan.
Comfort: Hardwood is, well, hard. It won't provide a soft space for your baby to play, making an area rug even more important as your little one starts to explore. As your little one grows, they may eventually try to climb out of their crib. If their attempt isn't successful, and they fall, falling onto a hard space will produce some tears and bruises.
Care: Hardwood floors are fairly easy to keep clean, but the wood can become scratched and dented over time. The wear and tear that comes from a young child may speed up this process, which means they may start looking older and require you to refinish them sooner.
What to Consider When Choosing Carpet for Your Baby's Nursery
Carpeting is always a popular flooring option for a nursery. Why? It's soft, it's durable and it comes in a variety of shades to match any nursery décor. It's a natural choice for a room where your baby might roll over, crawl and even climb out of the crib for the first time.
Pros of Carpet
Carpet is a beloved flooring option for a nursery because it is:
Budget-friendly: Carpeting is one of the most budget-friendly options for new flooring. Even a plush, durable carpet will cost less than other types of flooring, especially if the baby's room isn't very big.
Baby-friendly: The best carpet for your nursery is one that protects your baby from bumps and bruises. When you put wall-to-wall carpet in a nursery, you'll find a warmer, softer flooring under your feet when you're up for midnight feedings. Plus, as your baby grows and transitions into crawling and exploring, carpet provides a soft and safe space for them to move around.
Noise-canceling: Carpet does a great job of canceling noise. It makes it easier to sneak in and check on your sleeping angel without waking them up. It also muffles sounds coming from other areas of the house, which is a huge benefit if there are other siblings or an enthusiastic pet around.
Cons of Carpet
Although there are a number of benefits to carpeting a nursery, there are some cons to consider before you choose it:
Difficult to clean: A baby's nursery will see more than its fair share of spills and accidents. When a baby spits up on the carpet, you can't just wipe it up with a rag and be done. With a carpeted nursery, you'll frequently find yourself on your hands and knees scrubbing to prevent stains from becoming embedded into the carpet fibers. And, even with the best of intentions, you may find some things just don't come out without a professional cleaning.
Allergies: Carpets tend to trap dirt and allergens. Even with regular cleaning and vacuuming, there will always be things embedded in the carpet. If you have allergies or they run in your family, then having carpet in your little one's room could make things uncomfortable for you and your baby.
Tips for Choosing the Best Nursery Room Flooring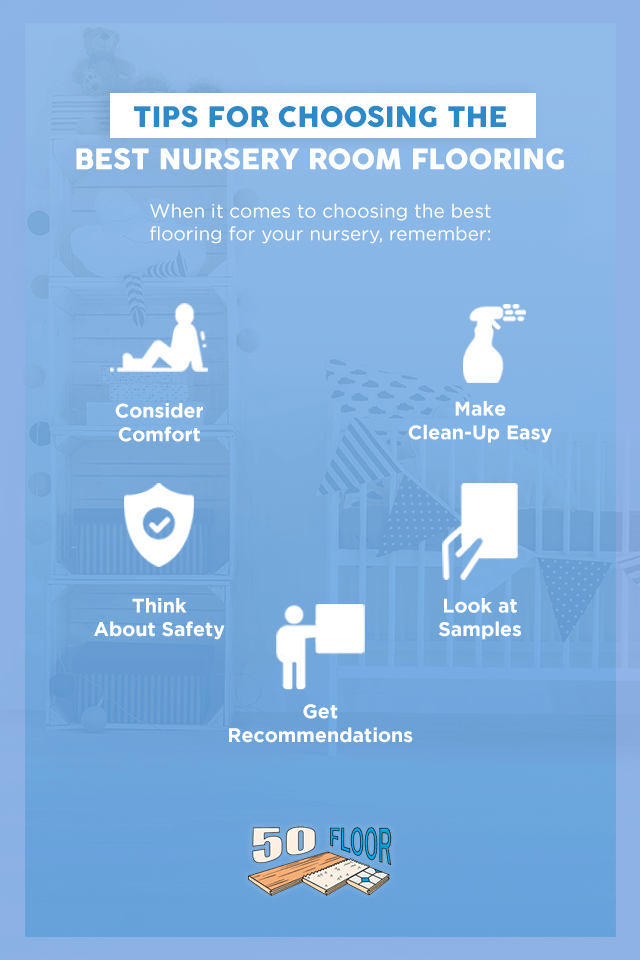 When it comes to choosing the best flooring for your nursery, remember:
1. Consider Comfort
Pick the flooring you think will be most comfortable as you spend time rocking, feeding, changing and playing with your baby. Consider how each material will feel underfoot, whether it will enhance or cancel noises and if allergens are a concern.
2. Make Clean-Up Easy
Even the cutest of babies make messes. Consider how much work will be involved in
cleaning and maintaining the flooring
you choose. Are you willing to spend the time and money it takes to keep certain flooring clean and well-maintained?
3. Think About Safety
Hardwood floors are beautiful, but they aren't very forgiving when a toddler slips and falls or a toy comes crashing out of the crib and onto the floor. If you like the look of hardwood, be sure to invest in a soft — and beautiful — area rug that will keep baby safe as he or she begins to explore. If you don't want to risk it, opt for a softer wall-to-wall carpet.
4. Look at Samples
The Internet is a wonderful resource when it comes to searching for flooring, but there's no substitute for viewing the flooring you like in person. Compare them to the paint colors you've chosen and the lighting in the room at different times of the day. You'd be surprised how many people change their mind or fall in love with a completely different product when they see it in person.
5. Get Recommendations
When it comes to flooring, crowdsourcing can be a great way to narrow down your options. Talk to friends with young children to find out what they liked — or didn't like — in their nursery room flooring. Learn from their mistakes and benefit from their positive experiences. Don't be afraid to ask to stop by their home to look at what they have. Just like with samples, there's no substitute for viewing each type of flooring in person to see how it looks and how it has held up over time.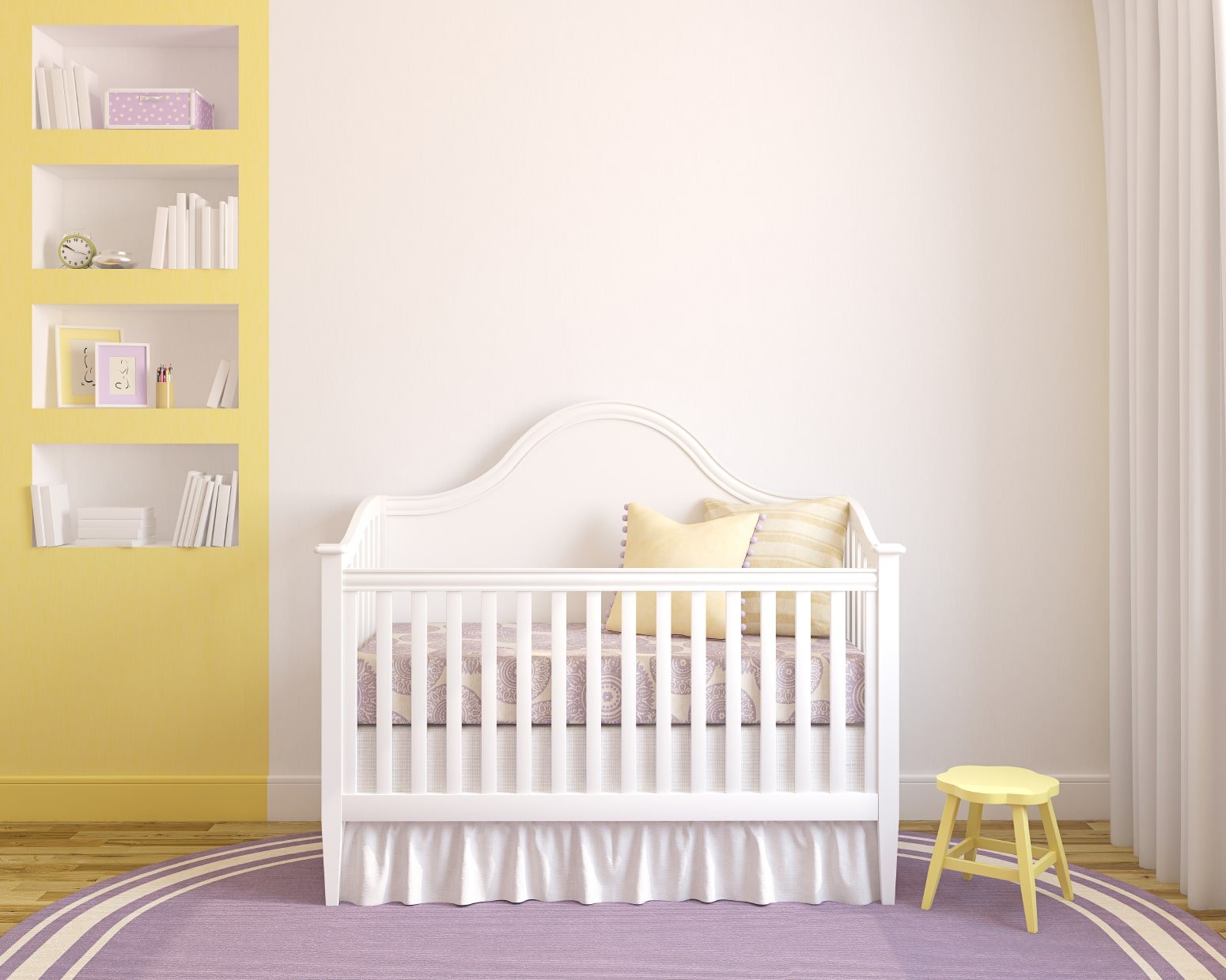 Find Nursery Flooring at 50 Floor
With so many nursery flooring ideas to consider, the process can be overwhelming. Luckily, 50 Floor is here to help.
At 50 Floor, we know that choosing the right flooring for your baby's nursery is important to your baby's health and comfort. We also know you have to stick to a budget. With both of those things in mind, our goal is to help you find the right flooring at the right price. What makes 50 Floor different from other companies is that we bring the showroom to you.
When you schedule an appointment, we come to your home to show you samples and help you find what you're looking for. You get our four decades of flooring experience combined with the benefits of making decisions in the comfort of your own home.
Ready to choose high-quality flooring at affordable prices? Schedule an in-home flooring appointment today.