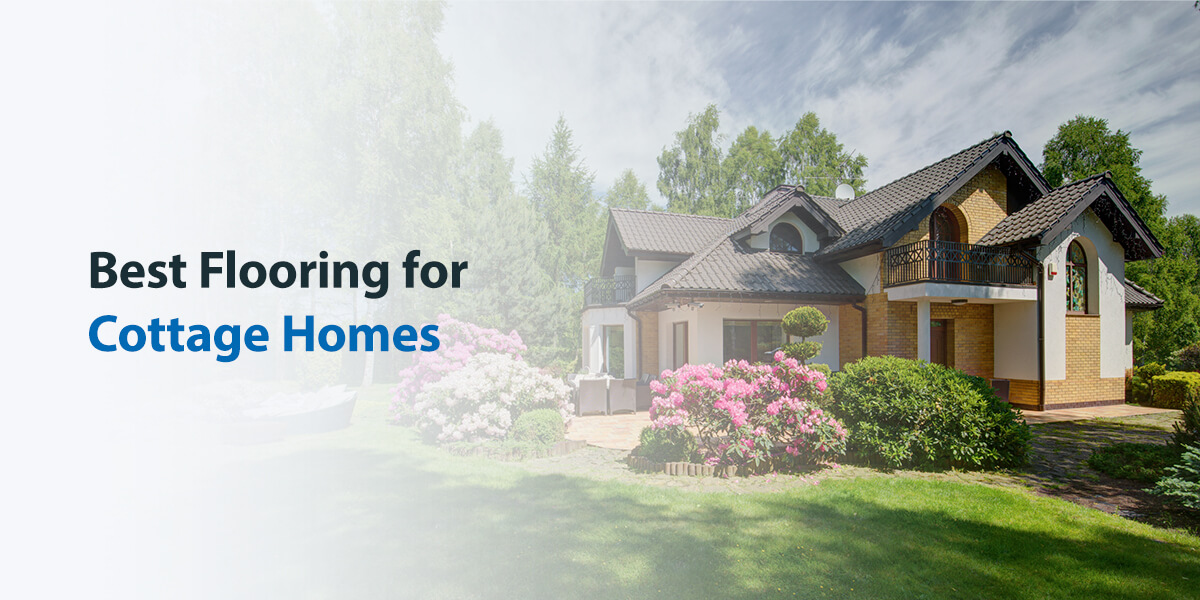 Cottages are one of the most beloved home design styles in history, known for their comfortable, cozy aesthetics and quaint charm. When you think of a cottage-style house, you probably envision grassy knolls, flowery countryside meadows, moss-covered rooftops and large, steadily billowing chimneys.
If you're renovating your cottage-style house, you'll want to maintain these aesthetics with durable flooring that will age with your cottage for years to come. From natural hardwood and laminate to cozy carpet options, many types of flooring can enhance your cottage house style and complement its natural look.
Keep reading to learn more about the cottage house style and the best flooring for cottage homes.
What Is a Cottage-Style House?
Cottage-style houses are small homes intended to house single families, known for their simple design and cozy accommodations. Commonly found in rural areas, what we know today as the cottage house style dates back to the Middle Ages. They were first used to house English farmers — or "cotters" — and have always been simple in design and compact, providing intimate living conditions for those inhabiting them.
While the English cottage-style house was always prevalent in the English countryside, the style eventually made its way to the United States in the late 19th century, becoming even more widespread. Cottage homes have become so popular, in fact, that you can find them worldwide, both in cities and the countryside. While many use them as vacation or summer homes, some people choose to live in cottages full-time, especially historical ones.
Take Our Quiz to Find Your Flooring Style
Features of a Cottage-Style Home
Cottages are known for their distinct features and architectural style. They're often asymmetrical, single stories, with low-pitched gable roofs and small covered porches. The chimney is the most prominent feature of the interior, significantly contributing to the cozy and comfortable charm the cottage house style is known for.
Distinct architectural features of the cottage house style include:
Asymmetrical design: Unlike colonial or cape cod homes with their symmetrical construction, the cottage house style relies on asymmetrical architecture.
Steep gable rooflines: Cottage homes take inspiration from Tudor architecture with their steep gable rooflines and dramatic front peaks accenting the home entrances.
Large chimney stack: The historic English cottage-style houses had central fireplaces for a heat source and a place to cook. Modern cottages include large chimney stacks often placed near the front of the home for a dramatic quality.
Casement windows: Cottage-style houses typically have casement windows with diamond-pattern light divides.
Charming finishes: Cottage homes typically include plenty of unique finishing details, including cobblestone pathways, window boxes, slate roofs and brick garden walls.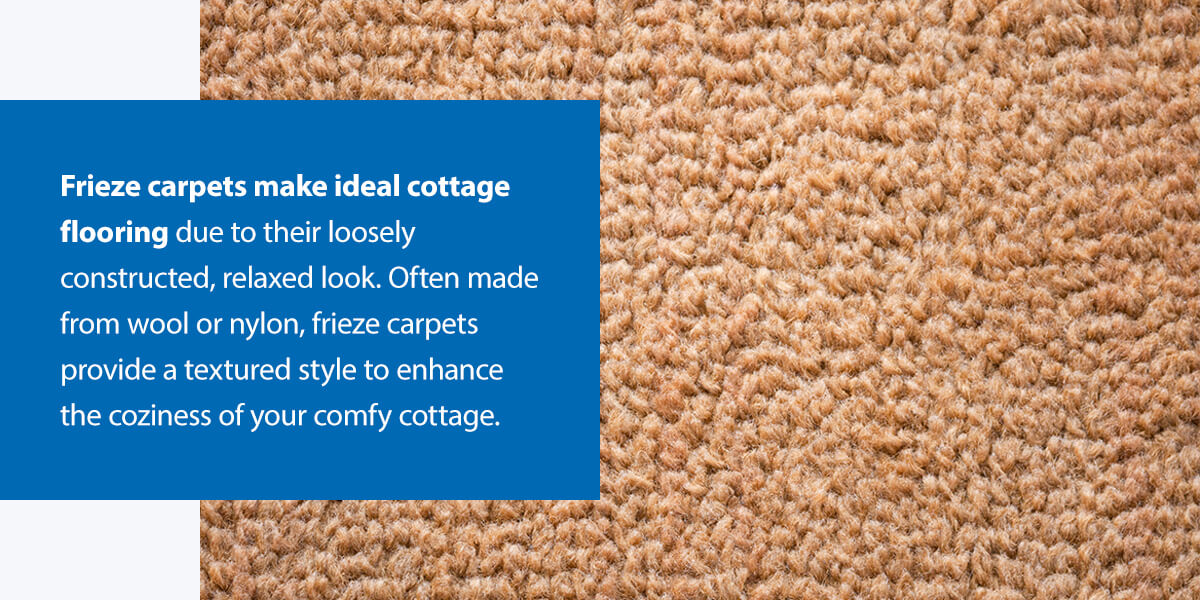 Whether you live in your cottage home full-time or use it as a vacation or summer home, you'll want flooring that will enhance its charm and last for years to come. The best flooring for cottage homes will be durable and low-maintenance for your family's needs. Keep reading to discover the best carpet, hardwood, laminate, luxury vinyl and tile flooring styles ideal for your cottage home.
Choose the Right Flooring for Your Cottage Home With 50 Floor
From vintage and country-inspired looks to rustic Medieval styles, cottage interiors make a unique and cozy respite from the rest of the world. Complement that style with comfortable, stylish and durable flooring at 50 Floor. We can help you choose the perfect flooring for your cottage home when you partner with us.
Choose from laminate, luxury vinyl, carpet and hardwood options that are sure to enhance your cottage's natural beauty and charm.
To get started, schedule a free in-home estimate or call us today.