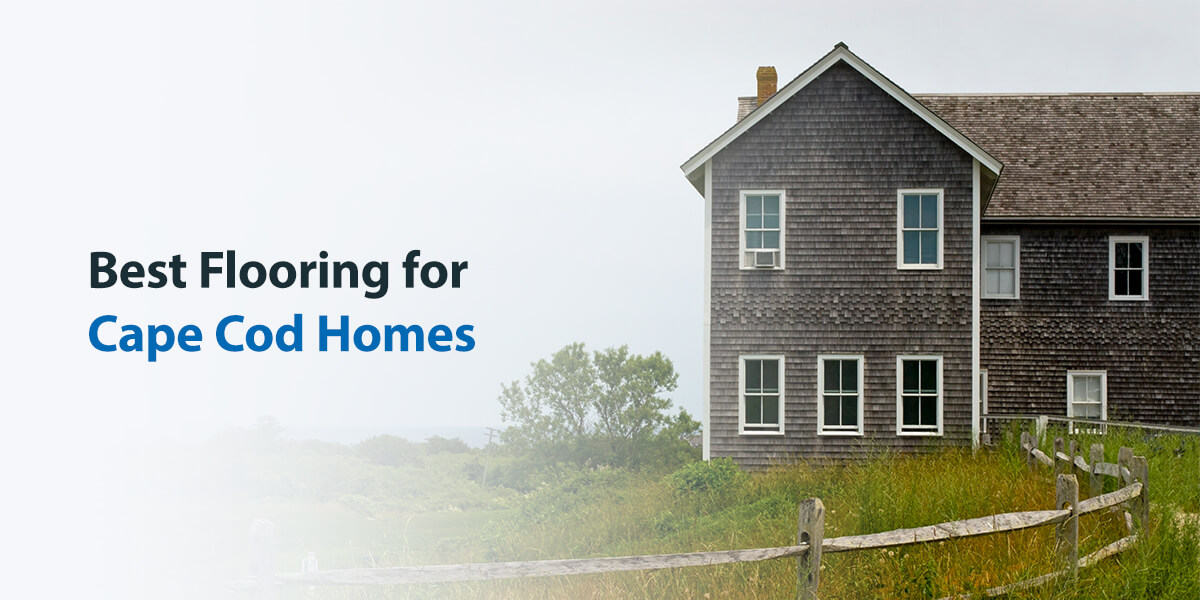 Ever since 17th-century English colonists introduced Cape Cod architecture to the United States, this classic home style has remained a favorite among homeowners — both for its ability to tolerate the intense New England winters and its unique, cozy and luxurious maritime charm. Explore the defining characteristics of Cape Cod houses and some of the best flooring types for this beautiful architectural style.
What Is a Cape Cod-Style Home?
One of the most recognizable and popular styles of American home architecture, Cape Cod design is prevalent in New England but can be found across the U.S. Known for its steeply pitched roof, central door and clean rectangular appearance, many homeowners admire its simple yet timeless appeal.
The typical Cape Cod-style house is a quaint, unembellished home with side gables and steep roofing to prevent piled-up snow. Low ceilings and a large central chimney provide internal heat during the winter months, while double-hung wooden shutter windows flank the central door.
Take Our Quiz to Find Your Flooring Style
Features of a Cape Cod-Style Home
Cape Cod-style houses can vary in size, but they all share a few common features.
1. Layout and Setup
While most traditional Cape Cod homes had one story, modern ones often feature two stories with dormer windows built into the roof, bringing additional natural light to the second story.
Cape Cod homes were originally designed with two main rooms — a primary bedroom and living room, resembling the English "hall and parlor" rooms they were based on. While the original design concept remains prevalent, Cape Cod architecture has evolved over the last few centuries.
The original blueprint is commonly doubled to allow for more space, adding wings to the sides or back of the home. Cape Cod-style homes have three main variations — three-quarters, half and full Capes. This variation depends on features like the chimney placement and window quantity, size and positioning. With open floor concepts growing more popular, modern Cape Cod interior design often involves opening the walls to create larger spaces.
2. Pastel Color Palettes
When you're working with small rooms and low ceilings, it's best to steer away from dark and heavy colors. That's why Cape Cod homes tend to embrace pastel color palettes with sky blues, sage greens and butter yellows.
3. Coastal Decor
When it comes to interior decor, coastal themes are a popular trend in many modern Cape Cod homes. Aquatic blues, sandy neutrals and furnishings inspired by natural elements help capture the breezy look and feel of a Cape Cod beach house, creating a purely New England aesthetic.
4. Hardy Materials
Traditional Cape Cod homes were constructed with sturdy local materials that could withstand the harsh New England winters, including:
Pine and oak wood post and beam framing.
Pine and oak wood flooring.
Brick fireplaces.
Cedar or clapboard siding and roof left unpainted to weather with the elements.
5. Central Chimneys
Cape Cod houses are known for their stately central chimneys. However, as heating technology advanced, massive central chimneys in New England Capes began to reduce in size. Chimneys were then displaced to the side of homes built in warmer climates beyond this region, like the south.
Now that we've explored some common attributes of the Cape Cod house style, let's go over some of the best flooring options for this type of home design.
Choose the Right Flooring for Your Cape Cod Home With 50 Floor
When finding the best flooring for Cape Cod homes, turning to a highly trained flooring specialist with expert design insights is an important step. 50 Floor would love to work with you to design the perfect Cape Cod-style flooring for your home.
Our personalized flooring services allow you to browse samples and shop flooring from inside your own home, seeing what fits with your space. Our in-home flooring experts will assist you in selecting flooring to meet your budget, needs and lifestyle, all before proceeding with prompt and high-quality flooring installation services.
Whether hardwood, carpet, tile or laminate, find your dream flooring for your Cape Cod home with 50 Floor. Schedule an appointment for a free in-home consultation!