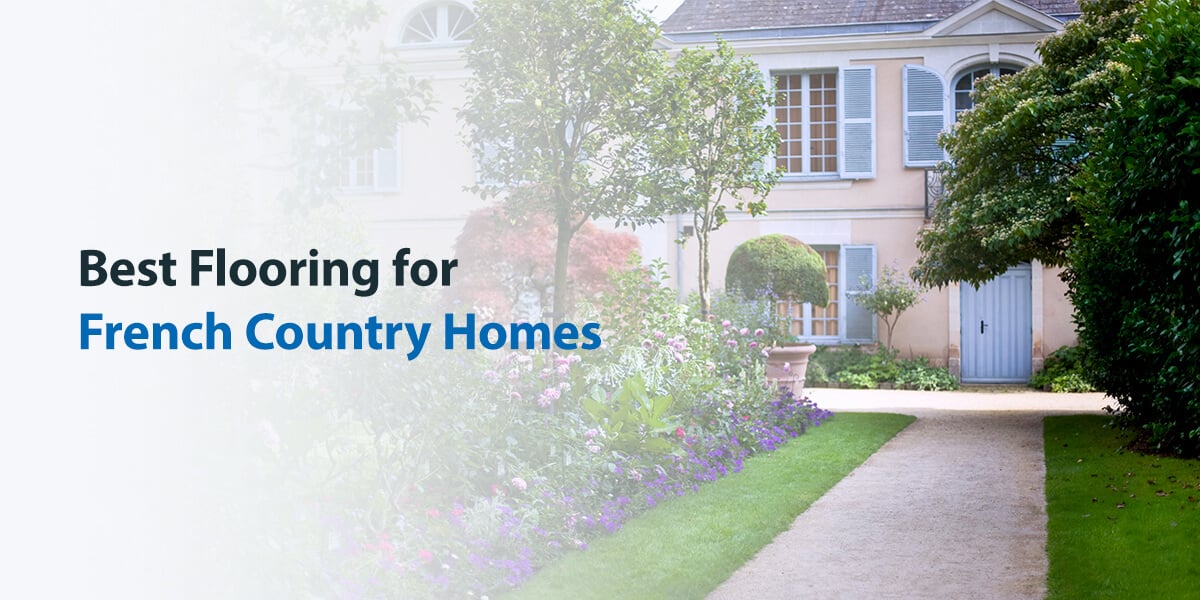 Expertly blending rustic and royalty, the French country house style is the epitome of classic European architecture, sprinkling in modern and chic elements for a one-of-a-kind aesthetic. Reflecting a sense of history and charm, French country interior design is a wonderful way to enhance your space. Explore popular traits of French country homes and the best flooring types for this architectural style.
What Is a French Country-Style Home?
Also known as a French provincial home, a French country home is a grand-sized, cottage-style house typically surrounded by foliage and set behind a courtyard. It's a unique mix of luxurious yet relaxed stylings, a chic rustic interior and natural stone facades.
French country-style houses combine elements from other interior design styles like farmhouse, traditional and shabby chic, creating a tasteful blend of art and furniture. Colorful textiles offset an otherwise muted color scheme, while distressed and layered linens add depth to the space without overwhelming it with color.
Opulent lighting from elegant chandeliers adds a regal flair to the space, while exposed beams radiate a cozy rustic feel. French country is a timeless design that combines a modern, royal and rustic feel all in one.
Take Our Quiz to Find Your Flooring Style
Features of a French Country-Style Home
Given the large variety of homes found in France, not all French country-style homes are the same. However, French provincial homes usually share similar interior and exterior characteristics, all of which contribute to their eclectic style. Below are some defining features of the French country-style house.
1. Grand Exteriors
French country-style homes are often constructed from classic, sturdy materials like brick, stone or stucco. Many feature grand, arched windows with shutters and steeply pitched roofs. Iron gates, courtyard gardens and gravel pathways are other common features of this home.
You'll often find lush greenery from rose bushes, creeping ivy or topiaries surrounding the home. French country home windows generally have multiple panes and are sometimes accompanied by iron balconies.
2. Rustic and Elegant Interiors
Next, some typical interior features of French country design include:
Distressed hardwood flooring in chevron patterns
Tall ceilings with rustic wooden beams and skylights
Floor-to-ceiling windows for sufficient natural light
Arched doorways leading to courtyard gardens
It's also common for a French country house to feature a breakfast nook, formal dining room, living room and family room rather than one large area, as you often see with open floor concepts.
3. Neutral Color Palettes
Most French country-style homes are embellished with soft shades like cream, white, gray, pale blue or pale yellow finishes. Pops of color like red, blue, light green and black — and natural accents made of stone and wood — add warmth, texture and depth to the interior.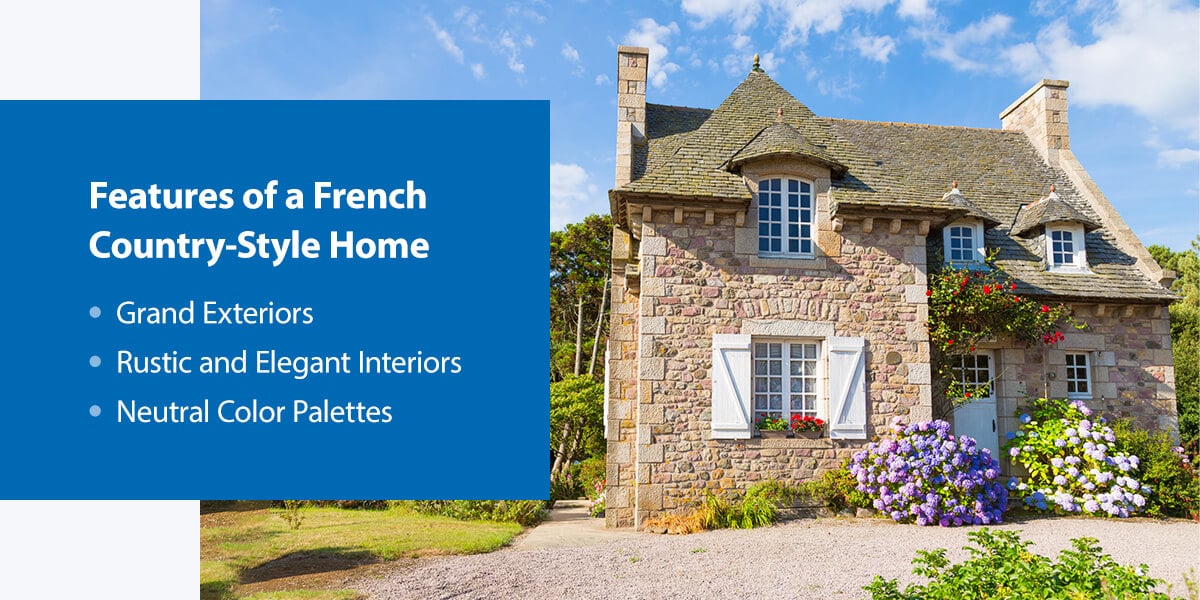 Natural-looking materials are a key element in French country design. The right flooring can help you achieve this timeless appeal for your home. Here are some of the best flooring options for French country-style interiors.
Choose the Right French Country Flooring for Your Home With 50 Floor
Now that you've explored some of the best flooring for French country homes, you might be brainstorming some ideas for your own space. Partnering with an experienced flooring company is an excellent way to achieve your dream floor. Our team at 50 Floor can help you find and install the perfect French country-style flooring for your space.
When you consult us for in-home flooring offerings, our highly trained flooring consultants will bring various samples to your home so you can see what works best with your space. We'll help you select flooring that meets your lifestyle, budget and design preferences before proceeding with the installation process.
Skip a store trip and enjoy the convenience of in-home flooring shopping with 50 Floor. Schedule your appointment for a free in-home consultation today!