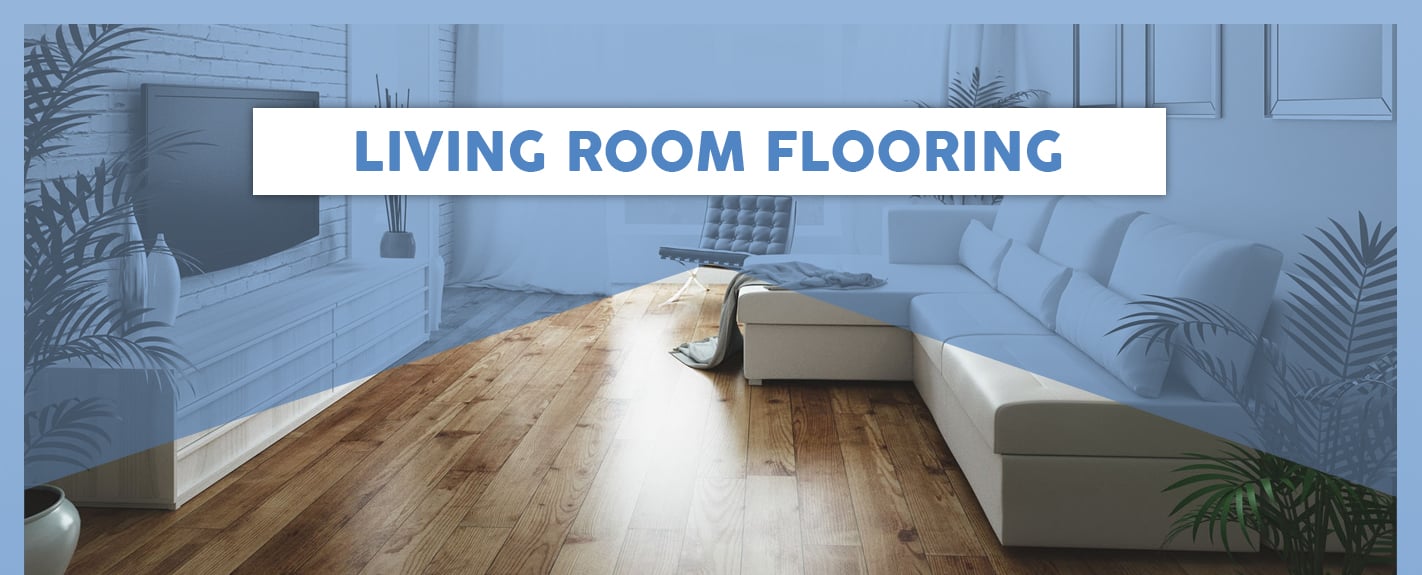 ---
Table of Contents
---
The living room is where you and your family will spend most of your free time together, whether you're watching TV, reading or just relaxing after a long day. Movie nights, game nights and more fun events will all likely take place in this area of the home. So, when you need to update your living room flooring, you want to be sure you're picking the right type and material to suit your household.
Homeowners have many choices to make and factors to consider when they choose what type of flooring to use in their living rooms.

What to Consider When Choosing Living Room Flooring
Everyone has unique preferences and needs when it comes to their homes, and that includes the flooring they choose. Since the living room is such a commonly used room of any house, as well as one of the largest, homeowners should carefully weigh out their options before making any decisions. Be sure to approach your living room flooring project by identifying the most important characteristics you want your flooring to have — the features that will benefit you and your family's lifestyle the most.
Take Our Quiz to Find Your Flooring Style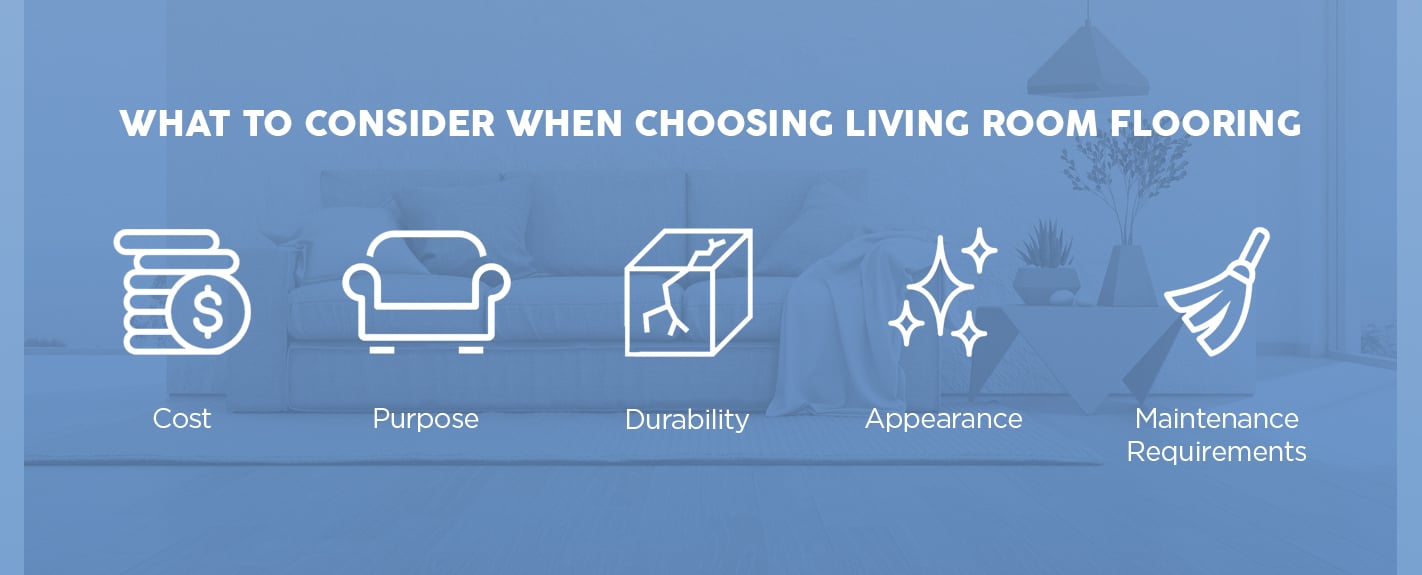 Here are a few factors to consider when choosing living room flooring:
1. Cost
How much money are you willing to spend on your living room flooring? Since your living room is likely one of the largest rooms in your house, you'll be spending more on the flooring in this area compared to bedrooms and bathrooms no matter which material you choose. However, you can still set a budget when you upgrade your living room flooring. Your price point will vary significantly based on the material you choose, so it's possible to do either a high-end renovation or a budget-friendly upgrade. Remember, the more money you put into renovating your house, the more you'll likely be able to sell it for if and when you decide to put it on the market.
2. Purpose
How do you plan on using your living room? Depending on the layout of your home, you can choose to use this area for many different activities and purposes. It could serve as a simple sitting room or "extra" room where you keep all your odds and ends. Or, as it does for most people, it can be the area where you watch TV and do most of your relaxing and hanging out. Think about how you and your family will likely use this space, then choose between the flooring options for living rooms based on that detail. Will you allow food and drink in this room? What about roughhousing and playing with toys for the kids and pets? Every family uses their living room differently, so make sure you think about your specific needs.
3. Durability
Does your living room flooring need to be extra durable? Maybe you have dogs, cats or rambunctious kids running around your house most of the time, and your living room flooring needs to withstand anything. Or, perhaps you just want to upgrade your flooring once and have it last as long as possible before you have to touch it again. Every type of living room flooring material has a different level of durability, so you should consider how important that is to you before you start shopping.
4. Appearance
How important is the appearance of your living room? Since this room is likely one that you, your family and guests will spend a lot of time in, you undoubtedly want it to look as great as possible. But, you'll have to define exactly what kind of aesthetic you're going for. Carpet and hardwood can both be very attractive types of flooring for your living room, but they create very different vibes. Decide what kind of appearance you want your living room flooring to have, such as whether you want a warm, welcoming atmosphere or a luxurious, elegant aesthetic.
5. Maintenance Requirements
How frequently are you willing to perform maintenance tasks on your living room flooring? Some materials require more upkeep than others. For example, hardwood flooring may require you to reseal it occasionally to maintain its coloring and shine. Meanwhile, carpeting will likely not require any maintenance other than regular cleaning until you will need to replace it again. If you don't mind doing a bit of work to keep your flooring in good condition, then investing in a low-maintenance option may not be worth the savings to you.

Schedule a Free In-Home Consultation
Best Types of Flooring for Living Rooms
Even though everyone has unique preferences, there are a few materials that make for the best flooring for living rooms. Here are four of the most popular flooring choices for living rooms, as well as the pros and cons of each of them.
1. Vinyl
Similar to laminate, vinyl flooring is an option for homeowners who want a hard-surfaced flooring in their living room without the expense of hardwood.
Pros
Some of the pros of vinyl flooring include that:
It's easy to clean: If you predict there will be lots of spills and dirt tracked through your living room, vinyl flooring is an option that's easy to clean and maintain.
It's budget-friendly: Since the cost of hardwood can quickly add up for a room the size of your living room, you can opt for vinyl flooring to get the same look and feel for a lower price.
It's water-resistant: Vinyl flooring is one of the most water-resistant options for your living room, outshining both the carpet and hardwood options.
Cons
Meanwhile, the cons of vinyl flooring are:
It's not extremely durable: Vinyl flooring isn't the most durable option for your living room, as it can become scratched or dented by heavy furniture.
It's difficult to remove if needed: If your vinyl flooring does become damaged, it can be difficult to remove cleanly since it is usually glued down.
2. Carpet
Carpeting is a popular choice for living room flooring because it's comforting, homey and attractive. It's great for families that want to spend lots of time together in the living room and play games on the floor. However, there are pros and cons to having living room carpeting.
Pros
Some of the pros of having carpeting in your living room include that:
It's comfortable: Carpeting is by far the most comfortable flooring option, as you can choose from carpets that are very soft and plush. If you have kids who will likely play or watch TV while sitting on the floor, carpet is a smart choice for your living room.
It's budget-friendly: You can typically find a type of carpeting that falls within your budget, whether you want a high-end, luxurious carpet or would prefer a more basic option.
It offers extra insulation: Carpeting is better for insulation than hardwood and other flooring options, providing excellent sound-dampening qualities and warmth in the fall and winter.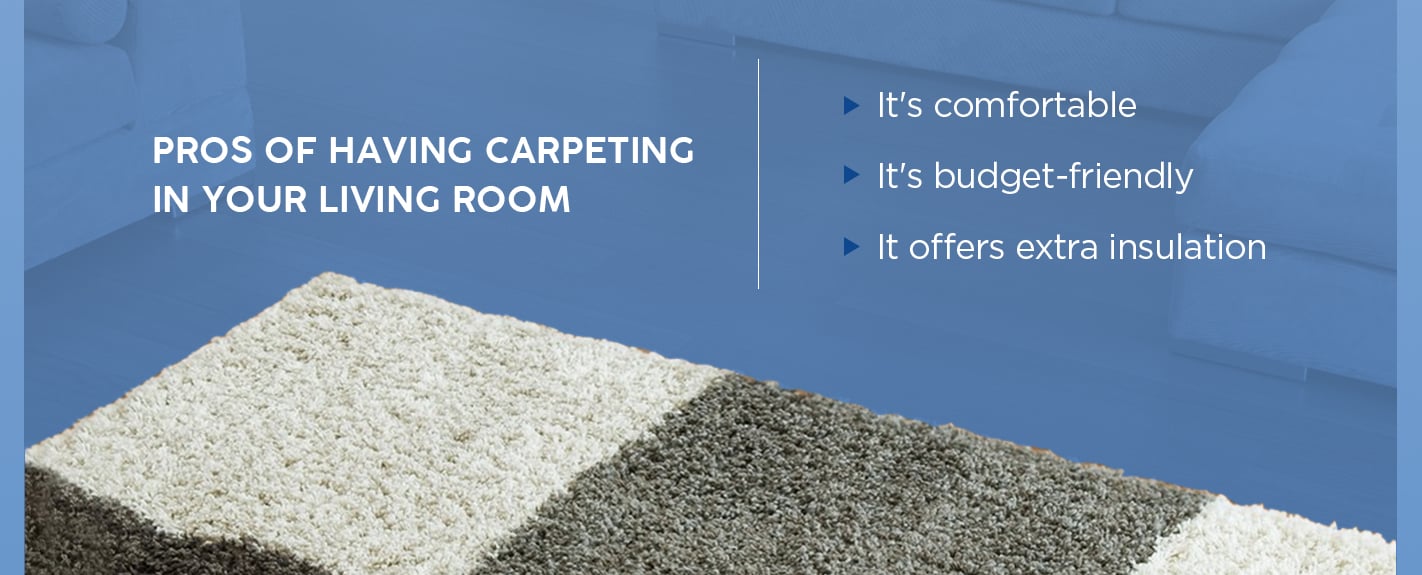 Cons
Some of the drawbacks of having carpet in your living room include that:
It's more likely to stain: If you're going to be eating and drinking a lot in your living room, carpeting might not be the best choice. While it's relatively easy to clean small spills and stains out of carpets right after they happen, it can be expensive and time-consuming to have to remove multiple set-in stains.
It's not very durable: Carpet can tear and fray easily, especially if it's in a high-traffic room like the living room. If you're looking for a durable option and want to go with carpeting, be sure to choose a style that is designed to last longer than most carpets.
It can trap allergens: Hard flooring styles are typically more dirt- and allergen-resistant than carpeting, as it's easier for carpet to trap dust and dirt. If you or someone else in your household have severe allergies, carpeting might not be the best choice for the living room.
3. Laminate
Laminate flooring is a popular budget-friendly alternative to real hardwood flooring for many homeowners. It's available in a variety of colors, sizes and styles, so you can customize the appearance to meet your needs.
Pros
The pros of using laminate flooring in your living room include:
It's durable: For households that expect their living room flooring to see a lot of wear and tear, laminate flooring is a durable option.
It's moisture-resistant: Laminate flooring can resist moisture and spills without becoming damaged or needing repair or replacement.
It's easy to maintain: Laminate flooring is fairly easy to clean and maintain, making it an ideal flooring choice for living rooms and other commonly used areas of the home.
Cons
Laminate flooring also has a few downsides, such as:
It's not insulated: Since it's not insulated, laminate flooring does not provide additional warmth or sound-proofing qualities.
It can be difficult to repair: If part of your laminate floor becomes damaged and you want to repair it, you may have to replace the entire floor. It's difficult to sand away or paint over imperfections in laminate flooring.
4. Hardwood
Hardwood flooring for living rooms is a popular choice for households that want an upscale look and prioritize durability and appearance. In fact, one survey found that 72% of homes have hardwood flooring in the living room.
Pros
As the most common choice for living room flooring, hardwood has several pros, including:
It's attractive and timeless: Hardwood flooring creates an aesthetic that is elegant, welcoming and put-together. It's a type of flooring that will look great no matter what kind of decor or furniture you have in the home.
It offers variety: With so many species of wood that can be used for hardwood flooring, you can customize your living room's hardwood flooring in terms of size, shape, style and color.
It's favorable: If you're upgrading your flooring because you're getting ready to sell, then hardwood is an excellent choice — it will appeal to most potential buyers.
Cons
Despite hardwood flooring's popularity, it still comes with a few cons:
It requires maintenance: Every now and then, you may have to reseal your hardwood flooring to maintain its shine. Depending on how often you use the room, though, you may only have to do it once or twice during the lifespan of the flooring.
It's not waterproof: If you plan on allowing food and drink in your living room, be aware that hardwood flooring is not completely waterproof. While it can withstand some minor spills if you address them quickly, it won't do well with large puddles left for extended periods.
It's on the upper end of the price range: Hardwood is typically the most expensive flooring option due to its excellent combination of attractiveness and durability. Since your living room is probably one of the largest in your home, it may be at the top of or over your budget to use hardwood for this room.
Tips for Choosing Living Room Flooring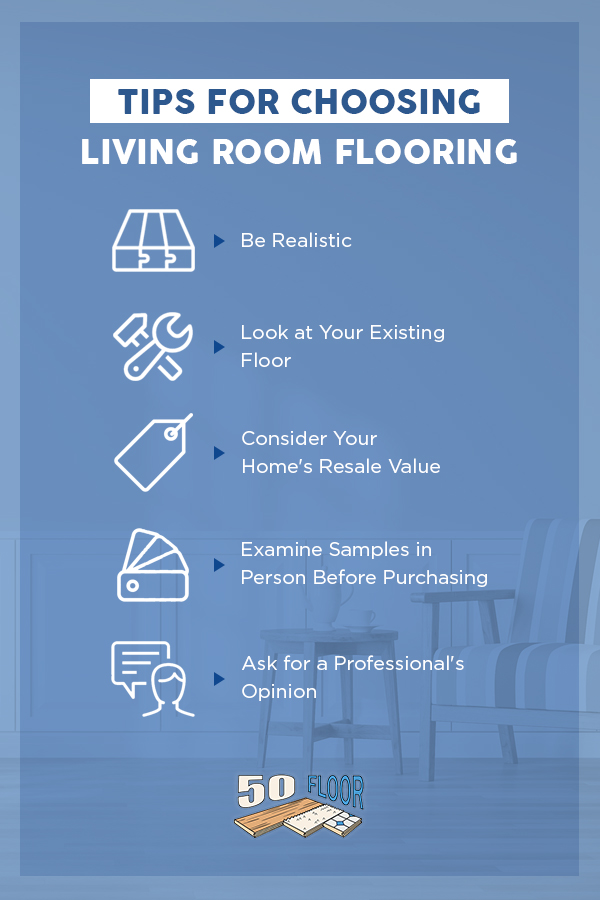 Since your living room is one of the rooms where you'll spend most of your time, you want the flooring you choose to be effective and attractive for as long as possible. As you shop around, here are a few tips to follow:
1. Be Realistic
When you choose your living room flooring, you may want to go all out and upgrade to the best possible option. However, it's important to be realistic and weigh your options by thinking about what you actually need. Take your time with this decision to avoid making a choice you might later regret. For example, using tiles for living room flooring may seem like a unique trend, but you could also quickly regret it when you realize it isn't quite as comfortable or aesthetically pleasing as some other options.
2. Look at Your Existing Floor
How well has your current living room flooring stood up to the test of time? If you've only had it for a few years and you already feel like you need to replace it, you may want to opt for a more durable material. On the other hand, if you've found that your living room flooring or carpeting is in pretty good condition after a long period, you might not have to invest as much money in a material known for its durability. Consider how much you and your family use this room, and for what purposes, then make your decision based on that.
3. Consider Your Home's Resale Value
If you're planning to sell your home eventually or in the near future, the flooring in your living room will impact your listing price. Typically, real hardwood floors are more of a draw for modern homebuyers, although some may also prefer the comfort of new carpeting in the living room area. While this shouldn't be a deciding factor for your living room flooring — especially if you plan on remaining in your home for several more years — it's something to think about if your return on investment is important to you.
4. Examine Samples in Person Before Purchasing
Looking at living room flooring materials online is helpful as you start the research process, but you should view your top two or three choices in person before making a purchase. You could even choose a shop-at-home experience like the one you get from 50 Floor to see your favorite flooring options for living rooms in your home's true lighting. You'll also be able to see how the materials look next to your existing furniture and decor.
5. Ask for a Professional's Opinion
Before you make your final decision about your living room flooring, consult a professional for their opinion and advice. When you choose a shop-at-home experience, you'll have a flooring expert in your home and ready to answer any questions you may have. They can point out considerations you may not have thought of on your own and will contribute to a more seamless, stress-free purchasing experience.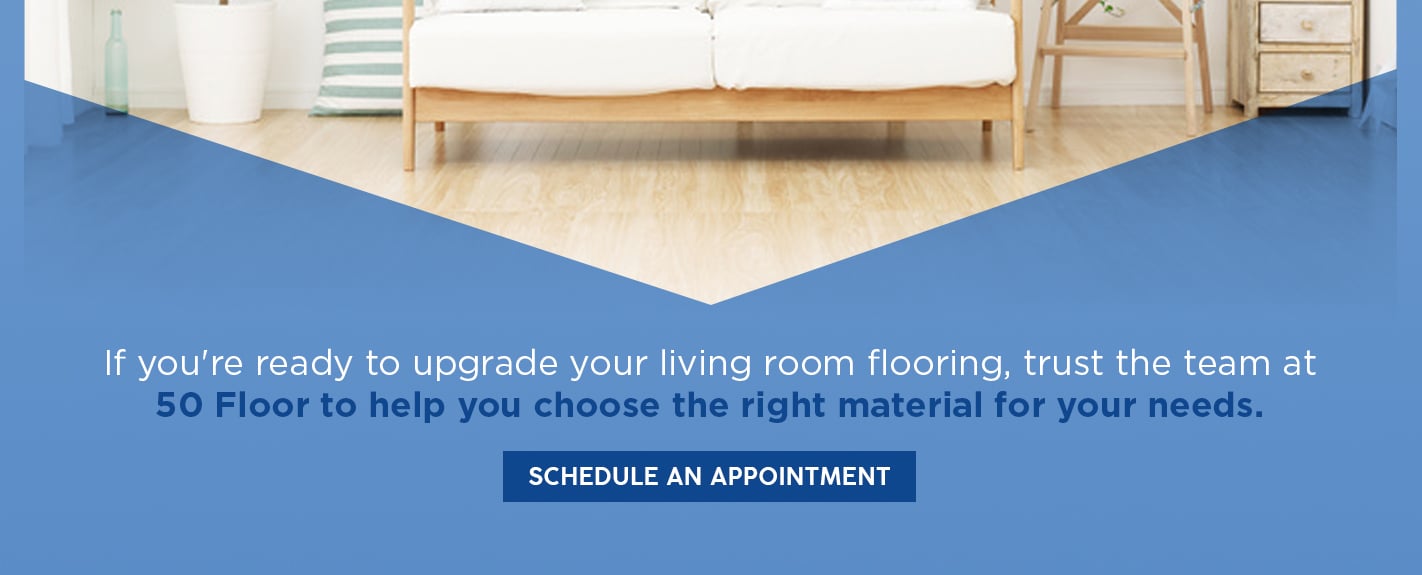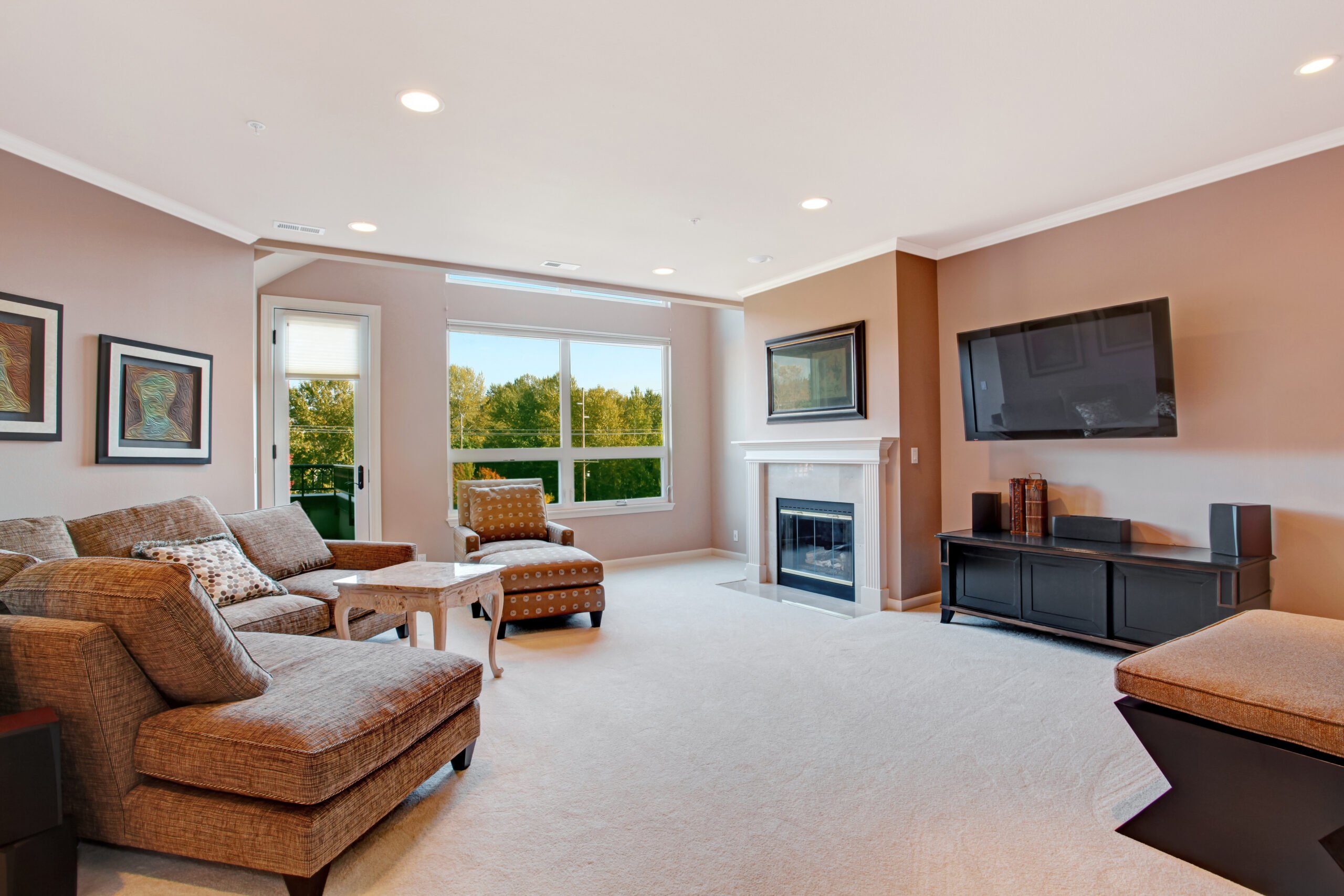 Schedule an Appointment With 50 Floor Today for Living Room Floors
If you're ready to upgrade your living room flooring, trust the team at 50 Floor to help you choose the right material for your needs. When you choose to work with us, an experienced flooring professional will visit your home with samples of our product options for you to view. The benefit of a shop-from-home experience is that you can really see how each flooring material will look along with the lighting, decor, furniture and other aspects of your house. Plus, you can talk with the 50 Floor specialist about living room floor ideas and other potential options.
Ready to get started with upgrading your living room flooring? Schedule an appointment with 50 Floor online today! You can also contact our team if you have any questions or would like more information about our flooring options.