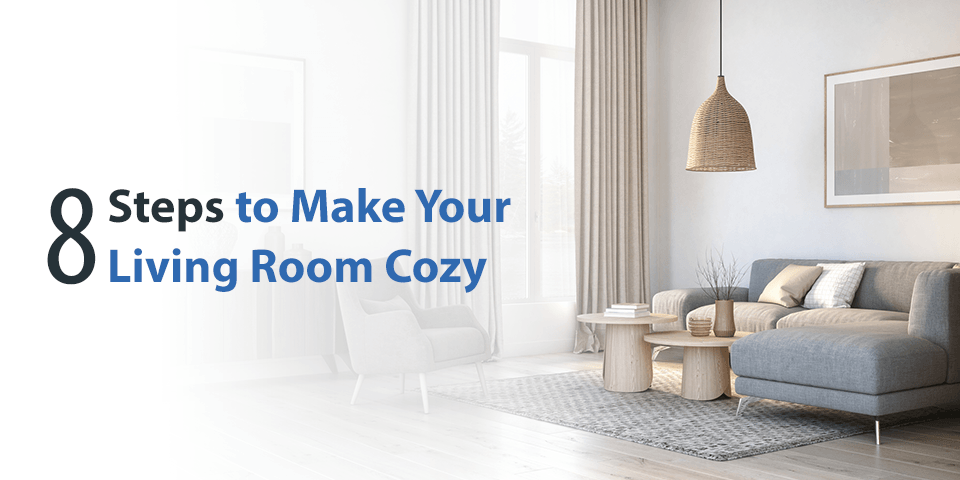 You spend a lot of time in your living room — reading your favorite book, cozying up next to the fireplace, watching your go-to guilty pleasure movie. When you spend so much time in one room, you want it to be cozy and inviting.
Here, you'll learn eight ways you can make your living room feel more cozy, as well as a few bonus tips to redecorating your room on a budget.
What Makes a Room Cozy?
Many factors go into making a room feel cozy. In this list, we'll talk about:
Adding texture
Choosing bold, natural colors
Forming a solid foundation by choosing the right flooring
Creating ambiance using lighting
Triggering cozy thoughts using fragrance
Ultimately, a cozy room is something that gives your heart the warm fuzzies. It's a place where you can easily nap or relax after a long day. But a cozy room also depends on your personal style and preferences, which you can narrow down with cozy living room ideas.
How to Make a Living Room More Cozy
Make your living room more cozy with these eight tips:
1. Choose a Bold Color Palette
Color is one of the most influential aspects of interior design because it impacts you in many ways. It affects your memories, relationships, mental and behavioral patterns and emotions. Take the color green, for example. It's connected to feelings of nature, evokes positive emotions and opposes negative emotions.
Use rich, bold colors for a warm, cozy living room. Colors like charcoal, rust orange, brick red and navy blue work well. Include contrasting colors, too, to keep your color palette feeling fresh with additions like white, mustard yellow or light grey. Those combinations create warm and inviting living spaces.
2. Lay Your Flooring
Flooring plays a big role in your home's aesthetic and function. Before incorporating other interior design elements, you need a base. Choose a flooring that's comfortable and easily layer-able. Flooring possibilities for a cozy living room include rich-colored hardwood floors. If you don't plan on layering items, you might use soft carpet instead.
3. Keep the Room Warm
Make your living room feel warm and cozy by keeping it actually warm. Insulate the space to keep the temperature consistently warm and prevent cold air from creeping in during the winter months. Consider other heating methods, too, like installing or using a fireplace or adding heated flooring.
4. Create Ambiance Using Lighting
Cozy ambiance, created by lighting, is connected to calming anxious feelings. Ambiance refers to the overall mood or atmosphere of a room. In this case, you're trying to create an ambiance that is cozy and relaxing.
Low, warm-toned lighting is optimal for making a room cozy. The more yellow the light, the more comfortable your living room will feel. A simple solution to adding ambiance is switching your lightbulbs to warm-toned LED lightbulbs. Consider installing a dimmer so you can better control the lights' intensity.
Amplify your interior design skills by adding accent lighting, as well, with lamps or candlelight. Place accent lights near reading areas, on accent tables or other decorative or functional areas in your living room.
5. Find a Comforting Fragrance
Just as color affects your mood, scent can, too. Scent molecules flow to the limbic system, which processes your feelings, moods, memories and emotions. Certain scents, like clean linen or freshly cut grass, can remind you of freshly cleaned laundry or summertime.
Your home's fragrance impacts how you feel. Choose a fragrance that's comforting to you or your household members. Common comforting home aromas include freshly baked cookies, brewing coffee, baked bread and autumn breezes.
6. Layer Plenty of Textures
Modern rooms are typically flat and two-dimensional with minimalistic features. But cozy living rooms have many three-dimensional layers, created with multiple textures.
Texture is another interior design element referring to the feeling of objects. Examples of different textures are leather, faux fur, wool, silk, perforated wood and knitting. Add texture into your living room via throw blankets, decorative pillows, seating cushions, different types of plants, wooden logs and other accents. Plush and fluffy details can contribute more toward a cozy living room, but use whatever suits your tastes.
7. Add a Rug
Another way you can add layers to your living room is by adding a rug. Choose a neutral rug with a light pattern as not to overpower the room with heavy colors. You can play with different textures, too, like with a faux-fur or knitted rug. Place your rug in the center of your space, like under your coffee table, to visually tie your larger furniture together.
8. Bring in Nature
Nature offers many benefits, like:
Improving your overall mood
Reducing stress levels
Inducing feelings of relaxation
Boosting your self-esteem
Bring in natural elements to your living room to make it feel cozier. Place fire logs next to your fireplace, bring in houseplants, burn nature-scented candles, use natural colors in your color scheme and bring in natural light.
How Can You Make Your Living Room More Cozy on a Budget?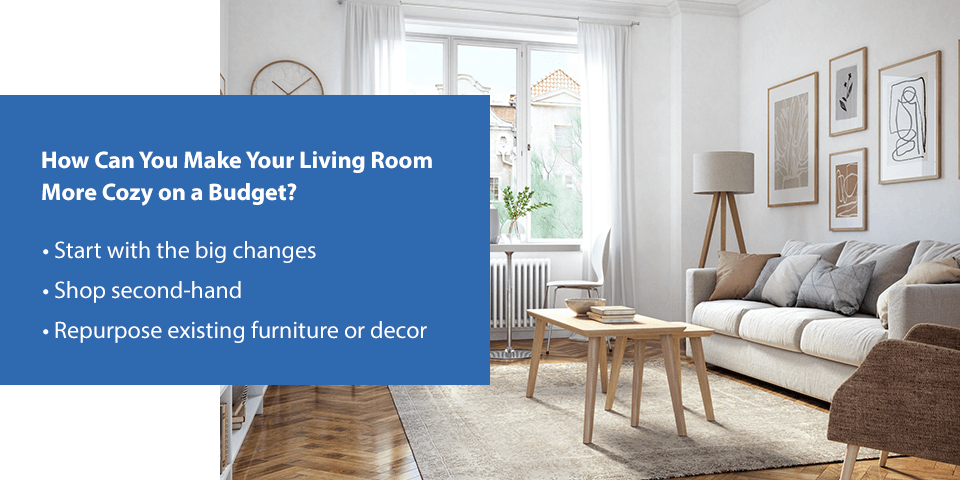 If you're on a budget, redoing your entire living room can feel like a challenge. Luckily, you can make your interior design changes more affordable with these tips:
Start with the big changes: The biggest results come from the biggest changes. Start remodeling your living room by redoing your flooring, painting the walls and placing down a rug. Then, if your budget allows, make smaller additions like adding texture through decorative pillows and replacing your lightbulbs.
Shop second-hand: Save money on the little touches throughout your room and support local businesses by shopping second-hand.
Repurpose existing furniture or decor: You may have furniture or decor around your house you can repurpose. Repurposing furniture can be as simple as moving it into a different room. Or you can do DIY projects and physically transform the furnishing or decor item.
The best way to stick to your budget is by making a wish list before redecorating your living room. Arrange your wish list from your must-have items to items you aren't as excited about. Determine an overall budget and categorize it, giving each item on your wish list a monetary value. You can then prioritize your budget when shopping.
Schedule a Free In-Home Flooring Consultation Today
Your flooring makes a big impact on your home. 50 Floors aims to help you achieve your flooring goals at an affordable price. When replacing your living room flooring, contact 50 Floor and learn more about the services we offer. With over four decades of experience, we can help you achieve a cozy living room.
Schedule a free in-home consultation online today! Have any questions? We'd love to help! Just contact us online or call us at 1-877-503-5667.