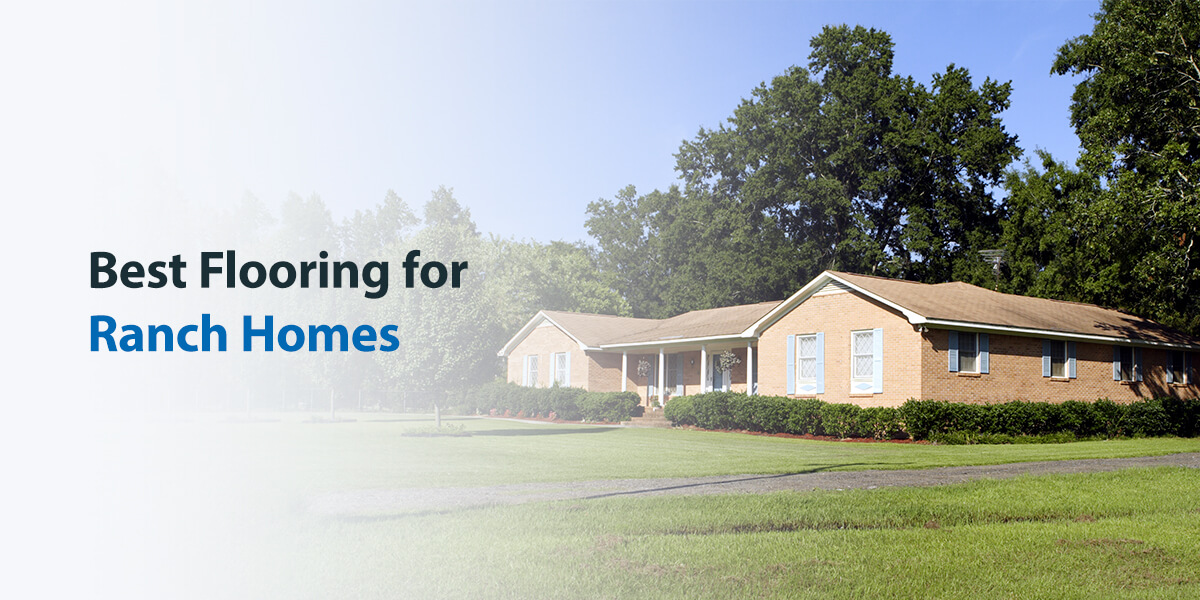 When you picture a ranch-style home, you might envision a remote desert filled with cowboys, wild horses and tumbleweeds. But this American architecture extends far beyond the Wild West.
Ranch-style homes have grown increasingly popular across the United States in the past few years. In fact, they were the most commonly searched-for homes in 2018. Originating in the Southwest, these charming, single-floor houses are characterized by open floor plans and chic, rustic interior styles.
Whether you have a more contemporary taste or prefer to live on one floor, the right flooring can transform your space and help you create the ideal ranch home. Continue reading to learn about the ranch-style house and the best flooring for your ranch home.
What Is a Ranch-Style House?
A ranch-style house is a single-story home commonly built with an open-concept layout, low-pitch rooflines and large windows along the front of the house. Ranch-style architecture is prevalent in different parts of the country, though ranch homes were inspired by Spanish colonial architecture of the Southwest.
When architects combined the style with modern architectural touches, it led to a significant boom in construction and a surge in popularity from the 1940s through the 1970s. Their ease of livability and versatility in floor plans made them ideal for the post-World War II boom of American suburbs.
While most ranch-style homes don't feature a second floor, many have finished basements, making them perfect for the entire family with extra space for a home theater or additional bedrooms. Many ranch-style houses throughout the Midwest feature basements, while ranch homes on slabs are prominently found in the warmer climates of California and the Southwest.
Take Our Quiz to Find Your Flooring Style
Features of a Ranch-Style Home
There are several distinguishable characteristics of ranch-style houses, such as:
Sliding glass doors and large windows: Most ranch homes have sliding glass doors that open onto a patio or backyard. Many also feature large windows spanning the front of the house.
Low-pitched roofline with wide eaves: Ranch-style homes have low-pitched rooflines and wide eaves, which are the roof sections hanging over the sides of the house.
An attached garage: Adding to their ease of livability, most ranch homes have an attached garage, so homeowners can enter that way, too.
Devoted patio or deck space: Most ranch-style houses have a dedicated patio or deck as extra space for entertaining guests and enjoying the weather.
Open-concept floorplan: While not every ranch-style home is laid out similarly, nearly all feature an open flow between rooms and easy access to all house sections from the main living area.
There are many excellent flooring choices you might use in a ranch-style home. If you own a ranch-style house, consider the following flooring options to enhance its simple, chic look and casual style.
Choose the Right Flooring for Your Ranch Home With 50 Floor
To embody the style of a ranch home, you want flooring that complements its casual, minimalist design while providing functionality and durability for your needs.
At 50 Floor, choose from durable and elegant flooring for your needs and preference. We offer durable and elegant hardwood, tile, laminate, luxury vinyl and carpet in various styles and colors. Craft the ranch home of your dreams with our extensive flooring options.
To get started, schedule a free in-home estimate or call us today.