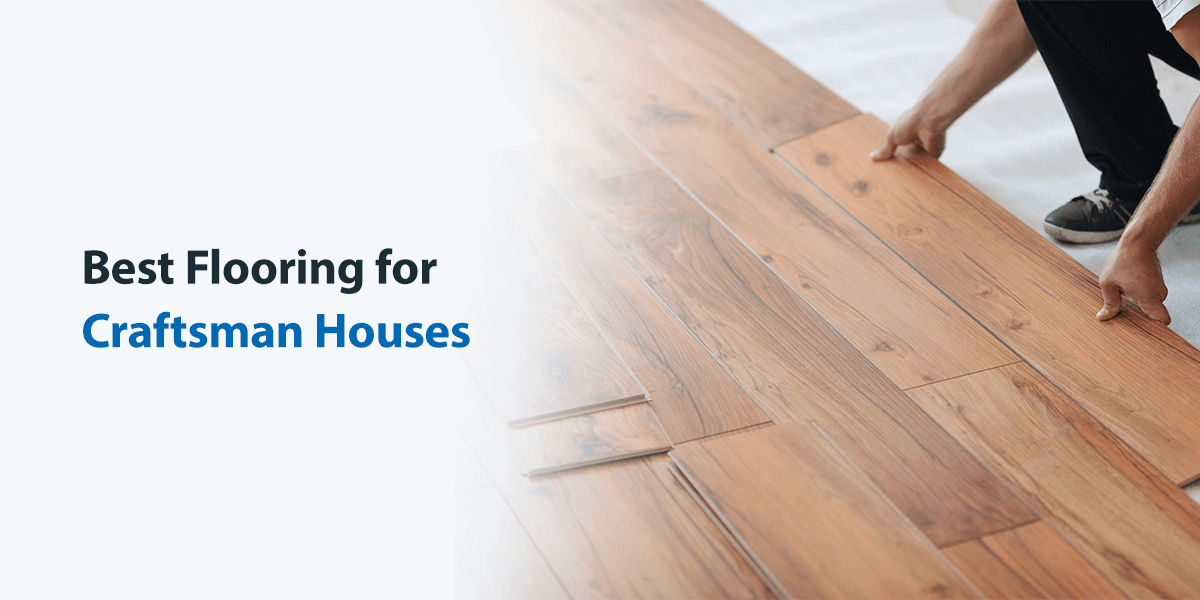 Craftsman is a beautiful architectural style that the right flooring can complement effortlessly. These bungalow-inspired homes highlight natural elements in the area with their nature-inspired exterior colors, carefully crafted support columns and overhanging eaves with exposed rafters. These features are visually pleasing from the outside, and you can transform your interior into matching scenic living spaces with a selection of the best flooring options.
What to Consider When Choosing Craftsman-Style Flooring
Before selecting a flooring style just for its Craftsman-inspired glossy wood appearance — which can be very tempting — it's essential to consider a few different considerations that matter to you, your family and your home. Take a look at a few common factors that can impact the type of flooring you choose for your Craftsman home.
Budget
If budget-friendly Craftsman-style flooring is your top priority, you can find options that meet your spending preferences that still offer the same classy aesthetic to your home. Both vinyl and laminate flooring are great options. These floor types can resemble natural hardwood at a fraction of the price, so you can enjoy beautiful floors in your home that meet your budget.
Lifestyle and Durability
Your family's daily routine can also impact your decision about Craftsman-style flooring.
If you have young children or furry companions in your home, they can easily track mud, dirt and other messes inside that some floor types can absorb. After a few years, the floor can start to stain, dent or lift because of these elements.
For durability and long-lasting protection from everyday messes, you can rely on hardwood floors to provide classy styles and natural strength to your living spaces.
Room
Where you plan to install your new floors can determine which option is best for you. While living room, bedroom and dining room flooring options are relatively versatile due to the maintenance of these spaces, installing a floor in your bathroom or kitchen requires a slightly different selection process. You'll need to find a flooring option that provides water resistance and can withstand constant exposure to moisture.
If you're shopping for kitchen or bathroom flooring, tile, waterproof laminate and luxury vinyl flooring are the best options. These three choices are stylish and offer water-resistant surfaces so you can enjoy aesthetic flooring without having to replace them every few years because of water damage.
Below are four popular flooring styles that work perfectly in Craftsman-style houses.
What Flooring to Avoid
Since Craftsman homes use natural elements to create an elegant and cozy ambiance in any living space, you can rely on hardwood, laminate, luxury vinyl and tile floors to provide this look and feel to your house. However, there are flooring types you should when making a final decision based on style and durability:
Carpet: While carpet is ideal for family homes since they offer comfort and warmth, it doesn't match the Craftsman-style aesthetic. Wood panels and patterned tiles are the perfect fit for these homes, and carpet can't resemble these appearances with its fluffy-textured surface.
Bamboo: These floors can sometimes create the same appearance as wood panels without the costs of natural hardwood. However, the material isn't as durable as natural wood. Bamboo floors can show dents, scratches and stains easier because of their porous material, causing them to show wear and tear quickly.
Craftsman-Style Flooring Inspiration
Think of your new flooring as the chance to turn your living spaces into an elegant, nature-inspired area for your whole family to enjoy. When you're shopping for new flooring, choose Craftsman wood floors in the style of hardwood, tile, laminate and luxury vinyl with rich light or dark brown hues.
Don't forget to add a glossy or semi-gloss finish to your wood or patterned floors for added flair and sophistication that complements the exterior of your Craftsman-style home.
50 Floor Has the Right Flooring for Your Craftsman-Style House
Accentuate your Craftsman-style house with a wide selection of flooring options from 50 Floor. With hardwood, luxury vinyl, tile and laminate floors that effortlessly bring your home's exterior aesthetic into your living spaces, you can enjoy stylish appearances, textures and colors for your new Craftsman flooring.
With our team of expert installers and our consultation service, you can rest assured your floors can meet your stylish preferences and budget with the help of our professional opinions. Schedule your at-home consultation today to get started on your Craftsman flooring selection and installation.