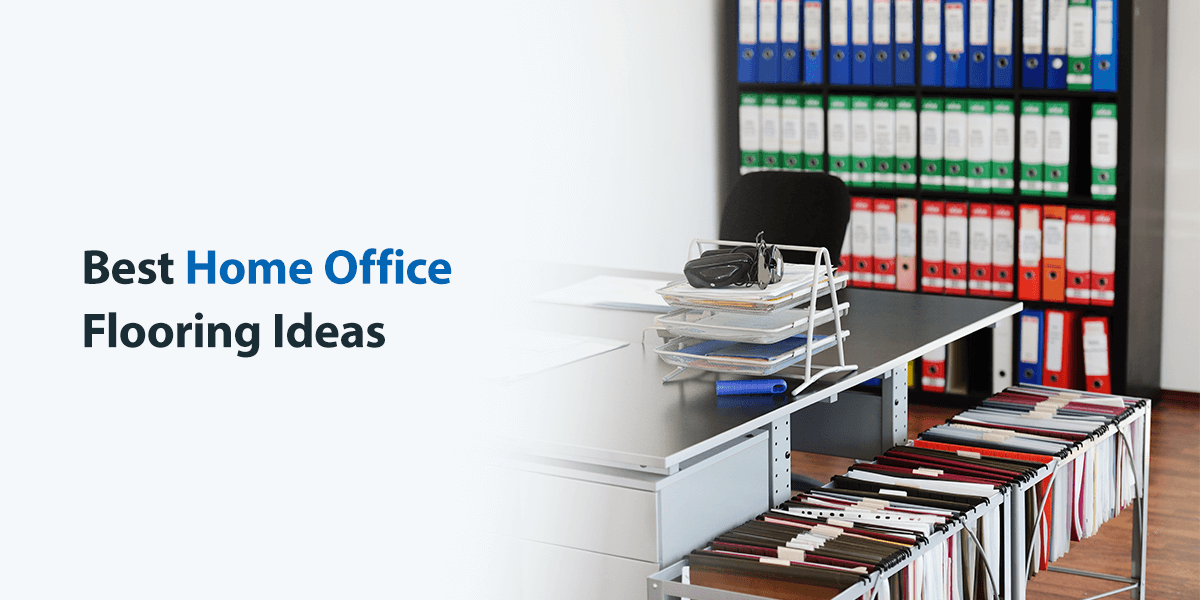 ---
Table of Contents
---
Working from home can be an excellent opportunity, whether you're a freelancer, remote employee or independent business owner. Creating a productive working environment in your industry is essential to having a home office.
One of the most significant parts is the flooring you choose. The floor is the foundation for your office space. Each type of flooring provides a different set of benefits and an individual style, which may make it challenging to decide on one model.
Your home office is a space where you need to focus. Create a design that encourages productivity and lowers stress levels from the ground up. To choose the best flooring for offices, use this guide to compare available materials and styles.
What to Consider When Choosing Home Office Flooring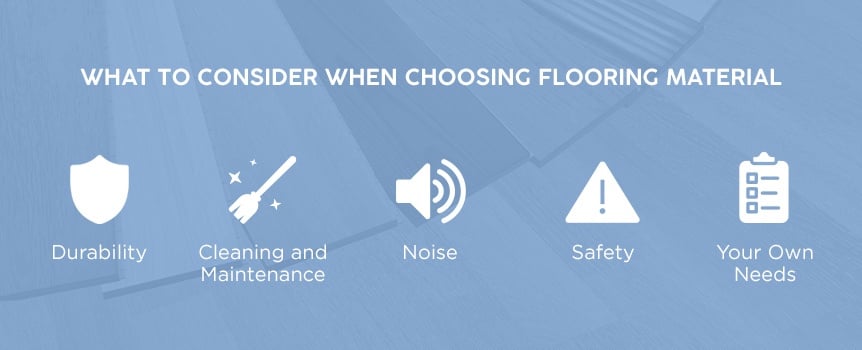 When you're looking at flooring ideas for a home office, several factors are worth considering:
1. Durability
If you plan to use your home office daily, you'll need to consider durable options.
Rolling chairs, tables, shoes, kids and pets can all scrape and scuff floors, leaving your office looking worn and aged. Dropping objects or spilling liquids can cause denting, damage and staining. Cheaper options and improper installation can cause even more significant issues than looking bad.
Using a space regularly means wear is inevitable, but options resistant to damage allow you to enjoy your flooring for longer without needing any repair or replacement. You'll get better value for your money and can keep your floor looking like new for longer.
2. Cleaning and Maintenance
Offices tend to accumulate lots of dust and dander, considering the time people spend in them. The easier your floor is to clean, the more often you're likely to clean it and the better it is for your health.
The flooring materials themselves determine how you need to clean them. Some require soap and water or dry mopping, while others require vacuuming. Consider your office space and decide what will be the easiest to maintain for you.
3. Noise
Depending on the size of your office, your job and whether or not you need silence to work, noise can be an issue.
If you live in an active neighborhood or city, have children or pets and just prefer peace and quiet, you may enjoy a flooring option that absorbs more sound. Flat, hard surfaces will reflect sound, intensifying it and allowing it to reverberate. Softer surfaces won't allow sound to bounce, keeping your office quieter.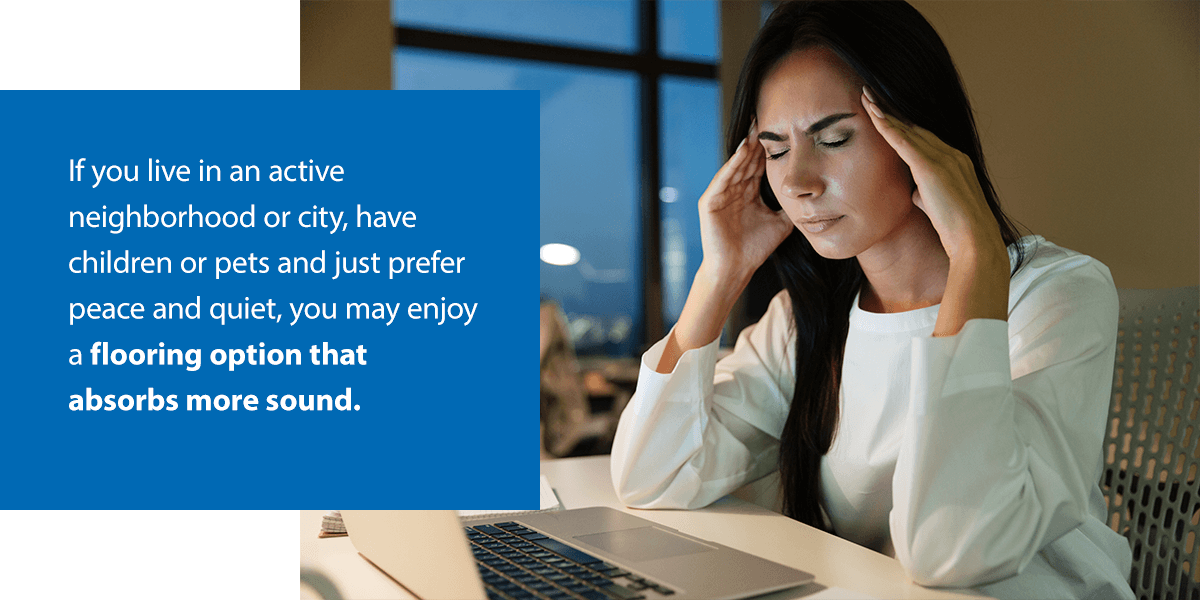 4. Safety
For some individuals, slippery surfaces are a major concern. If you have young children or want to be safer yourself, installing flooring that has a non-slip treatment or doesn't allow sliding may be the best choice.
Non-slip surfaces are also critical if your office has a door that leads directly outside. Tracking in rainwater or snow can make certain office flooring very slick.
5. Office Furniture
When you're shopping for your next office flooring, it's important to consider the furniture you have in this space and how it can impact the quality of your floor. For example, your desk chair might swivel so you can get around easier. While this movement is convenient, it can scratch the floor's surface if the material is delicate or does not offer scratch-resistant features.
Desks and couches are also heavy pieces of furniture that your new floor should be able to support. Consider these factors when you're looking for office flooring that's durable, scratch-resistant and fits your needs.
6. Your Own Style
While the practicality of the flooring is essential, you also need to consider what you want. What kind of environment makes you happy or less stressed? Do you focus better in a minimalist space or a more colorful, playful one? Is a traditional home office style or a cozier feel better for your productivity?
You'll spend the most time in this room, so feel free to make it your own. Design it in a way that enables you to work efficiently and create an enjoyable space where you look forward to being.
Once you've considered all these factors, it's time to look at different home office flooring options and compare.
Take Our Quiz to Find Your Flooring Style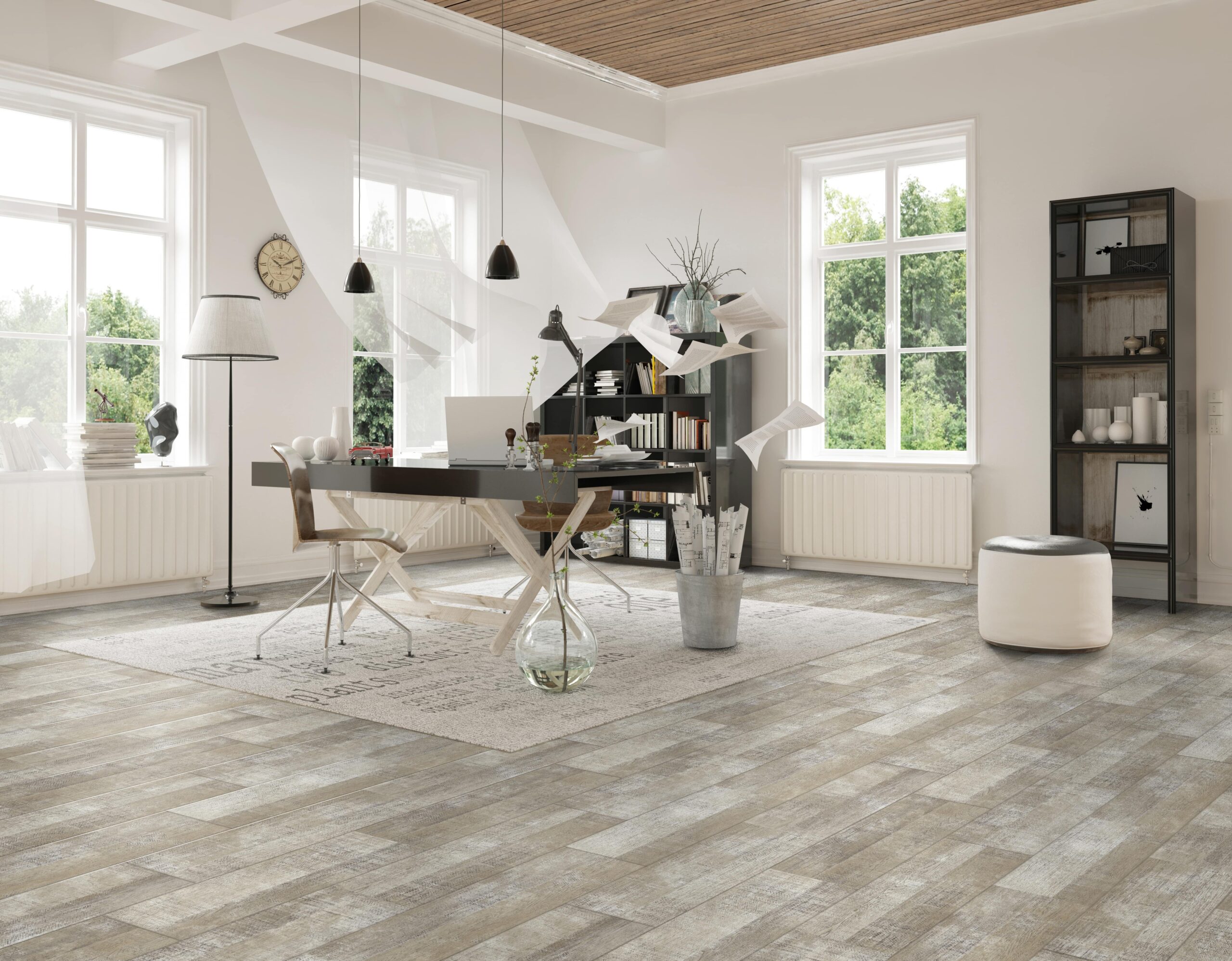 Vinyl Home Office Floors
Vinyl flooring is an affordable choice that does not sacrifice any quality. The pieces contain polyvinyl chloride chips or other synthetics, which are processed to create a solid sheet of vinyl material. They either remain as large sheets or machines cut them into tile shapes.
In terms of appearance, vinyl can mimic the look of tile or hardwood without mimicking the price. It's also resistant to stains, mildew, rips, tears, gouges, scuffs, scratches and other typical floor damage. Since vinyl doesn't take on damage easily, it's an excellent choice for home offices with high foot traffic or those directly accessible from outdoors.
Quality vinyl flooring has several thick layers to make it more durable. These layers consist of a backing, a top design and two protective sheets. Depending on your space, you'll want to choose the type of backing that suits your needs best — cork, felt or fiberglass.
Cork backing is soft and absorbs more sound than the alternatives. Its durability means it can last up to 30 years without needing to be replaced. Felt backing must be stored in your office for 24 hours before installation to allow it to acclimatize, requiring permanent adhesive. Fiberglass backing is easy to place and can use resealable adhesive. It also offers sound absorption and won't shrink, crack or warp over time.
Most frequently, vinyl flooring comes in sheet format. Vinyl sheet is a single piece of flooring measured to fit your space. This style is most resistant to water damage and more structurally sound since there are no gaps. They can imitate wood and stone or have patterns.
The many benefits and design options available in vinyl flooring make it a fantastic choice for any office space.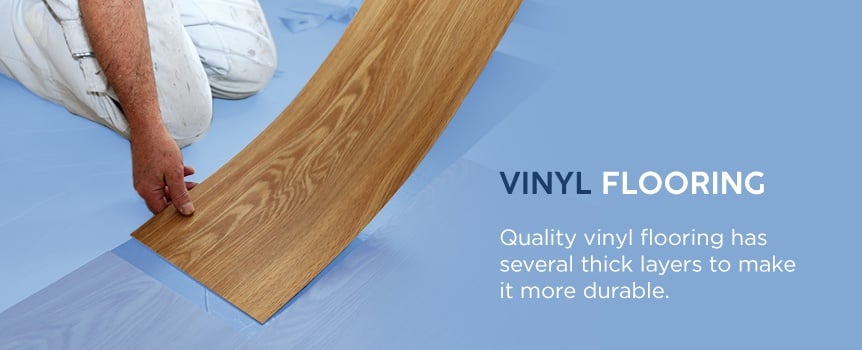 Luxury Vinyl Flooring for Offices
While vinyl is an excellent practical option for many spaces, it may not give you the look you want. Hardwood and tile flooring are more expensive and can be challenging to install and clean. If you want the stylish appeal of real tile and hardwood without the price, luxury vinyl flooring is the perfect solution.
Luxury vinyl flooring is of higher quality than regular vinyl and offers a more affordable price point. While it has a similar construction to vinyl, consisting of several layers topped with a protective sheet, luxury vinyl is thicker. The added width of each layer provides increased durability, protecting your flooring from scuffs, scrapes, stains and other forms of damage. You can have the style you want and keep it looking great for longer.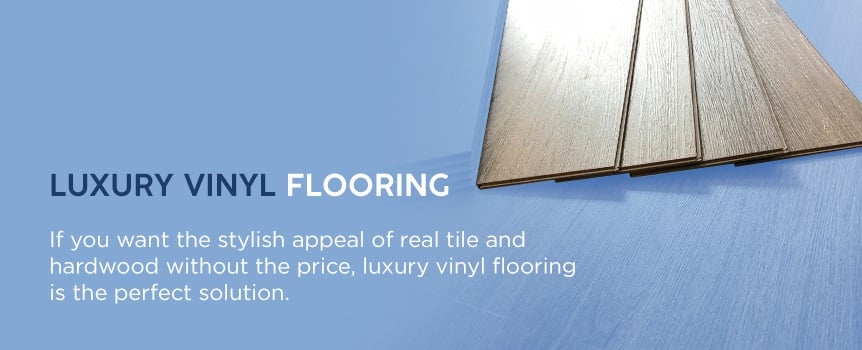 There are two varieties of luxury vinyl flooring — planks and tile — differentiated by their shapes and available patterns:
Luxury vinyl plank: This style feels and looks like wood, but it may be even better. Vinyl plank is more durable, resistant to scratches, stains, mildew and water damage and also has a more non-slip surface than traditional wood. It comes in plank-shaped tiles that fit together snugly, hence the name.
Luxury vinyl tile: Similar to the planks, vinyl tile mimics the distinct look of tiles like stone and slate but at a lower price than the alternative. It's also easier to clean, resistant to more types of damage and needs less maintenance over time.
Carpet for Offices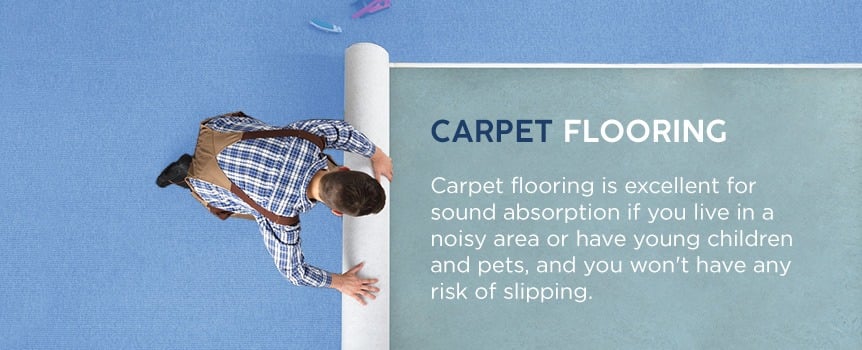 Of all the options, carpet flooring is the most comfortable and homely choice. It's warm and inviting, which is important if you need to hold conferences or meetings in your home office. Carpeting also makes any office a more pleasant place to be.
While carpet can be more difficult clean, it doesn't necessarily need to be wall-to-wall — you can carpet just a section of your office. It's also excellent for sound absorption if you live in a noisy area or have young children and pets, and you won't risk slipping.
Regarding design, carpeting comes in various colors, patterns and thicknesses, so you can choose the style that best fits your office space. The styles include:
Cut pile: This style consists of loops of fabric attached to the backing material and cut to create a plush look.
Loop pile: Although it has a similar construction as a cut pile carpet, loop pile differs because the loops are intact.
Patterned loop: This style also has a similar construction as a loop pile carpet, but the loops remain at different lengths to create patterns.
Cut and loop: As a combination of cut pile and loop pile carpet construction, cut and loop styles alternate to create patterns.
Smooth or Saxony: This style is a form of cut pile carpet, but all the fabric is trimmed low and even for a smooth appearance.
Frieze: Frieze is similar to a cut pile, but focuses on the texture. These carpet styles look shaggy, like twisted yarn and don't appear dirty quickly.
Berber: This style is relaxed and casual, with thick loops and a comfortable surface. It works well in high-traffic areas.
Plush: Plush is a traditional style of carpet with a smooth look that makes it easy to clean.
Pattern: This style is a mix of loops and cut fibers that create patterns. Looks sophisticated without being overwhelming.
Many of these styles come in various colors, so you can find the perfect carpeting to match your desired aesthetic. The price varies depending on the thickness and style, but they're generally affordable for any budget. With so many styles, carpeting is an excellent choice for any home office.

Laminate Flooring for Home Offices
While it is a synthetic option, laminate floors can look almost as lovely as traditional hardwood and other natural materials. It's also a far more affordable price, so you can have a natural look without the expense.
Popular laminate styles simulate hardwood, stone, tile and ceramic flooring. The material contains several composites, and each piece consists of four fused layers, making the surface very strong. Laminates can be more durable than natural alternatives and are resistant to wear, staining, moisture damage and fading.
The four fused layers used to create laminate are:
Back layer: As the bottom surface of the laminate, this layer helps with resistance to moisture damage and structural stability, using melamine as a reinforcement.
Fiberboard core: Including a fiberboard core improves the overall structural stability and creates impact resistance. It also is treated with an edge seal for increased durability.
Decorative layer: This is the part of laminate flooring that is visible and provides multiple style choices. It can look very similar to natural materials through detailed photos.
Wear layer: The wear layer is a strong, clear finish on the surface of the laminate that makes it resistant to wear, fading, staining and moisture. It consists of melamine and aluminum oxide.
Each laminate flooring piece fits together seamlessly to create a beautiful smooth surface. It installs quickly, so you can get to furnishing your home office faster.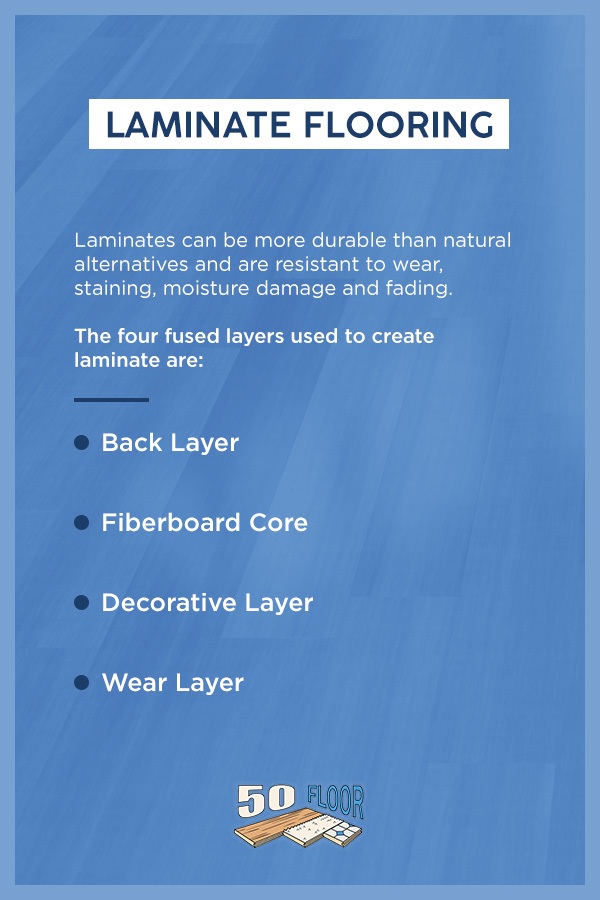 Tile Flooring Options for Offices
For a durable, strong and reliable option for office use, tile flooring is a great choice. They have a better structure than their softer vinyl counterparts and don't need a completely smooth starting surface to install.
Your design options vary significantly with tile. It can imitate natural materials if it does not already contain them. They come in many shapes, allowing you to design any floor uniquely.
Treated tiles are resistant to moisture, staining, scratches and slipping, making them durable and safer than some of the other alternatives. With low-maintenance cleaning, these floors will last for years. However, they create a hard surface that may not be as comfortable or warm on bare feet.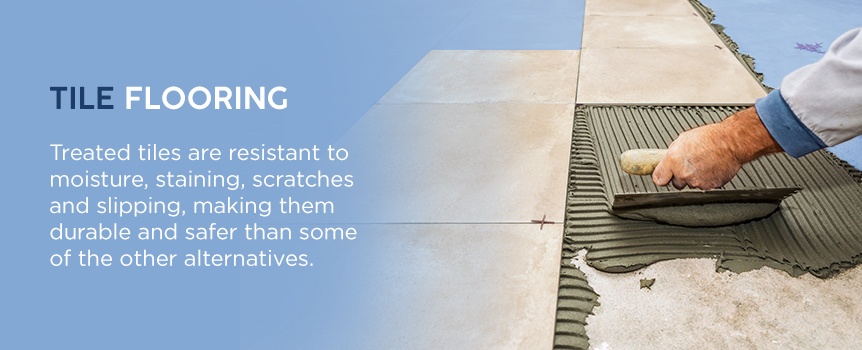 The two most popular styles of tile flooring are:
1. Ceramic Tile
Ceramic tiles are durable, easy to clean, waterproof and resistant to all kinds of damage. They contain clays or other synthetic materials, most of which are heated and glazed with colors or protective finishes. These finishes can help strengthen the tiles, create a non-slip surface and provide a variety of colors. They can also imitate natural materials, such as stone, slate and wood.
2. Porcelain Tile
Porcelain tiles have all the benefits of ceramic flooring but are even stronger. They're made from a blend of synthetic and natural materials and hardened at a higher temperature than ceramics. This process creates a higher density, making porcelain suitable for various uses. Similarly to ceramics, they're easy to clean, don't retain allergens and don't require much maintenance.
However, porcelain does have another advantage — the tiles are water resistant and also absorb less moisture. This feature makes the material very well-suited for cold climates. If your office shifts in temperature from hot to cold frequently, porcelain tile will resist cracking where other materials may not.
Whichever you choose, tile flooring will look classy and stylish, allowing you to make the design your own. It can take years of use, rolling chairs, spills and shoes without looking anything but new.
Schedule a Free In-Home Consultation
Hardwood Flooring in Offices
Hardwood floors are a classic choice for any style. All-natural timber looks professional while providing a warm feel that fits in with any decor or theme.
Hardwood floors have many benefits — they're stylish, eco-friendly and good for health. Hardwood flooring consists of sustainable materials. Its smooth surface makes cleaning easy, collecting less harmful dust and dander. All it needs is a microfiber dust mop or very light damp mopping.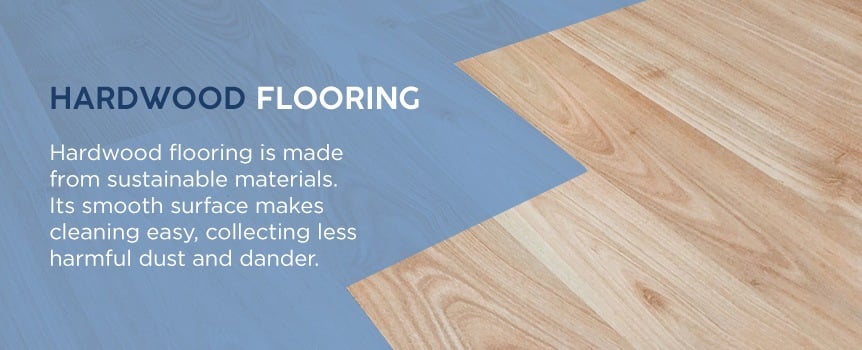 You won't have to sacrifice style, either. Hardwood flooring is available in several materials, finishes, colors and sizes, so you'll have plenty of options. Some of the types of wood include:
Bamboo
Birch
Brazilian Cherry
Cherry
Maple
Red oak
White oak
Walnut
The individual flooring planks come in three different styles:
1. Engineered
Engineered hardwood is manufactured by taking several thin layers of wood and pressing them together horizontally to make a stacked plank. Because it has several layers — also known as a multi-ply construction — this style is more resistant to potential moisture damage than others. It is very versatile and costs less than solid hardwood. So, you can have the same look at a lower cost.
One of the most popular forms of engineered hardwood is the high-density fiber (HDF) core. Since engineered hardwood consists of thin layers of wood glued together, the core can be particleboard, plywood, HDF or medium-density fiberboard (MDF). HDF provides the best stability, is available in a wide variety of looks and is easy to install.
2. Solid
Solid hardwood is what it sounds like — each plank is a whole piece of a single species of wood. This style is incredibly durable without gaps or layers, more so than those made from stacked material. However, it is more susceptible to potential moisture damage.
3. Floating
Floating hardwood is similar to engineered in that it consists of several layers, but these are thin panels glued together. The inner boards contain different materials from the top layer, usually another hardwood or birch plywood material. Most flooring of this style is easy to install, as it either has a locking system or can be glued or stapled over an existing concrete or wood subfloor.
Floating flooring often comes in interlocking pieces. Each plank locks into another, creating a gapless floor without an adhesive. It's clean and much faster than traditional glue and will lay nicely on almost any base. While it calls for an extended installation period and more thorough clean-up, glue also has benefits. The adhesive acts as a natural moisture barrier and reduces the wood's movement underfoot.
Whichever species or style you choose, hardwood flooring is long-lasting, sometimes even lifetime guaranteed. It can be reasonably expensive, but the value is worth the price. Your home office will have a durable and beautiful foundation with the proper care and maintenance.
Is There Any Flooring You Should Avoid?
While there are plenty of stylish and durable flooring options to choose from, there are a few choices that you might want to avoid for your office. As you shop for your next office flooring, try straying away from the following options:
Softwood: Wood flooring is an attractive choice for your office. If you love the aesthetic and need a durable option for your furniture, hardwood is your go-to pick. Softwood looks similar but has a much more delicate surface, making it more prone to scratches, dents and scuffs. Save yourself the extra repair costs and maintenance by choosing hardwood flooring for your office.
Cork flooring: Cork is an aesthetic option if you love light-colored floors that brighten the room. While they look like a great choice for your office, the material is also soft and can show damage easily. Heavy furniture and swivel chairs can cause indents in the floor, scratches to appear quickly and fading to occur. If you have pets who enjoy visiting your home office, their claws can also make marks on the floor. A stronger flooring option that can withstand heavier weights is the best choice for your office.
What's the Best Choice for Your Home Office Flooring?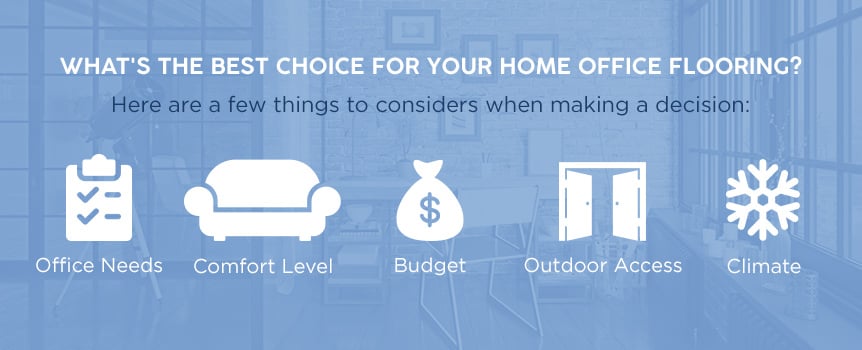 Now that you've explored the best options, how do you choose the best for your office? Here are a few tips for making a decision:
Climate: If you live in a cold climate, you'll want a well-insulated flooring type that won't crack or warp with temperature changes. Carpet or hardwood might be best.
Office needs: If you need to move furniture or chairs frequently in your office space, need to host meetings or even just enjoy rolling chairs, you'll need scratch-resistant flooring. Try vinyl or laminate.
Budget: Is having a specific type of flooring important to you? Budget out what you're willing to spend to help make a choice.
Outdoor access: If your office has a door that leads outside or you plan on wearing shoes often, getting a flooring style that's easy to clean may be beneficial. Tile might be your best option.
Comfort level: Ultimately, you're spending the most time in your home office, so go with what'll make you feel comfortable and productive. It's different for every person.
Additionally, work with a company that will allow you to see flooring samples in your home before deciding and purchasing. This simple step can make a world of difference.
Home Office Floor Ideas and Inspiration
You can increase your motivation and workflow with a few inspiring floor designs that make your home office stand out. With various colors and styles to choose from, you can utilize your floor to match your aesthetic and motivate you to make the most of your work day.
Take a look at a few home office inspiration ideas for your floor.
Colors
Many home offices consist of wood furniture and a few decor pieces to brighten the room. You can choose flooring that complements these features and easily matches your aesthetic. Consider the type of furniture and color accents you have in your home office. Is your desk light or dark wood? Do you have silver or gold accents around the room? These slight details can make a huge difference in choosing the best home office flooring.
If you notice darker wood around your home office, you can pick a cooler tone for your floor. Cool tones include blue, green, gray, purple and black and white. You can choose any of these colors for hardwood, vinyl, carpet, tile and laminate floors to perfectly tie the room's hues together.
You can do the same with warm hues if you have light wood furniture in your office. Warm hues include yellow, red, orange, brown, beige and off-white. You can also go with white or black colored floors with these colors or choose a more vibrant shade in carpet, luxury vinyl, hardwood, tile and other flooring options.
Styles
Simple designs can make your flooring come to life. Luckily, with any of the best home office flooring options listed above, your choices in styling are limitless. The right colors and designs can go a long way.
For a little extra inspiration, here are a few simple styles you can choose for your home office:
Symmetrical patterns: You can skip buying a rug for your home office by choosing floors with a pattern on the surface. Vinyl, tile and carpet are durable options that offer stylish patterns in each piece or square foot of the floor. You can pick shapes, dots and other symmetrical designs from any floor options above that give your home office extra flair.
Unique layouts: Sometimes, straying from the traditional horizontal or vertical laying of panels can increase the aesthetic of your flooring. If you go with hardwood, laminate or luxury vinyl planks, you can install them in diagonal patterns to create a diamond floor layout. This simple change in installation can make a huge difference in your home office's style.
Luxury appearance: If you enjoy the stylish glamor of marble or stone in your home office, tile is a great choice. You can live out your dreams of working in an elegant space with the help of tiles and their scratch-resistant properties. Ceramic and porcelain tiles can mimic the appearance of marble and slate without the extra costs and maintenance that can make your home office shine with a glamorous appeal.
Get the Flooring You Need With 50 Floor
With 50 Floor, you can shop at home and see every style you like against your existing lighting and decor. Our consultations are free, and you'll have the assistance of a trained flooring professional to help you pick the best option for your office.
You'll save time not having to drive back and forth to stores, and you'll have the benefit of expert advice to guide you through the whole purchasing and installation process. Our services are fast — in most cases, we'll have your flooring installed and ready to go in one day. And don't worry about moving furniture — we've got that covered too.
We want you to have the flooring you need at an affordable price for your budget. 50 Floor has financing packages, a price-match guarantee and added warranties to make the most of your money.
Choose 50 Floor for your home office needs and schedule an appointment to talk with one of our experts today.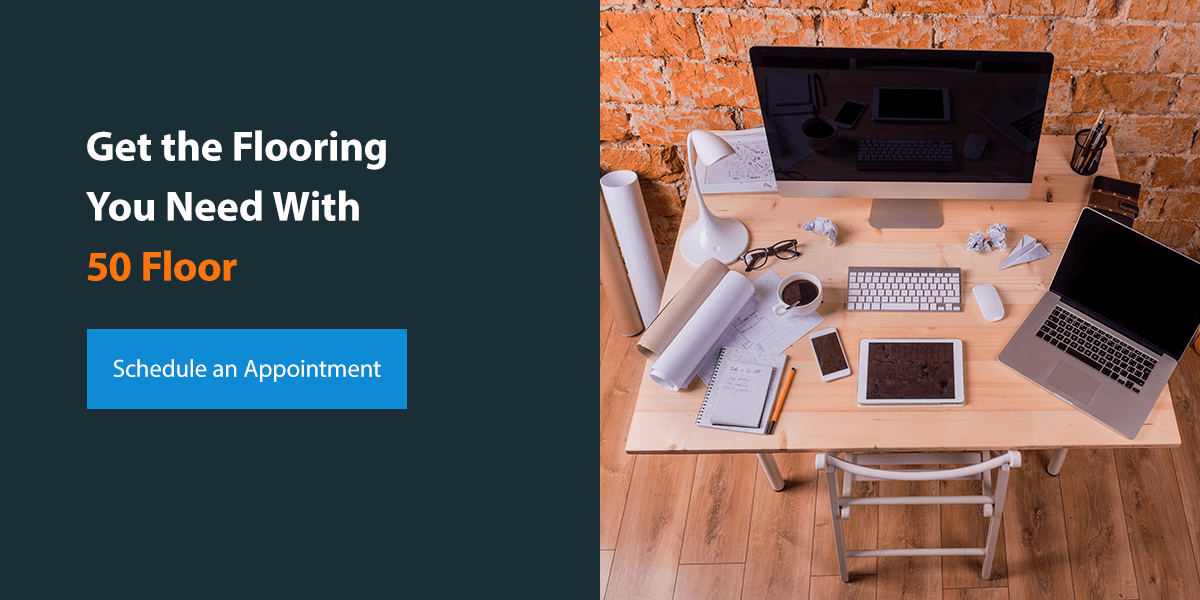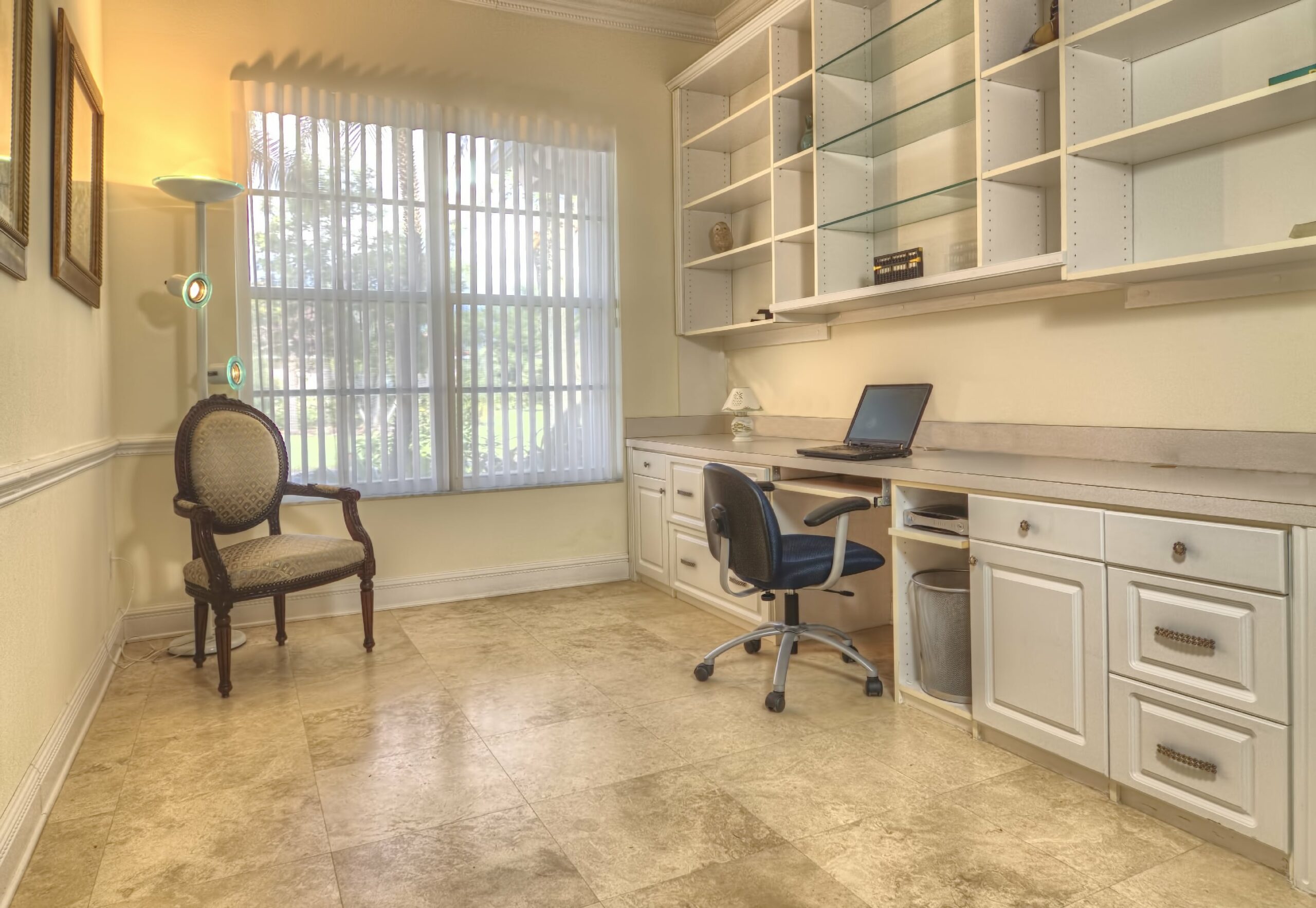 Get the Flooring You Need With 50 Floor
With 50 Floor, you can shop at home and see every style you like against your existing lighting and decor. Our consultations are free, and you'll have the assistance of a trained flooring professional to help you pick the best option for your office.
You'll save time not having to drive back and forth to stores, and you'll have the benefit of expert advice to guide you through the whole purchasing and installation process. Our services are fast — in most cases, we'll have your flooring installed and ready to go in one day. And don't worry about moving furniture — we've got that covered too.
We want you to have the flooring you need at a price that's affordable for your budget. 50 Floor has financing packages, a price-match guarantee and added warranties so you can make the most of your money.
Choose 50 Floor for your home office needs and schedule an appointment to talk with one of our experts today.