With many factors to consider surrounding carpeting choices, you need a comprehensive carpeting guide to help. With 50 Floor, we'll walk you through everything you need to know about carpet so you can make the right choice for your home.
Carpeting 101
Upgrading your home can be exciting as you consider all the features you can change and update. Carpet is a comfortable and versatile flooring option that comes in many styles and materials, and its versatility makes it ideal for different rooms around the house. Some factors to consider include the following:
Type of backing: Carpet comes in different loop and pile options that will impact how the final product looks. When investing in a new carpet, you can narrow your options by knowing which backing type will best suit your needs.
Carpet texture: From plush velvet to firm cushions, carpet has diverse available textures. You can choose your carpet option based on how you want to feel in your rooms.
Durability level: Some carpets are great at withstanding higher levels of activity and heavy furniture. When you want a long-lasting solution, picking a more durable carpet can support your needs.
Color scheme: Carpet is a powerful design element when decorating a room. Your carpet choice can help complete color schemes and tie aesthetics together.
To explore these topics more, keep reading and discover what a carpeting can offer your home.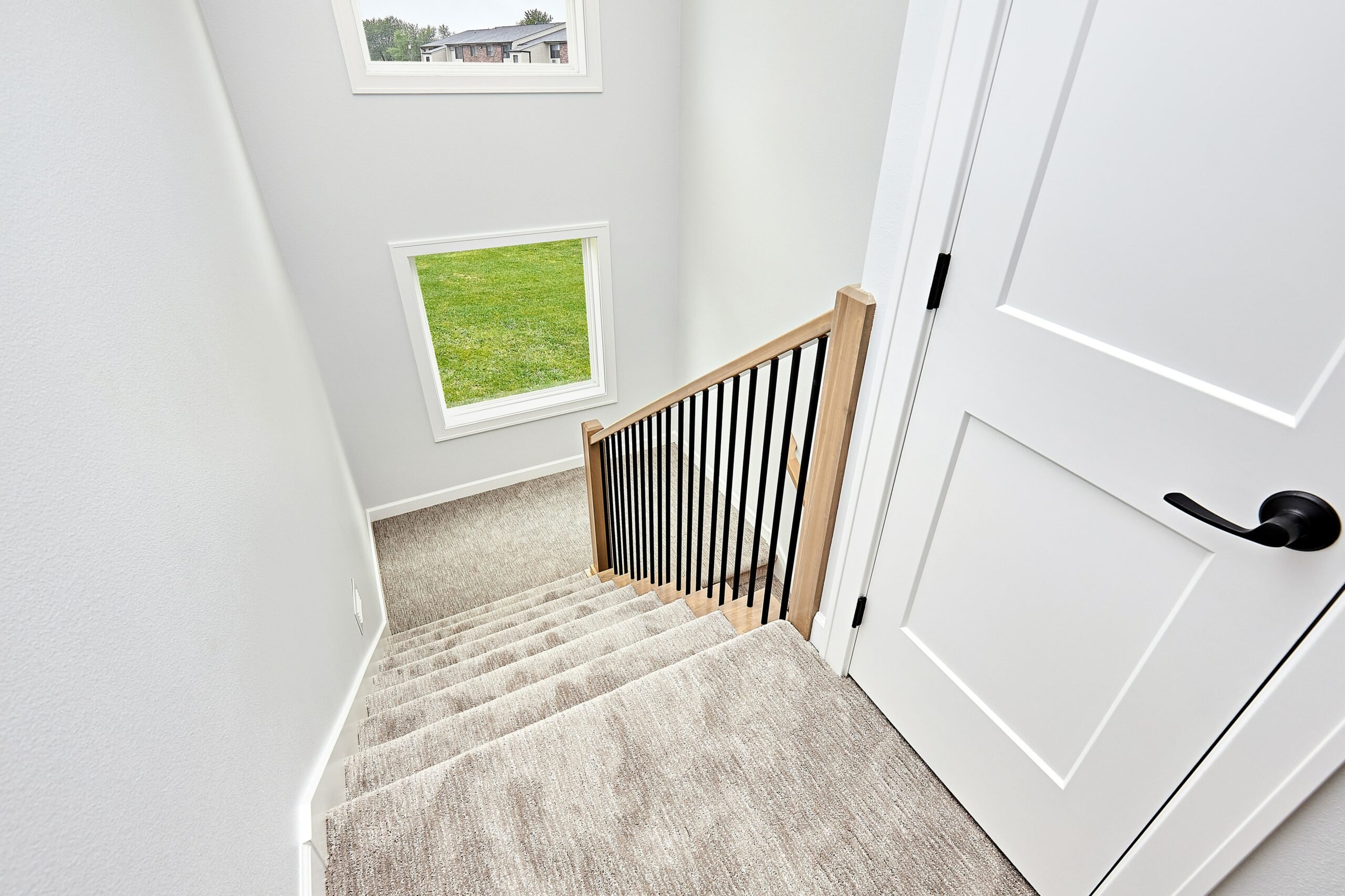 Carpet Installation
50 Floor assists our customers by installing your flooring, including carpeting. Our process is simple for a stress-free experience. We'll move a handful of larger furniture items, remove old floors, add padding, cut everything to the correct size and clean up afterward. You just need to be there to confirm your installation in the beginning and to submit your payment at the end.
To prepare for your new carpet, check out our full carpet installation guide.

Carpet Care
Carpet requires regular upkeep to ensure its quality. Most carpets only require frequent vacuuming to keep them clean and an annual deep cleaning to eliminate deeper debris and stains. Your cleaning schedule will largely depend on your carpet type and personal needs. Durable carpets designed to withstand more use can go longer between cleaning sessions and still maintain their quality. Carpet manufacturers typically recommend vacuuming your carpet at least once a week.
Other factors that influence your cleaning schedule include:
Foot traffic: Areas with more activity will accumulate more dirt over the week. You might need to vacuum these carpet spaces more frequently to keep them clean.
Pets and kids: Pets can track dirt, hair and mud throughout your home, and kids can be messy, leading to more frequent carpet cleaning.
Allergens: Carpets absorb dust, pollen and dander, increasing allergy effects in some people. If someone in your home suffers from allergies, you might need to vacuum more often.
For more carpet care tips, check out our guide here.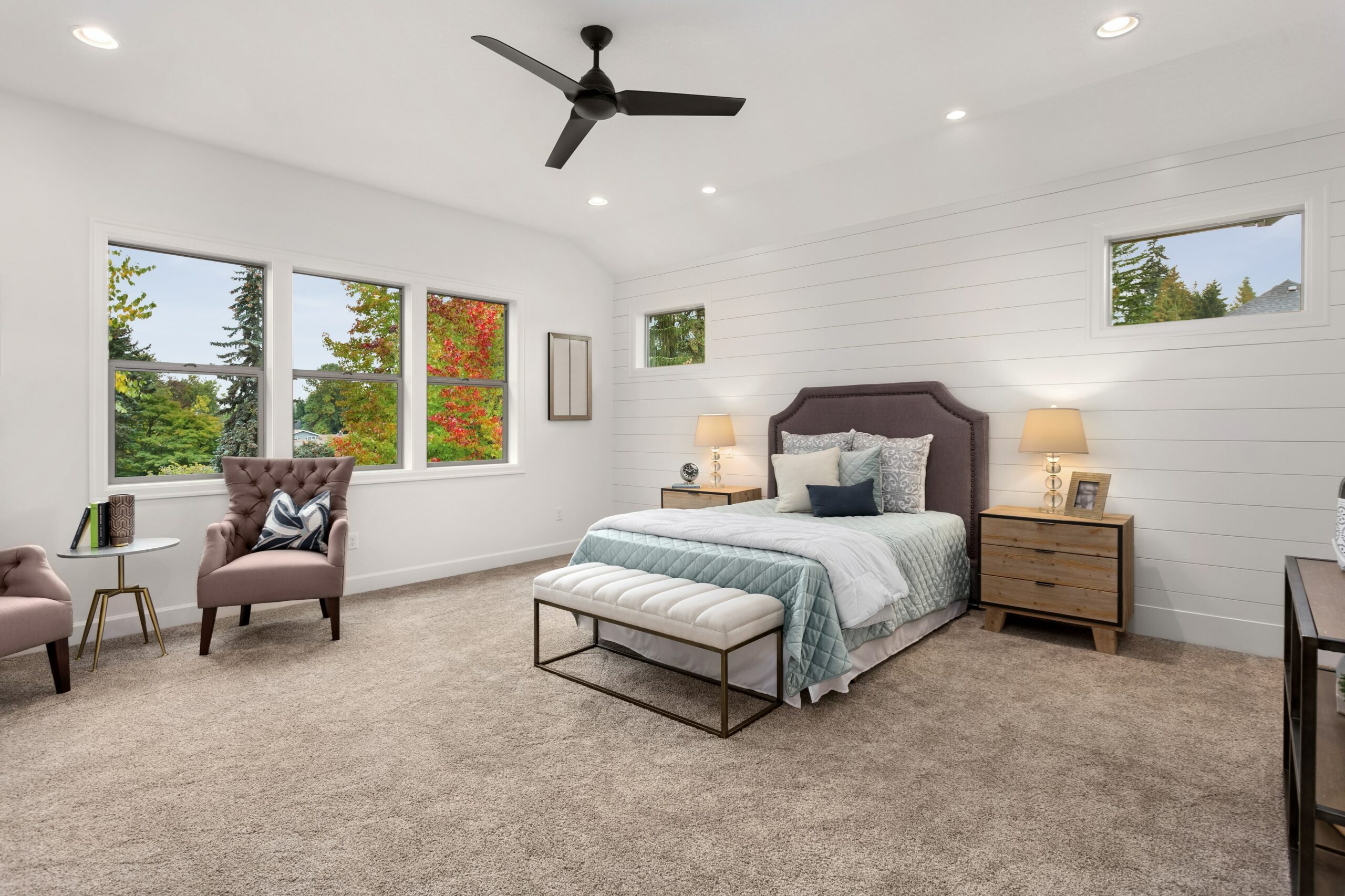 Best Flooring by Interior Design Style
Certain flooring types naturally complement specific home styles, such as:
Modern: Modern and contemporary homes can play on bold, visually interesting flooring — like a patterned carpet — or stick with a subtle, low-pile option to keep the focus on other design elements. Smooth Saxony is a popular choice for contemporary designs, as it offers a combination of comfort, style and adaptability. Consider pairing carpet with other flooring options like luxury vinyl tile (LVT).
Farmhouse: Farmhouse owners often lean toward Berber and Frieze style carpeting for its balance of durability and coziness. Pair warm neutral carpets with wood-style LVT or engineered hardwood.
Industrial: Industrial homes use raw materials and deep neutrals to create a stylish, modern-meets-rustic appearance. Soft, dense carpeting can help reduce echo in industrial spaces and pairs well with stone-like hardwood or luxury vinyl flooring.
Rustic: Smooth Saxony or patterned carpet can bring warmth and comfort to rustic cabins and cottages. Choose a color that pairs well with natural lighting and wood tones.
Coastal: Coastal homes, like traditional Cape Cods, can pair luxury vinyl or tile with carpeting for a home that balances style and easy maintenance. Focus on bright carpeting colors, especially in rooms with natural light.
Ranch: Ranch-style homes are single-level, so mixing different flooring types can help you create separate living zones in open concept layouts or areas lacking dimension or height. Barber and patterned carpets balance functionality and style, while plush carpets can help elevate simpler designs.
Craftsman: Craftsman homes prioritize natural materials and visually appealing accents, but they also highlight practicality and coziness. Pair stone-like vinyl or engineered hardwood with a Berber or Frieze carpet for a cozy, open space.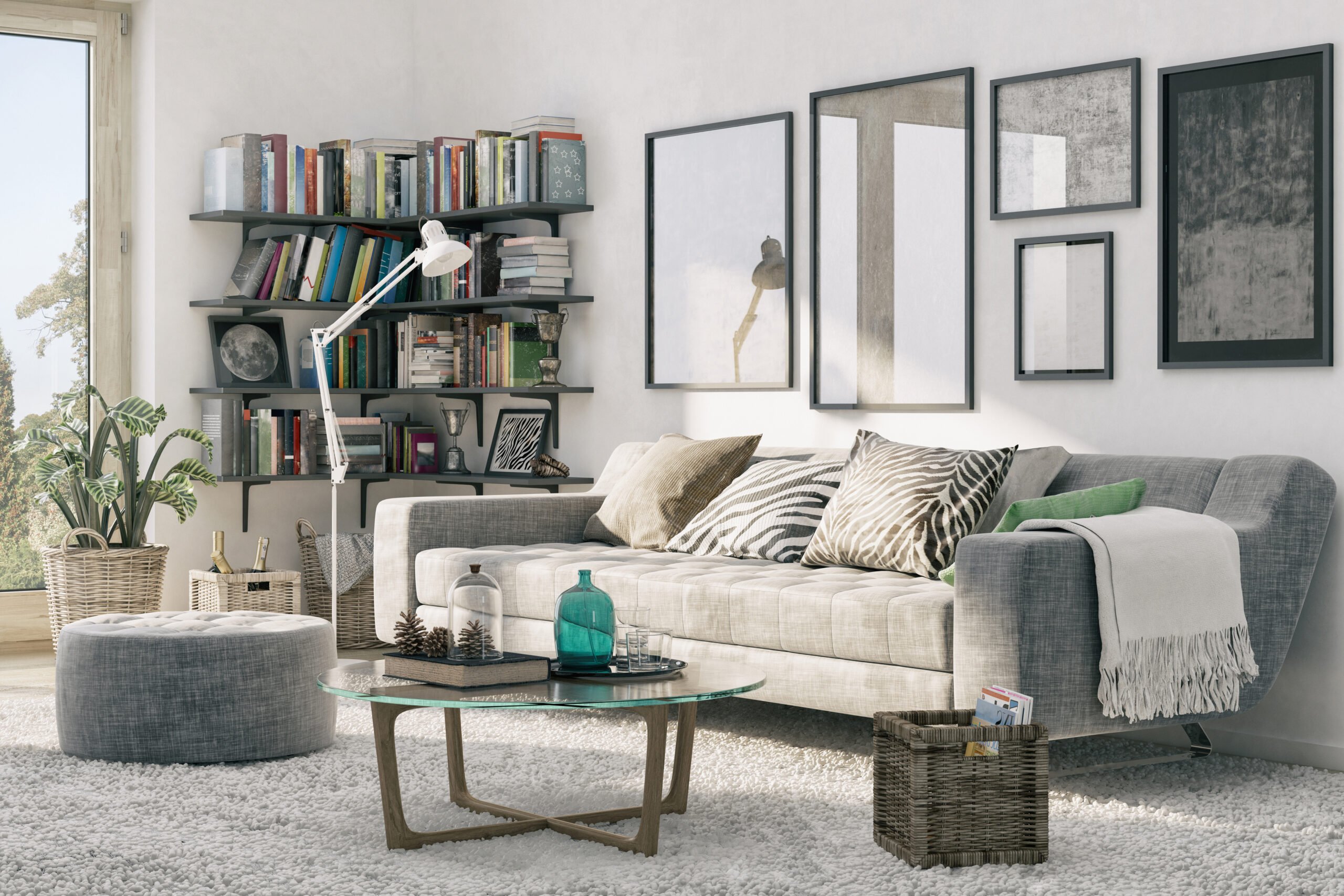 Reviews
Hear From Our HAPPY CUSTOMERS