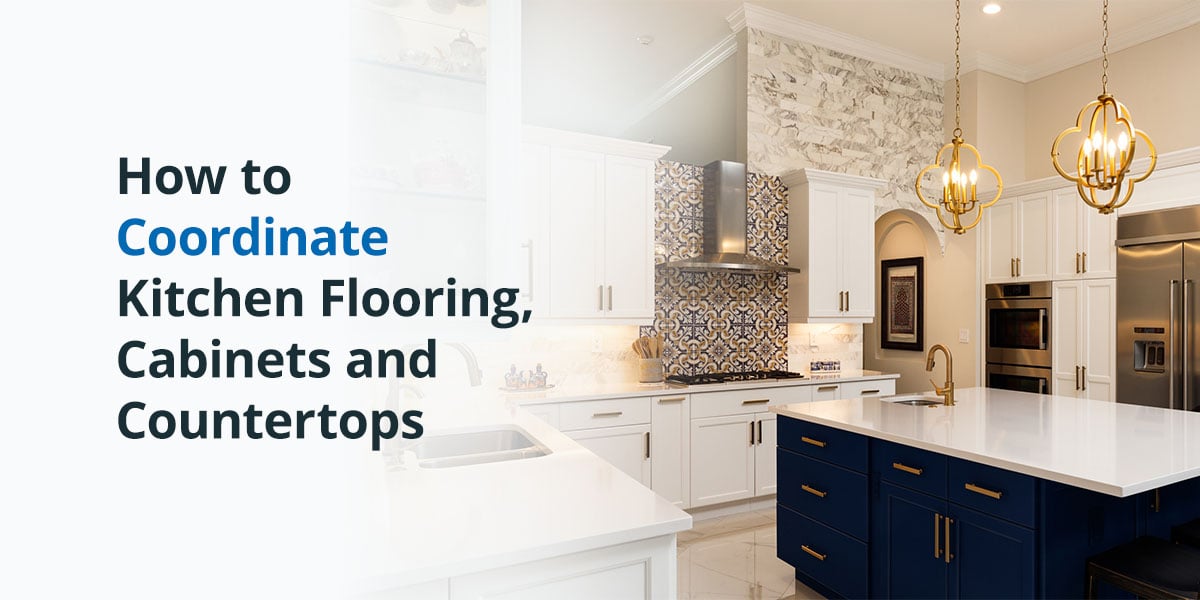 When choosing flooring and countertops for your kitchen, you need to coordinate style elements to create a cohesive look. The right combination of colors and textures can make the space more welcoming and stylish. In some cases, coordinating colors can even make your kitchen seem larger.
There is a lot to consider when coordinating your kitchen. Should your countertop match the flooring? What are the best kitchen cabinet and wood floor color combinations? The process of coordinating your kitchen cabinets, countertops and flooring is more than just picking out a color. You also need to consider the type of materials you'll be using as well as your home's overall design style.
When choosing the color of your kitchen flooring, countertops and cabinets, keep the following tips in mind.
1. Experiment and Investigate

There are more options out there than you might think when it comes to kitchen décor, so do your research. Flip through magazines, check online décor resources and visit trade shows in your area. Take note of the colors and looks you want, and consider keeping a running list of ideas you like.
A good place to start is the 50 Floor inspiration page, which allows you to explore several options from the comfort of your own home. As you look at styles that pique your interest, look for themes. Are you drawn to muted colors and classical styles? Do you prefer the look of modern kitchens with bold, primary shades? These can be good places to start your renovation journey.
2. Start With Countertops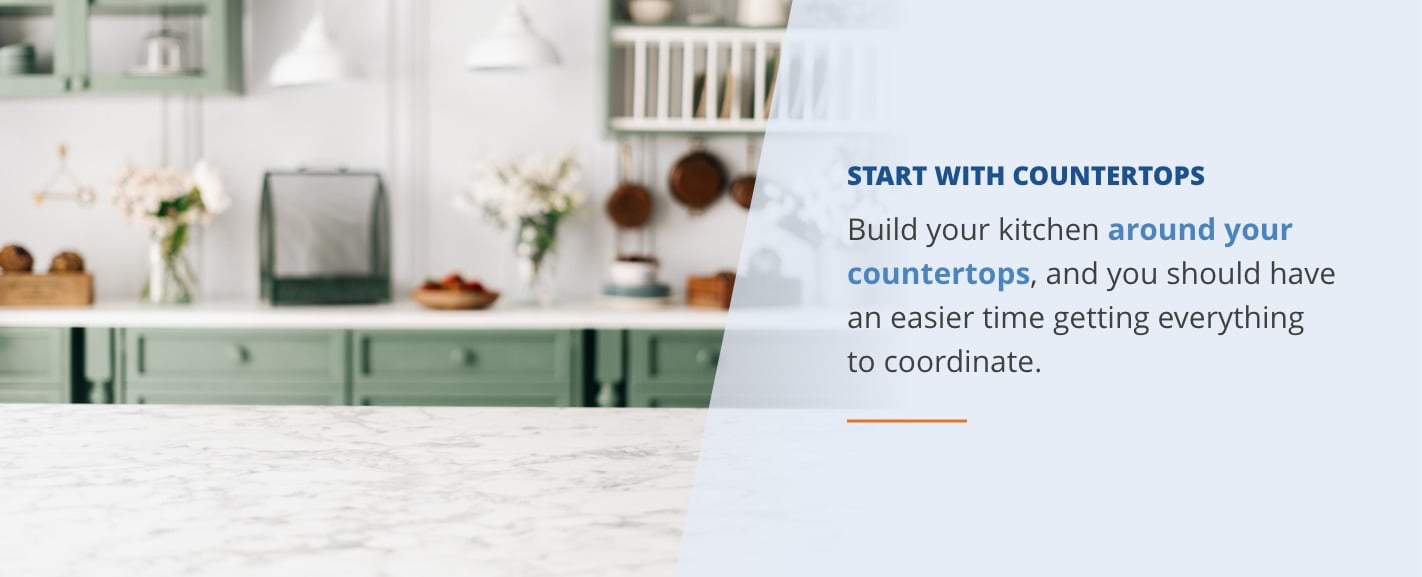 It's easier to match your floors and cabinets to your counters rather than the other way around. Build your kitchen around your countertops, and you should have an easier time getting everything to coordinate.
Consider what materials and colors you'd like to include in your countertops, depending on your lifestyle and design preferences. Most homeowners choose a natural stone for their kitchen surfaces because of its luxurious appearance and long-lasting durability. You could also find other options, such as wood or concrete, to suit your cooking and entertainment needs.
3. Think in Three Colors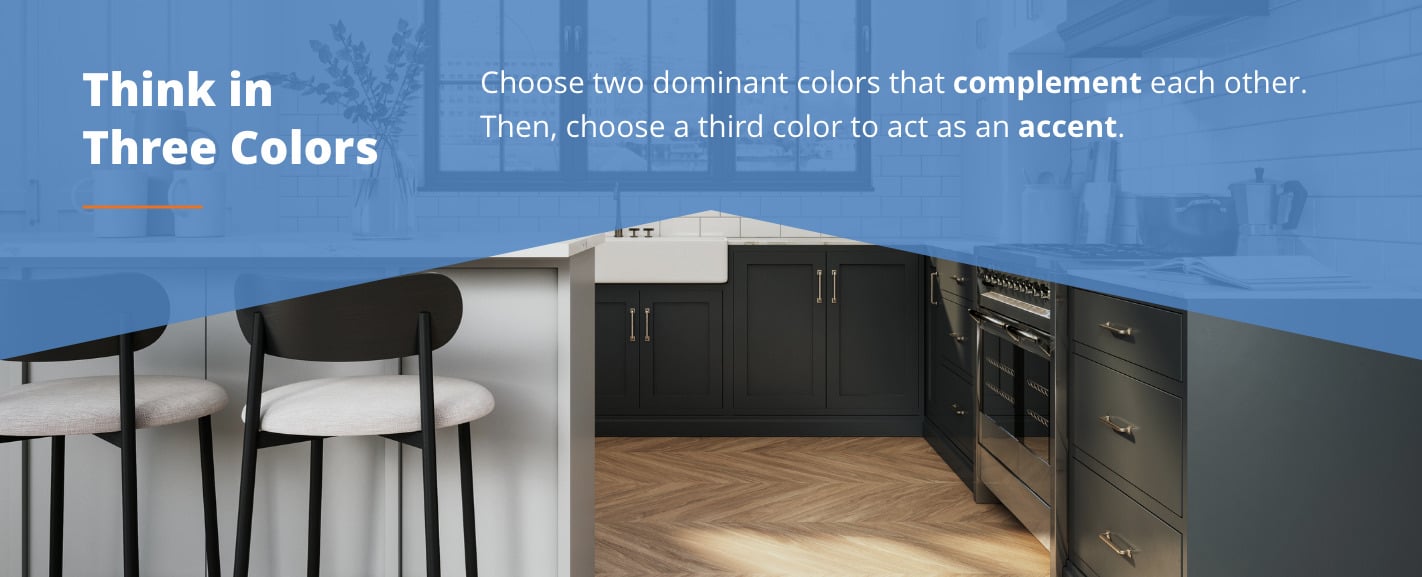 Choose two dominant colors that complement each other. Then, choose a third color to act as an accent. The dominant colors should be simple, while the third should look great with the complementing colors and add interest.
If you have chosen granite countertops or another stone material, your accent color should be one of the colors in the counter. Make sure you try the different colors together in a part of your home before you commit to a whole kitchen. You want to be sure you love the color combination and that all three shades work together in the lighting of your space.
4. Choose Timeless Flooring, Countertops and Cabinets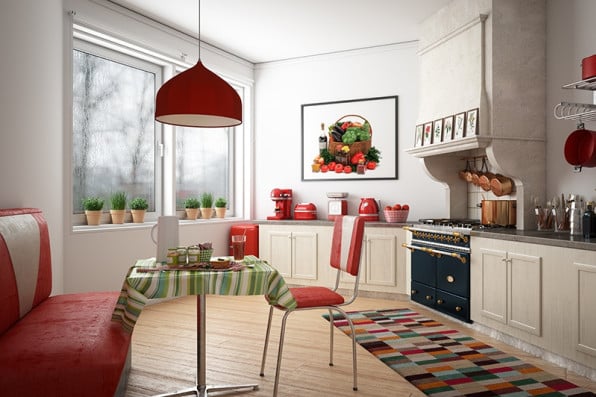 If you want your kitchen décor to last, choose classic colors that will age well. Use accessories that are less of an investment and are easier to replace to add some trendiness and fashion to your kitchen.
Towels, small appliances, wall paint, curtains and other décor items are an easier way to revitalize your kitchen with bold prints and trendy colors. If your kitchen counters, floors and cabinets are in classic colors, they'll be able to handle fashionable updates easily.
5. Consider Texture and Color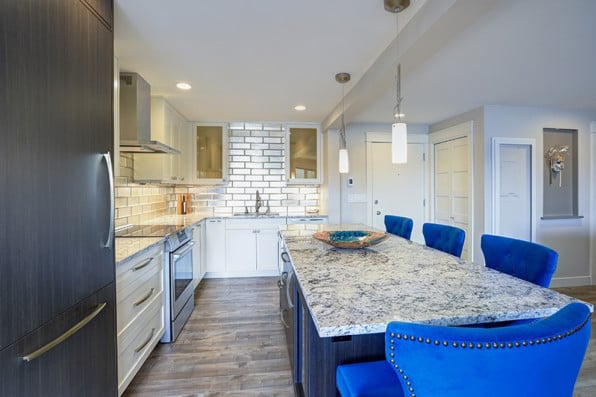 Once you have your three accent colors and have a general sense of how you'd like your kitchen to feel, consider texture and finish, as well. The same colors will look very different if you choose matte or high-gloss finishes or choose a rustic look or a sharp-edged modern design. If you prefer simple colors, you can also add interest with rich textures, such as rough stone or smooth marble.
Consider shapes, as well. Rounded counters will look very different than sharp edges. Round pulls on cupboards will create a different feel than geometric designs. You can create various effects with flooring depending on whether you select a herringbone pattern, tiles or another style.

How to Pick a Flooring Color for Your Kitchen
Choosing a color for your kitchen flooring is a big deal. Your floors are going to last several years, potentially even decades, so you want to make sure you make the right choice. Before you start to consider how to match your flooring to your cabinets, you'll want to take the time to think about your flooring needs.
Choose a design style: Defining your preferred design style and goals can help narrow down your flooring choices. Modern styles tend to lean towards lighter gray and neutral tones, while traditional styles indulge in the richness of darker flooring.
Consider the size of your kitchen: If your kitchen is on the smaller side, you'll want to lean towards lighter flooring colors to brighten up the space and give the illusion your kitchen is bigger than it is. Darker flooring can make a room feel cozy, but when used in smaller rooms, it can draw attention to the size of the space.
Remember your lifestyle: Lighter flooring colors do a better job of hiding dirt and dust, which can be ideal for homes with children or pets.
Decide on either matching or contrasting: Choose between either matching your countertops, cabinets and flooring or contrasting them. Contrasting adds dimension, while matching creates a cohesive finish. Once you've made your choice, you can look at your cabinetry and countertops to see if you should be looking at darker or lighter flooring.
Popular Kitchen Cabinet, Countertop and Floor Combinations
As you're redesigning your kitchen, consider the following popular combinations for kitchen floor and cabinet colors and materials.
Contrasting Colors and Materials
Contrasting colors involve light and dark shades that create balance and visual appeal in a kitchen. If you want to use contrast for a dramatic first impression in your kitchen, you can use colors on the exact opposite sides of the color wheel, such as red and green.
A modern kitchen features bold contrasts, such as black and white or brown and gray. On the other hand, a traditional kitchen uses softer color combinations, such as dark cherry cabinets and light laminate flooring.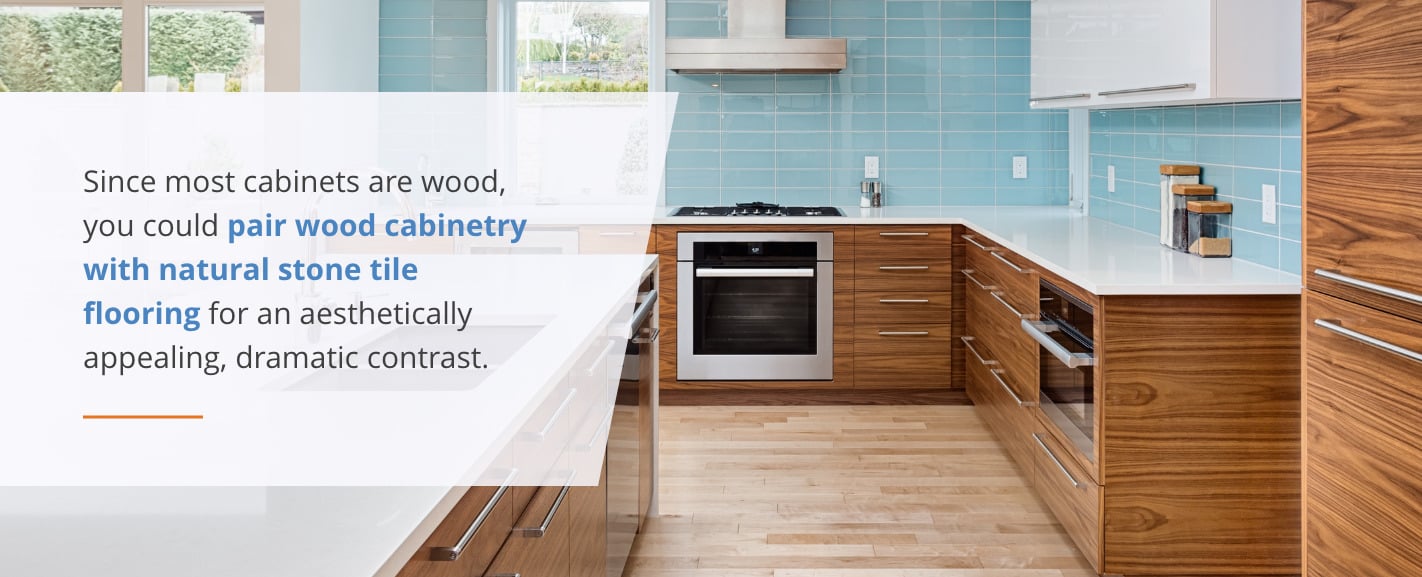 Besides contrasting colors, the modern design also features the use of contrasting materials. Since most cabinets are wood, you could pair wood cabinetry with natural stone tile flooring for an aesthetically appealing, dramatic contrast. Think about what flooring, countertops and cabinet materials would create a nice contrast without clashing with one another.
Same Materials
Create a cohesive look for your kitchen by using the same or similar materials throughout.
If you decide to install oak cabinets, for instance, you may want to establish a design theme with hardwood flooring. Since oak cabinetry has unique color variations, choosing oak floors would still give your kitchen a distinct appearance. You could also pair natural stone countertops with porcelain or ceramic tile that looks like natural stone at a fraction of the cost.
Try not to make your cabinets, countertops and flooring all the same material because it could look redundant. Instead, create some variations by selecting two out of three of them in the same material so the third piece can serve as a contrast.
Same Colors
Depending on the shades you choose, a monochromatic design can give the look of a larger kitchen. To create a white kitchen, you can opt for white floors for a rustic look to match your white cabinets. Keep in mind that there should be some color variation to add a bit of vibrancy to your room.
Consider porcelain or ceramic tile with unique veining patterns to go with your white countertops or cabinetry. You'll want to have a pop of color in the room so it doesn't look too dull. Even if you want to have the same colors in your color scheme, try to find several shades of that color and use them in your design.
Consider using different shades of blue or beige to create a design theme in your kitchen. You can also find a pop of color by using the color variations in your hardwood, laminate, vinyl or tile flooring to design the rest of your kitchen.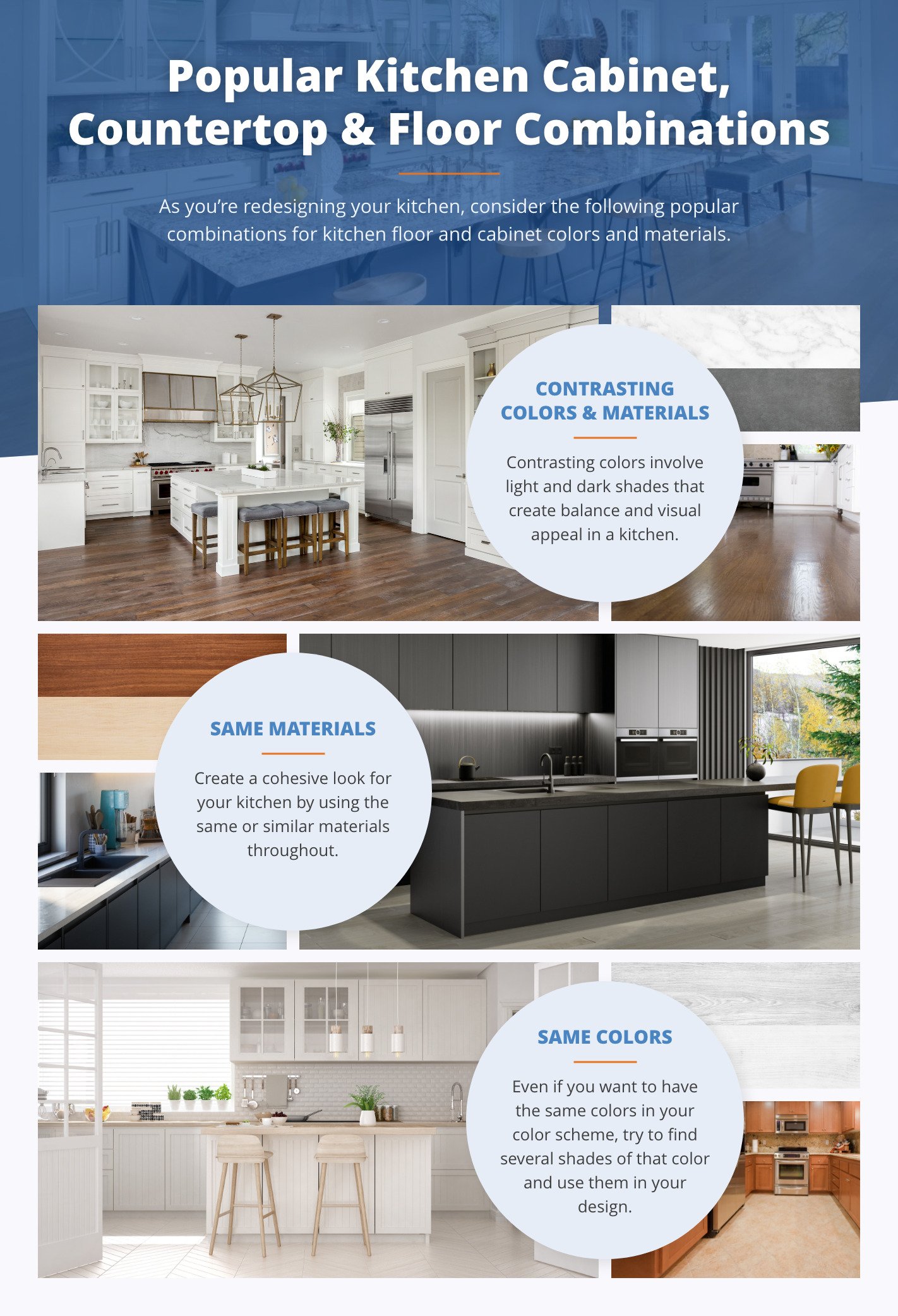 Do Floors Have to Match Countertops?
Your floors don't have to be the same colors and materials as your countertops, but you should have cabinets, countertops and flooring that work well together to enhance the overall look of your kitchen. There are a lot of kitchen worktop and floor combinations to choose from, so a lot of your choices will come down to your personal preference.
However, since kitchen countertops are typically a different material than your flooring, keep in mind it can be hard to get a perfect match. You may find it easier to choose contrasting colors or complementary shades for your floors and countertops.
Common Kitchen Design Questions
With so many flooring options available, you're sure to have a lot of questions. Here are some of the more common questions that come from deciding how to match kitchen cabinets, countertops and flooring.
1. Should Kitchen Flooring Be Lighter or Darker Than Cabinets?
This depends on the style you're going for and the color of your cabinets. Are you looking for a sharp contrast to create dimension, or do you want a soft, complementary color palette?
Darker flooring will give your kitchen a dramatic and moody flair, especially when paired with lighter cabinets. Meanwhile, lighter flooring paired with darker cabinets will also add contrast, but the space will feel much brighter and open.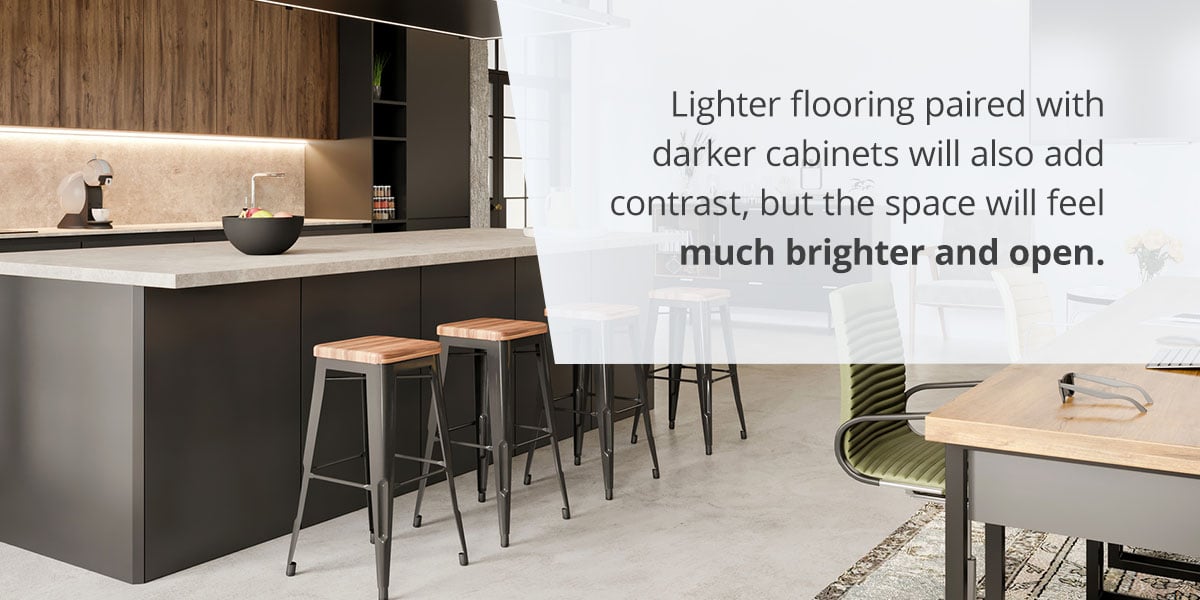 2. Should Your Kitchen Trim Match Your Cabinets?
If you're aiming to design a traditional-style kitchen, you'll want to match your cabinets and kitchen trim. However, there's no right or wrong answer, and mismatched cabinets and trim can create a unique, eclectic look if that's more your style.
3. Should Your Kitchen Island Match Your Cabinets?
Again, this is a personal design preference. Match your kitchen island to your cabinets for a seamless, cohesive look or contrast your kitchen island materials and colors from your cabinets to create a statement piece.
4. What Color Kitchen Floor Shows the Least Dirt?
You may expect darker color floors to hide dirt better, but the opposite is true. Lighter shades of brown and gray are actually better at hiding dirt and dust. Be careful not to go too light, though, because dirt on white flooring easily stands out.
5. What Type of Kitchen Flooring Should You Choose?
There is no one-size-fits-all solution to choosing kitchen flooring. Your budget, personal design style, shape and size of your kitchen, lifestyle and more can affect what flooring choice makes the most sense for your home. If you still feel unsure, speak to an interior designer or flooring provider for guidance on how to choose a kitchen flooring color.
Schedule a Free Consultation With 50 Floor
At 50 Floor, our team can guide you on how to match countertops with flooring and will help with any other questions you have along the way. If you're wondering what flooring options might look best in your kitchen space, contact 50 Floor to schedule a free appointment.
Our flooring experts can come to your home with samples so you can compare options and find the ones that match your countertops in your home's natural lighting. Experience excellent customer service, guidance from skilled industry professionals and beautiful, quality flooring all in one place at 50 Floor.