Quick Navigation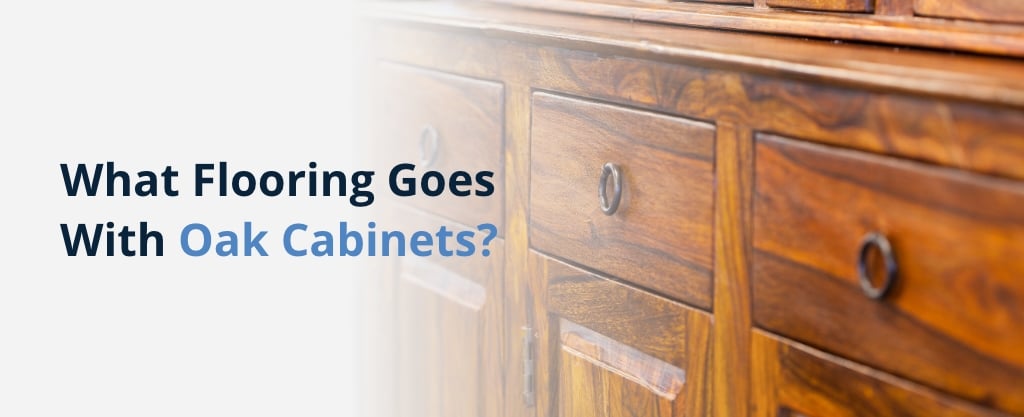 Oak cabinetry is a popular choice among homeowners because of its durability and unique wood appearance. Each cabinet's uniform grain patterns come to life when light rays hit them. If you want to renovate your kitchen with a more traditional appearance, consider pairing your oak cabinets with luxurious flooring. This guide explores what flooring choices go well with oak cabinets.
Tips for Choosing Flooring With Oak Cabinets
As you design your new kitchen, be creative and figure out whether you want to establish a contrast or coordinate the color palette throughout the whole space. These tips can help you figure out the best type of flooring to go with your oak wood cabinets.
Lighter colors create a contrast: Using two contrasting colors in one room demonstrates harmony between different decorative elements, especially the cabinets and flooring. Since your oak cabinets already have such a dark, luxurious color, you can find a light, contrasting tint to create balance in your kitchen.
Natural stone has a unique appearance: If you'd like your kitchen to have a vibrant, modern aesthetic, you may want to try using natural stone flooring as a unique flooring-cabinet combination. When you use coordinating or contrasting colors and textures, you can make your oak wood cabinetry and stone floors work well together. You can also choose durable, long-lasting laminate, vinyl or tile that looks like a natural stone as a cost-effective alternative.
An oak floor establishes a design theme in the kitchen: The idea of using oak flooring with oak cabinets may seem redundant. However, this material comes in various color options, so you can have an oak kitchen with color variations that give the space a classic appearance. Consider a flooring type with eye-catching grain variations and designs, such as hand-scraped hardwood, to contrast your traditional oak cabinets with more modern flooring.
Medium-dark flooring matches oak cabinets perfectly: When you're trying to decide what color flooring goes with oak cabinets, medium-dark flooring is one of your best options. Since oak is a medium-dark wood, medium-dark flooring would complement your cabinetry nicely. Medium-dark colors don't dominate the room or overpower your oak cabinet's appearance. As a bonus, the dark color hides stains and debris, so darker floors are usually easier to maintain.
Flooring Options for Kitchens With Oak Cabinets
The following materials feature plenty of color and texture options to complement or contrast your oak cabinetry.
Hardwood Flooring With Oak Cabinets
For a luxurious, traditional kitchen, you might want to install natural hardwood flooring. This material can last for more than half a century, but in the kitchen, where spills and messes are frequent, engineered hardwood planks can better withstand moisture. You can choose from various wood colors, from light to medium-dark. Here are some wood species options that go well with oak cabinets.
Red oak: If you'd like to create an oak-themed kitchen, a red oak floor is an excellent option. As the name suggests, this wood species is medium-brown with a reddish wash.
White oak: Lighter white oak floors can be a great option to compliment your kitchen cabinets.
Maple: This wood species is a light, creamy color to contrast your dark oak cabinets.
Birch: This softer hardwood comes in various tones, from light to medium, but the most popular is yellow birch. If you'd like to create a color contrast between your dark oak cabinets, you may want to get birch flooring.
Brazilian cherry: This type of cherry hardwood is a dark, reddish-brown color, but with exposure to light, it tends to develop a medium tone over time.
Laminate Flooring With Oak Cabinets
Laminate flooring is a durable option for high-traffic areas such as the kitchen. These cost-effective planks can resemble nearly any material, but homeowners usually prefer a natural wood look. As a result, you have plenty of wood species options for matching or contrasting your oak cabinets. Besides its aesthetic quality, laminate tends to be resistant to most wear and tear, and it's relatively easy to clean. For additional protection from spills in the kitchen, you may want to install waterproof laminate flooring.
Vinyl Flooring With Oak Cabinets
Like laminate, vinyl flooring can withstand wear and tear in high-traffic areas, and it can take on the appearance of natural wood to complement or contrast your oak cabinets. Choose from one of these three options.
Luxury vinyl planks: This type of flooring has almost the same texture as wood, and each plank fits together to create a seamless flooring design. Planks tend to resist scratches, moisture damage, stains and mildew growth. If you want to install plank flooring, you should get a wider plank to limit the lines for a more cohesive appearance.
Luxury vinyl tile: If you'd prefer the appearance of natural stone flooring, you may want to consider luxury vinyl tile. This material usually looks like stone or slate tiles, but at a much more affordable cost. It's also easy to clean and resists wear and tear much better than natural stone. Install LVT with your oak cabinets to create a unique, modern kitchen.
Vinyl sheet: As opposed to separate pieces like planks and tiles, vinyl sheets get installed as one whole piece that takes up the dimensions of your kitchen floor. This configuration provides your flooring with enhanced moisture protection and structural integrity, besides creating a seamless design. It can take on the appearance of either natural wood or stone, so you have more options to contrast with your oak cabinets.
Tile Flooring With Oak Cabinets
If you're looking for durable, yet aesthetically pleasing, flooring material for your high-traffic kitchen, tile flooring is an excellent option. This style offers plenty of design possibilities, but most often, it resembles natural stone. Here are two moisture-resistant materials that can contrast your oak cabinetry for a modern look.
Ceramic tile: Ceramic contains clay or synthetic materials and has a glaze over it to protect the surface. You can get a ceramic tile that looks like stone, slate, wood or other materials of any color and texture. Since this material is waterproof, you can use it in the kitchen and easily clean up messes. To complement your oak cabinet, you may want to invest in flooring that looks like natural stones. You could also create a contrast by using a light color for your flooring.
Porcelain tile: Porcelain contains a mixture of natural and synthetic materials to create a water- and heat-resistant floor tile. It tends to have a broader range of styles and patterns than ceramic, so you can design your flooring to match your oak cabinets or establish an eye-catching contrast.
Schedule an In-Home Appointment With 50 Floor
Our team at 50 Floor would be happy to help you decide what flooring goes well with your oak cabinets. When you set up an appointment with us, we bring flooring samples to your house. You can hold a specific flooring material and color up to your oak cabinets to see how it pairs together with your color scheme. If you're ready to get new flooring that matches your oak kitchen cabinets, schedule an appointment with us today.