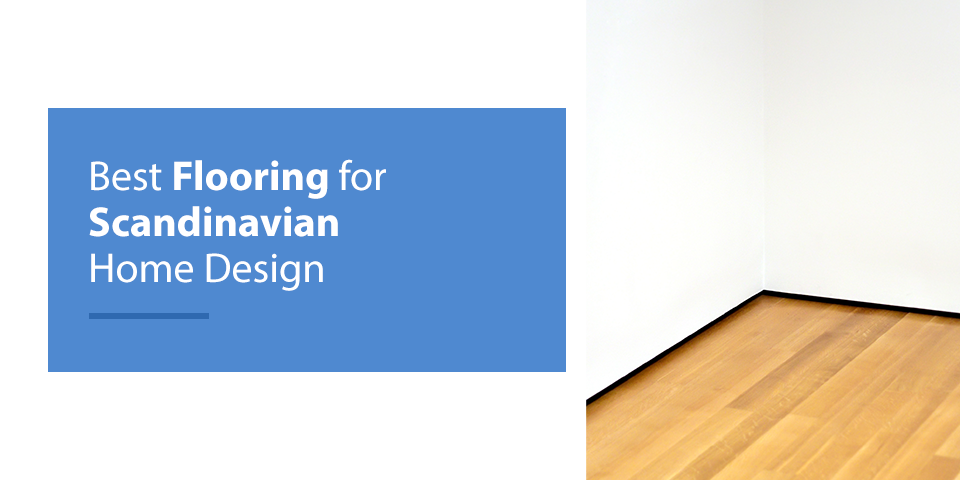 Deciding on the right flooring is a pivotal part of the design process. It serves as the literal and visual foundation in a space. The flooring you choose can dictate the colors, textures, furniture and features you incorporate later on. It's also one of the first things installed when renovating or applying the first finishing touches on a new build. Therefore, knowing the flooring that works best with your personal tastes can help you make the best decision and prevent regret later.
Nowadays, the most popular trends trace back to Scandanavian styles. Most likely, some of the furniture, decor or fixtures you're interested in have Scandinavian origins. Since its effect on design is so prevalent, we will reverse-engineer the style to determine the best flooring for Scandinavian interior design. Let's look at the origins of this style and how to incorporate its features into your home, including flooring that pulls it all together.
What Is Scandinavian Interior Design?
Scandinavia is a common designation for the countries of Denmark, Norway and Sweden. Therefore, Scandinavian interior design takes its influence from those countries and bits from Finland and Iceland.
Though Scandanavian home design has been around for decades, the style first made its mark in the 1950s and 1960s when it cemented its influence on home interiors. These pieces are beautiful, and what's more, they're meant to be affordable, fueling their universality as this design continues to grow in its popularity. Scandinavian retailer IKEA, for example, is a behemoth in the market and America's largest furniture retailer, further demonstrating the demand and staying power of the style.
Known for its practicality and sleek silhouettes, Scandinavian design favors clean lines and neutral colors. The rooms are meant to be bright and comfortable to help you weather the long winters and short days characteristic of Northern Europe. Inspired by the Nordic love of the outdoors, the style incorporates many natural textures, such as hemp, light-colored wood and leather. Furniture and decor are made sustainably and crafted for functionality.
At its essence, this style promotes a minimalist philosophy that denounces clutter and bolsters intentionality without sacrificing beauty. Its purpose is to provide comfort and enhance everyday life.
How to Incorporate Scandinavian Design
Adding touches of Scandinavian design to your home is easier than you may think. With all the Nordic-inspired retailers and decor available, you're bound to already have something Scandinavian in your home! That being said, interior design is less focused on individual pieces than the overall philosophy that ties a room together. Here are some of the ways you can incorporate the Scandinavian look and feel into your own home.
Natural Elements
Everything is all-natural in Nordic design. Think natural wood, light, tones and textures. These elements blur the lines between inside and outside, creating a sense of unity with the great outdoors.
If you're building a new home, opt for plenty of windows that let in the sunshine. Choose natural wood embellishments, furniture and cabinets, or stick with neutral colors like gray, beige and white. Leather is an excellent textile used heavily in Scandinavian design to ground smooth and soft colors with an earthy texture. Sheep or cow hides, linen and hemp are great textiles that add depth to a space.
Don't forget to include plenty of greenery for a pop of color that pairs well with an earthy aesthetic.
Beauty and Functionality
Scandinavian design is not meant to be empty, stark or lifeless. Instead, it should strike a balance between beauty and functionality. Rather than packing a room with items, this style encourages you to craft a place in which your ordinary life is lived and enjoyed.
Consider the way you use the spaces you want to change. How do you use it now, and how do you dream of using it later? Is your space taken up by items or furniture you rarely use? Intentionality is a fundamental philosophy in Nordic homes, and it's a skill that can take you far when incorporating Scandinavian furniture or decor in your home.
The Best Flooring for a Scandinavian-Inspired House
When it comes to Scandinavian interior design, wall-to-wall carpeting is nowhere in sight, leaving you with hardwood or laminate options. To narrow your choices and stick with Scandinavian styles, here are some typical features of flooring in a Scandinavian-inspired house.
Wood or Wood-Like Materials
Wood or wood-like floors are non-negotiable for an authentic Scandinavian-inspired house. When you use them, the foundation of your room immediately ties in natural elements that inspire Nordic design.
Wood floors can add character, warmth and sophistication to your home. They also work well with minimalism, another defining characteristic of Scandinavian interiors. Try wood-like tiles that imitate the beauty of wood flooring and are easier to care for and maintain. If you want the real deal, closed-grain hardwoods like white oak are stylish and durable. Floors are typically left bare, but if that isn't your style, try layering natural textiles and rugs to soften the space or deaden excess noise.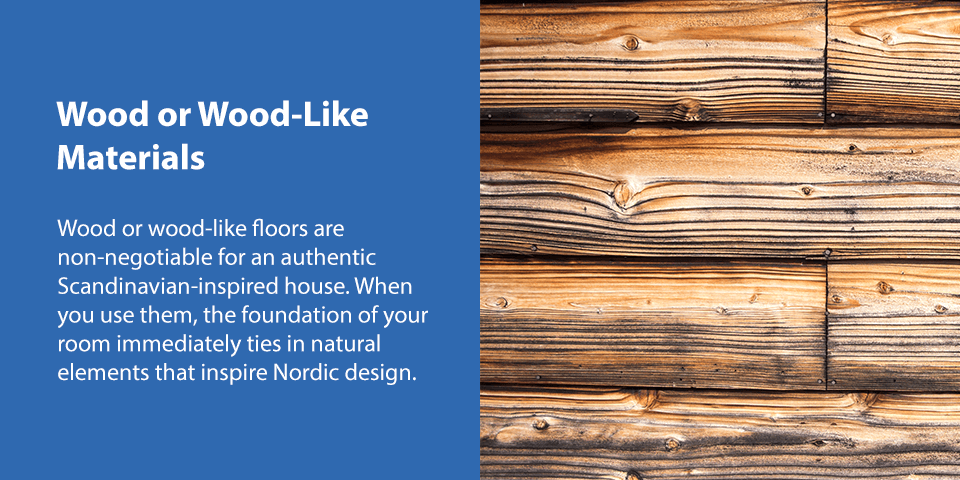 Pale Colors and Matte Finishes
There's more to flooring than just the material. When you select wood floors, there are all sorts of colors, grains and finishes to choose from.
Though your kitchen cabinets or current wooden furniture can guide you, the rule of thumb for an authentic Scandinavian look is light and pale. Whitewashed pine and white oak are especially popular. Look for variable grains in your panels to amplify the natural feel. A matte finish is another Scandinavian-inspired option since the natural world tends to look matte rather than glossy. Still, gloss or semi-gloss is perfectly suitable in moderation.
Wide Planks
Wide plank floors are trending, and they fit in marvelously with a Scandinavian-inspired home because wide planks can visually expand a room and cover large spaces. With fewer seams and many delightful variations, they are the perfect base for the rest of your interior. They also add to the polished, sophisticated and clean appearance that is quintessential to Nordic design.
50 Floor Can Help You Incorporate Scandinavian Flooring
Scandinavian-inspired homes are sophisticated, simple and lovely. Using these Nordic influences to inform your interior is bound to result in beautiful, bright spaces for you and your loved ones to enjoy.
If you're ready to find the perfect light and pale floor for your home or redesign, then partner with 50 Floor! We offer a shop-at-home experience that allows you to see flooring options in your home's natural light and with your decor. If you prefer an at-home consultation, we'll be happy to help! A trained flooring expert will bring a wide array of flooring options so you can make an informed decision that will last for years to come.
Ready to make your appointment? Fill out our online form to get scheduled today!