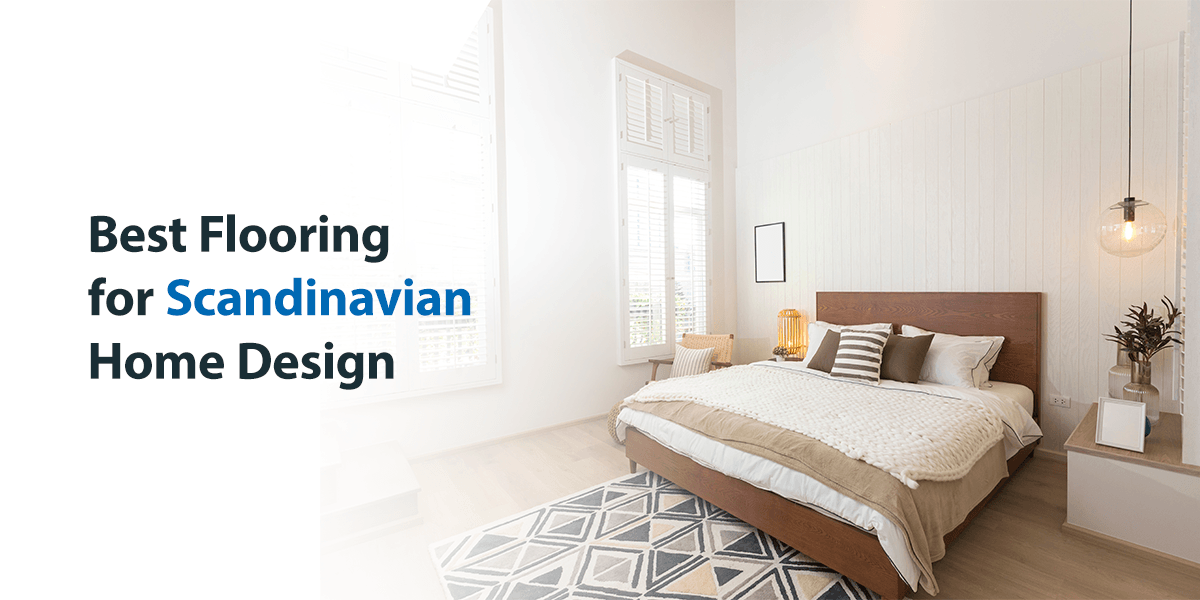 Choosing the right flooring is pivotal to the home design process, serving as the literal and visual foundation of a space. Your chosen flooring can influence the colors, furniture, textures and other features you incorporate later on.
Therefore, knowing what flooring fits your personal tastes can help you make the best decision. Nowadays, the most popular trends trace back to Scandanavian styles. Some of the furniture, decor or fixtures you're interested in most likely have Scandinavian origins.
Let's explore the origins of this style and how to incorporate its features into your home, including flooring that pulls it all together.
What Is Scandinavian Interior Design?
Scandinavia is a common designation for the countries of Sweden, Norway and Denmark. Naturally, Scandinavian interior design takes inspiration from those countries, along with bits from Finland and Iceland.
Though Scandanavian home design has been around for decades, the style first made its mark in the 1950s when it cemented its influence on home interiors. These pieces are beautiful, and what's more, they're meant to be affordable — take Scandinavian retailer IKEA, for example, which is known for its stylish but low-cost home decor and furniture options.
Known for its sleek silhouettes and practicality, Scandinavian design favors neutral colors and clean lines. Rooms embrace brightness and comfort, helping you weather the long winters and short days characteristic of Northern Europe. Inspired by the Nordic love of the outdoors, the style incorporates many natural textures like hemp, light-colored wood and leather. Furniture and decor are both sustainable and functional.
At its essence, this style promotes a minimalist philosophy, bolstering intentionality without sacrificing beauty. It aims to provide comfort and enhance everyday life.
How to Incorporate Scandinavian Design
Adding Scandinavian design to your home is easier than you may think. With widely available Nordic-inspired retailers and decor, you're bound to have something Scandinavian in your home already!
That being said, interior design is less focused on individual pieces than the overall philosophy that ties a room together. Here are some of the ways you can incorporate the Scandinavian look and feel into your own home.
Natural Elements
Nordic design employs natural wood, sunlight and textures. These elements bridge the gap between inside and outside, creating unity with the great outdoors. Woods are ashy and relaxed, usually complementing white walls.
If you're constructing a new home, ensure plenty of windows to let in sunshine. Choose natural wood embellishments, furniture and cabinets, or stick with neutral colors like gray, beige and white. Don't forget to include plenty of greenery for a pop of color that pairs well with an earthy aesthetic.
Beauty and Functionality
Scandinavian design isn't intended to be stark, empty or lifeless, but rather a mix of beauty and functionality. Instead of packing a room with items, this style encourages a place to live and enjoy everyday life.
Consider the way you use the spaces you want to change. How do you use it now, and how do you plan to use it in the future? Do rarely-used items or furniture occupy your space? Intentionality is a fundamental philosophy in Nordic homes, and it can take you far when incorporating Scandinavian decor into your home.
Decorative Accents and Textiles
Textiles like rugs, window treatments, upholstery and blankets are common features in Scandinavian homes. Layered fabrics and textures are key components of the Scandinavian style.
Leather is a popular textile in Scandinavian design, grounding soft, smooth colors with earthy texture. Cow or sheep hides, linen and hemp are great textiles that add depth to a space.
Because this style emphasizes organic and natural elements, many of these homes incorporate plants and warm-toned metals like copper for an earthy color scheme. Other accents like mirrors and glass furniture also set the tone for a Scandinavian aesthetic.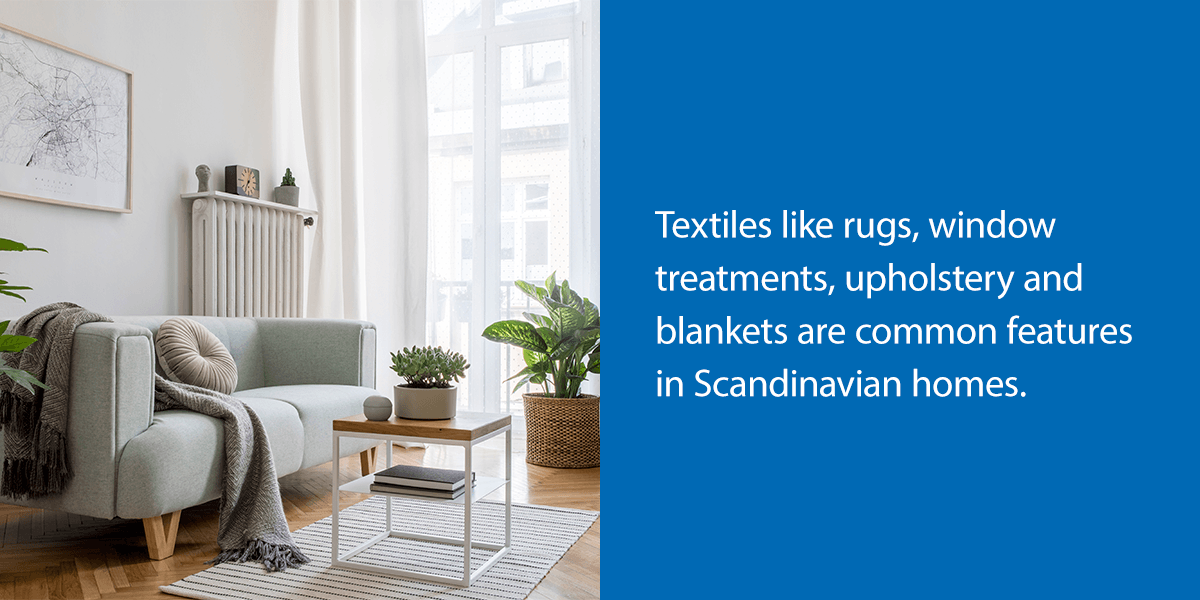 The Best Flooring for a Scandinavian-Inspired House
When it comes to Scandinavian interior design, wall-to-wall carpeting is nearly nonexistent, with hardwood and laminate taking center stage. To narrow your choices and stick with Scandinavian styles, here are some typical features of flooring in a Scandinavian-inspired house.
Wood
Wood or wood-look floors are essential for Scandinavian-inspired homes. By using them, your room's foundation encompasses natural elements reflecting Nordic design.
Scandinavian wood floors can add warmth, character and luxury to your home. They emphasize minimalism, another defining trait of Scandinavian interiors. You can also try wood-like tiles, which imitate the beauty of wood flooring with easier care and maintenance.
If you want the real deal, choose stylish, durable closed-grain hardwoods like white oak. Floors typically remain bare, but you can also try layering natural rugs and textiles. This can soften your space while deadening excess noise.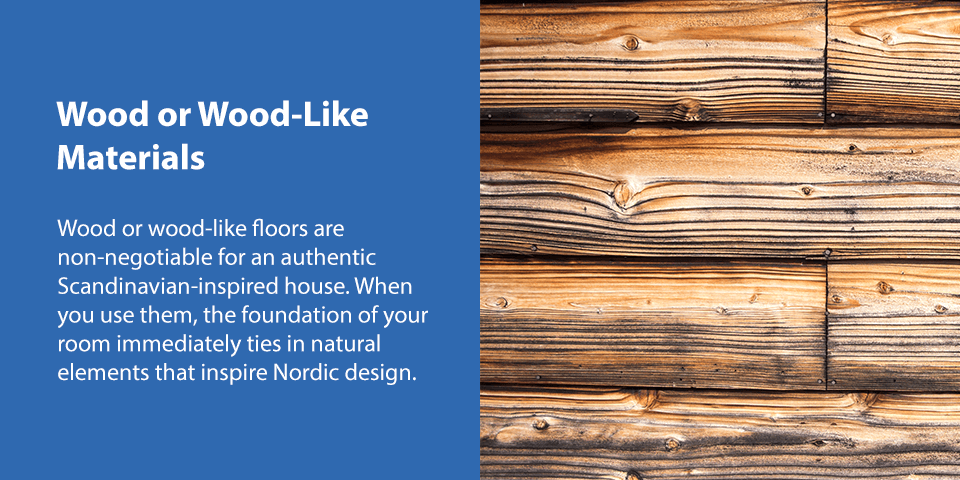 Pale Colors and Matte Finishes
There's more to flooring than just the material. When selecting wood floors, you'll have many colors, grains and finishes to choose from.
Though your kitchen cabinets or current wooden furniture can guide you, the key to a true Scandinavian look is light and pale. White oak and whitewashed pine are particularly popular choices.
Look for variable grains in your panels to amplify the natural feel. A matte finish is another ideal option, given the natural world tends to look matte rather than glossy. However, gloss or semi-gloss is perfectly fine in moderation.
Wide Planks
Wide plank floors are trending, and they fit in marvelously with a Scandinavian-inspired home. Wide planks can expand a room visually and cover large spaces. With minimal seams and interesting variations, they're an excellent base for the rest of your interior. They also add to the polished, sophisticated and clean appearance that is quintessential to Nordic design.
What Flooring Should You Avoid?
Choosing the right materials for your Scandinavian-style flooring is important, but you should also know which styles to avoid. Here are some flooring types to steer away from when designing your Scandinavian interior:
Carpet flooring: Scandinavian homes emphasize sleekness and minimalism. While carpet flooring can mesh wonderfully with other styles, it doesn't really go with the Scandinavian look. You can, however, add neutral-colored area rugs to your flooring to enjoy their plushness and comfort without carpeting the entire room.
Dark flooring: Because Scandinavian design calls for pale and light neutrals, dark-colored flooring may not be the way to go. Dark wood and tiles look dramatic and elegant in other home styles, but they don't quite speak to the Scandinavian style the way pale, whitewashed flooring does.
Scandinavian Flooring Inspiration
If you need some ideas for your Scandinavian floors, we've got you covered. Check out our top Scandinavian flooring picks below!
1. Whitewashed Pine
As mentioned earlier, a general rule for Scandinavian interior design is the paler and lighter, the better. This makes whitewashed hardwood floors — and naturally light and pale wood species — great options for bedrooms, living rooms, entryways and offices.
Pine wood offers durability and attractiveness, making it an excellent choice for Scandinavian homes. It has a light color, closed grain and yellowish-white undertones. Its naturally light color makes it easy to stain in your desired tone. If you want an authentic Scandinavian look, you'll likely be drawn to more matte, natural-looking finishes, as opposed to shiny varnishes.
if solid pine hardwood doesn't quite fit your budget, there are other options to consider. Engineered hardwood, luxury vinyl or laminate wood flooring can mimic its appearance at a fraction of the cost.
2. White Oak
White oak hardwood flooring is another look that embraces the Scandinavian style. White oak's subtle yellowish-brown undertones, subtle grain patterns and light appearance make it perfect for a Scandinavian home. It essentially blends into the background, reflecting the minimalistic appeal of this interior aesthetic.
3. Maple
Maple is known for its creamy pale hue, subtle grain patterns and graceful swirls, making it ideal for minimalist homes and Scandinavian-style interiors. Maple is also one of the densest wood species you can find, so it's sufficient for living rooms, foyers and other high-traffic areas.
4. Tiles
Wood floors are a must for Scandinavian homes, but they may not accommodate every single room. High-moisture areas like bathrooms, laundry rooms and basements will likely require something more liquid-resistant — enter tile flooring.
To keep with the fresh and modern Scandinavian style, choose stone- or slate-look tile flooring in simple neutrals like beiges, light grays or a tasteful mix of each. Ceramic and porcelain can mimic a variety of natural materials and colors to achieve the look you desire. Plain white ceramic tile flooring also looks great in a Scandinavian-style bathroom.
50 Floor Can Help You Incorporate Scandinavian Flooring
Scandinavian-inspired homes are sophisticated, simple and lovely. Using these Nordic influences to inform your interior is bound to result in beautiful, bright spaces for you and your loved ones to enjoy.
If you're ready to find the perfect light and pale floor for your home or redesign, then partner with 50 Floor! We offer a shop-at-home experience that allows you to see flooring options in your home's natural light and with your decor.
If you prefer an at-home consultation, we're happy to help! A trained flooring expert will bring a wide array of flooring options so you can make an informed decision that will last for years to come.
Ready to make your appointment? Fill out our online form to get scheduled today!