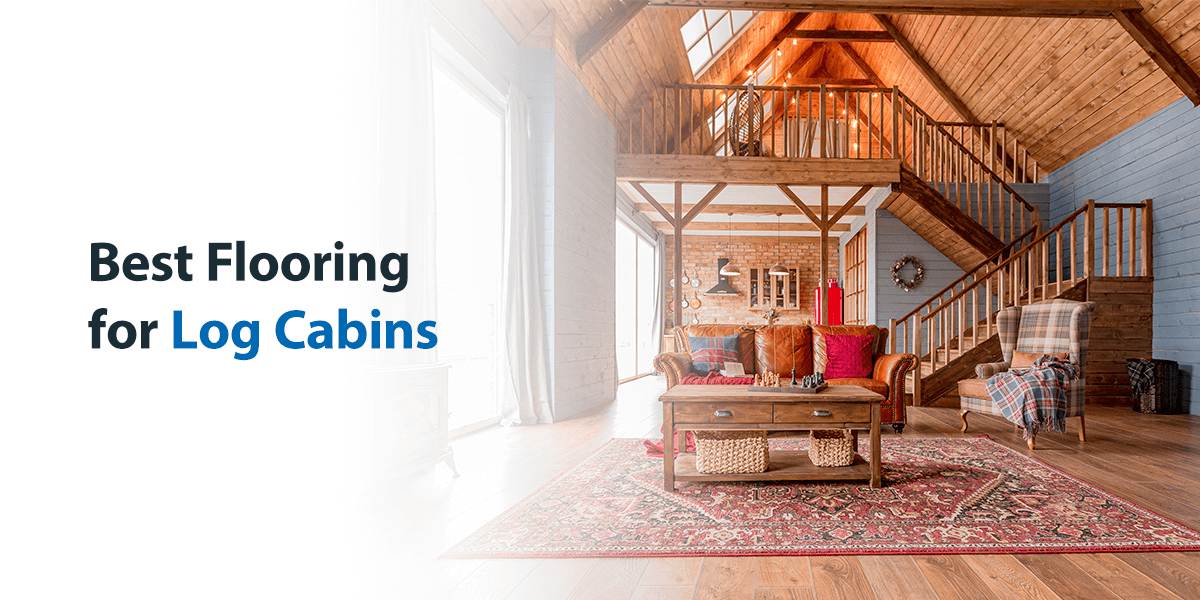 Your log cabin is your place of rest in a busy world. It's where you can relax, be yourself and enjoy the simpler things in life. It could be the destination of an extended getaway, or it might be where you lay your head every night of the year. However you use your log home, it is always a place of warmth and comfort.
When planning your log cabin, remember to put ample thought toward the type of flooring you will use. It's easy to overlook flooring during the most important stages of the planning process, but the right flooring can set the tone for an entire space. Some types of flooring are better suited for certain rooms than others.
Choosing the right flooring will help your dream log home become a reality.
Things to Consider When Choosing Flooring for Cabins
Log cabin flooring is diverse. There are many factors to consider when planning the perfect log home flooring, and often, multiple options will fit your particular needs. The choice usually comes down to a balance of price, durability, looks and comfort.
Price
Flooring costs add up. Carpet is generally the least expensive option, but even that can get pricey when you consider the entire square footage of your log home. Since you'll probably be installing your log cabin carpet in tandem with other flooring types — like tile or hardwood — the cost will continue to climb.
Consider using more affordable materials in lower-traffic rooms and limiting the more expensive, durable flooring to the rooms that see more action. We recommend speaking with a professional flooring contractor to discuss pricing and get the most bang for your buck.
Durability
Carpet, tile, hardwood, laminate, vinyl — each possesses different levels of durability. You want your flooring to last, so you should choose materials that can withstand the shuffle of everyday life. Consider the following questions to choose the right cabin flooring:
Is this room susceptible to water damage?
Will my child or pet be able to damage this floor?
Will I need to replace, recoat or reseal this material any time soon?
How much foot traffic will this room get?
These questions and more will help you make the right decision. Each room in your log home may call for a different type of flooring, depending on its use. Match the room's use with the material that possesses the right durability.
Looks
Looks are a major determining factor when choosing the right flooring for your log cabin — and for good reason. The material may be affordable and durable, but do you actually like how it looks? Does it bring out other elements in the room? Does it enhance the room's lighting?
When choosing floors, make sure you select an option you'll enjoy looking at for years to come. It should also flow with your other decorative accents, including furniture, fabrics, wall art, plants and rugs. This is where viewing flooring samples in your home to see what meshes well comes in handy.
Take Our Quiz to Find Your Flooring Style
Comfort
You should prioritize flooring comfort during the decision-making process. Price, durability and looks are important factors in their own right, but your daily comfort could end up being more important than them all.
Some hard floors can get tiring to stand on, and other types of flooring can be a cold surprise when you get out of bed in the morning. For instance, tile flooring provides the durability and water resistance necessary for a bathroom or laundry room, but it may not be as comfortable for a bedroom. Go with the flooring that will provide the comfort needed for a room's specific use.
Best Flooring Options for Cabins
There are many materials you can choose for your rustic log cabin flooring, each with its own pros and cons. Consider the different options to assist your cabin flooring ideas as you plan your dream layout.
1. Carpet
If you're looking for a good balance between price and comfort, you may want to choose carpet flooring for your cabin. However, carpet is not the most durable option — it can trap allergens and get moldy if damp. It's also difficult to clean, which may not bode well for daily spills, spots and stains from children and pets.
Even so, carpet flooring has many pros that make it a popular choice for bedrooms. You'll enjoy the comfort and warmth of the carpet on your bare feet, and kids can play safely without slipping or falling on a hard, slick surface. Additionally, carpet is less expensive to install than other materials like hardwood and tile, and there are endless styles and colors to consider.
Heavy-traffic areas like mudrooms, kitchens or dining rooms might not be the best place for carpet flooring, but bedrooms are the perfect location. Save a little money and enjoy the comfort of carpeting in your log cabin bedrooms.
2. Vinyl
A great option that blends style and affordability with a fair amount of durability is vinyl flooring. Vinyl flooring consists of tinted polyvinyl chloride (PVC) chips and is processed into sheets.
These sheets are later cut into the shapes and sizes you desire. Vinyl flooring consists of a top design layer, a backing and several protective layers on top. This makes it fairly durable against scratches, gouges and other signs of daily use. One of vinyl flooring's biggest appeals is its resistance to water, mold and mildew. This makes it a great choice for bathrooms and kitchens.
Vinyl is also more affordable than hardwood and tiles. It's roughly the same price as laminate without the extra maintenance requirements. However, a downside of vinyl is it isn't a big selling point for prospective buyers and therefore won't raise your home's resale value.
Additionally, vinyl is designed to look and feel like wood and tile, so it doesn't offer much underfoot comfort. However, you can use soft area rugs for additional padding, comfort and style.
3. Laminate
For a more durable option than vinyl, wood and carpet that approaches the visual appeal of hardwood and tile, consider laminate flooring. Four layers of synthetic composites fuse in the laminate to create an incredibly hard and durable surface that can withstand great amounts of wear and tear.
Mimicking the look of hardwood at a fraction of the price, laminate flooring is one of the most popular options for log cabins. Its durability makes it a great choice for high-traffic areas of the cabin. You also don't need to spend much money on upkeep and maintenance.
Like vinyl, a drawback of laminate is it won't increase your house's resale value. Because it's a sheet of synthetic material, laminate doesn't provide much underfoot support, comfort or softness.
View Laminate Flooring Options
4. Hardwood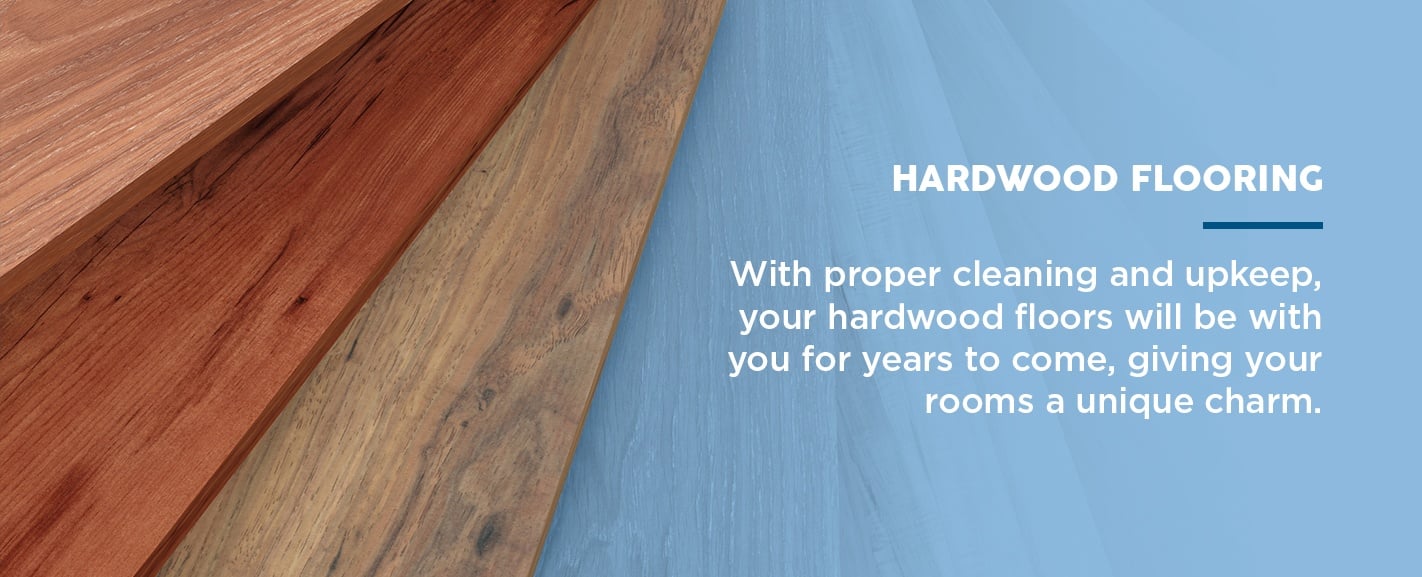 For an all-natural option that can last a lifetime, choose hardwood flooring for your log cabin. You can feel good about your choice knowing it's sourced from sustainable resources, adds home value and is easy to maintain.
Unlike vinyl or laminate, log home wood floors are made purely of your favorite type of wood. With proper cleaning and upkeep, your hardwood floors will be with you for years to come, giving your rooms a unique charm.
Hardwood flooring ranges from affordable to extremely expensive, depending on the type of wood. Some of the most popular types of hardwood flooring include:
Cherry
Walnut
Maple
Birch
Red oak
White oak
Brazilian cherry
Bamboo
That's just the beginning of the list. Find the hardwood that is right for you — one that can really make your room pop for years to come.
Note that hardwood doesn't absorb sound, so you might consider adding rugs to muffle noise. Wood is also sensitive to moisture and humidity, making it less ideal for bathrooms, basements, kitchens and laundry rooms.
Hardwood can also show scratches, scuffs and wear over time, so it'll likely need occasional refinishing. Solid wood flooring also comes with a high price tag, but its quality and value make it worth it in the long run.
View Hardwood Flooring Options
5. Tile
Choose one of the most durable options available when you go with tile flooring for your cabin. Tile is among the most scratch-resistant materials available, offering years of rugged durability. While tile flooring provides minimal underfoot comfort, it's a solid choice for a bathroom, kitchen, laundry room or mudroom. Tile also has excellent resale value, making it ideal for anyone looking to sell their home.
When choosing the best tile for your log cabin, consider the following types:
Ceramic tile: This tile consists of clay or synthetic components and imitates the look of stone, slate, wood and many other materials.
Porcelain tile: Made from synthetic and naturally occurring materials, porcelain is extremely durable and moisture-resistant. It can also withstand drastic temperature changes.
Both porcelain and ceramic tiles are more expensive than luxury vinyl due to their construction and installation processes. Furthermore, porcelain tiles cost more than ceramic, since they're crafted from higher-quality clays and heated at higher temperatures.
Tiles can withstand everyday use, but they can crack for numerous reasons, so it's important to use professional installation and protect them from damage. Besides regular mopping and sweeping, you'll need to regrout your tiles periodically to remove dirt buildup.
Remember that tiles are cold and smooth, making them especially slippery when wet. Prevent slips and falls with rugs or by wiping up spills right away.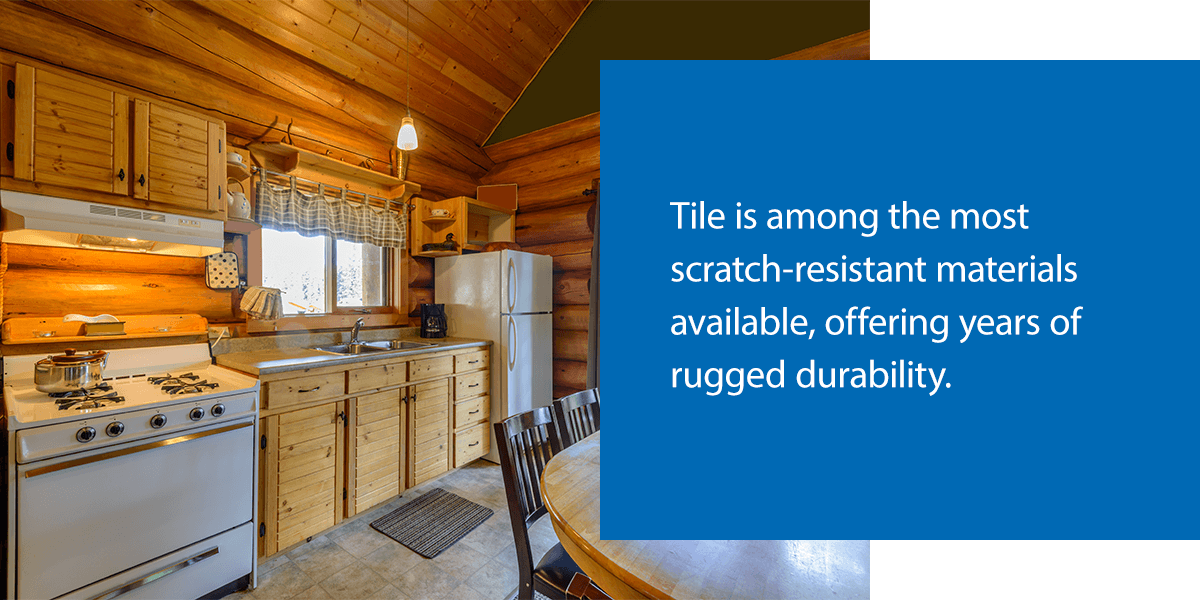 Log Cabin Flooring Inspiration
Need log cabin flooring ideas? Here are some timeless options to consider for your cozy cabin getaway.
1. Pine Hardwood
Pine wood is a beloved choice for its durability and warm, attractive appearance. It features closed grain, medium texture and light color, with undertones ranging from yellowish-white to reddish-brown. Its naturally light hue makes it easy to stain in any color you please. It darkens over time for a deep, rustic and organic look, undoubtedly making it pop in a log cabin.
Materials like laminate and luxury vinyl can mimic the appearance of solid pine hardwood — or virtually any other wood species — at a lower price.
2. Oak Hardwood
Oak hardwood is a classic, versatile option for log cabins and other home styles. There are also multiple types to choose from:
White oak: White oak boasts yellowish-brown undertones, subtle graining, minimal brightness and deep color, all of which can blend beautifully into a log cabin-style home.
Red oak: If you prefer flooring with redder undertones and more prominent graining, consider red oak hardwood for your log cabin instead. Its color and graining can hide blemishes slightly more effectively than white oak, which is something to consider if you have pets or children.
3. Slate-Look Tiles
Slate-look tiles in brown, gray and beige color schemes look stunning in a log cabin entryway, kitchen or bathroom. Porcelain and ceramic can mimic the appearance of slate, and you can find these tiles in a wide range of color schemes.
4. Plush Carpet
Carpet provides warmth and softness, making it ideal for your log cabin bedroom or living room. If you want something extra cozy for your cabin escape, plush carpet provides ultimate underfoot comfort for a relaxed feel. If you don't want to carpet the room entirely, you can always opt for tiles or hardwood, then add a large, comfy area rug.
50 Floor Can Make Your Log Cabin Flooring Dreams a Reality
Choosing the right flooring for your log cabin can be stressful, but 50 Floor is here to help. With more than four decades of experience, you can trust us to make the process easier from start to finish. We keep costs low by handling every step.
After you schedule an in-home appointment, we will come to you with flooring options to look at and feel in your home. Our professional services can make choosing and installing your log cabin flooring a breeze. We look forward to helping make your cabin home dreams come true!