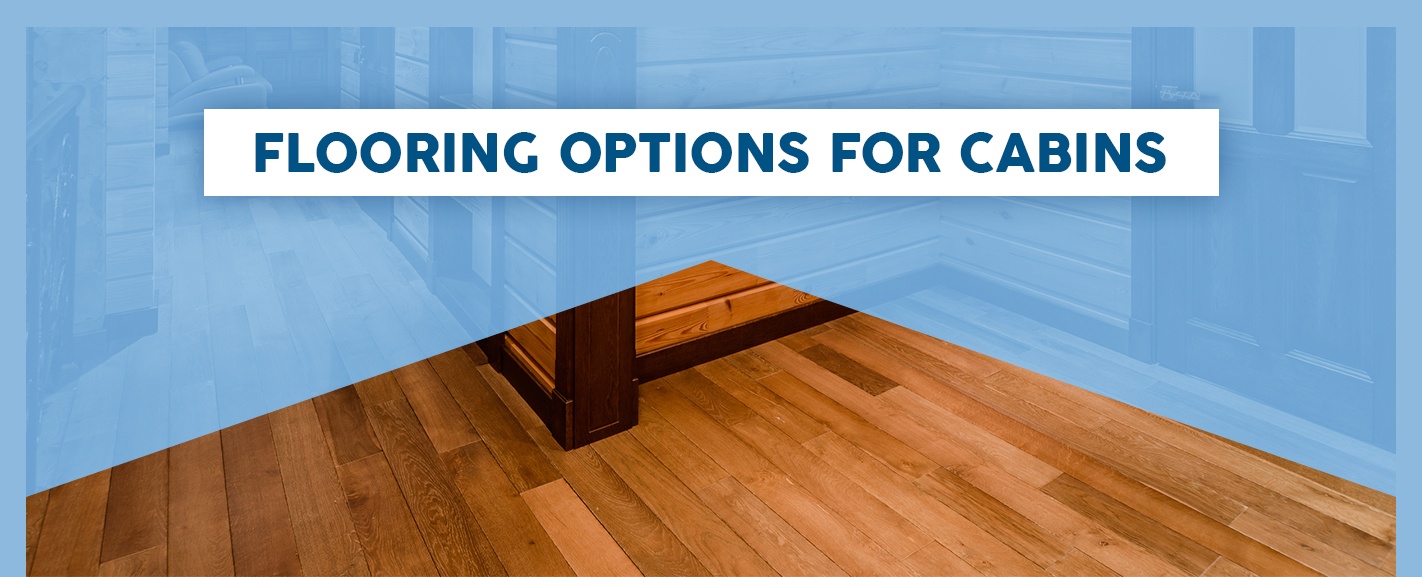 Your log cabin is your place of rest in a busy world. It's where you can relax, be yourself and enjoy the simpler things in life. It could be the destination of an extended getaway, or it might be where you lay your head every night of the year. However you use your log home, it is always a place of warmth and comfort.
When planning your log cabin, remember to put ample thought toward the type of flooring you will use. It's easy to overlook flooring during the most important stages of the planning process, but the right flooring can set the tone for an entire space. Some types of flooring are better suited for certain rooms than others. Choosing the right flooring will help your dream log home become a reality.
Things to Consider When Choosing Flooring for Cabins
Log cabin flooring is diverse. There are many factors to consider when planning the perfect log home flooring, and often, multiple options will be good for your particular needs. The choice usually comes down to a balance of price, durability, looks and comfort.
Price
Flooring costs add up. Carpet is generally the cheapest option, but even that can get expensive when you consider the entire square footage of your log home. And since you'll probably be installing your log cabin carpet in tandem with other, more expensive types of flooring — like tile or hardwood — the cost will continue to climb. Consider using more affordable materials in lower-traffic rooms and limiting the more expensive, durable flooring to the rooms that see more action.
Durability
Carpet, tile, hardwood, laminate, vinyl — each possesses different levels of durability. You want your flooring to last, so you should make sure you choose floors that can withstand the shuffle of everyday life. Consider the following questions to choose the right cabin flooring for you:
Is this room susceptible to water damage?
Will my child or pet be able to damage this floor?
Will I need to replace, recoat or reseal this material any time soon?
How much foot traffic will this room get?
These questions and more will help you make the right decision. Each room in your log home may call for a different type of flooring, depending on its use. Match the room's use with the material that possesses the right durability.
Looks
Looks are a major determining factor when choosing the right flooring for your log cabin — and for good reason. The material can be affordable and durable, but do you actually like how it looks? Does it bring out other elements in the room? Does it enhance the room's lighting? When choosing floors, make sure you select the option you'll love to look at for years to come.
Comfort
You should keep the comfort of your flooring in mind during the decision-making process. Price, durability and looks are important factors in their own right, but your daily comfort could end up being more important than them all. Some hard floors can get tiring to stand on, and other types of flooring can be a cold surprise when you get out of bed in the morning. Go with the flooring that will provide the comfort needed for a room's specific use.
Best Flooring Options for Cabins
There are many materials you can choose for your log cabin flooring, each with their own pros and cons. Consider the different options to help with your cabin flooring ideas as you plan your dream layout:
1. Carpet
If you're looking for a good balance between price and comfort, you may want to choose carpet for your cabin. Carpet is not the most durable option — it can trap allergens and get moldy if damp. But, carpet is a popular choice for bedrooms. You'll enjoy the comfort and warmth of the carpet on your bare feet, and kids can play safely without slipping or falling on a hard, slick surface.
Heavy-traffic areas like mudrooms, kitchens or dining rooms might not be the best place for carpet, but bedrooms are the perfect location. Save a little money and enjoy the comfort of carpeting in your log cabin bedrooms.
2. Vinyl
A great option that blends style and affordability with a fair amount of durability is vinyl flooring. Vinyl flooring consists of tinted polyvinyl chloride (PVC) chips and is processed into sheets. These sheets are later cut into the shapes and sizes you desire. Vinyl flooring consists of a top design layer, a backing and several protective layers on top. This makes it fairly durable against scratches, gouges and other signs of daily use.
One of vinyl flooring's biggest appeals is its resistance to water, mold and mildew. This makes it a great choice for bathrooms and kitchens. And, since it is flexible, it is one of the more comfortable materials to stand on for extended lengths of time.
3. Laminate
For a more durable option than vinyl, wood, and carpet that approaches the visual appeal of hardwood and tile, consider laminate flooring. Four layers of synthetic composites fuse in the laminate to create an incredibly hard and durable surface that can withstand great amounts of wear and tear. Mimicking the look of hardwood at a fraction of the price, laminate flooring is one of the most popular options for log cabins. Its durability makes it a great choice for high-traffic areas of the cabin.
4. Hardwood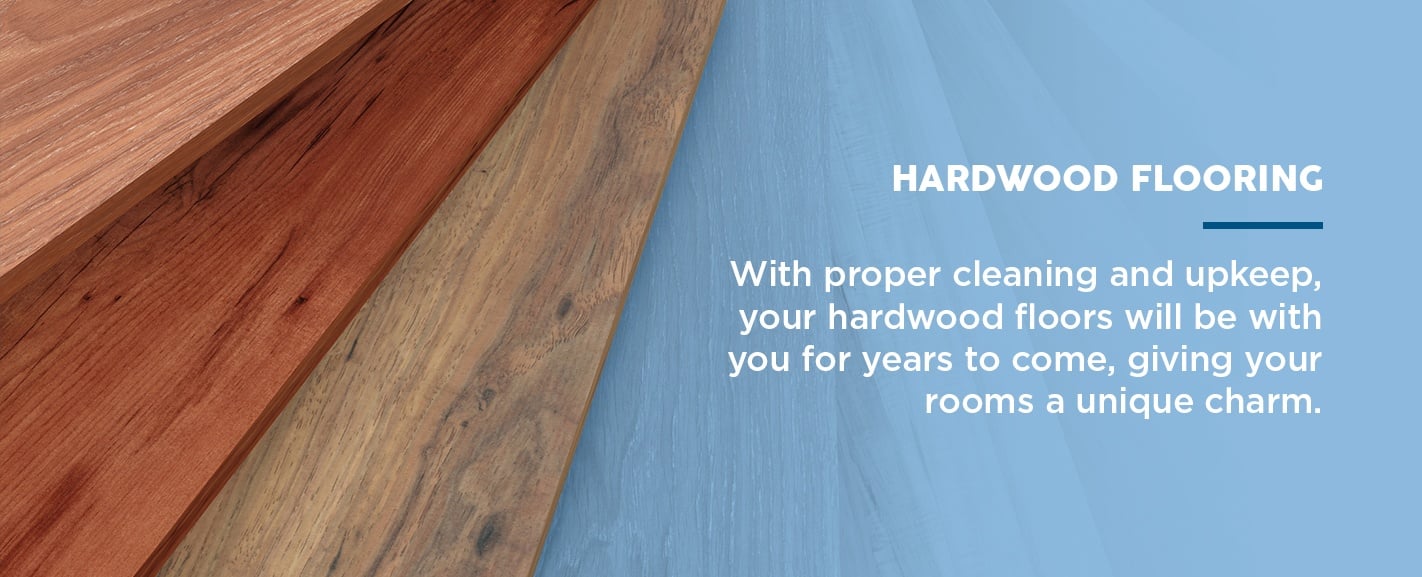 For an all-natural option that can last a lifetime, choose hardwood flooring for your log cabin. You can feel good about your choice knowing it is sourced from sustainable resources. Unlike vinyl or laminate, log home wood floors are made purely of your favorite type of wood. With proper cleaning and upkeep, your hardwood floors will be with you for years to come, giving your rooms a unique charm.
Hardwood flooring ranges from affordable to extremely expensive, depending on the type of wood. Some of the most popular types of hardwood flooring are the following:
Cherry
Walnut
Maple
Birch
Red Oak
White Oak
Brazilian Cherry
Bamboo
That is just the beginning of the list. Find the hardwood that is right for you — one that can really make your room pop for years to come.
5. Tile
Choose one of the most durable options available when you go with tile flooring for your cabin. Tile is among the most scratch-resistant materials available, offering years of rugged durability. While tile flooring can be expensive, it looks great and is easy to clean, making it a solid choice for any room throughout your log home.
When choosing the best tile for your log cabin, consider the following types:
Ceramic tile: This tile consists of clay or synthetic components and imitates the look of stone, slate, wood and many other materials
Porcelain tile: Made from synthetic and naturally occurring materials, porcelain is extremely durable and moisture-resistant. It can also withstand drastic temperature changes.
50 Floor Can Make Your Log Cabin Flooring Dreams a Reality
Choosing the right flooring for your log cabin can be stressful, but 50 Floor is here to help. We have more than four decades of experience, meaning you can trust us to make the process easier from start to finish. We keep costs low by handling every step. Unlike the competition, 50 Floor comes to you right from the start. After you schedule an appointment, we will come to you with flooring options to look at and feel in your own home's lighting.
We trust that our services will make choosing and installing your log cabin flooring easier than anyone else's products. Contact us online today for more information. We look forward to helping you make your cabin home dreams come true.