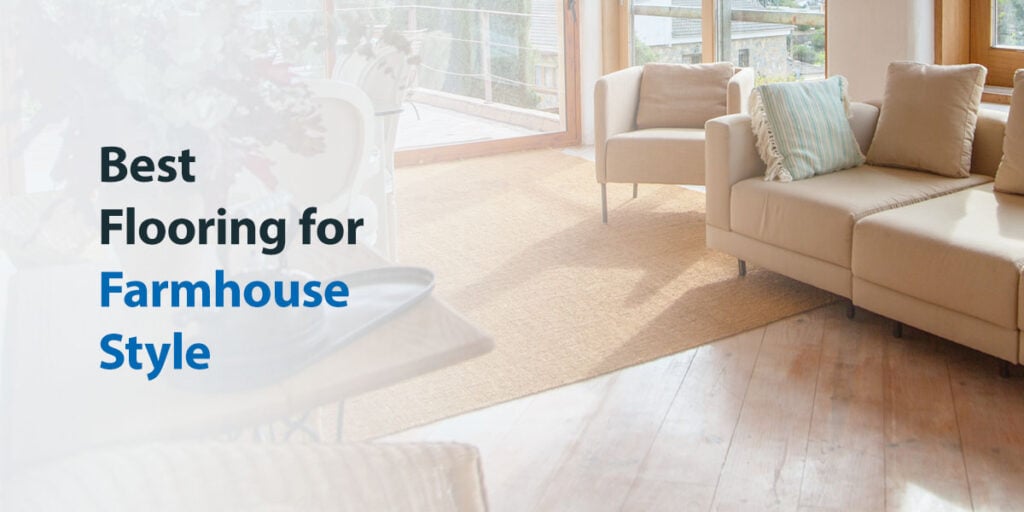 Farmhouse flooring has become more popular recently as rustic and Southern-style homes have become a trend. From sliding barn doors to mason jars, you've likely seen elements of country living popping up in stylish homes and magazines.
What Is Farmhouse Style?
Classic or traditional farmhouse style is a design style that emphasizes simple, rustic country living. It's a warm, natural style highlighting natural woods, cotton and flat cuts. Vintage furniture or designs are favorites, as they bring out the style's comfortable, cozy, traditional aesthetic. Traditional farmhouse style leans on pieces like unlacquered brass and aged wood to evoke the old homestead without feeling overly out of touch and dated.
Modern farmhouse style takes traditional farmhouse's rustic, earthy feeling and updates it with current details and color palettes. While traditional farmhouse designs use deep, rich, earthy color tones, modern farmhouse combines natural sunlight and lines with light, neutral modern colors. You'll see lots of white, light brown and neutral marbling in contemporary farmhouse designs.
Whichever farmhouse style you choose, lean into a warm and natural look. Its emphasis on wood and simple lines adds subtle depth to a space. The natural fabrics and gentle textures create depth and a feeling of home without overwhelming the space. The farmhouse style is perfect for homes looking to bring a timeless, natural aesthetic to their space.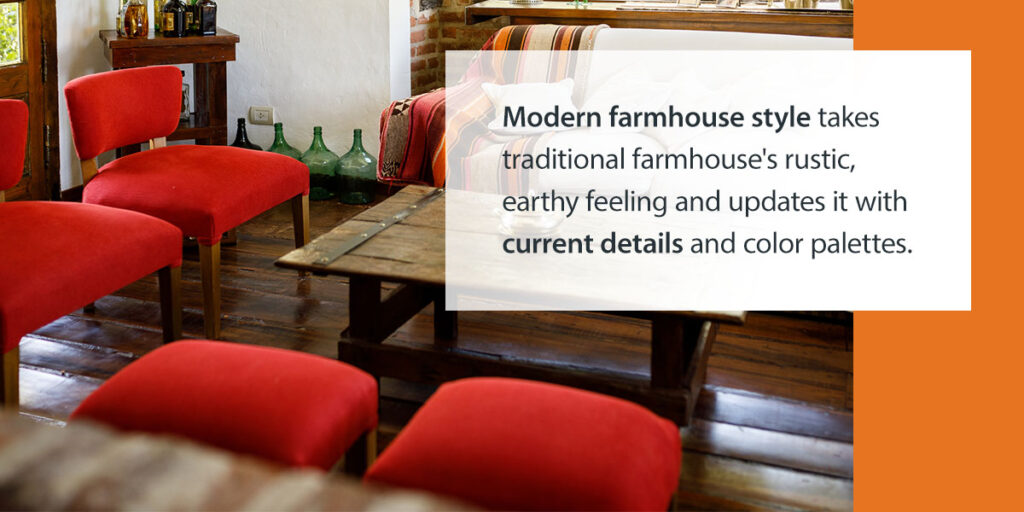 Take Our Quiz to Find Your Flooring Style
What to Consider When Choosing Farmhouse Style Flooring
Farmhouse flooring is versatile in style, and you can find options that fit your budget without losing its rustic look. To find the best farmhouse-style flooring option for you, here are a few factors to consider when choosing farmhouse floors:
Style: If appearance and natural feel are your top priority, hardwood flooring is your best option. Hardwood grants you an authentic farmhouse aesthetic, making your home feel like a true Southern staple.
Lifestyle and durability: One of the most important factors to consider when choosing farmhouse floors is your lifestyle. Children and pets can track in mud, dirt and moisture that some flooring options absorb. Hardwood and tile floors are durable choices that are easy to clean and don't require much maintenance outside of the occasional mopping or sweeping. You can enjoy a timeless farmhouse-style flooring look in your home without worrying about everyday messes.
Budget: Considering your budget when choosing new flooring is essential so you can enjoy a stylish floor at a reasonable price. Luckily, vinyl flooring's versatility is both stunning and budget-friendly. You can choose from a wide selection of flooring ideas that fit your aesthetic and budget.
Room: If you want new floors in your bathroom or kitchen, consider a flooring option that can withstand steam and moisture exposure so you can enjoy its looks for years. Tile flooring is your best durability option when choosing a new bathroom or kitchen floor since they don't absorb water when you take showers or cook a meal.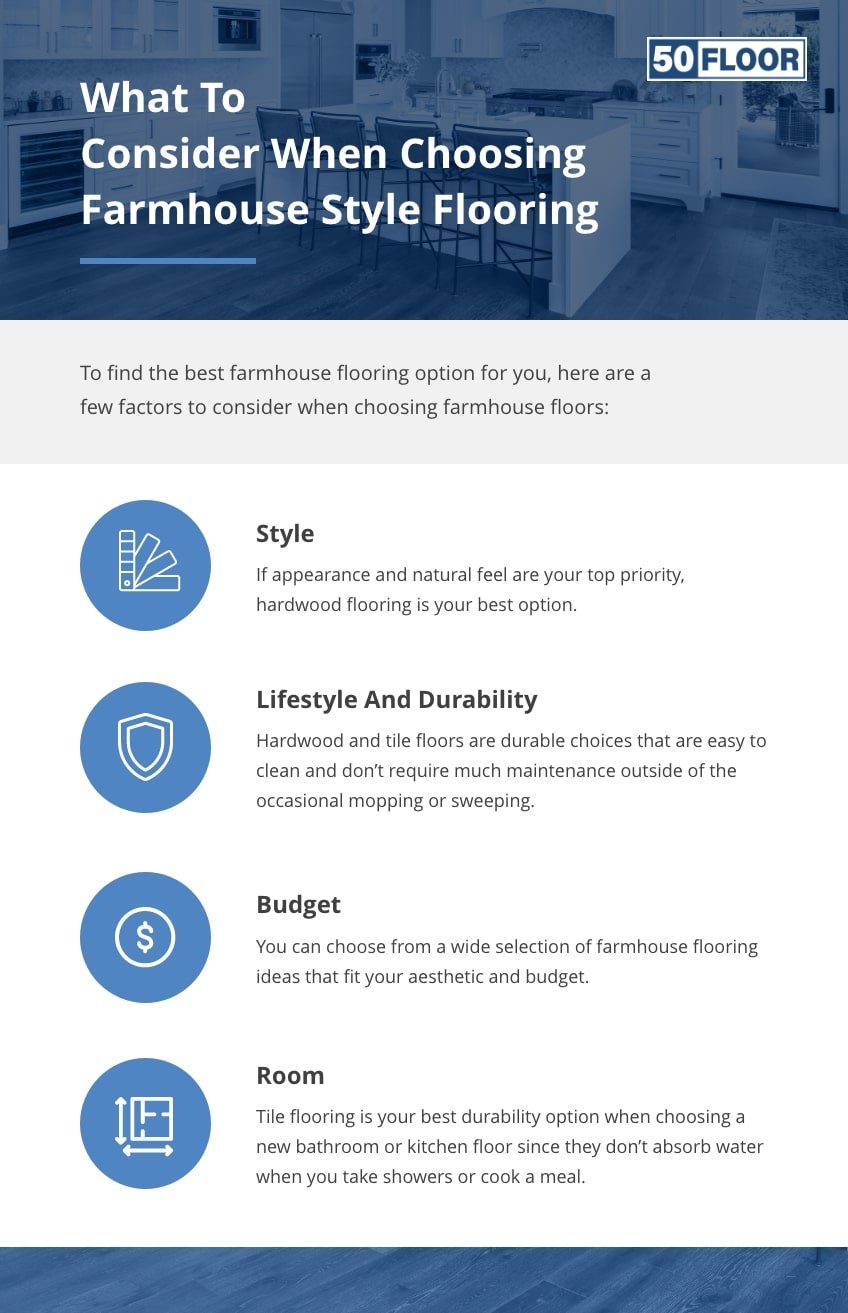 The How-To of Farmhouse Wood Flooring
Considering your flooring options is the first step to creating a rustic, chic look in your home. Contemporary floors typically don't work with a farmhouse style. Consider the following modern flooring ideas for the farmhouse style to help you choose from available options:
1. Traditional Farmhouse Wide Plank Wood Flooring
Wood floors are a staple of any traditional farmhouse. While pine floors were more common in the past, most homeowners now prefer hardwood for durability. In either case, wood is extremely easy to clean and highly durable. Hardwood brings a natural warmth to your home with its deep tones and rustic texture.
When you're looking for wood floors for your farmhouse-style home, look for farmhouse wide plank wood flooring. These floors are traditional in farmhouses because wide planks date back to the days when wide planks were only available with carpenters' tools.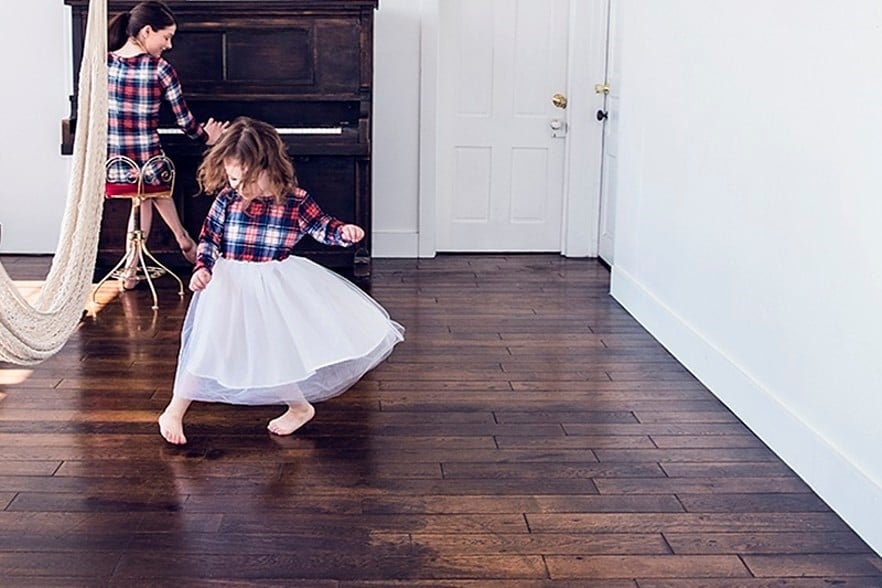 2. Wood With Imperfections and Graining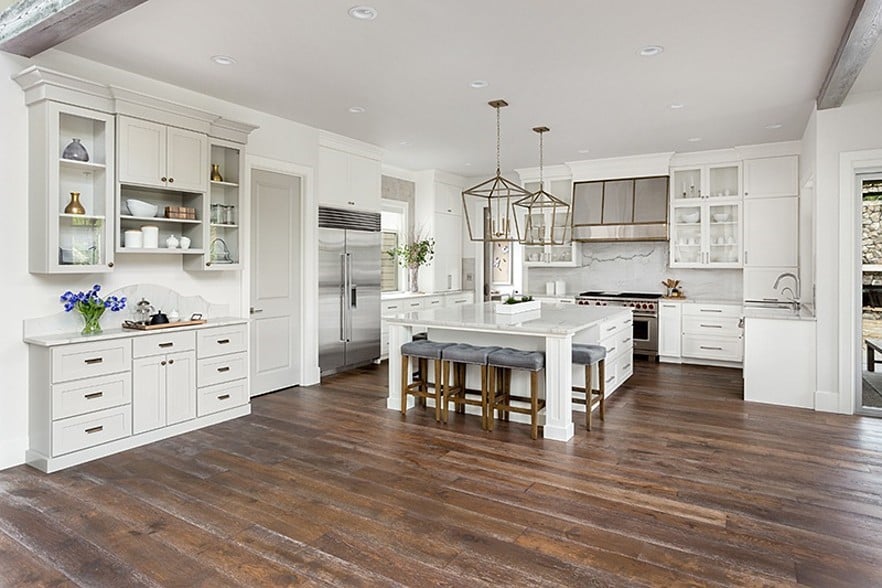 If you're opting for wood flooring, there's a high chance that you love wood's natural character. Many people do, and if you want to show this character even more in your farmhouse-style flooring, consider options with more graining, knots and mineral streaks.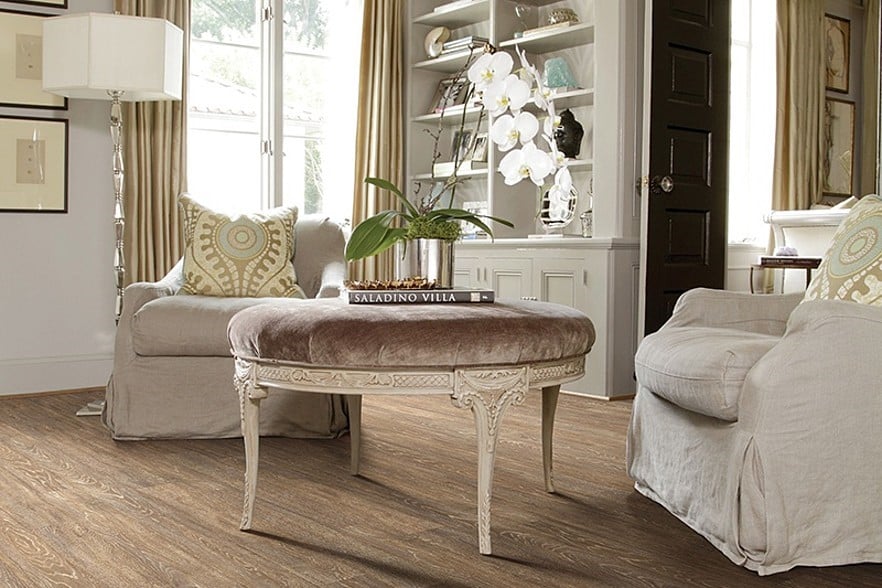 If you need some extra farmhouse wood flooring ideas, you may even consider wire-brushed floors, which have an etched look that adds extra contrast in color. This extra contrast makes the wood feel even more vintage without looking overly worn or dull.
Schedule Your In-Home Consultation
3. Natural-Looking and Matte Finishes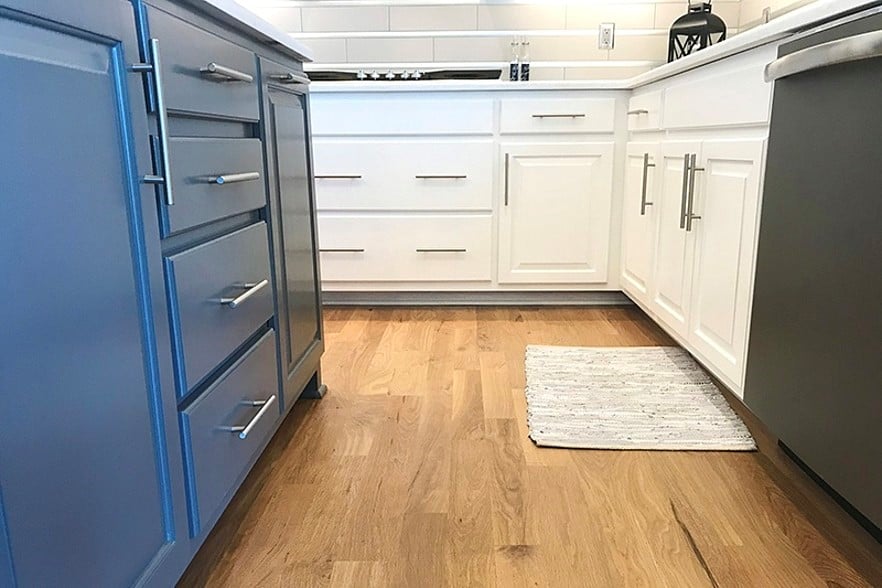 A matte finish for your hardwood floor will have no sheen, which looks more natural and fits into the farmhouse-style home better. Certain pre-finished woods even have a velvety texture. A simple, elegant matte wood is a great flooring for farmhouse looks and elevates your home's appearance.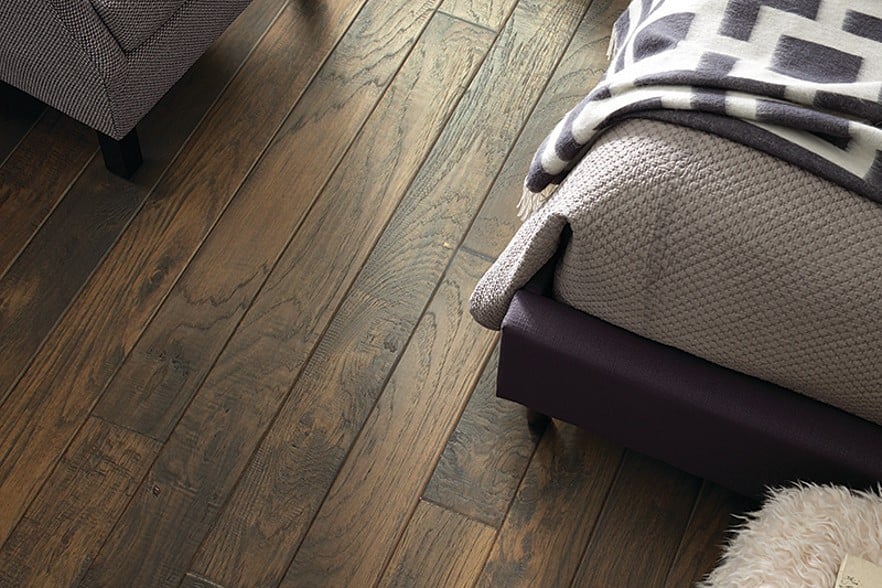 Whether you choose a whitewash, gray or water-based poly for your floor's appearance, you might find that matte is the way to go for natural floors that blend well in your home environment and add to its overall aesthetic.
4. Laminate Flooring
The beautiful thing about laminate flooring is that there's no one-size-fits-all solution. Laminate comes in many different textures and finishes to seamlessly blend with any farmhouse decor. You can also choose from various patterns, including narrow, wide, square or long planks.
Consider choosing a walnut color with a hand-scraped texture to complement neutral furnishings or decorations. Select a darker oak to create contrast with light-colored cabinetry and curtains. The options are endless.
5. Country Vinyl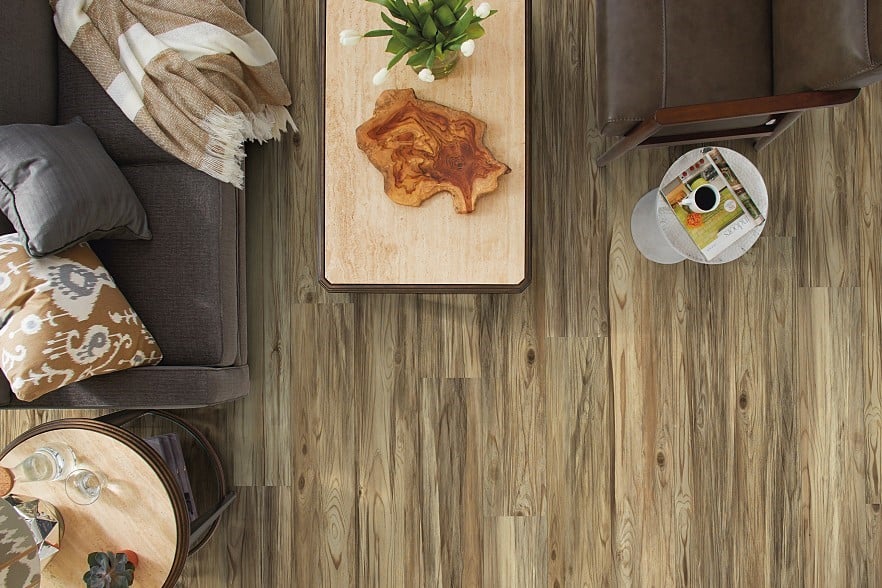 If you want another option besides wood, vinyl flooring is a great choice for a modern farmhouse. You can find budget-friendly vinyl in styles that approximate softwood like pine. Additionally, vinyl floors are available in various plank patterns that give your flooring the warm and unique appearance of wood.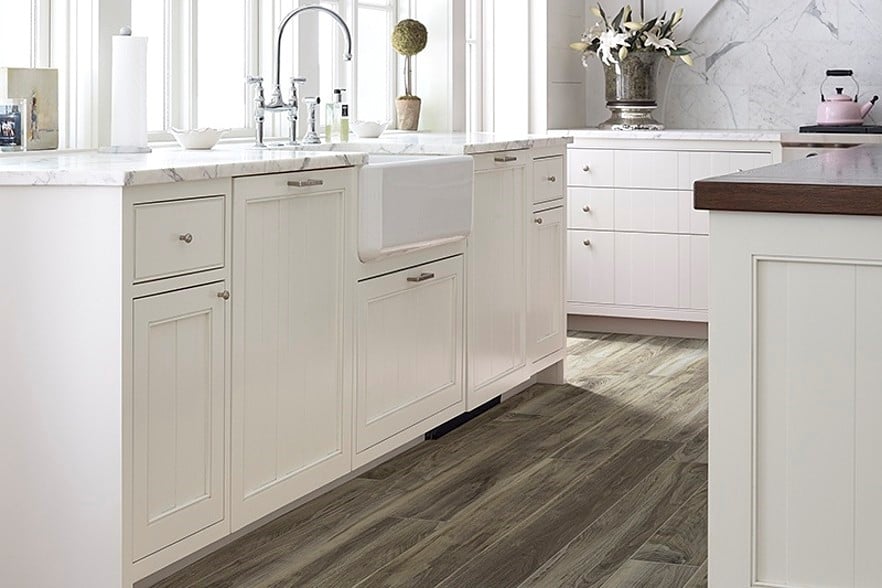 Vinyl floors are waterproof, easy to clean and easy to install. They can be an excellent alternative, especially in bathrooms, kitchens and similar areas in your home. You can enjoy the look of natural wood without the upkeep or poor water resistance.
6. Farmhouse Tile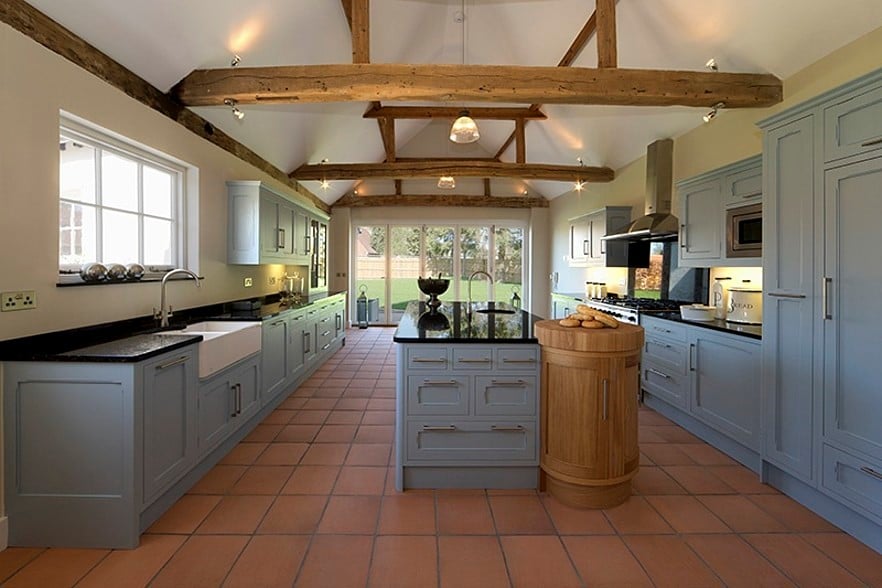 You can also use tile for your farmhouse style. Slate, terracotta and patterned tiles give your floors a rustic, unique look. White-base tiles with black or grey mosaic designs add a touch of elegance and softness without overwhelming the room. Tile is also durable and looks great in a variety of styles.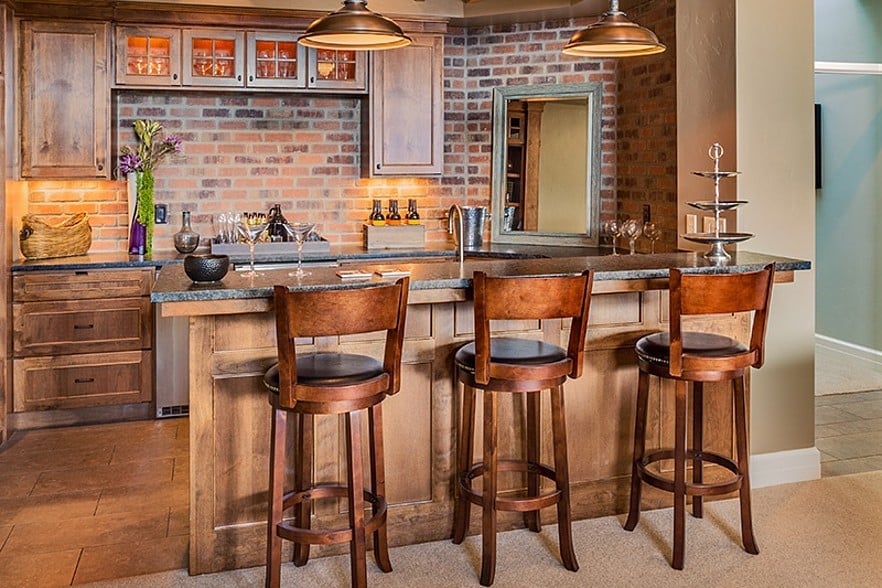 When it comes to your tiles, whether you want dark, light, patterned, wood, Treyberne, Loftland, Devon Villa, Andela, Boulder Ridge or another option, you're sure to find the perfect style for your home with farmhouse tile — especially if you work with 50 Floor.
What Colors to Choose for Your Farmhouse Floors
Rustic-looking floors come in a few color options that can fit your aesthetic, depending on the color palette in the living space where you plan to install your new floor.
The most popular floor colors you can add to your home are rich browns, whites and grays. Farmhouse flooring looks stylish with these three color options because they look natural and match almost any other preexisting color palette in the house.
If you have warm tones in the room you plan to install your new flooring, you can choose a rich dark brown to accentuate the features throughout the space. White and gray can help bring the room to life if you incorporate cool tones.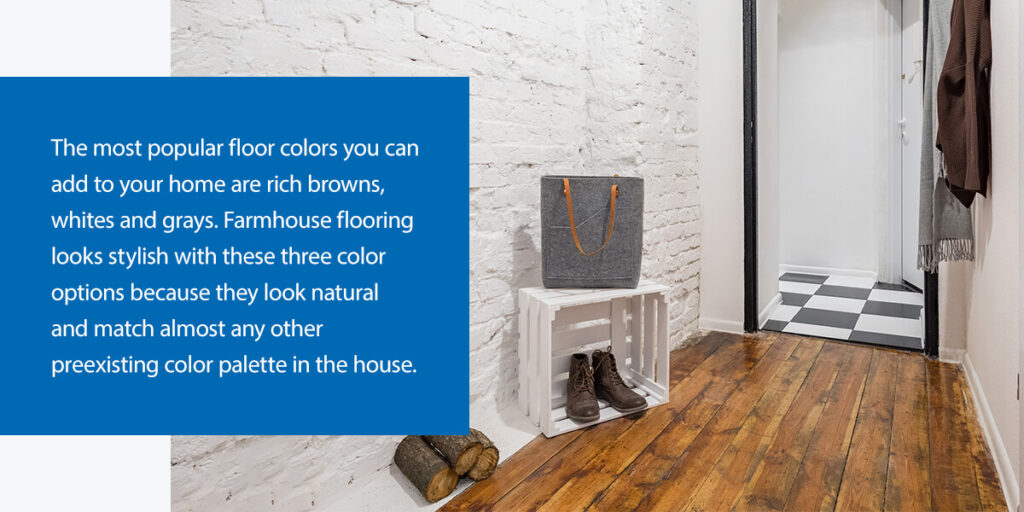 What Flooring to Avoid
While flooring can come in a wide variety of options, there are also a few you should avoid when shopping for new floors:
Bamboo: Bamboo floors can easily show dents, scratches and scuffs that result from everyday activity. If you have children and pets, you might notice these signs of use quicker than you would with more durable flooring options such as hardwood, tile and vinyl.
Carpet: While it may be evident that carpet might not mimic this interior design style well, some options can typically use the same color palette as ordinary farmhouse floors with added comfort. However, up close, carpet doesn't fit in with this aesthetic as well as hardwood, tile and vinyl do.
Farmhouse Flooring Inspiration
The typical farmhouse aesthetic for flooring is a mix of rustic styles, multicolor wood panels and a touch of grainy texture. Some farmhouse floors even include a simple pattern to make the room come to life with its signature Southern-style charm.
All three options mentioned above — tile, hardwood and vinyl — offer a wide selection of color and style options that can resemble rustic floors. You can choose hardwood or luxury vinyl planks to give the room a natural Southern appeal with rich brown, white and gray color choices.
Take the farmhouse style further by choosing faded multicolored wood panels to look like a real farmhouse. Choose a shade of brown, white or gray you like and select a matching hue that looks more faded than the original choice you have in mind. Together, these two colors will coordinate perfectly to create a rustic feel to your new farmhouse floors.
For a stylish, rustic patterned floor, you can go with tile floors that use symmetrical curved shapes that draw your attention to the other features in your living spaces. Faded black, white, beige and light blue are great colors to incorporate in these patterns for an authentic Southern look to your floors.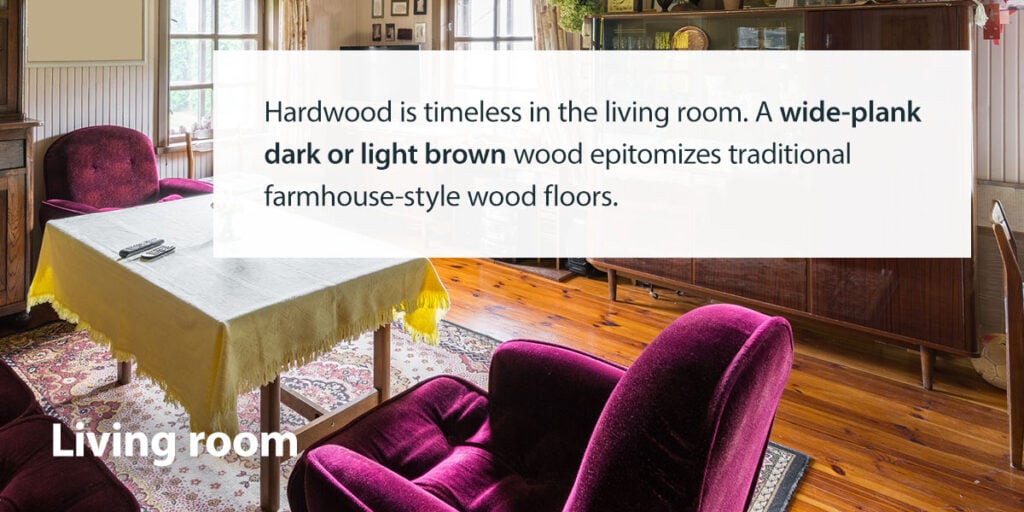 Best Farmhouse Floors by Room
There are dozens of excellent flooring options for rooms in farmhouse-style homes. Finding the right fit for your farmhouse design and unique preferences will ensure you style a home you'll love for years. Here are some of our recommendations for farmhouse flooring by room:
Kitchen: Kitchens are the heart of the home, especially in farmhouse-style spaces. Bring out the space's best features with a semi-light or dark wide-plank wood. The wide planks elevate the space, making it feel more luxurious without losing its rustic feel. Or, choose a white and black mosaic tile for a statement floor. Mosaic tile feels vintage and calls back to the sprawling farmhouses of the past.
Living room: Hardwood is timeless in the living room. A wide-plank dark or light brown wood epitomizes traditional farmhouse-style wood floors. Lay a light-colored solid or patterned rug over the top to add depth and style.
Bathroom: Choose a white small-squared or pattered tile for the bathroom. It calls back to older tile styles without feeling dated.
Bedroom: Light, comfortable carpet is perfect for a farmhouse-style bedroom. It brings out the natural grains in the woods and the colors of the space. Additionally, you could select a lighter hardwood with an area rug over the top for an even more traditional design.
Sunroom: Pick large, neutral-colored tiles for your sunroom to allow sunlight to bounce off the space. Hardwood is another classic sunroom flooring, but the sun will fade its color somewhat quickly without regular maintenance.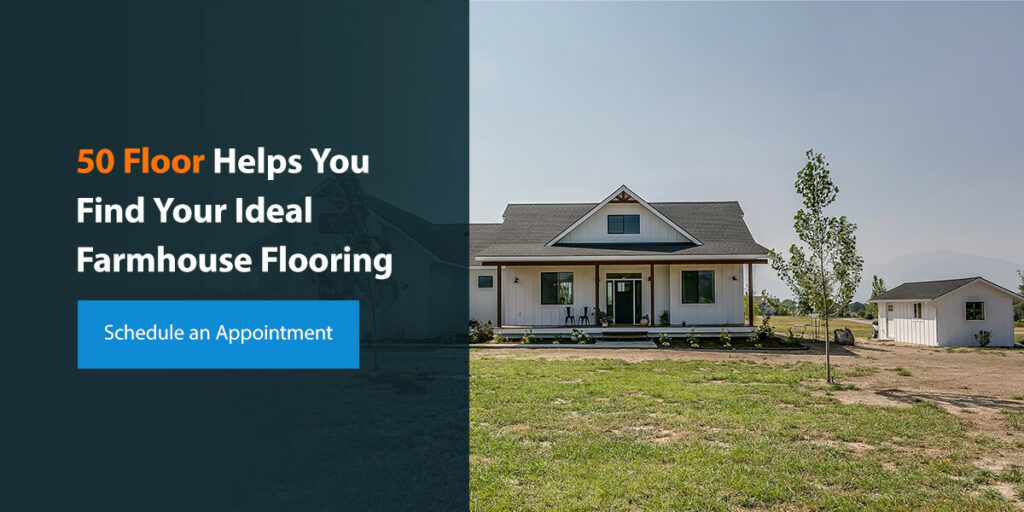 50 Floor Helps You Find Your Ideal Farmhouse-Style Flooring
When choosing from dozens of flooring ideas for farmhouse-style homes, let 50 Floor help you along the way. If you'd like to explore more options, talk to the experts at 50 Floor today. 50 Floor brings you affordable and convenient flooring choices. Forget about driving all over town to look at flooring.
With the 50 Floor team, you can look at floors in the comfort of your home to ensure they fit your décor and work in your home's light. In a consultation, you can also ask our flooring professionals any questions.
50 Floor helps bring you incredible savings so you can enjoy beautiful, brand-name floors in your home. 50 Floor warranties ensure your peace of mind while our excellent and attentive support ensures you get treated like a valued customer. We take care of everything, from answering your questions to ordering your floors and installing them.
If you want a better flooring experience when you install farmhouse floors, book your no-cost consultation with 50 Floor today.