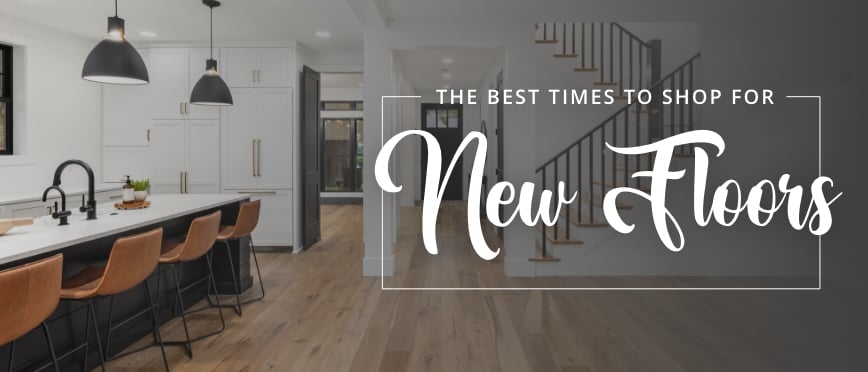 Shopping for new floors is a special occasion. It's a time to reimagine your home's entire design. However, floor buying requires a specific skill — knowing when to shop for flooring.
You want to find floors that coordinate with your décor and breathe fresh life into your home, so finding the ideal flooring is about perfect timing. The best time to shop for new floors depends on factors such as prices, variety, discounts, holidays and weather.
Why Does It Matter When You Shop for Floors?
Shopping for floors can be challenging. You want to ensure you get the floor style and design you want at the right price. Although you might think flooring costs are similar all year, floor retailers tend to offer discounts at specific times. Shopping for floors at different times can determine whether you get a great deal or pay a higher price.
So when is the best time to buy flooring? Floor retailers sell new stock, get rid of old stock and offer deals and discounts at specific times of the year. Plus, installing floors requires good weather. Understanding the best times of year to buy flooring can help you find the perfect floor at an ideal price.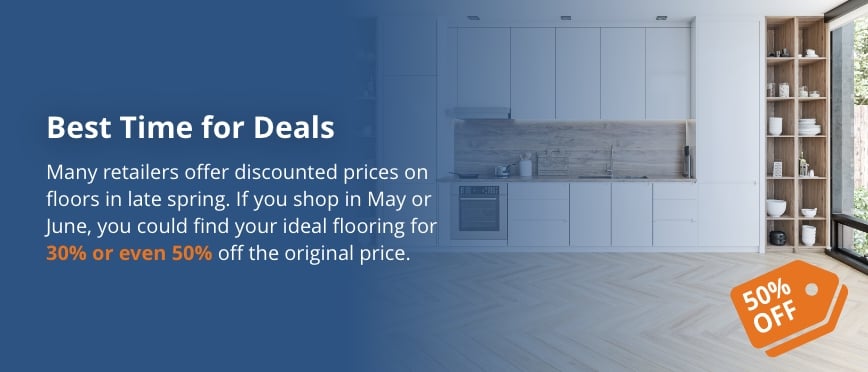 Best Time for Deals
One of the best times to buy flooring is during the discount season — many retailers offer discounted prices on floors in late spring. Stores try to sell off stock during this period to prepare for a quieter summer season and often raise their prices in the fall. If you shop in May or June, you could find your ideal flooring for 30% or even 50% off the original price.
Other times of the year to get the best floor discounts are Black Friday and Cyber Monday. Some flooring retailers offer discounts during the holiday season, while others wait until late December or January. Retailers often receive new stock around the end of the year, meaning you'll have endless floor designs and style catalogs to choose from, whether you shop in-store or online. Overall, winter can be an excellent time to find good deals.
Late December to January are popular times to shop for floors as many people wind down after the holiday season. So, the winter season gives people ample opportunity to shop for floors with freedom and ease. If you shop online during this period, you can also ring in some great deals, plus you can shop from the comfort of your home, all warm with a cup of hot chocolate. Shopping online also means you have the freedom and ease to shop throughout the year.
Another consideration is when you want to install your floors. Factors like the weather influence floor installations, so you might want to buy flooring at the most convenient installation times.
If you can't wait for a sale, look for floor stores offering specials and discounts throughout the year. 50 Floor provides financing options and free at-home consultations, making floor shopping easy.
Best Time for Floor Installation
Timing is a crucial factor when installing your floors. Many flooring types require the right temperature and humidity. Too much moisture in your subfloor or the air can damage hardwood, tiles, laminated floors or floating floor systems like luxury vinyl plank.
Floors need time to set and adapt to weather conditions. Too much moisture when installing your floors can cause the flooring to sink, bend, expand or crack. During the summer, from June to August, temperatures and humidity levels cause more moisture in the air. Many homes have air conditioning systems that can help control humidity levels, making installing floors at any time of the year possible. However, it's best to have your consultant test for moisture in your home.
Consider installing your floors during fall, from September to November. These are typically drier and cooler months, ideal for floor installations. Your floors will adapt better to drier conditions resulting in smooth and level floors after the installation. Another thing to think about is how well-ventilated your home is. Many floors and adhesives require time to dry and can release gases that smell unpleasant or can harm your health.
Think about how you can keep rooms with new flooring ventilated once your floors are installed. Many people leave their homes for a day or two to allow the flooring to settle. Your flooring consultant can offer expert advice on the installation process.
The Worst Times for Floor Shopping
You likely want to shop when prices are lower rather than higher. Many stores hike their prices and sell off old stock in the fall, from the end of August to the start of November. Store discounts on floors are harder to find at this time, with fewer options to choose from.
Although many stores offer discounts during the holiday season, the busyness of this time may deter you from shopping for floors. Holiday sales in November and December averaged about 19% of the total retail sales between 2017 and 2021. Stores are buzzing with shoppers at this time of the year, and busy aisles and backed-up checkout lines can make floor shopping challenging.
Convenience is vital when shopping for flooring, and browsing through various floor types to coordinate with your home is a delicate process. An easy and relaxed floor shopping experience allows you to take your time in finding the right floor for your home. Consider choosing a company that offers in-home shopping. 50 Floor provides a convenient floor shopping process, including a diverse flooring catalog and consultation with a flooring expert in the comfort of your home.
When We Recommend Shopping for Flooring
Some times are better for floor shopping than others. These are the times we think are best for shopping for flooring:
Shop off-season: The end of December to early January is a quieter time for floor shopping as most people wind down after the holiday shopping season.
Shop when there are discounts: One of the best times to buy floors is when retailers offer discounts. Many retailers offer discounts during the spring as they prepare for a slower summer period. You can also watch for Black Friday, Cyber Monday and holiday deals.
Shop when new stock is available: Retailers generally have new stock between December and January, so shopping for flooring at this time can mean you can choose from more floor types, designs and styles.
Shop when the weather is right: Floor installations generally require dryer, cooler weather conditions for setting and acclimatizing, and many floors require good ventilation. Shop for your floors when the conditions are suitable for installation.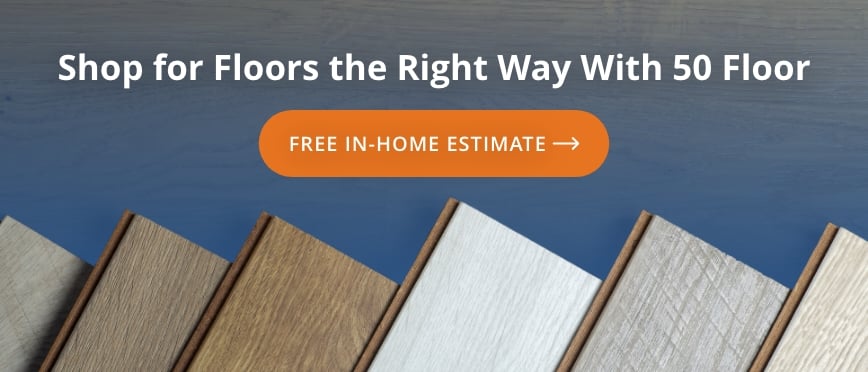 Shop for Floors the Right Way With 50 Floor
50 Floor offers an exceptional at-home shopping experience. We bring flooring samples to your home during our free in-home consultation process so you can see exactly how they'll look against your furniture and under your lights. We also offer expert flooring advice and installations. Shop our wide selection of flooring types, including hardwood, engineered wood, vinyl, carpet, tile and laminated floors.
50 Floor helps you with every step of the flooring process, from shopping and consultation to installation. Get floor recommendations, samples and measurements from our expert flooring professionals, all from the comfort of your home.
Schedule your in-home consultation to find your perfect floors.