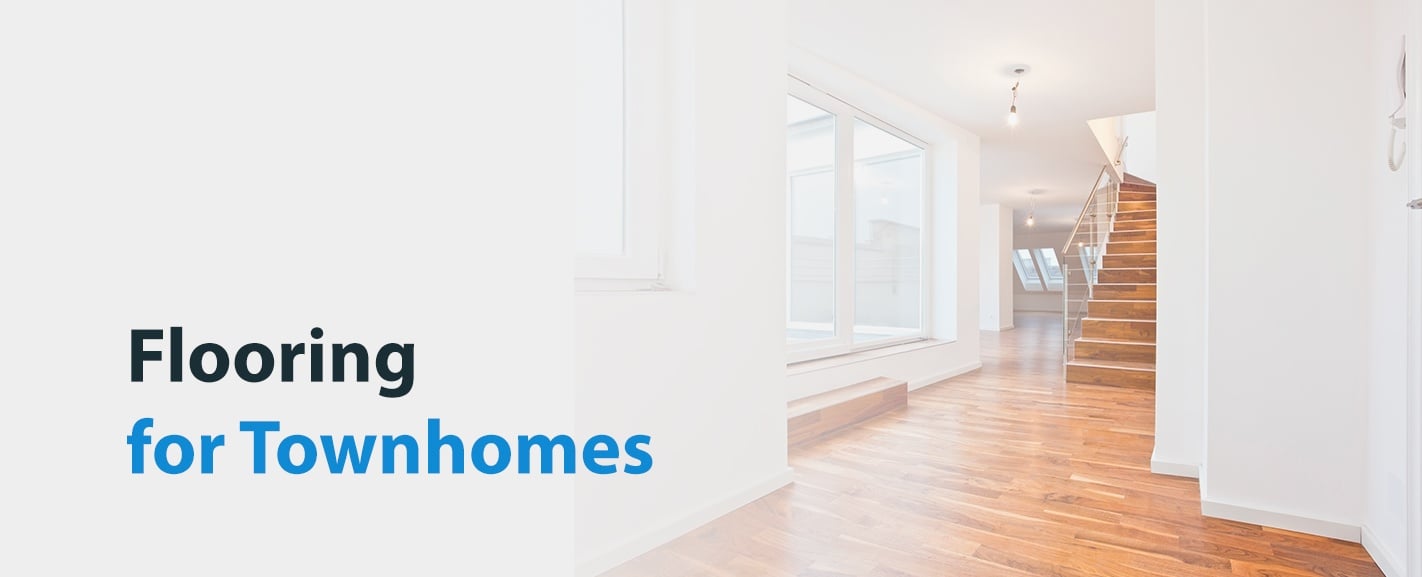 Installing high-quality flooring in your townhome provides many benefits — it transforms the appearance of your home, boosts its resale value and often makes cleaning much easier. This guide will teach you about the most popular townhome flooring solutions and how to pick the best flooring for your townhome.
What to Consider When Choosing Townhome Flooring
Choosing the perfect townhouse flooring can be tough. Ask yourself the following questions when choosing a flooring material:
How much maintenance does it require? Do you mind polishing tiles every couple of years, or refinishing natural hardwood every decade? Tile must be cleaned and scrubbed regularly to keep the grout clean, and carpet must be given much more care. Before deciding on a flooring material, be certain you can commit to the maintenance it requires.
What colors are available? Don't settle with a standard color if you have the opportunity to make your floor a work of art. By picking distinctive colors and patterns, you can boost your project's value without increasing the price significantly. Artistic tile patterns, colorful carpets and rarer hardwood species are often available for a similar price as their more common counterparts.
Is the material ideal for the level of your floor? Some flooring types don't work as well on certain levels of a house. For instance, heavy tiles are often not a good choice for higher floors, which may not be designed to support their weight. Also, carpet and hardwood shouldn't be in basements because they're not meant to be installed below grade.
Will your flooring appeal to future buyers? While installing a particularly exotic flooring material may bring you joy now, think about whether it will appeal to potential buyers when it comes time to sell your townhouse. Even if you plan to remain in your townhome for many years, chances are that you'll eventually want to sell and attract buyers.
Is the material easy to install? Will you need to wait weeks for your material to be custom cut and fit? Rare tiles or elaborate parquet patterns take time to design and install. If you'd like to have your flooring installed quickly, consider options like carpet, vinyl or locking laminate flooring.
What is your subfloor made of? The material that supports your current flooring will determine the types of materials you can install on top of it. For instance, if the subfloor is concrete, you will need to install a material that can handle moisture. If the subfloor is clean plywood, on the other hand, you can install almost any flooring material. If you are updating your flooring, you will likely have to remove the existing flooring, especially if it's carpet or damaged material. However, you can often install new flooring materials over tile, hardwood, and some other materials.
Do you foresee any lifestyle changes that could affect your decision? You should consider your future plans when picking a flooring material. Will you have a toddler or pet running around? Could you be running a business from your home?
Does your supplier offer assistance with installation? In addition to looking for flooring, see if the supplier offers installation services. Suppliers sometimes provide services to transport your furniture and prepare the floor, which takes much of the work out of remodeling your floors, making your installation easier and faster.
Will the flooring be able to withstand the traffic in the room? Consider how much the room will be used and figure out how long the flooring will last based on its usage. Installing more durable materials in high-traffic areas like bathrooms, kitchens and entryways will let you enjoy your flooring for 10 years or more before it shows signs of age.
Best Flooring for Townhouses
Several flooring options work well with townhouses. Before you decide, spend some time learning about the pros and cons of these following five popular options:
1. Carpet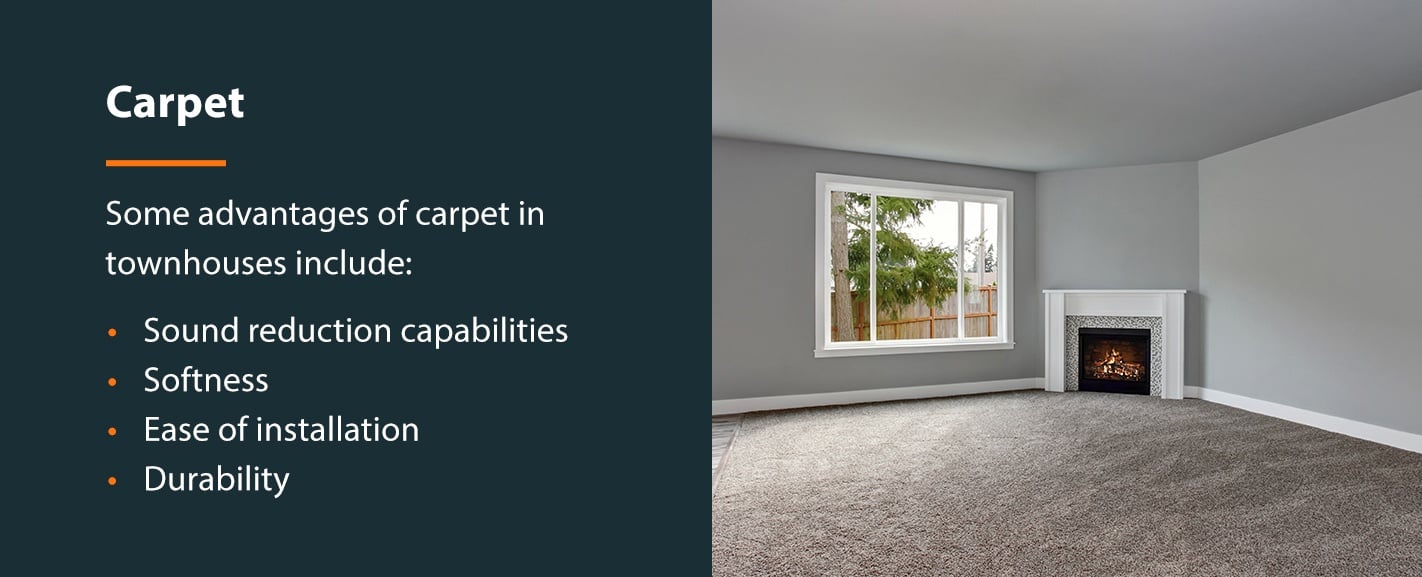 Loved for its cozy feel and wide variety of styles, carpet is one of the most common flooring types in North America. Some advantages of carpet in townhouses include:
Sound reduction capabilities: Carpet is great at absorbing sounds, which is a nice feature when you share a wall with your neighbors.
Softness: Carpet is one of the most comfortable types of flooring available.
Safety: Carpet helps to soften falls, making it a great material for young children.
Ease of installation: Installing carpet is easy and quick, meaning that having it installed is very affordable.
Durability: Carpet lasts a long time and can be a great choice for rooms with high traffic.
Although it has many benefits, carpet is also associated with the following drawbacks:
Unsuitability for damp environments: Carpet is not a wise choice for wet environments and will attract mold and mildew, making it unfit for bathrooms and kitchens.
Required maintenance: Although not particularly high-maintenance, carpet must be regularly vacuumed to stay in good condition. If you suffer from allergies, you will need to clean the carpet very frequently, as carpet holds allergens much better than most other flooring materials.
2. Tile
Tile typically consists of clay that's hardened in kilns. Both ceramic and porcelain tiles are popular among homeowners and both offer similar pros and cons. Its pros include:
Water resistance: This exceptionally water-resistant material is an excellent choice for kitchens and bathrooms.
Durability: Tile is hard and is not damaged by moving furniture, pet claws and other tough situations. In most cases, you can rely on it for decades.
Many options: Tile is available in many styles, making it easy to get the look you want.
The main cons of tile include:
Weight: Although versatile, tile is also quite heavy.
Difficulty of installation: Tile can be difficult and pricey to install. It often cannot be installed on the upper levels of homes due to its weight.
Hardness: It's uncomfortable to stand on tile for long periods.
Cold: Unless there is radiant heating underneath, tile flooring is cold.
3. Hardwood
Hardwood has been used for ages and remains a favorite among many homeowners today. Some of the advantages of this natural material are:
Appearance: Hardwood floors have a warm appearance that brightens up rooms. They're also often neutral, meaning that they can easily match many styles of furniture.
Durability: Hardwood floors can last decades — sometimes even centuries, especially if you opt for a thicker hardwood floor. You can also apply a protective coating to minimize wear and scratches.
Affordable installation: Installing hardwood flooring is relatively affordable compared to tile and some other materials.
Some of hardwood's disadvantages include:
Lots of required maintenance: You must regularly protect and refresh the topcoat, as well as sand down and protectively coat the floor itself several times throughout its lifetime.
Susceptibility to water damage: Hardwood floors can be damaged by moisture and leaks over time.
Susceptibility to scratches: You must take considerable care to maintain hardwood floors. Otherwise, they'll begin to look worn out.
Price: This expensive material costs considerably more than laminate and carpet.
4. Laminate
Laminate had a reputation of being a low-quality flooring material, but this is simply no longer the case, as its quality and appearance have improved considerably in recent years. Homeowners are often attracted to laminate for its various benefits, which include:
Durability: The top surface of laminate flooring is exceptionally durable and hard to scratch.
Weight: Laminate flooring is also lightweight, making it a great option for upper levels of a house that can't support heavier flooring materials.
Affordability: The material and installation costs of laminate are both very affordable.
Resistance to fading: Laminate features built-in UV protectants.
Some cons associated with laminate are:
Thinness: Although it contains a fairly scratch-resistant outer layer, it is also quite thin. If the material does get scratched, you won't be able to sand it down as you can with wood, meaning that you'll likely have to replace it sooner than you would hardwood flooring.
Appearance: In most cases, laminate flooring doesn't look as nice as its hardwood counterpart. Even the most high-quality laminate floors don't have the same glow as real hardwoods.
5. Vinyl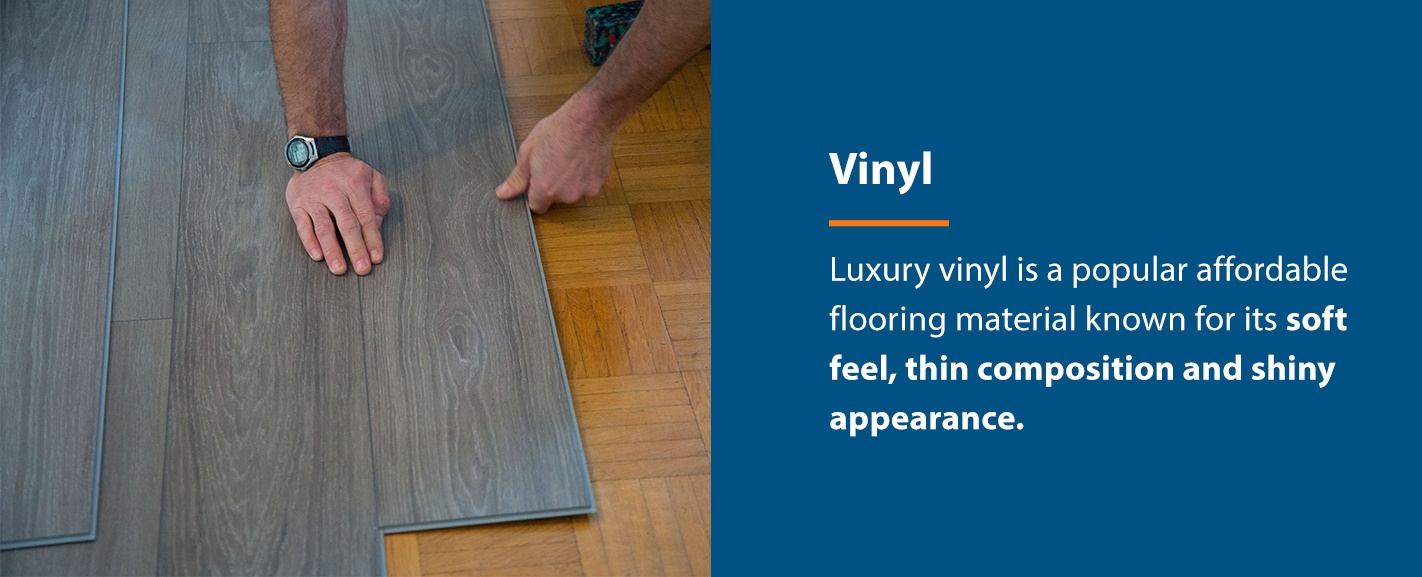 Luxury vinyl is a popular affordable flooring material known for its soft feel, thin composition and shiny appearance. Some of its biggest benefits include:
Waterproof: This material is 100% waterproof, which makes it a fantastic solution for damp environments.
Durability: Vinyl is reinforced with fiberglass, making it highly resistant to regular wear and tear.
Many options: You can find vinyl flooring in many different styles and prints.
Affordability: Vinyl is one of the most affordable flooring materials on the market.
However, there are several cons that come with vinyl flooring:
Susceptibility to damage: Although tough, vinyl can be punctured and ripped more easily than many other flooring materials.
Lack of eco-friendliness: Vinyl is not biodegradable, making it less eco-friendly than materials like tile or hardwood.
Difficult to remove: Vinyl flooring is quite difficult to remove if it was glued down during the installation.
Schedule an Appointment With 50 Floor Today
If you're searching for a reputable dealer that sells carpet, tile or hardwood flooring, you've come to the right place. Visit our site to schedule a free appointment and our friendly representatives will assist you promptly.