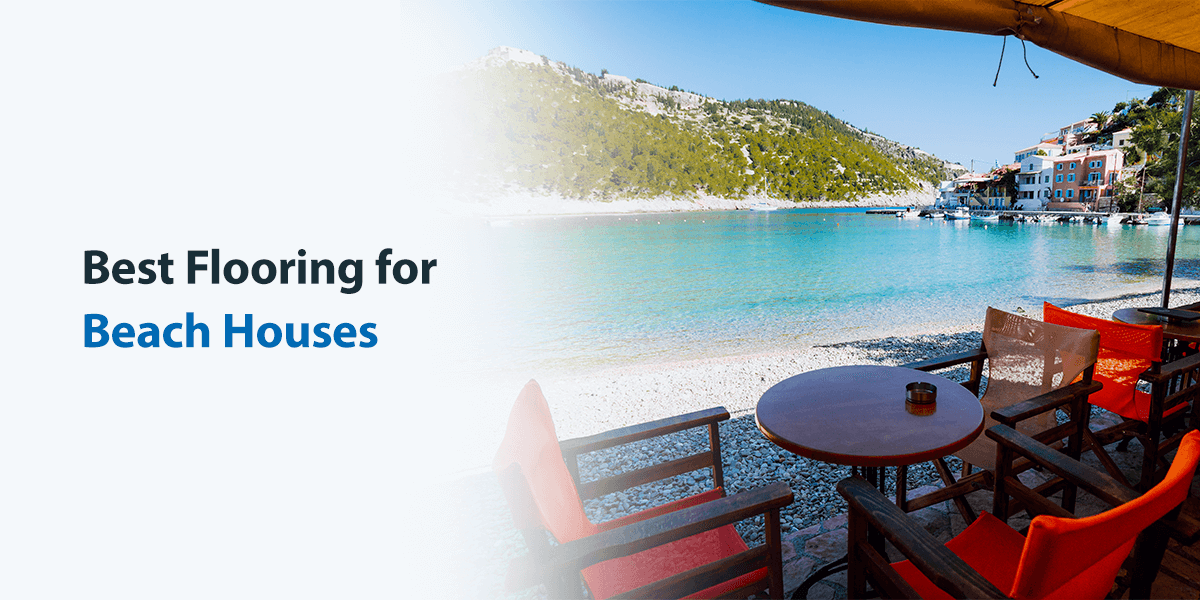 Many of us dream of getting away in a beach house for a little respite and relaxation. Whether you're in the market for a beach house or already own one, installing new flooring is a great way to update your home, contributing to its functionality and beauty. For the best beach house flooring, you'll want something durable, easy to clean and beautiful that can stand up to the unique climate of coastal areas.
What to Consider When Choosing the Best Flooring for Your Beach House
Many homes on the coast take inspiration from their surroundings, using natural tones and décor elements with muted or nautical colors like beige and grey with accents of navy, soft blues, reds and oranges. The home should look like it belongs at the beach without going overboard with beach-y themes or kitsch. But, beyond just looks, beach houses also have some important considerations when choosing flooring, furniture and décor.
Location and Durability
Think about the climate, environment and location of the beach house. Most beach homes are in warm, moist climates with salty sea air — and windows are often open to let in the fresh, humid air. Waterfront homes on the beach shore may also have more wet, sandy feet tracking through them. With all this in mind, furniture and décor — including flooring — should be durable, resistant to the elements and easy to clean.
Maintenance
Beach homes epitomize the idea of easy, relaxed living. You'll want your flooring, as well as other design elements, to fit in with this lifestyle. Décor elements that require more upkeep and cleaning may become a headache later. You'll generally want to avoid anything with metallic elements, as the moist, salty air can cause rust much more quickly.
Water and Moisture Resistance
You'll also probably want to avoid wall-to-wall carpeting in a beach home. With the extra moisture in the air, carpets can easily get musty. If you like the feel of carpet, go for area rugs instead, which are much easier to clean and can be placed over other types of flooring like hardwood, vinyl, laminate or tile.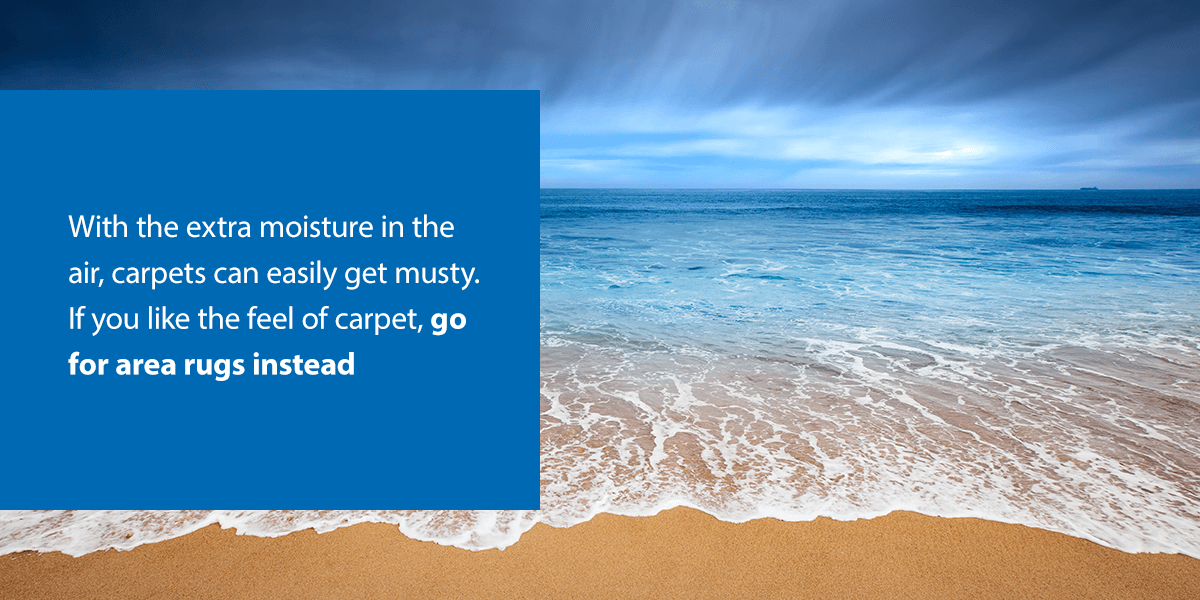 Cost
Your budget is important to keep in mind when you're shopping for new beach house flooring. If your top priority is finding a stylish, budget-friendly floor, you can find a wide selection of floors that offer the same realistic look as hardwood without the extra costs.
Several beach house floors can provide durability, comfort, style versatility and cost-effectiveness, making your selection shopping easier with your budget in mind. You can also find floors that increase your resale value to receive a better return on investment if you decide to sell your beach home in the future.
Best Flooring for a Beach House
The best types of flooring for coastal homes can stand up to the elements, like salt, sand and moisture. Check out these top choices for your beach house or condo flooring.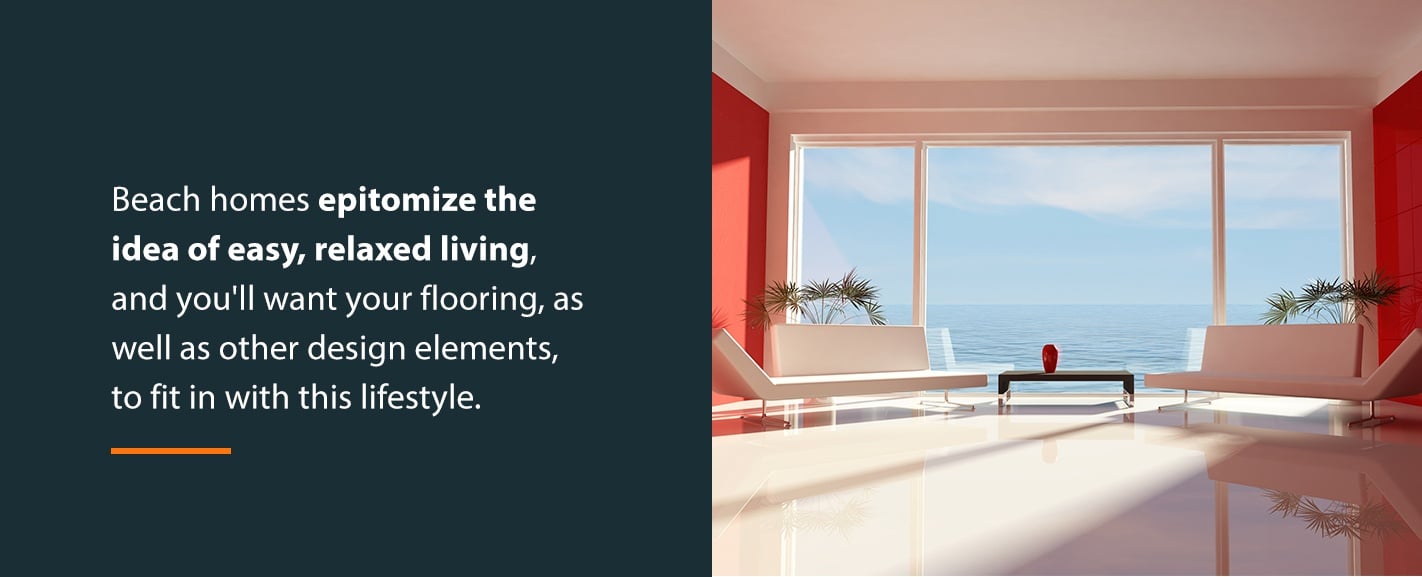 Luxury Vinyl Floors for Beach Homes
You may have negative images of vinyl flooring from the past, but today's luxury vinyl flooring has a beautiful look and endless customizable options. This versatile classic is water-resistant, durable and incredibly easy to clean, making it an excellent choice for beach homes. Vinyl can even mimic the look and feel of other flooring styles like tile or hardwood for a fraction of the cost.
Luxury vinyl flooring contains PVC and other synthetic materials layered in a way that makes it incredibly stain and stretch-resistant. The flooring comes in sheets, panels or tiles, depending on the look you want to achieve. It's one of the most affordable flooring options for beach homes and is often more slip and moisture-resistant than other types of flooring.
See the following pros and cons of selecting vinyl floors for your beach house:
Pros: Vinyl flooring has improved in style and versatility in recent years, which means you can get the look of natural hardwood at a fraction of the cost. They can also withstand humidity and moisture from the nearby beach so you can enjoy your floors longer without the effects of water damage.
Cons: If heavy objects fall on vinyl floors, they can leave dents on the surface. Because of the layers in vinyl flooring, you can't sand down the surface to get rid of these marks, so you'll need to be careful where you install these floors in your beach house.
Tile Floors for Beach Homes
Along with luxury vinyl floors, tile flooring is the best option you can choose for your beach house. The countless styles, colors and features you can customize in your floor make tile an effortlessly beautiful addition to a water-side residence. The durability of the synthetic and clay materials that create tile flooring makes the surface resistant to scuffs, stains, dents and chips.
Unlike some flooring options, tile floors can withstand air and humidity fluctuations when living by the ocean. While some floors may start to lift, fade or crack under these conditions, tile floors will remain the same when met with moisture exposure.
Check out the following pros and cons of tile flooring in beach houses:
Pros: Because tile can mimic the look of other luxury flooring options at a fraction of the cost, tile floors are an affordable option for a beach house. Tile surfaces are also much more durable than other flooring choices, so they can hold up against heavy appliances and frequent moisture.
Cons: While tile floors can withstand temperature fluctuations, they can be cold underfoot if they're out of reach from the sun's rays. This factor can make these floors cold to walk across after a trip down to the beach or pool.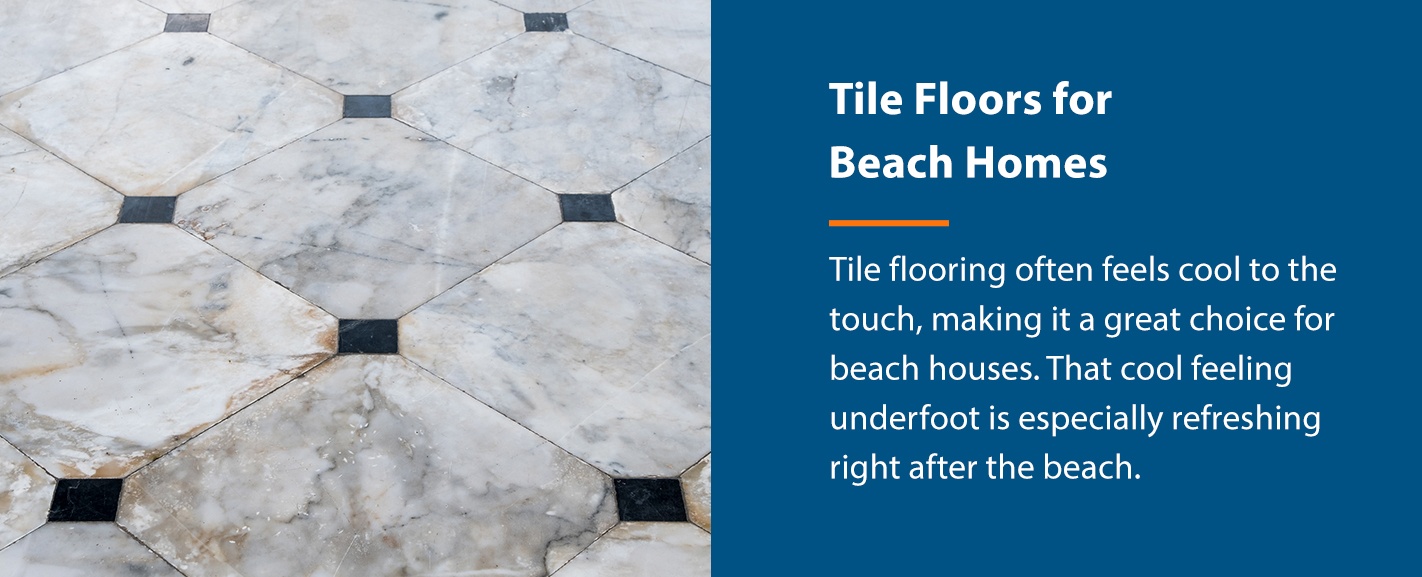 Laminate Floors for Beach Homes
Much like vinyl flooring, laminate flooring options have improved drastically from years past. The laminate floor options today come in a wide variety of styles and can imitate the look and feel of wood floors, ceramic tile and more. This affordable flooring choice is made from several composite layers, creating an incredibly durable surface. Laminate flooring is one of the best when it comes to resisting moisture, stains, fading and other wear and tear.
If you want the warm, comforting look of natural wood floors at a much lower cost, laminate flooring is the option for you. The panels fit together seamlessly, leaving no gaps — making laminate the best flooring for sandy feet after time spent at the beach. This durable, easy-to-clean option is a top choice for beach homes.
Decide whether laminate floors are best for your beach house with these pros and cons:
Pros: This affordable flooring option looks like natural hardwood without the extra costs. You can also benefit from the durable material that can withstand moisture and sand from going to the beach daily. Laminate floors are easy to clean after tracking sand, water and other beach elements inside.
Cons: While the pros of laminate floors make them a great flooring option for beach houses, they can also be slippery after a beach or pool trip. Laminate is also not stretch-resistant, meaning you can't sand them down if they have dents and other scrapes. Laminate floors require a climate-controlled area in the house with regulated temperatures. This factor increases the cost of owning the home due to the costs of heating and cooling.
Hardwood Floors for Beach Homes
A classic flooring choice for coastal homes, hardwood gives a cozy and natural look to the house and a polished, elegant feel. Hardwood flooring comes in various styles and finishes, with lighter wood tones most reminiscent of driftwood and sandy tones. Once installed, this type of flooring is low-maintenance and easy to clean.
With solid hardwood flooring, moisture can be a concern. However, engineered hardwood flooring is more moisture-resistant and a popular choice for beach homes. Engineered hardwood flooring contains a thin layer of durable wood on top of high-quality plywood. The layers are constructed in a criss-cross pattern and compressed, resulting in a final product that's strong, durable and stable. You can use this flooring in areas with higher humidity or moisture without fear of warping.
Take a look at the following pros and cons of choosing hardwood floors for your beach house:
Pros: Hardwood is an excellent option for your beach home's flooring if you value natural materials and sustainable resources. These environmentally friendly floor options are also durable, stylish and increase your home's value.
Cons: While natural hardwood is a classy option for flooring in beach homes, it's the most expensive option compared to vinyl and laminate floors. If you prefer hardwood over engineered hardwood, you also have limits to where you can install these floors, as they're not moisture-resistant and can fade, lift and crack from ocean water and humidity. Similar to laminate floors, you also need a climate-controlled environment with regulated temperatures for this option to thrive longer in the house.
Are There Any Floorings You Should Avoid?
Durability, life span, style and quality can determine whether you should install a specific type of floor in your beach house. When shopping for your new flooring, carpet is the one option you should avoid.
Unlike laminate, hardwood and luxury vinyl floors, carpet has a fluffy texture that can easily trap sand and other particles in its surface, making it more challenging to clean the floor. Exposure to ocean and pool water moisture can also make the carpet grow mold over time.
Beach House Flooring Ideas and Inspiration
Beach houses use the surrounding warm, relaxing climate to inspire a similar aesthetic inside the home. Therefore, picking floors with light and warm tones is your best choice for beach house flooring. Vinyl, laminate and hardwood floors can use light shades of brown, gray and blue to mimic the beach's natural elements while offering a cozy ambiance with wood panels.
The best look for your beach house is to complement the current color palette of the wall, appliance and decor shades with faded, warm tones in your wood floors that resemble the surrounding beaches.
Quality Beach House Flooring
There are so many great flooring choices available for beach homes, from engineered hardwood and laminate to luxury vinyl flooring. With an endless array of colors, styles and finishes, you'll find something perfect for your beach house. When you choose 50 Floor, you can shop for flooring from the convenience of your home and see samples of the flooring you want in the room you want it.
Schedule a free in-home consultation today to save time and money — and after you choose the perfect flooring for your coastal home, our professionals will expertly install it for you, taking care of every detail.