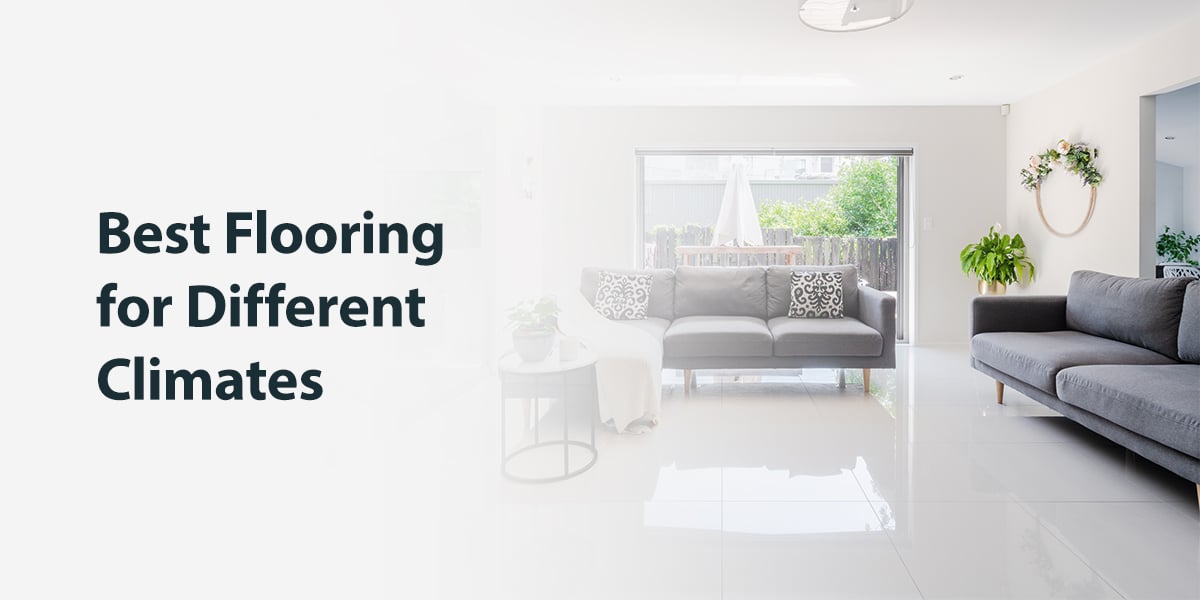 At 50 Floor, we offer flooring services to various parts of the United States that represent different weather conditions and temperatures. Whether your house is on a plot of land at the hot, humid beach or the cold, breezy mountains, explore the best flooring type for each climate.
Best Flooring for Cold Climates
If you live in a climate that features freezing temperatures, snow and ice, you need flooring that's comfortable for your feet and resistant to moisture from melted snow. You may also need to consider how well the material can accommodate a radiant heating system if you'd like to have that upgrade under your floors. The following types are the best for colder regions of the country.
1. Luxury Vinyl Flooring
Vinyl flooring is excellent for cold areas because it does not expand or contract in extreme temperature changes. Compared to tile or hardwood, it warms up rather quickly, providing a more comfortable place for your cold feet to walk.
Luxury vinyl flooring feels the best against your feet because of its embossed surface. If you want to invest in radiant heating under your floors, vinyl plank flooring is also more durable than engineered hardwood. You can also apply a layer or insulated cork or foam under the vinyl to increase its ability to keep warm.
Other pros and cons of vinyl plank flooring in cold temperatures include:
Pros: It's scratch resistant and easy to clean. Plus, water-resistant and waterproof options are available to protect your floors from water damage due to tracked-in rain, snow or mud.
Cons: Luxury vinyl flooring can fade from sunlight exposure.
2. Laminate Flooring
Laminate flooring is an excellent choice for flooring in cold climates, especially if you want a product that looks like natural wood. It also has similar insulation properties to vinyl flooring, so you can have a comfortable place for your feet to walk without being too cold. Applying an insulating layer of foam or cork underneath your floors will help them stay even warmer. Overall, laminate flooring can handle extreme temperatures fairly well.
The pros and cons of laminate flooring include:
Pros: Laminate flooring is easy to clean and scratch-resistant, so salt that's dragged in won't damage your floor.
Cons: This flooring isn't moisture-proof, so any wet footprints or snow not dried up quickly may cause water damage.
3. Carpeting
Installing carpet on your floors is one of the best options for your home in a cold climate. The warm fibers insulate against heat loss, keeping your feet warm and cozy. Carpeting works well in high-traffic areas like living rooms, bedrooms and family rooms. Choose a deep-pile carpet with thick fibers that act like a warm blanket around your feet as you walk on it.
The pros and cons of carpeting include:
Pros: Carpet has a warm and plush texture and offers safe walking even with wet or snowy shoes.
Cons: Carpet can be difficult to maintain as it can easily stain, and wet spots can take longer to dry.
4. Engineered Hardwood Flooring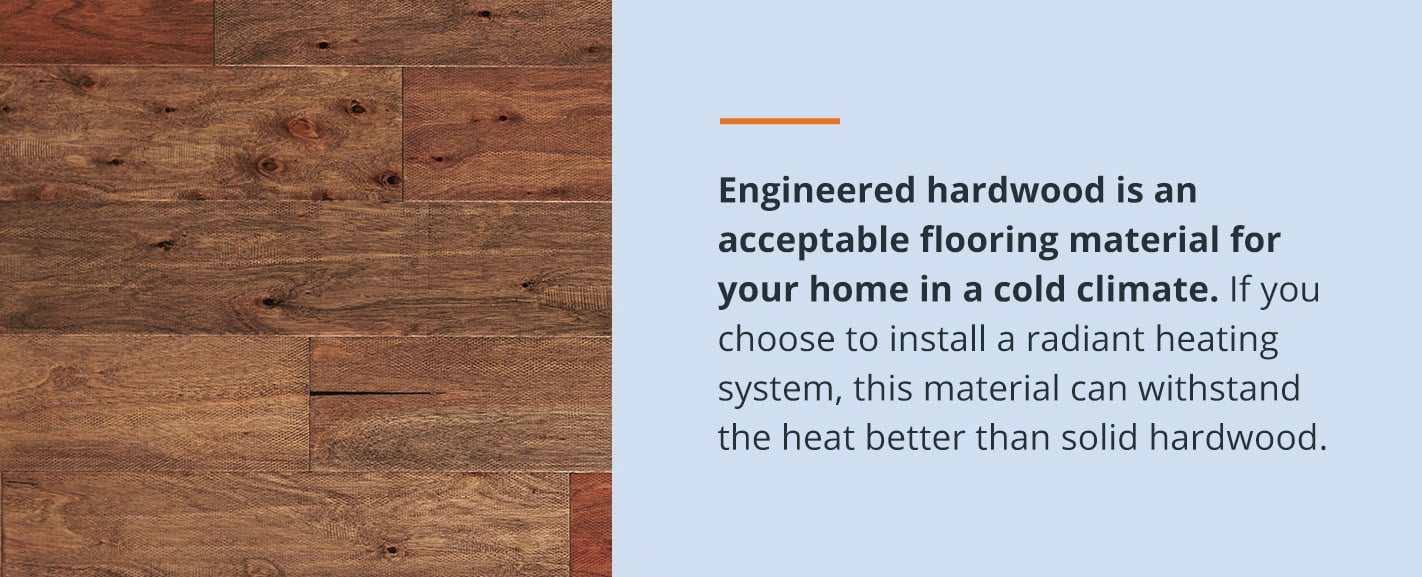 Engineered hardwood is an acceptable flooring material for your home in a cold climate. If you choose to install a radiant heating system, this material can withstand the heat better than solid hardwood. Keep in mind that engineered hardwood has a humidity and temperature limit, so you should consult the manufacturer's instructions to get the most out of your radiant heating and flooring components.
Solid hardwood can shrink in cold temperatures, but engineered hardwood maintains its shape. Engineered hardwood is a high-quality insulator, especially in new, well-insulated homes.
Additional pros and cons of engineered hardwood flooring include:
Pros: Engineered hardwood flooring is moisture- and temperature-resistant than solid hardwood flooring, and depending on the manufacturer, it can be sustainable and eco-friendly.
Cons: This flooring requires more active maintenance to prevent fading, scratching and dents.
5. Tile Flooring
Even though quality tile floors tend to stay cold in winter temperatures, they work very well if you want to install radiant heating underneath them. The same properties that make tiles cold in the winter can also help you keep your home warm with a heating system.
Besides its insulation qualities, tile is also easy to clean when you track mud into the house with your boots. It also doesn't retain moisture like carpet does, so you can conveniently mop up the melted snow that makes its way into your living space.
There are plenty of great tile options, but one of the best tiles for cold weather is granite. Granite is known for its heat-conducting properties, which will help your flooring stay comfortably warm even in colder climates. Plus, as granite is extremely durable, it can handle shifts in weather if you live in an area with fluctuating humidity or temperatures.
General pros and cons of tile flooring include:
Pros: It's water- and stain-resistant with little maintenance requirements.
Cons: Without a radiant heating system underneath the flooring, tiles can remain very cold.
Best Flooring Choices for Dry Climates
Dry air can damage certain flooring types, so you need to look for a material that can withstand warping and discoloration in the dry heat. Explore the qualities of these materials to discover the best flooring for a desert climate.
1. Hardwood Flooring
You can invest in a variety of durable hardwood flooring types for your home in a dry climate. Acclimate the wood to the environment before installation so that it won't warp, cup or shrink. Try to monitor the room's relative humidity so your hardwood doesn't get too dry or hot. Closing the curtains to prevent the strong sunlight from discoloring your panels on very sunny days is also recommended.
Pros and cons of hardwood flooring include:
Pros: Hardwood floors are beautiful and durable.
Cons: If the temperature isn't monitored and maintained, the wood may begin to warp.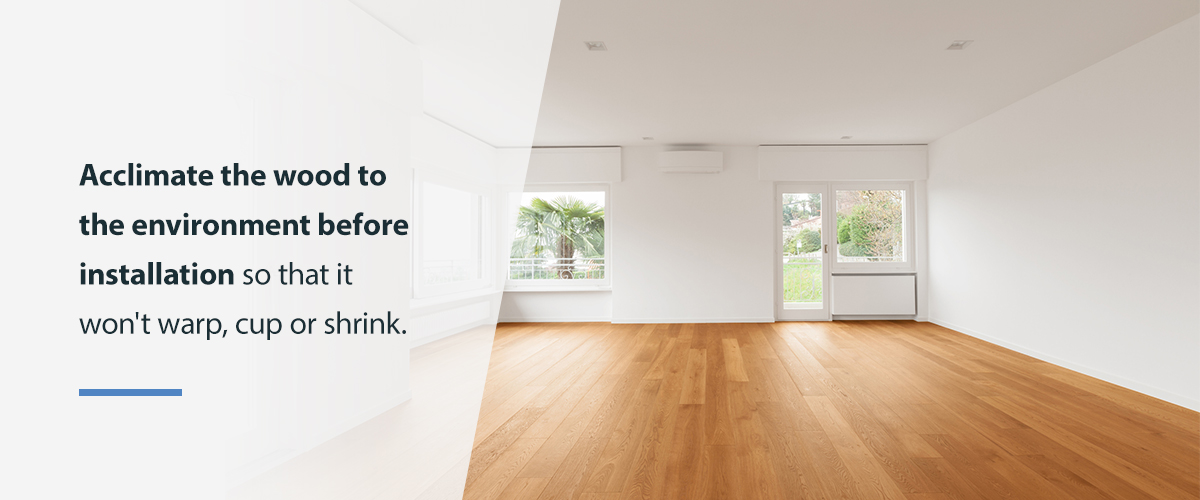 2. Engineered Hardwood Flooring
Even though solid hardwood is a good flooring material for dry regions with the right climate control method, engineered hardwood flooring can withstand dryness in the air much better. Engineered hardwood flooring features several layers in each board to add more stability, preventing warping and cracking in extreme temperatures.
Additional pros and cons of engineered hardwood flooring include:
Pros: Engineered hardwood can handle drier climates and provide more consistent results compared to solid hardwood.
Cons: This type of wood flooring still requires some temperature control to ensure the best results.
3. Luxury Vinyl Flooring
Luxury vinyl flooring is a durable material that can accommodate any climate, especially one with dry air. Like engineered hardwood, this material features multiple layers to enhance its insulation and durability. You can get the most out of this material for your flooring if you seal the seams between the panels, especially if your foundation is a concrete slab. Vinyl can fade in extreme sunlight, so you should close the curtains when the sunlight is strong.
Some pros and cons of this flooring include:
Pros: Luxury vinyl flooring won't warp, crack or change due to dry climates.
Cons: This flooring needs protection from direct sunlight to avoid fading.
4. Tile Flooring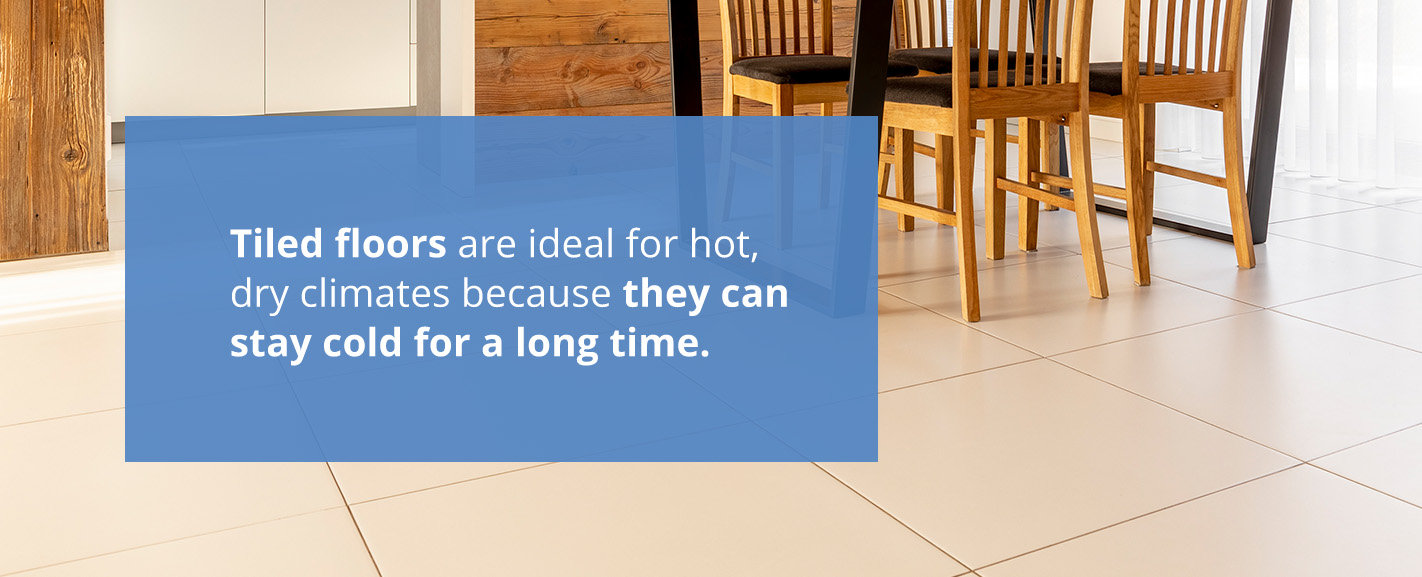 Most tile materials have excellent natural insulation properties, so tile is a suitable material in any climate. Tiled floors are ideal for hot, dry climates because they can stay cold for a long time. To accommodate humidity changes in the air, especially with ceramic pieces, ensure the flooring professional installs expansion joints between each tile.
Pros and cons for tile flooring in dry areas include:
Pros: Tiles are easy to maintain and stay comfortably cool even in dry climates.
Cons: While this flooring is easy to maintain on a day-to-day basis, the grout between tiles is porous and can absorb a lot of dirt.
Best Flooring forHot & Humid Climates
If you live in a coastal climate, you need to consider how the heat and the humidity will affect your flooring. Explore the following materials to determine which one can withstand the high temperatures and moisture surrounding your home. The following flooring materials are the best for hot humid climates.
1. Tile Flooring
Tile is arguably the best flooring for tropical climates. Since it's hard and durable, it won't expand and contract like other materials. The cold, polished materials feel comfortable against your bare feet as you walk along the floor. When installed properly, it absorbs very little moisture, so it won't warp in your home's climate. Porcelain tiles can withstand humidity levels much better than ceramic.
General pros and cons of tile flooring includes:
Pros: Tiles can handle heat and humidity, and they're also water-resistant.
Cons: Installing tile throughout an entire home can be more expensive than other flooring materials.
2. Luxury Vinyl Flooring
Luxury vinyl flooring can resist heat and humidity in the air because of its various layers. If you want an aesthetically pleasing plank material for your coastal rental property, you can design vinyl flooring to look like solid hardwood. It doesn't absorb water as quickly as hardwood or laminate. You could put it in the house's rooms with excess moisture, such as the bathroom, kitchen or laundry area.
The pros and cons of luxury vinyl flooring include:
Pros: You can enjoy the look of hardwood flooring without the maintenance.
Cons: While it doesn't happen easily, luxury vinyl flooring can acquire scratches and dents.
3. Wood Flooring
Even though solid hardwood generally warps and shifts in excess humidity, certain wood species can withstand moisture better than others. American Beech, Hickory and Western Australian Mahogany are some of the best wood flooring for a humid climate because they are structurally stable and can resist the pressures of moisture. You can also invest in engineered hardwood that's easy to maintain and durable, even after coming into contact with water.
The Best Flooring for Non-Temperature Controlled Areas
If your home isn't regulated by a heating and cooling system, you'll have some extra factors to consider when choosing the best flooring option. You need quality flooring that won't expand, contract or move due to changes in temperature and humidity.
Luxury vinyl plank flooring is a great option to withstand fluctuating temperatures, making it the best flooring for non-temperature-controlled areas as well as the best flooring for extreme temperatures. Further, the best flooring for unheated three-season porches is also luxury vinyl. No matter what funky weather you encounter, your vinyl flooring can handle it.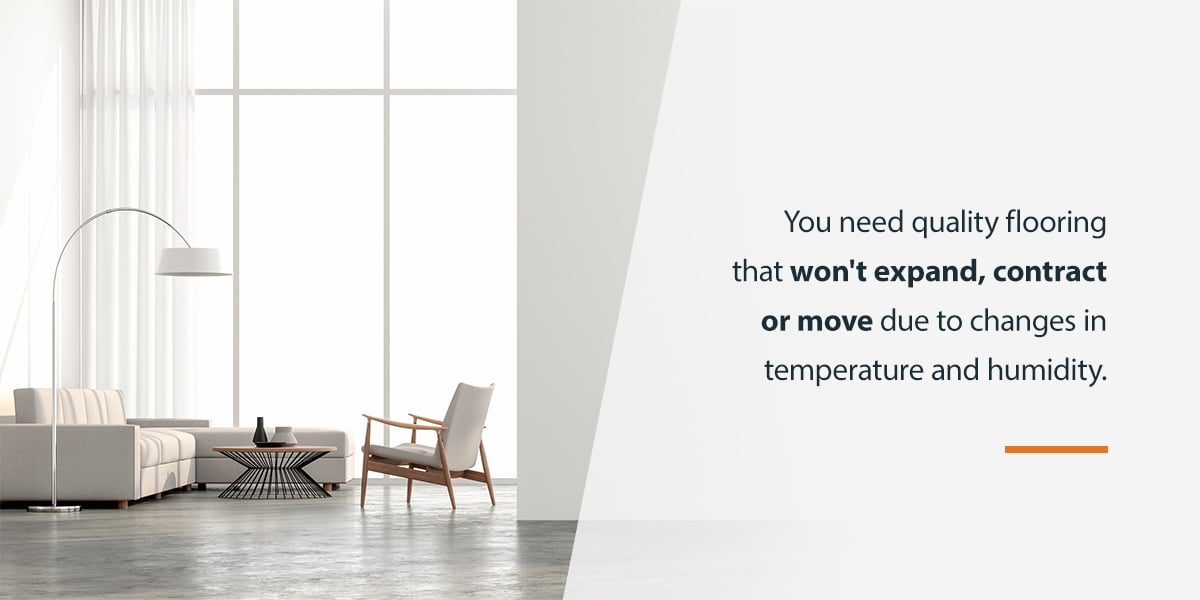 Schedule an Appointment With 50 Floor
If you need help finding the right flooring for your specific climate, contact our professionals at 50 Floor. We bring floor samples to your home during a scheduled appointment so you can feel them for yourself and see how they accommodate your comfort needs. For more information about our products and services, you can call us at 1-800-50-FLOOR.