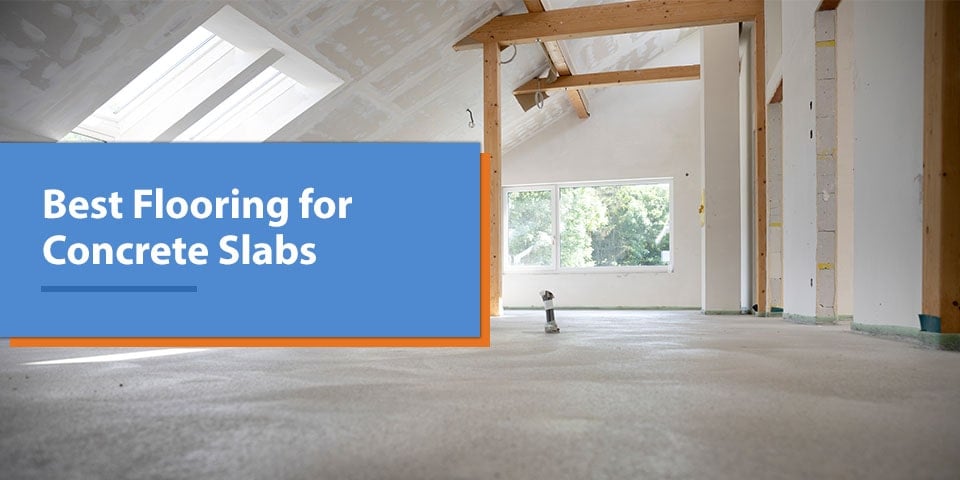 Engineered Wood | Vinyl | Laminate | Carpet | Tile
When you browse flooring types, you consider colors, styles and materials that are a good fit for your home. Part of this fit that you may not consider is the material you'll be laying your flooring onto. This foundational layer is known as a substrate, and it performs several crucial functions.
In addition to distributing weight and providing support for your floor, a substrate's material can influence the type of flooring you may choose. Common substrates include plywood or concrete slabs. If your home has a basement, you likely have a concrete slab as your substrate on that level.
A concrete foundation is a low-maintenance way to protect your top flooring from moisture or other outside factors like insects. However, concrete slabs also present a few unique traits that can affect your flooring. Keeping these qualities in mind can help you select flooring that will enhance your basement and function well with your substrate.
Rooms You Might Find With Flooring Over Concrete
It's common to find concrete substrate layers in the lower levels of homes. Concrete slabs are known for their durability, so these surfaces are usually found in basements or areas with frequent temperature changes. As concrete is an effective and long-lasting substrate, you may be surprised to see just how many rooms in your home have concrete slabs underneath your current flooring.
Basement
Typically, homeowners have substrate concrete with floor coverings in fully or partially finished basements. While you can add some finishing touches to your concrete slab to make it your finished flooring, you can also place various flooring options over concrete to make living spaces more inviting. From carpet and hardwood to tile and luxury vinyl flooring, there are several beautiful options for flooring on concrete slab.
Consider basement flooring over concrete if you have spaces for entertaining, work or leisure activities like:
Home bars
Laundry rooms
Workshops
Creative studios
Installation of new flooring can be easy when your home already has a solid concrete slab foundation.
Bathroom
Similar to basements, bathrooms deal with a lot of moisture and temperature changes. While the flooring you choose to go on top of your concrete needs to withstand water and humidity, so does your subfloor.
Luckily, concrete slabs are extremely durable and capable of handling moisture, which keeps your top flooring looking beautiful. Concrete flooring can even be used on second floors with the proper structural beams and elements in place.
Kitchen
Your kitchen is also more likely to deal with spills and staining than some other rooms in your home. Concrete slabs are a good base for water-resistant top flooring. With a smooth and level concrete foundation, you can easily lay your desired flooring down for a more polished look.
Additionally, some homeowners enjoy the industrial look for their kitchens and choose to seal the concrete instead for their finished flooring.
Living Room
If other areas of your home have concrete base flooring, it's likely your living room will, as well. Especially if your home doesn't include a basement, ground floors benefit from concrete slabs.
A concrete foundation creates an effective barrier between your home and burrowing insects and moisture. While concrete flooring isn't the most inviting flooring for a sociable room like a living room, it does provide a solid, protective base for more inviting flooring options like carpet or hardwood.
Concern Areas for Concrete Slabs
Understanding your concrete subfloor can equip you to pick a long-lasting and compatible flooring option. To properly select flooring to place over concrete slabs, you first must understand some of the common concerns and challenges concrete floors present.
Moisture Substrate
The first element to consider is moisture. While concrete slabs help create a barrier between your home and moisture, they're not impenetrable, meaning water can still make its way in. Though it appears solid, as a permeable substance, concrete can absorb and release moisture.
Water may enter your concrete slab due to high humidity or ground moisture. This is especially true if your basement is prone to floods or leaks during heavy rainfall. When a concrete slab absorbs moisture, it can retain it for a surprisingly long time.
Installing the wrong kind of flooring over consistently damp concrete may encourage warping and wear over time. Fortunately, a variety of flooring materials are water-resistant enough to function well over a concrete slab. When you pair resilient flooring types with additional protective measures such as waterproofing membranes or barriers, you can set your flooring up for success.
Flatness
If your concrete slab isn't perfectly flat, some flooring types may accentuate the unevenness. Even slight variations in grade can be exaggerated after flooring installation. To help guide your flooring selection process, check to see if your concrete slab is level. If you notice uneven areas, it may be wise to consider a more forgiving flooring like carpet or vinyl.
Schedule Your In-Home Consultation
Best Flooring for Concrete Slab Foundation
With moisture and unevenness concerns in mind, you can select a flooring that will fit both your concrete slab and your design goals. Other important considerations include the location of your slab, the amount of water it receives and your flooring preferences.
The following are some well-suited flooring options to include in your lineup.
1. Engineered Wood
Natural hardwood flooring is a classic option offering undeniable charm, elegance and durability. But if natural wood is exposed to too much water, it can begin to warp and disrupt your floor. When it comes to water resistance, engineered wood is better equipped to handle moisture while presenting a stunning wood floor look.
Engineered wood owes its water resistance to its unique structure. Each engineered board consists of thin strips of durable wood compressed onto high-grade plywood. These layers enable the wood to remain rigid and resist contracting and expanding when moisture is present.
In tandem with its durability, engineered wood incorporates the charm of natural wood. This can transform your basement into an impressive, inviting space to use for entertaining or relaxing. Engineered wood is also more affordable than natural wood, which makes it a budget-friendly option.
Pros of Engineered Wood
Engineered wood gives homeowners the flexibility to place wood-like materials over concrete. Where natural wood could warp, split or crack over concrete, engineered wood materials endure, saving you money. Additionally, engineered wood is available in various thicknesses. Choosing a thicker material can prolong your investment's life, and you can refinish select styles for a new look.
Pick from numerous low-maintenance engineered wood color and finish options for spaces with heavy foot traffic.
Cons of Engineered Wood
Engineered wood is one of the more expensive options for flooring over concrete. However, this higher price point comes with a long lifespan, which is excellent if you plan to stay in your home for years. Also, engineered wood is moisture-resistant, not waterproof, making it less suitable for damp or flood-prone basements.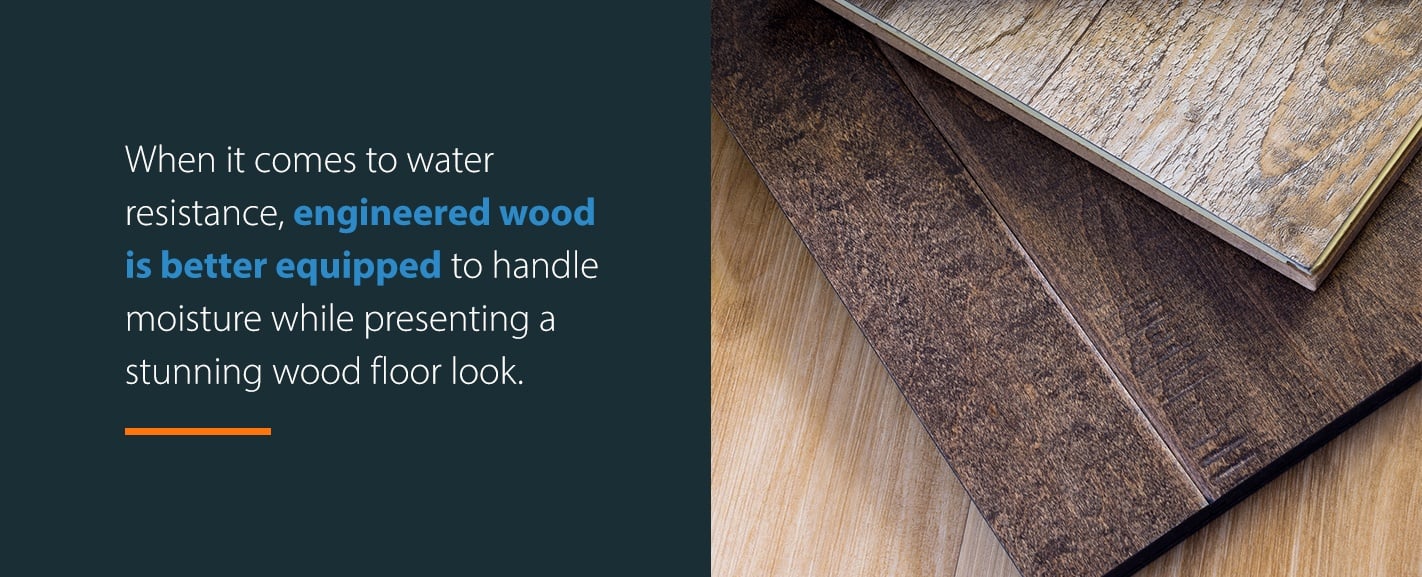 2. Vinyl
As a longstanding choice for kitchens and bathrooms, vinyl is known to be extremely water resistant. Like engineered wood, vinyl harnesses the power of layers to increase its durability. This includes backing, top design and protective layers.
Several types of vinyl flooring may work better for different concrete floors:
Luxury vinyl tile or planks: Luxury vinyl emulates the look of hardwood or tile with increased moisture resistance. Because this vinyl type comes in planks or tiles, there is potential for tiny gaps that may allow moisture to seep into the concrete substrate. If moisture is less of an issue for your concrete slab, you may consider luxury vinyl tiles or planks.
In addition to its affordability, vinyl flooring offers temperature benefits for basement installation. Many basement subfloors are concrete slabs that are cold underfoot, especially during the winter. Vinyl won't transfer the cold from the concrete, which will create a durable and comfortable basement flooring.
Pros of Vinyl Flooring
Vinyl flooring over concrete lets you replicate a wood or look without the price tag. This flooring material comes in numerous sizes, perfect for large and small rooms. Installers can cut vinyl sheets or planks with a special knife to account for walls and edges. When installing vinyl flooring options over concrete, you can forget about routine waxing and polishing. Get durable flooring materials for basements known to last upwards of 20 years.
Cons of Vinyl Flooring
Vinyl flooring surfaces can scratch. If you have pets or work with tools around vinyl floors, you should pick up extra materials during the installation phase to stay prepared.
3. Laminate
Laminate is made of synthetic composites that are layered for maximum durability. These layers include:
A back layer for stability and moisture resistance.
A fiberboard core layer for impact resistance, stability and durability.
A decorative layer that gives the composite material the appearance of wood, tile, ceramic or more.
A wear layer that serves as a clear, protective finish to prevent scratching, chipping, and denting, as well as fight moisture, staining, and fading.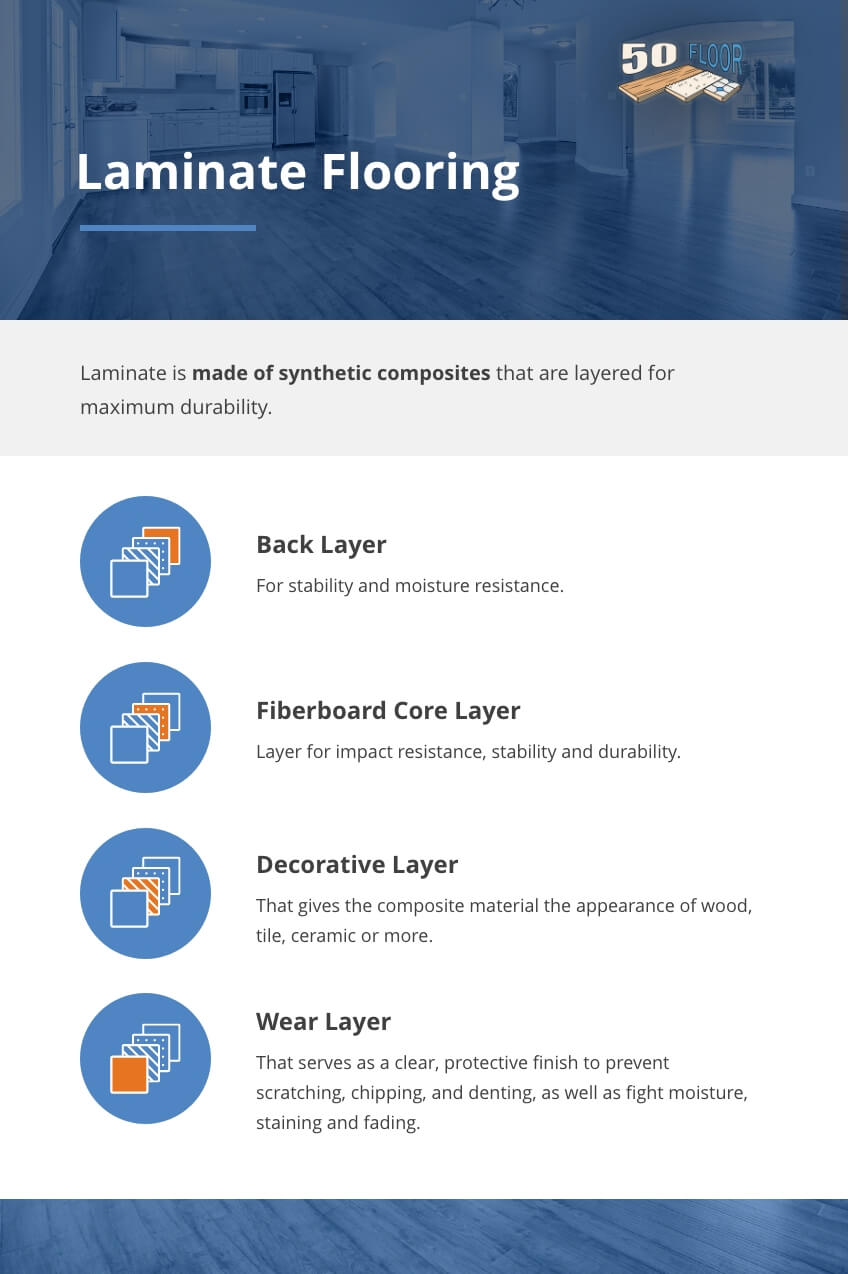 Like other flooring materials that work well over concrete slabs, laminate uses layers to fight moisture. This makes it a reliable option to install over your concrete slab. If you plan to transform your basement into a high-traffic area for entertaining and relaxing, laminate could be a great option.
Laminate may require protective measures such as vapor barriers or padding for optimal performance, but this shouldn't be an issue with an experienced installation crew.
Pros of Laminate Flooring
Laminate materials mimic the appearance of natural wood with high-quality images printed on the flooring's top layers. Stone, metal and ceramic tiles are common custom looks that laminate concrete floor coverings can resemble. Since laminates are made from composite materials, you can feel good knowing zero trees were involved in their creation.
Homeowners choose laminate flooring for concrete substrates because the materials float, so you can hide uneven surfaces or imperfections at the slab level. Because these images are scratch- and scuff-resistant, all you'll need to do is vacuum or mop.
Cons of Laminate Flooring
Laminates are not waterproof, so you'll need a moisture barrier in basements. This material must be replaced after wear and tear, as surfaces cannot be refinished. Finally, some homeowners find laminate floors louder than other styles in high-traffic environments.
4. Carpet
Carpeting has many benefits for a basement. In an area that likely doesn't have windows or natural light, carpet can add much-needed color. It can also serve as a kid-friendly flooring if you want your basement to function as a playroom.
Because carpet is made from material fibers, it is highly absorbent. This may help soak up puddles in the event of a flood, but carpet shouldn't retain water for long. If it remains wet and makes your concrete slab damp, your carpet may decay and present mold issues. Basements prone to frequent flooding may want to opt for a different flooring method to avoid these risks.
For the best performance over a concrete slab, select a low-pile carpet made from synthetic fibers. This carpet build won't absorb as much water but will still provide a soft and stylish addition to your basement.
Pros of Carpeting
Carpet installations keep you warm in spaces with concrete floors and without natural light. Stay cozy during the winter months without running your heating system excessively. What's more, carpets make your basement feel welcoming with unique colors, textures and designs available.
Homeowners also appreciate carpet's noise-dampening qualities. Basement carpet over concrete flooring helps to reduce noise from downstairs televisions, sound systems and other devices.
Cons of Carpeting
You'll want to vacuum regularly with carpet flooring over concrete. Children and pets can be tough on carpets, so you may end up shampooing surfaces regularly to keep them clean. Carpets are also unsuitable for wet environments like basement bathrooms and laundry rooms.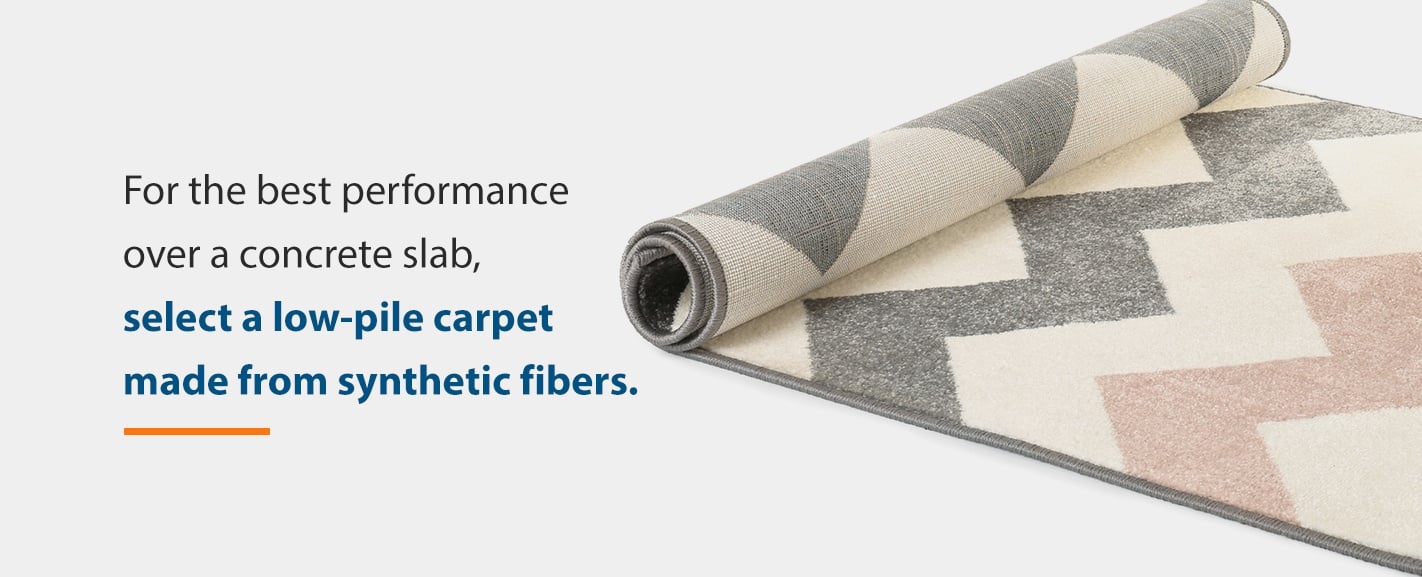 5. Tile
It's common to see tile flooring in pools, bathrooms and showers where water is prevalent. This is due in part to the fact that tile is extremely water-resistant. With a variety of color and style options, tiles can add life and durability to your concrete slab.
If your basement has consistent water exposure but you want stylish flooring, tile might be your best option. It is relatively low maintenance, its glaze prevents water from penetrating to the concrete and it won't grow mold. Choose between ceramic or porcelain tiles to find the style and durability to revamp and protect your basement.
Pros of Tile Flooring
Tile is one of the longest-lasting flooring materials suitable for use in your basement. In some cases, ceramic and porcelain tiles last 50 years or more. Tile installations are incredibly versatile, giving you choices for different shapes, sizes and colors. The flooring surfaces are hard to crack, making them a fantastic option for someone planning to be in their home for the long haul.
Cons of Tile Flooring
The biggest concern with tile is having cold walking surfaces. Someone living in a cold environment may want to wear socks indoors during the winter months, while someone living in warm temperatures most of the year may not notice chilly flooring. Additionally, tile may be slippery for children or older family members.

What Flooring Should You Choose to Lay Over Concrete?
When choosing what flooring material to lay over concrete, you'll need to consider the location of the floor, the current condition of the concrete and your budget.
Choosing Quality Flooring for Basements
The location of the floor you plan to upgrade can affect which flooring options are suitable. The best flooring for basements is different than the best flooring for upper levels. Basements present moisture issues, so it's important to pick a flooring material that's waterproof.
All-weather carpet, luxury vinyl flooring and porcelain or ceramic tiles are some of the best flooring options to go over concrete in basements.
Choosing the Best Flooring for Poor Slab Foundation
The condition of your concrete foundation may also guide your flooring decision.
If you have cracked or uneven concrete subflooring, you'll want to avoid hardwood or linoleum flooring because these flooring options also tend to crack under stress and any issues with your concrete will still be visible. In this case, the best flooring to put over concrete is either luxury vinyl flooring or laminate with the addition of a thick underlayment.
Choosing Affordable Flooring
Of course, some flooring options are more expensive than others. Typically, with a higher price tag comes a longer product lifetime. If you're working within a certain budget, your flooring options will be narrowed down, which can actually be beneficial in helping you choose your flooring.
Price can vary by flooring provider and by the size of your job, but in general, the most to least expensive flooring materials include:
Engineered or solid hardwood
Ceramic tile
Carpet
Laminate
Luxury vinyl
Linoleum
While the quality and functionality of your flooring should be the main focus, it's important to remember the price, as well.
Find the Best Flooring to Put Over Concrete Slabs
By installing a new floor, you can completely transform a space, making it into a warm and inviting area you and your family will love. When you're looking for flooring options to cover concrete slabs, trust the professionals at 50 Floor to guide you to the perfect product.
With our free in-home consultations, you can bring an expert to the source and see flooring samples in your lighting. Our experts will share their knowledge and expertise to help you make an informed decision about what moisture resistance your foundation needs. For quality professional service, schedule a consultation appointment today!