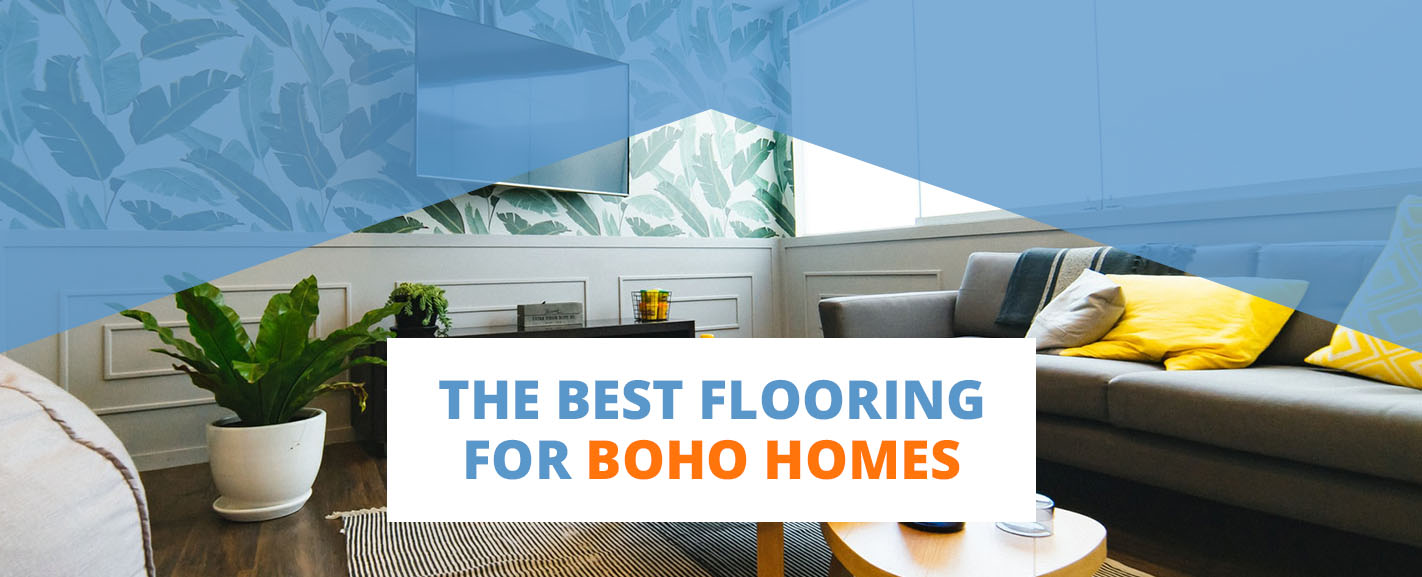 If you spend a lot of time at home, you want to make sure your living space truly feels right. You want a home design that speaks to you and sets you apart from other homeowners. If your tastes are a bit eclectic, the bohemian style might be just right for you.
Deeply rooted in individualism and creativity, boho style is perfect for expressing your living space as an extension of yourself. The flooring you choose will serve as a base for the rest of your interior design. Here's a look at some boho flooring ideas and other key considerations.
What Is the Bohemian Style?
The bohemian style of interior design first developed in Paris, France, during the 19th century. The movement rejected conforming to norms and conventions, embracing uniqueness and individuality instead.
Boho style tossed out common beauty standards of the time, which opened the door for many unconventional designs, like contrasting colors and oversaturated walls. Today's bohemian style involves relaxed, carefree and individualistic home design.
The best part of the boho style is that there are no rules. That's the entire point of its foundation in creativity and expressionism! You can mix and match all sorts of designs, colors and textures to create a space that truly reflects who you are and what your story is.
No two rooms have to look the same — you can personalize and customize each one to fit the atmosphere you want for that area. Boho style is one of the most freeing, open design choices out there.
However, with that freedom comes decisions. And while there are no rules when it comes to boho home design, the reality is that some patterns and colors will look better together than others. There are still general guidelines to follow to make sure your bohemian style looks just right, and it all starts with the flooring.
Picking the Right Boho Flooring for You
In general, there are three considerations with bohemian flooring options — color, material and lifestyle. Color and material are closely connected due to the vast opportunities available in bohemian decor. Still, different lifestyle aspects should also play a role in choosing the right flooring.
Color and Material
Generally speaking, the specific colors you use don't matter too much. The point of the bohemian style is to contradict convention and stand out. You can use a particular color palette as a structure or freestyle it.
The right flooring color will depend on your preferred material. For example, if you're looking to install hardwood or vinyl flooring, then you'll want to stick with bright, simple hues. Light to medium colors often work best.
With natural materials, in particular, you'll want to embrace simplicity. Your home design will probably involve lots of patterns and colors elsewhere, so a subtle hardwood or vinyl floor will look fantastic.
You can implement a unique design with stone tiles if desired. Try to keep stone patterns bright and straightforward in light to medium colors.
Carpet can be an excellent choice if you want an eye-catching base for a room. It allows you to work unique and exciting designs into your floors. You'll generally want to stick with natural materials and bright colors, but beyond that, the choice is yours! Just make sure you look out for common mistakes when buying and installing a carpeted floor.
If you like the idea of a natural, subtle base but want to incorporate some color and texture, consider going with hardwood flooring and adding a rug. The rug should follow the same guidelines as the carpeted floor.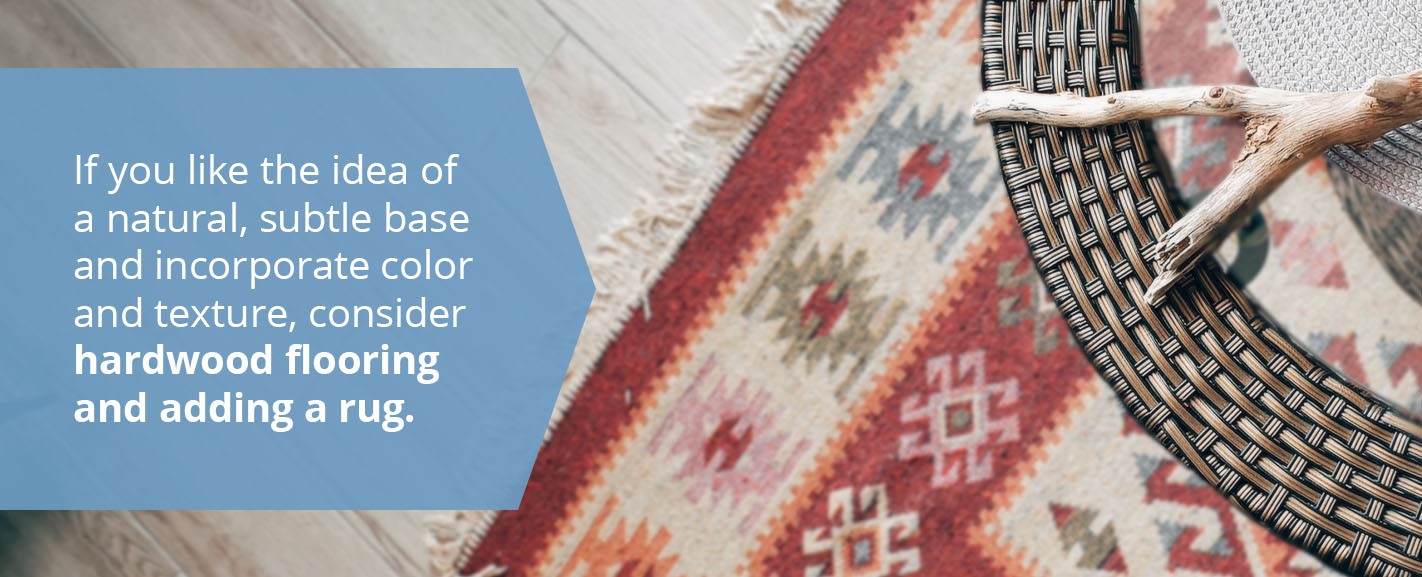 Lifestyle Considerations
In addition to the color and material of your bohemian flooring, you'll also want to think about how you'll be living in your space. Hardwood flooring is popular among homeowners with kids and pets because it's relatively easy to clean.
While it does require some maintenance, hardwood is incredibly diverse in type and durability, so plenty of options could fit your specific needs. Some vinyl flooring options closely resemble hardwood if you want an option that's even easier to maintain.
Another great option is carpet, especially if you have younger kids, as it can help cushion trips and falls. That said, you'll have to be careful to avoid tears and stains.
Stone and tile are excellent options for pets and kids of all ages. These materials are incredibly durable and liquid-resistant, so they're especially great choices for kitchens and bathrooms. They also come in many designs and styles, making them a perfect fit for boho interior design.
Another vital consideration is how often you, your pets and your children will use a specific room. In spaces with significant foot traffic, like a hallway or bathroom, consider more durable options to avoid wear and tear.
The Best Flooring Material for Boho Homes
If you're scouting materials for your boho floors, here are three fantastic options to consider and some pros and cons.
1. Hardwood
With unique pops of color, pattern and texture throughout the space, bright and simple flooring is a go-to for bohemian homes, so as not to overwhelm the aesthetic. This makes light- to medium-toned hardwood flooring an excellent choice. It creates warmth without compromising your other design elements.
If you want something a little friendlier on the budget, options like engineered hardwood, luxury vinyl planks and laminate wood flooring can mimic the appearance of solid hardwood at a fraction of the cost.
Some of the pros of hardwood flooring include the following:
Many colors and styles
Easy to clean and maintain
Adds value to your home
Here are some cons of hardwood flooring:
Prone to warping from humidity and moisture
Can be more costly than other flooring materials
2. Tile
As mentioned above, tile flooring is a strong, water-resistant option for your boho kitchen or bathroom. Porcelain and ceramic can replicate a variety of tile materials like stone, marble and slate, offering an array of opportunities for your space.
There are many pros of tile flooring:
Many colors and styles
Liquid-, scratch- and stain-resistant
Less expensive than hardwood
Here are some of the cons of tile flooring:
Can be slippery, especially when wet
Tough-to-clean grout lines
Makes your flooring heavier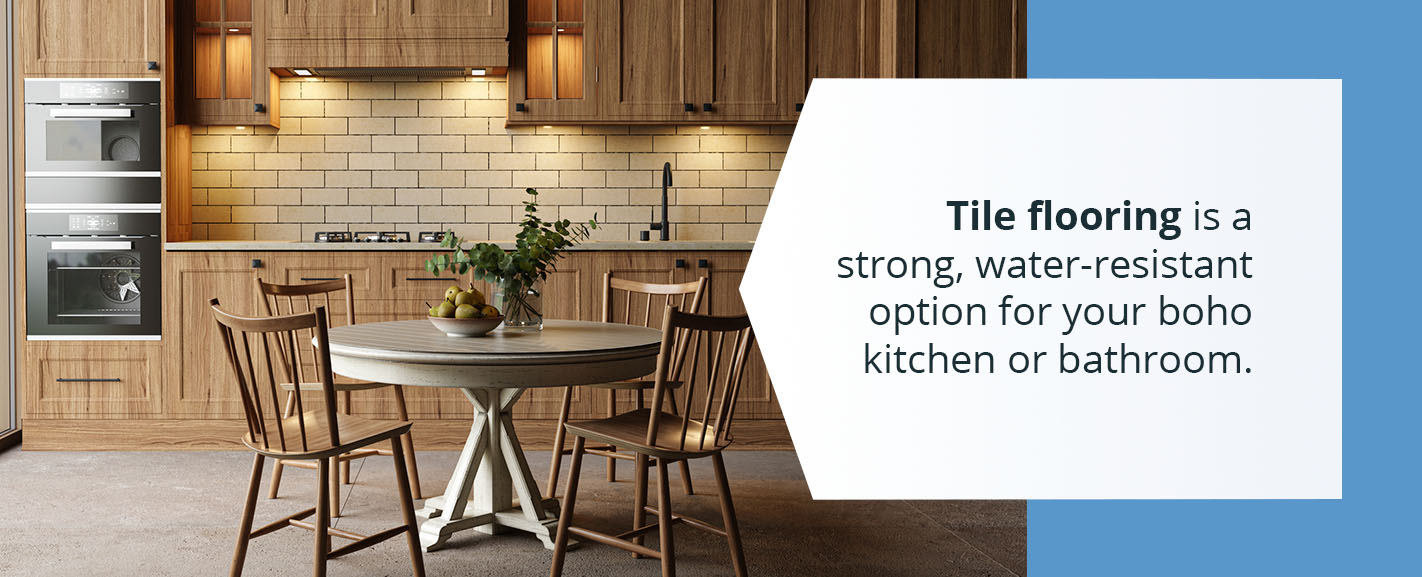 3. Carpet
Bohemian design emphasizes color and texture, and carpet flooring is the perfect way to do so. Carpet adds warmth, comfort and plushness, thus embracing the classic boho style.
Consider these advantages of carpet flooring:
Many styles and colors
Less costly to install than hardwood and tile
Underfoot comfort
The following are potential disadvantages of carpet:
Hard to clean
Can hold moisture, dust and allergens
What Flooring Should You Avoid?
The beauty of the bohemian style is that you have lots of freedom when picking flooring colors and materials — there aren't any right or wrong choices. However, there are certain recommendations to keep in mind when selecting a floor for your lifestyle needs, as we discussed. Here are some general tips to remember when determining flooring types to avoid:
Light-colored flooring shows dirt, while dark-colored flooring reveals pet hair and dust.
Hardwood can deteriorate easily in high-moisture areas like bathrooms, kitchens and basements.
Carpet flooring makes it difficult to clean everyday spills and stains.
Additionally, remember that the flooring color you choose can influence a room's size and feel. If you want an open, airy feel for your boho space, you may want to avoid dark flooring as it makes a room feel smaller. Conversely, you may want to steer away from lighter flooring if you want a cozier, compact space.
Boho Flooring Inspiration
With endless types, styles and colors to consider, choosing the perfect bohemian flooring can be a challenge. We have a few ideas below if you need design inspiration for your boho-style space!
1. White Oak Flooring
From solid to engineered hardwood to light or dark stains, there's a vast selection of hardwood options to complement your bohemian vision. However, white oak hardwood is a timeless flooring choice that accommodates a range of design styles. Plus, its light undertones and subtle grain pattern can pair beautifully with greenery and colorful accents.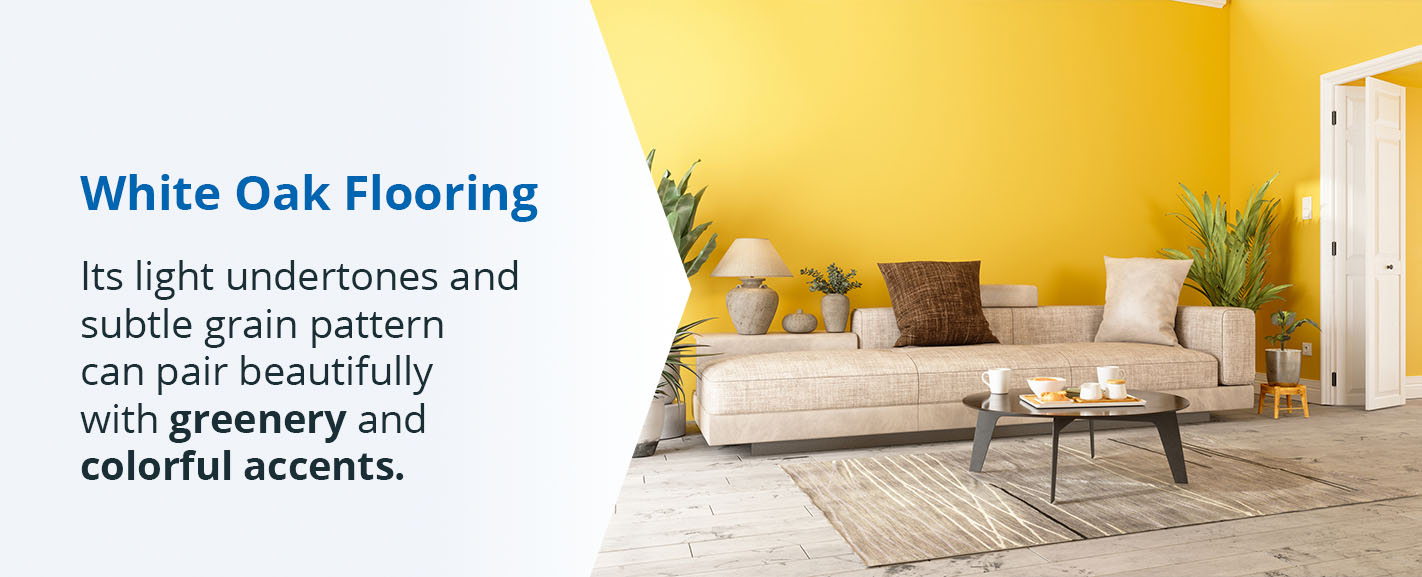 2. Maple Flooring
Maple hardwood features subtle graining, delicate swirls and a creamy blonde color, adding brightness and character to any boho interior. It's also one of the densest wood species, making it ideal for high-traffic spaces like foyers and living rooms.
3. Stone-Look Tiles
Gray and beige stone-look tiles in ceramic or porcelain look stellar in a bohemian-style kitchen or bathroom. This simple, tasteful option looks great with colorful rugs, plants and accents without overpowering the look. Stone-look tile flooring is also incredibly versatile, so if you ever opt to change up your space, stone tiles mesh with a variety of interior design styles.
4. Colored Carpeting
Carpet flooring adds depth, color and interest to a boho space. Pattern carpet can provide intricate designs and colors, while frieze carpeting adds softness and texture. Again, there's no right or wrong answer here — choose a carpet color and texture that flows with your decor and taste.
Just bear in mind that if you ever decide to change your room's style, carpeting may not complement every type. That's why many people choose wood or tile flooring, then pair it with a colorful area rug for a perfectly bohemian flair. Choose a floral or geometric pattern to really sell the look!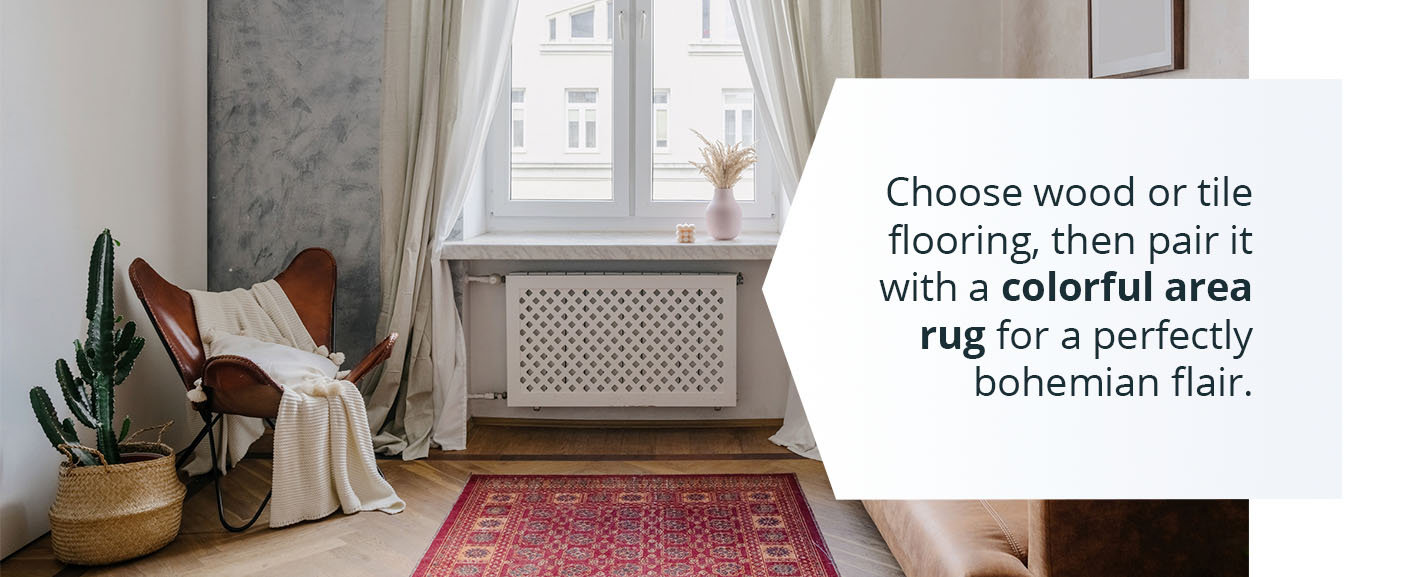 Embrace Boho Style With 50 Floor
Picking your next floor should be an exciting experience. At 50 Floor, we've spent years providing quality services and giving excellent flooring advice.
You don't even have to leave your home to take advantage of our professional service. Our team is dedicated to making your home redesign process as convenient as possible, so we offer at-home consultations. You can browse flooring options in your space so you'll know exactly what to expect. Schedule an in-home consultation today to start creating the bohemian home design you've always wanted!