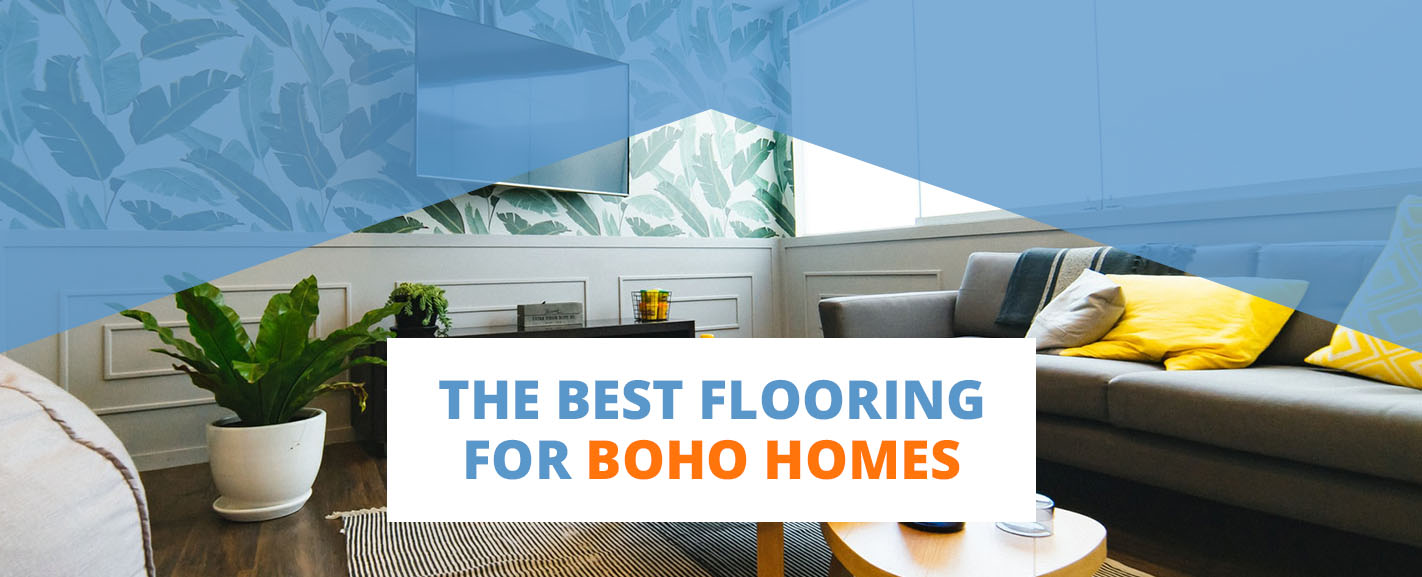 If you spend a lot of time at home, you want to make sure your living space truly feels right. You want a home design that speaks to you and sets you apart from other homeowners. If your tastes are a bit eclectic, the bohemian style might be just right for you.
Deeply rooted in individualism and creativity, boho style is perfect for expressing your living space as an extension of yourself. The flooring you choose will serve as a base for the rest of your interior design. Before you take that step, here's a look at some key considerations and boho decor tips.
What Is the Bohemian Style?
The bohemian style of interior design first developed in Paris, France, during the 19th century. The movement rejected conforming to norms and convention, embracing uniqueness and individuality instead. Boho style tossed out common beauty standards of the time, which opened the door for many unconventional designs — like contrasting colors and oversaturated walls. Today's bohemian style involves relaxed, carefree and individualistic home design.
The best part of the boho style is that there are no rules. That's the entire point of its foundation in creativity and expressionism! You can mix and match all sorts of designs, colors and textures to create a space that truly reflects who you are and what your story is. No two rooms have to look the same — you can personalize and customize each one to fit the atmosphere you want for that area. Boho style is one of the most freeing, open design choices out there.
However, with that freedom comes decisions. And while there are no rules when it comes to boho home design, the reality is that some patterns and colors will look better together than others. There are still general guidelines to follow to make sure your bohemian style looks just right, and it all starts with the flooring.
Picking the Right Flooring for You
In general, there are three things you want to consider when deciding on boho flooring options — color, material and lifestyle considerations. As it happens, color and material are closely connected due to the vast opportunities available in bohemian decor. Still, different aspects of your life also should play a role in choosing the right flooring for you.
Color and Material
Generally speaking, the specific colors you use don't matter all too much. The point of the bohemian style is to be contradictory to convention and to stand out. You can use a specific color palette as a structure, or you can freestyle it.
For your floor specifically, the right color will depend on the kind of material you want. For example, if you're looking to install hardwood or vinyl flooring, then you'll want to stick with bright, simple designs. Light to medium colors often work best. With natural materials in particular, you'll want to embrace simplicity. Your home design will probably involve a lot of patterns and colors elsewhere, so a subtle hardwood or vinyl floor will look fantastic.
You can start to implement some unique designs with stone tiles. Similar to hardwood and vinyl floors, you'll want to make sure stone patterns are bright and straightforward in light to medium colors.
If you want your floor to serve as an eye-catching base for a room, then carpet will be a perfect choice. Carpets can allow you to get some pretty unique and exciting designs into your floors. You'll generally want to stick with natural materials and bright colors, but beyond that, the choice is yours! Just make sure you look out for common mistakes when buying and installing a carpeted floor.
If you like the idea of a natural, subtle base but you want to incorporate some color and texture, consider going with hardwood flooring and adding a rug. The rug should follow the same guidelines as the carpeted floor.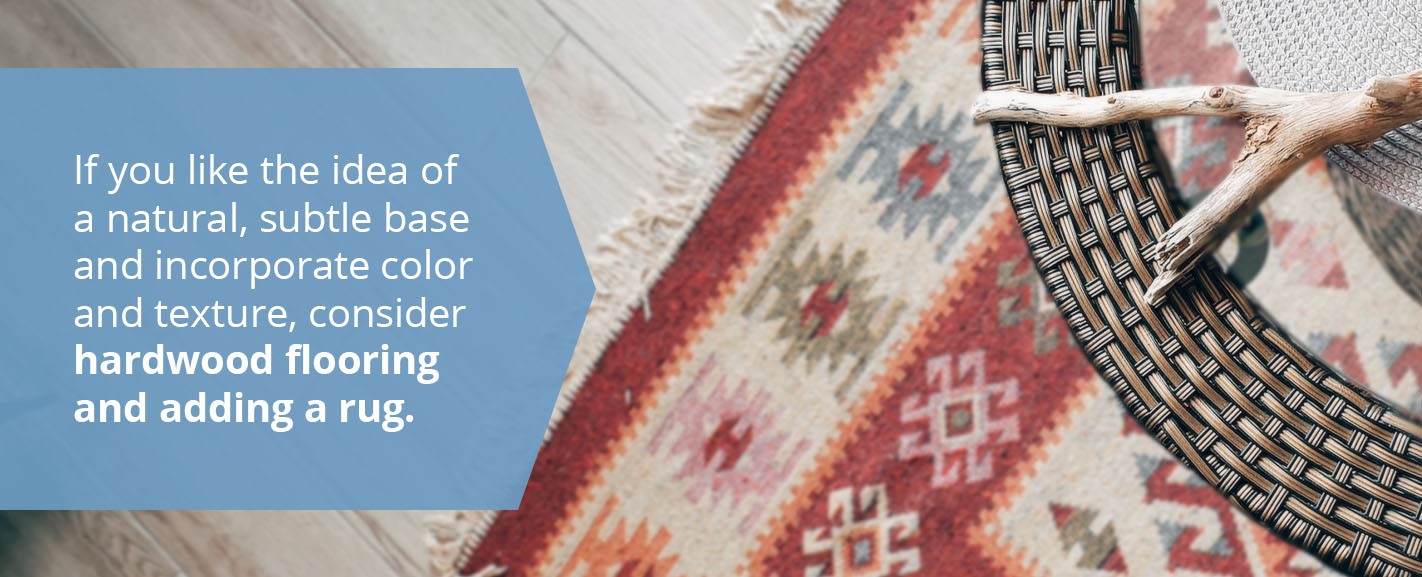 Lifestyle Considerations
In addition to the color and material of your flooring, you'll also want to think about how you'll be living in your space. Hardwood flooring is popular among homeowners with kids and pets because it's relatively easy to clean. While it does require some maintenance, hardwood is incredibly diverse in type and durability, so plenty of options could fit your specific needs. Some vinyl flooring options look very similar to hardwood if you want an option that's even easier to maintain.
Another great option is carpet, especially if you have younger kids. Carpet can help protect kids after trips and falls. That said, you'll have to be careful to avoid tears and stains.
Stone and tile are excellent options for pets and kids of all ages. These materials are incredibly durable and liquid-resistant, so they're especially great choices for kitchens and bathrooms. They also come in plenty of different types of designs and styles, making them a perfect fit for boho interior design.
Another vital consideration is how often you, your pets and your children will be using a specific room. In spaces with a lot of foot traffic, like a hallway or bathroom, you'll want to look at more durable options to avoid wear and tear.
Embrace Boho Style With 50 Floor
Picking your next floor should be an exciting experience. At 50 Floor, we've spent years providing quality services and giving excellent flooring advice. You don't even have to leave your home to take advantage of our professional service. Our team is dedicated to making your home redesign process as convenient as possible, so we offer at-home consultations. You can look at your options in your space so you'll know exactly what to expect.
Schedule an in-home consultation today to start creating the bohemian home design you've always wanted.