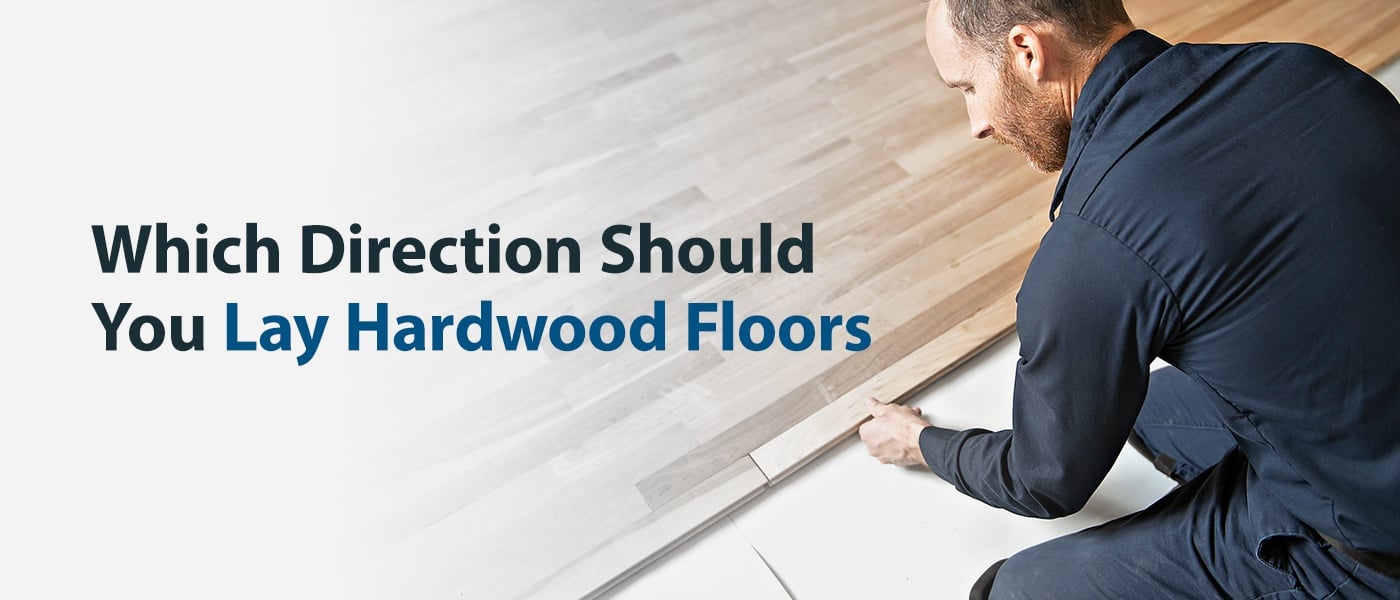 Before having your gorgeous new hardwood floor installed, it's important to decide which way to lay wood flooring to ensure a smooth installation process. When determining which direction to lay flooring, you'll need to consider many variables, such as the dimensions of the room, the structural foundation and lighting. Once you've thought through all the details, you'll be ready to pick the perfect hardwood flooring pattern for your space.
To help you decide the best way to lay wood flooring in your home, this article will discuss considerations for choosing which way to run flooring, the different hardwood flooring designs available and unique considerations for each room.
To help you decide the best way to lay wood flooring in your home, this article will discuss considerations for choosing which way to run flooring and the different hardwood flooring designs available.
What to Consider When Deciding How to Lay Hardwood Floors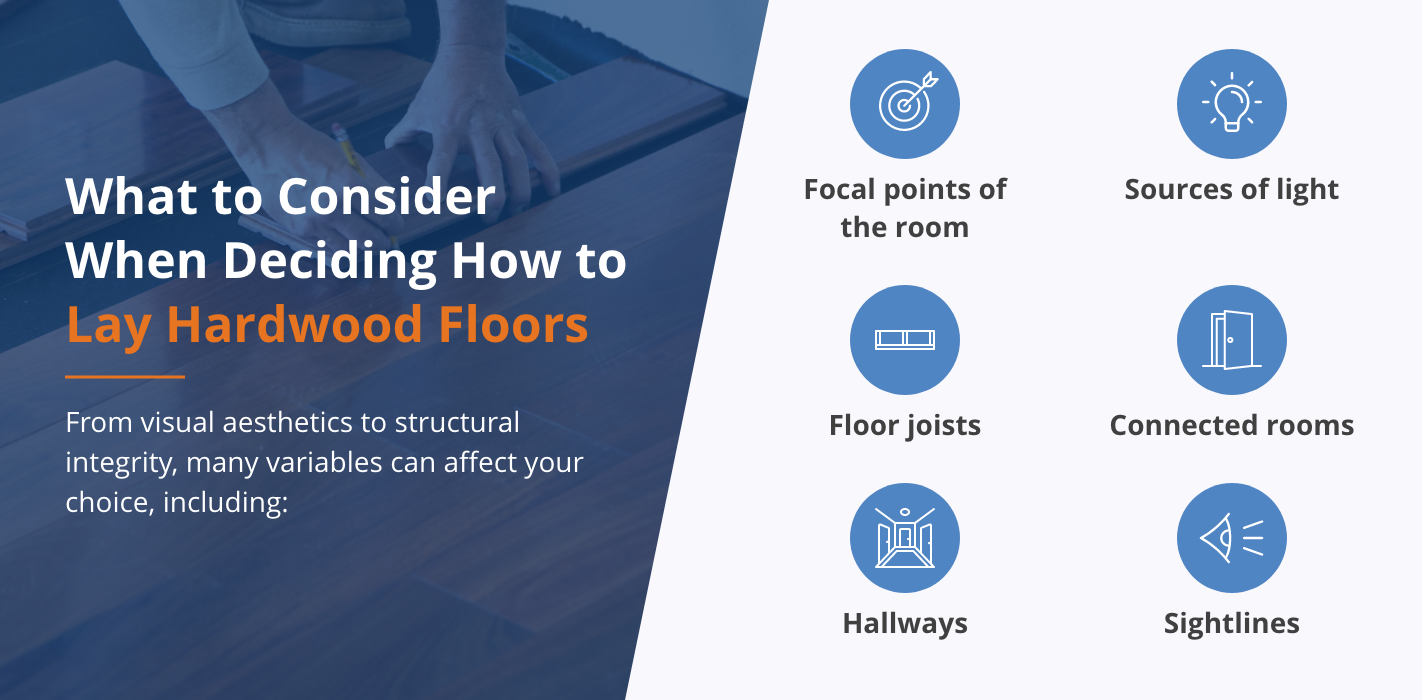 There are several factors to think about when deciding which direction hardwood flooring should run. From visual aesthetics to structural integrity, many variables can affect your choice, including:
Focal points of the room: Whatever the main feature is of the room you're placing hardwood flooring in, the planks should be laid in the direction that naturally guides the eye toward that focal point. Whether your room's focal point is a fireplace, a picture window or another stunning architectural detail, make sure your hardwood flooring leads to it.
Sources of light: Before making your hardwood flooring decision, you should consider how the light will fall between the boards, which can either shorten or lengthen the look of the room. Boards that run outward from the room's entrance will make the space appear larger, resulting in a more impressive impact. Laying the boards from sidewall to sidewall will make the length of the room seem shorter, cultivating a cozier space.
Floor joists: A floor joist is a structural feature that supports the floor over an open area, such as a basement or crawl space. Many joists are installed side-by-side with a sub-floor nailed over top to create a large floor area known as a floor system. Install your hardwood perpendicular to the floor joists, as opposed to in between them, so the planks don't end up separating, sagging or buckling.
Connected rooms: If you plan on laying hardwood flooring in multiple rooms, make sure you plan out the flow of your hardwood. For an open-concept space, hardwood can be installed lengthwise from one end to the other, whereas oddly-shaped spaces won't allow for one continuous line of sight. To avoid awkward hardwood transitions, you can lay the planks in a diagonal pattern or place a thin wood strip at the threshold of each room where the flooring changes direction.
Hallways: Prevent a choppy look for hardwood flooring in hallways or narrow rooms by laying the planks outward from the doorway.
Sightlines: Positioning hardwood to run from the main entrance of a room toward the opposite wall can help the space look less busy by simplifying the sightline.
Ultimately, the "right" way to lay hardwood planks is not straightforward. The best format for placing hardwood can vary depending on the shape, size and layout of the area you're covering. You will have to decide which direction is right for your space based on structural features, design aesthetics and your preference.
View Hardwood Flooring Buying Guide
Different Ways to Run Hardwood Flooring
You'll need to consider the variety of hardwood layout styles to pick a design for your floor. Below are the main design options:
1. Vertical Hardwood Floor Direction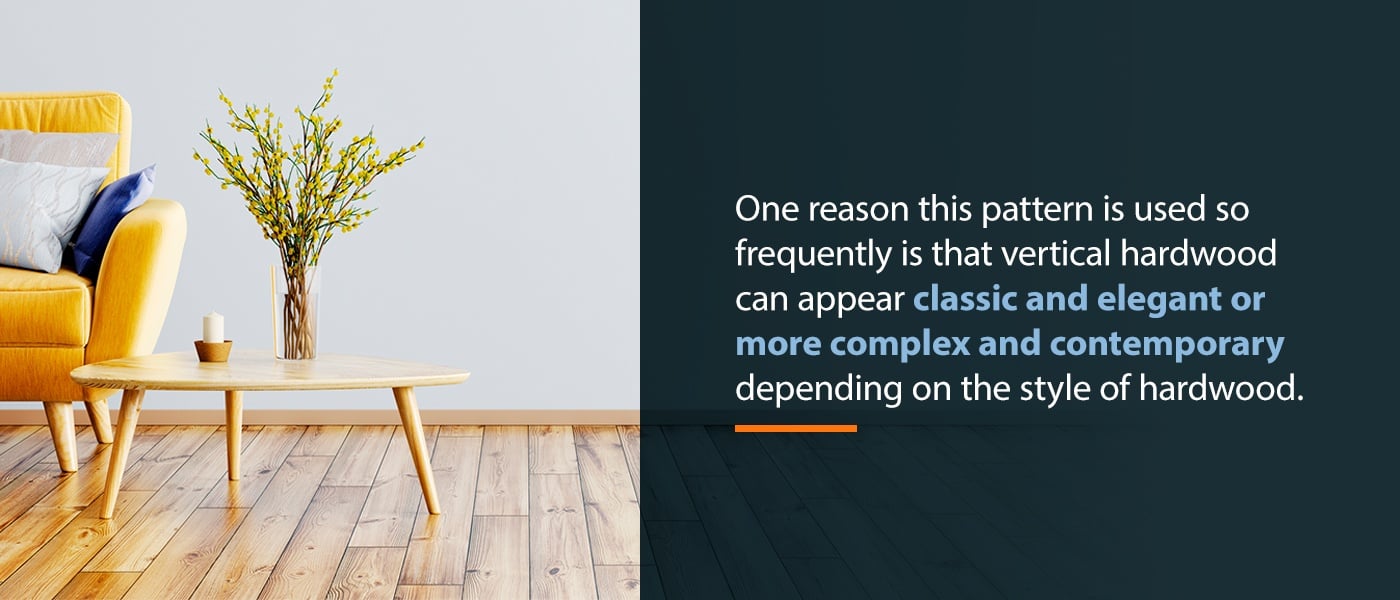 The most common direction to lay hardwood flooring is vertical. In a vertical or straight pattern, hardwood flooring planks are installed parallel to one another along the length or width of the room. One reason this pattern is used so frequently is that vertical hardwood can appear classic and elegant or more complex and contemporary depending on the style of hardwood.
Another reason vertical has become a go-to hardwood pattern is that it is relatively simple and inexpensive to install. While other hardwood patterns may end up requiring extra planks of hardwood and more time to complete, a vertical design won't come with any surprise costs.
2. Horizontal Hardwood Floor Direction
Another widely popular hardwood flooring pattern, horizontal runs the room from sidewall to sidewall. This design is perfect for spaces that are more narrow than lengthy, as these types of rooms tend to feel more closed in. Horizontal hardwood flooring can combat this cramped feeling by drawing the eye from side to side as opposed to down the length of the room.
3. Diagonal Hardwood Floor Direction
If you want to give your house a classy finish, consider placing your hardwood flooring in a diagonal pattern. A diagonal hardwood floor design gives your space a bit of style and intrigue without deviating too far from the traditional vertical hardwood direction. To accomplish a polished diagonal design, the hardwood planks are placed parallel to each other at about a 45-degree angle to the walls.
4. Herringbone Hardwood Floor Direction
A slight step up from a diagonal design is the herringbone wood floor direction, which lays the wood boards diagonally in a sort of zigzag pattern. Instead of flowing in one direction, the herringbone design creates a unique pattern similar to chevron. By alternating the direction of each plank, herringbone hardwood can add a more modern feel to any room.
5. Parquet Hardwood Floor Direction
A parquet hardwood pattern involves laying the planks in a repeated geometric pattern. Most often, the parquet pattern gives the hardwood floor the appearance of a sophisticated checkerboard. For a more advanced parquet pattern, you can include a more complex pattern within each checkerboard square.
6. Random Hardwood Floor Direction
Although a random hardwood flooring pattern sticks with laying the boards parallel to each other, the design uses a mixture of planks that differ in width. Because the random pattern allows you to pick the ratio of narrow and wide planks, you get to give your floor a nice customized look. Consider choosing a random hardwood design if you want to give your home a more rustic aesthetic and energized feel.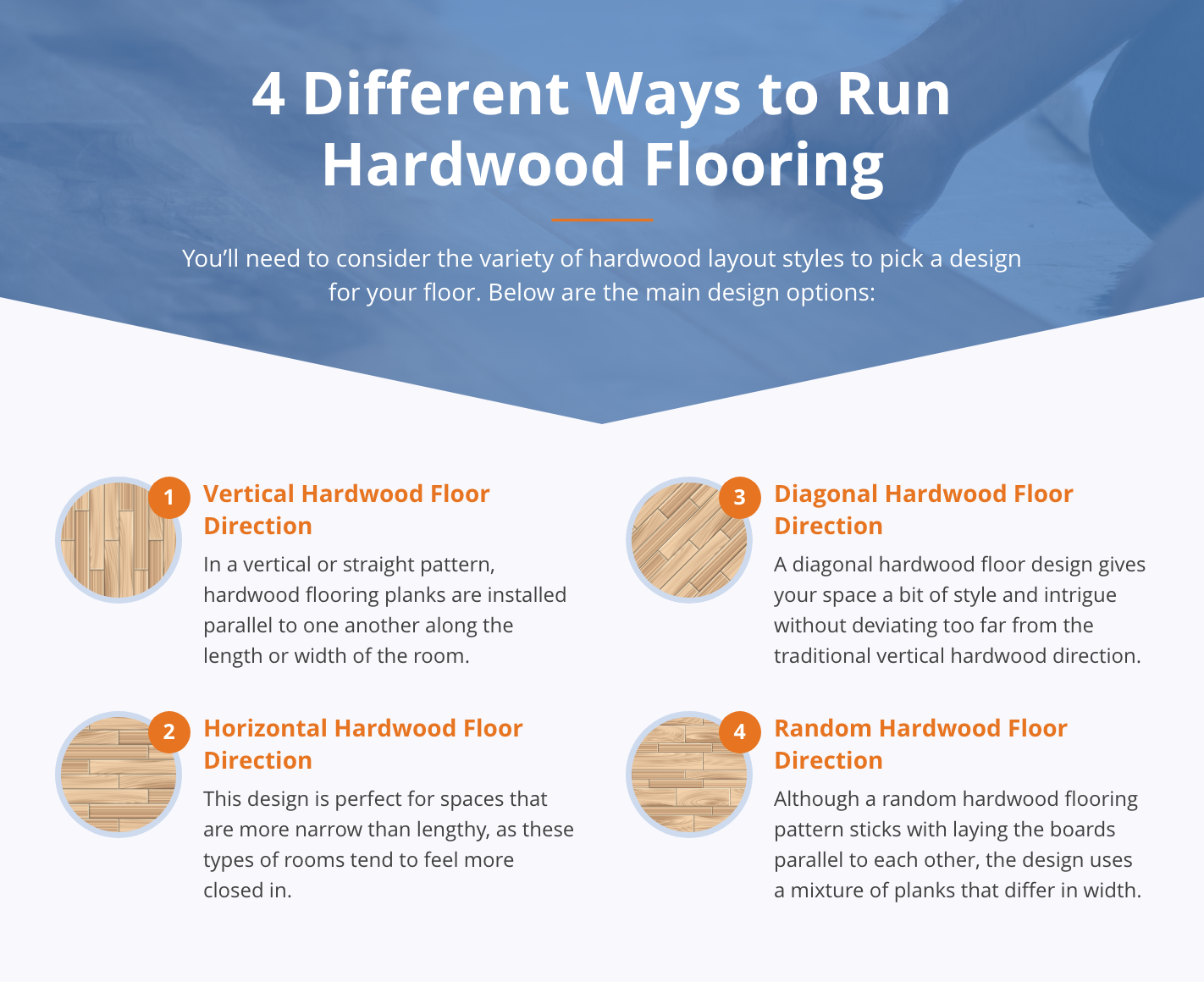 How to Determine Which Way to Run Wood Flooring
When deciding how to lay your hardwood flooring think about the size and purpose of the room. The direction of wood flooring planks has the ability to change the way we see a room. A smaller room can look bigger, or a simple space can become unique and interesting.
So, consider how you use the space and which flooring pattern makes the most sense to create the feel you're looking for. Also, consider your overall design throughout your home. You may not want to use modern floor designs if the rest of your home is a more traditional style.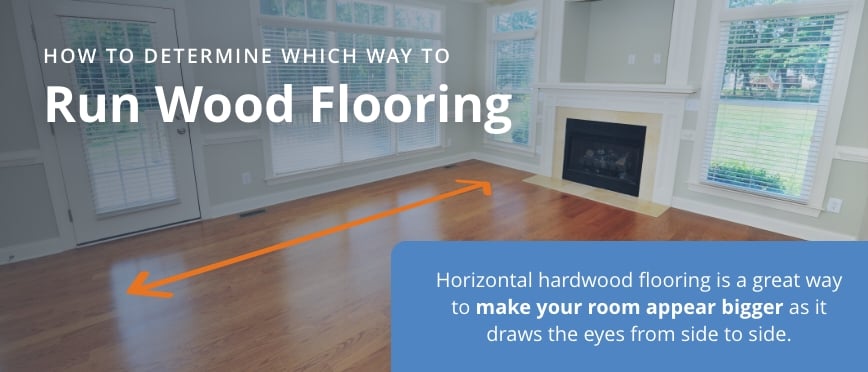 Wood Floor Direction in Bedroom
Who doesn't love a spacious bedroom? Horizontal hardwood flooring is a great way to make your room appear bigger as it draws the eyes from side to side. This design will also likely run parallel to your bed frame and nightstands, depending on how you organize your room. This can create a nice flow and symmetry in the room.
Which way wood floors should run in your bedroom can also depend on your envisioned design for the space. If you want something unique and personal, you could go for a random design. If you want something different but still want distinct patterns, opt for a parquet and herringbone design.
Wood Floor Direction in Kitchen
If you're interested in trying a fun patterned way to run your wood flooring, such as herringbone or parquet, consider placing this flooring in your kitchen. Your kitchen is typically set off from the rest of your home — even if you have an open floor plan, kitchens still tend to have their own distinct markers of where they start and end.
This distinction and separation from the rest of the design choices make the kitchen the perfect place to incorporate a fun flooring design without committing to a full multi-room floor installation.
Wood Floor Direction in Hallway
When choosing flooring for your hallway, you'll want to work with your hallway design, not against it. Opt for a vertical run to create a nice flow down the passageway. Other design options can make the space feel crowded. Loud floor layouts in your hallways can also muddy your design if there's too much going on in such a narrow space.
Wood Floor Direction in Living Room
Diagonal flooring is great for gathering areas like living rooms. This layout creates the illusion of a bigger space while adding a twist to the traditional vertical design. Making your living room feel bigger will make the space more comfortable while you host holidays and events or family movie nights.
If your living room is smaller, you could also lean into the cozy feeling of a smaller room by giving your flooring character with a random floor direction.
Wood Floor Direction in Bathroom
The best way to run flooring in your bathroom can depend on the size and shape of the space. For narrow or smaller bathrooms, you could benefit from placements like diagonal or horizontal to open up the space and make it feel larger and airier.
Meanwhile, if your bathroom is a decent size, you may want to take this opportunity to incorporate fun patterns. Similar to your kitchen, your bathrooms always feel distinctly different than the rest of your home. So, even if your design style is slightly different within your bathroom, it will still flow with the rest of your home.
Enjoy classy and traditional running wood in your hallways and living spaces and add some spunk with zigzag patterns in your bathroom.
Schedule an Appointment With 50 Floor to Install New Hardwood Floors
If you're ready to install hardwood flooring in your home, book an in-home appointment with 50 Floor to find out which hardwood pattern would look best on your floors. At 50 Floor, we offer a convenient shop-at-home experience that will allow you to see exactly what various hardwood flooring options would look like in your house before making a final decision.
With a wide range of beautiful hardwood flooring to choose from, you're certain to find a hardwood floor you love at 50 Floor. To learn more about how you can achieve the hardwood flooring design of your dreams, contact 50 Floor about your free in-home consultation today.