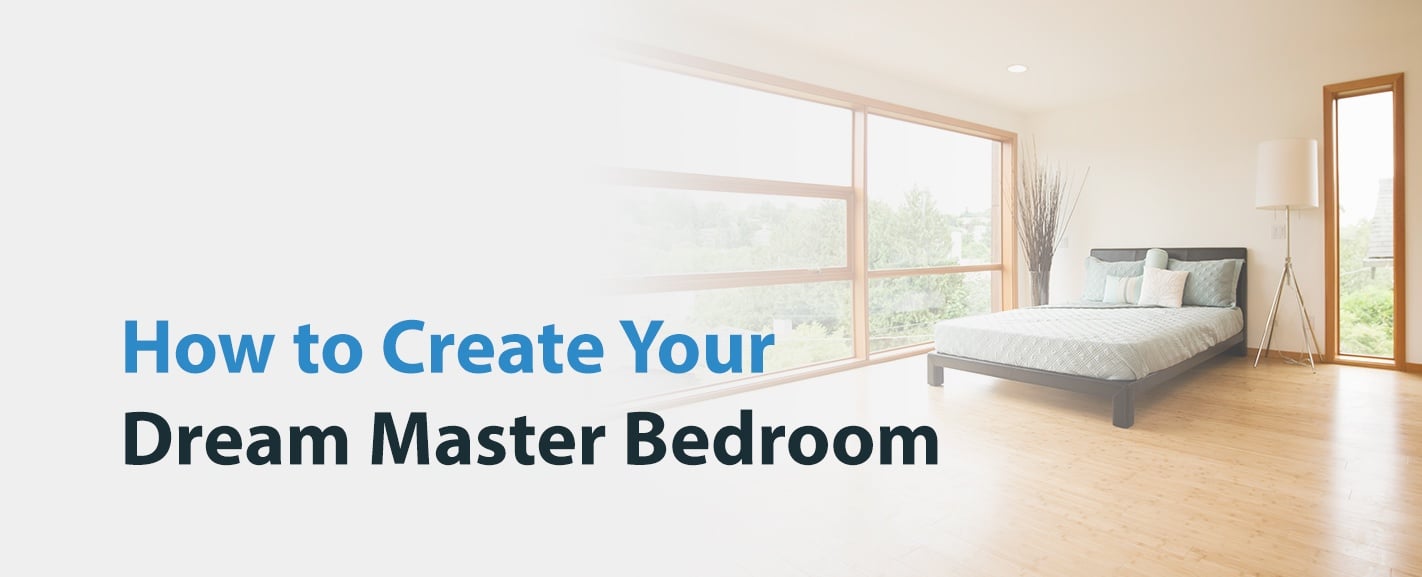 A master bedroom is where you start and end your day. The best dream master bedrooms have a burst of color and a relaxing layout. Use this guide to find out how to create your dream master bedroom.
1. Choose a Color Scheme
Neutral colors can make a room look more spacious. Paired with shades of brown or gray, use the following colors to add some vibrancy to your master bedroom:
Blue: This color creates feelings of contentment, peace and joy in any living space.
Green: This color reminds us of the great outdoors, providing a fresh atmosphere.
Orange: Using a moderate amount of this color in your bedroom could invigorate you and help relax your muscles.
Purple: Depending on what shade you use, purple can both inspire you and help you fall asleep at night.
Yellow: Like the bright sunshine, yellow can brighten your day and help calm your mind.
2. Plan Your Master Suite Layout
Master bedroom makeovers often involve adding an en suite bathroom or bonus room. Here are some ideas to keep in mind when you design the layout of your dream master bedroom:
Think about your privacy: If your master bedroom is on the first floor, your room is eye level with most of your neighbors. Try to organize your furniture so that you have some privacy at the end of a long day.
Plan enough space between furniture: You have to consider the space available between your dressers and any tables or nightstands. Too little space between furniture could make your room look cramped.
Add an en suite bathroom or office space: An en suite bathroom allows to have personal space to get ready or relax. If you have an en suite space, make sure you tie the decor theme with your main bedroom.
3. Choose Your Bedroom Furniture
The key to a modern dream master suite is simplicity. As you consider what furniture to put in your master suite, focus on what you need rather than what you want. Master bedroom makeovers don't have to break the bank.
Here are some ideas for functional and decorative furniture:
Bed: Your bed should be the focal point of your room. Place the bed away from any exterior walls. You could also create a decorative focal point with colorful, comfortable pillows.
Bedside tables: Use bedside tables or nightstands to place accessible items at the end of the day. Put one bedside table at each side of the bed to add symmetry to your room's focal point.
Vanity: A mirrored vanity offers a great space for getting ready in the morning. For a historic look to your home, get a white painted wood vanity.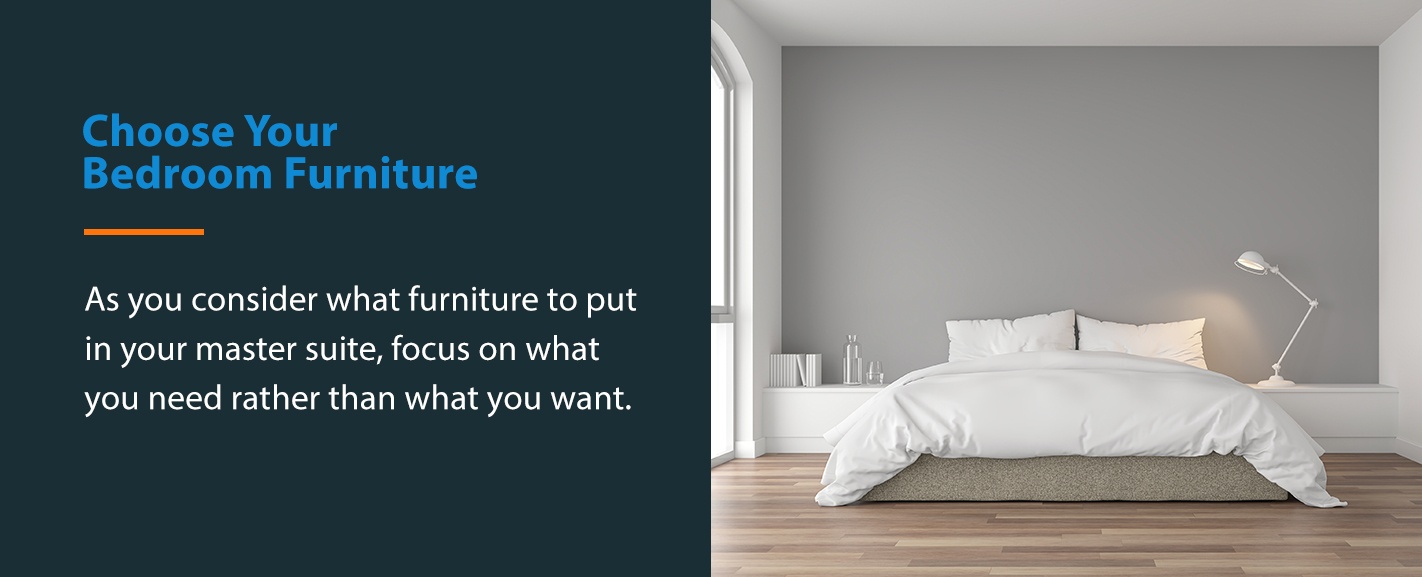 4. Choose Your Decor Accents
After you've taken care of the big pieces, figure out how you want to decorate your walls and surfaces. Clutter can make your room look smaller and can add unnecessary stress to your space. Here are some design elements to complete your master bedroom decor:
Wall decor: An all-white room could make your bedroom feel sterile. Instead, add your favorite color to the walls with a framed decorative picture. It can lighten your room and give you more of a jump start to your day. When you wake up in the morning, the first view could be a nice picture of your dream vacation destination. Use wall accents that add color to your room, especially if you use a neutral palette for your walls.
Indoor plants: You could put a potted house plant in your bedroom to keep your room looking fresh. A small succulent or even a tall tree could spruce up your living space. Certain plants could even help you sleep and breathe better.
Pillows: Decorate your dream master bedroom with fun, decorative pillows. Remember that less is more, so use pillows sparingly in your bedroom.
5. Choose Window Treatments and Lighting Options
The lighting in a room highlights the unique features of your master bedroom. You could use light fixtures if you don't have access to natural light. Window treatments could also help you control the natural lighting in your master bedroom.
Natural light: Natural light makes a room look more spacious. Use windows and natural lighting to your advantage as you decorate your space. Large windows can bring more natural light into your dream master bedroom.
Light fixtures: If you don't have natural light, you can install a light fixture. The right ceiling light fixture can make your space appear more elegant. For a small bedroom, you could also use mounted wall lamps instead of floor lamps or nightstand lamps.
Window treatments: You should also consider what window treatments to install in your master bedroom. Curtains block out unnecessary natural light, and they could also decorate the interior of your bedroom. Your curtains could transform your bedroom into a cozy retreat. If you have a small bedroom, hang your drapery as close to the ceiling as possible to make your room look bigger.
Mirrors: Place mirrors across from a light source to add a spacious appearance to your master bedroom. You could add as many mirrors as you'd like across your bedroom to give the illusion of more space in your bedroom.
6. Complete Your Dream Bedroom With New Flooring
You can choose from a variety of types of flooring for your master bedroom. Here are the best selections for master bedroom flooring:
Hardwood flooring: Hardwood floors give your bedroom a luxurious, elegant appearance. You can choose from a variety of wood types, from dark to light. Hardwood floors are durable and can withstand high foot traffic.
Laminate flooring: Laminate flooring is a great alternative to hardwood flooring. You can have the look of natural wood without the required maintenance. It's durable and moisture resistant while staying within your budget.
Carpeted flooring: Carpet is great for bedrooms because of its insulation and ease of maintenance. You could choose from a variety of colors to match the decor of your master bedroom.
Area rug: If you want the best of both hardwood and carpeted floors, you could invest in an area rug. Lay an area rug under your bed so you have a comfortable place to land when you first get up in the morning.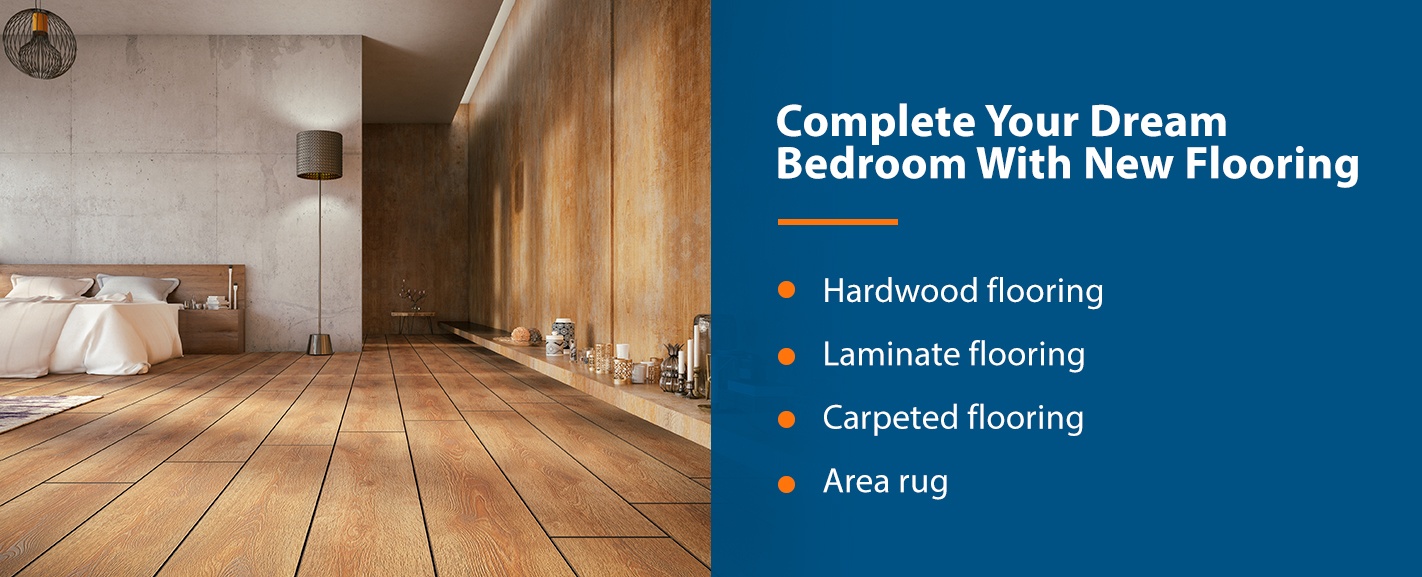 Schedule an Appointment With 50 Floor to Design Your Dream Master Bedroom's Flooring
To complete your dream master bedroom, install new floors from 50 Floor. We specialize in the installation and maintenance of all types of residential flooring. Schedule an appointment with us today to start your dream master bedroom project. You can also call us at 1-877-50-FLOOR for more information.