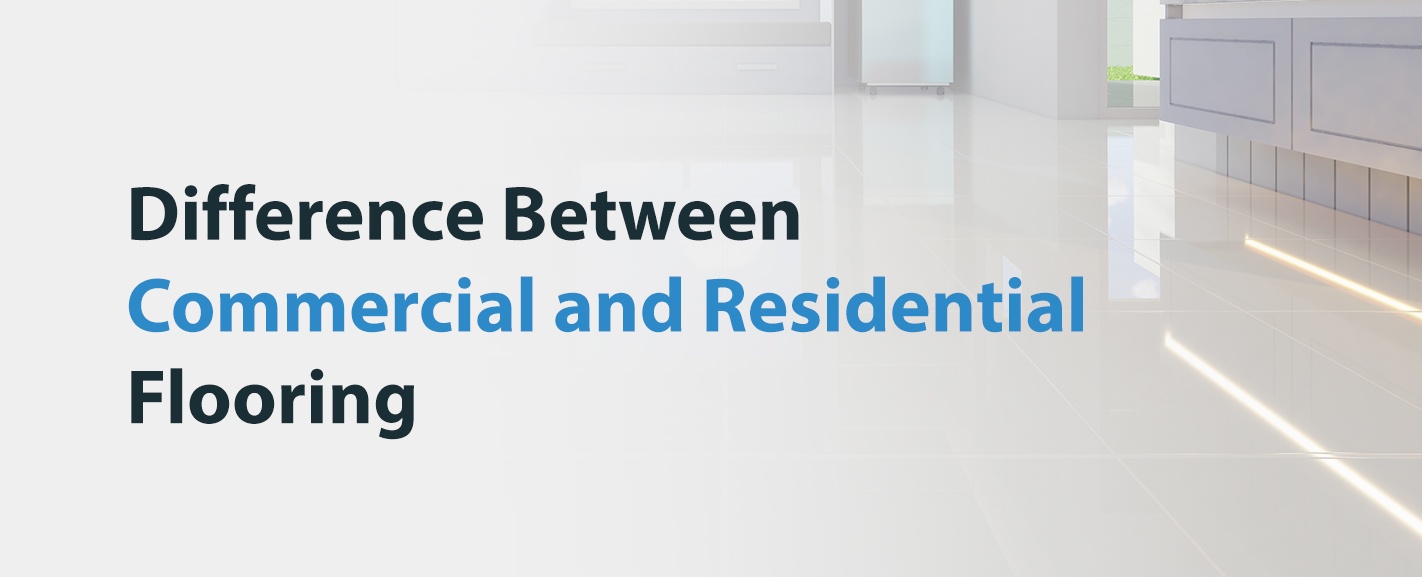 If you're in search of new flooring, you may notice that most showrooms give you two broad choices between residential and commercial flooring. While most homeowners can tell the difference in floor materials and styles, the difference between flooring designed for residential vs. commercial use might not be so obvious.
If you're remodeling a home or working on a new build, it's important to know the difference between residential and commercial floors before you make your decision. Understanding the significant differences between the two types will ensure you get the best quality flooring for your needs.
What Is Commercial Flooring?
When you consider the different types of flooring, the first thing to look at is the function of the space. How the space is used largely determines the type of flooring you require. In a commercial space, there's no question that the floors need to be durable, given that they're facilitating more traffic as well as more rugged conditions than the average home.
Commercial grade floors are designed for the unique scenarios that commercial spaces face. Business owners choosing new flooring for their retail, commercial or industrial spaces need to make a smart investment — one that will continue to serve them for years to come.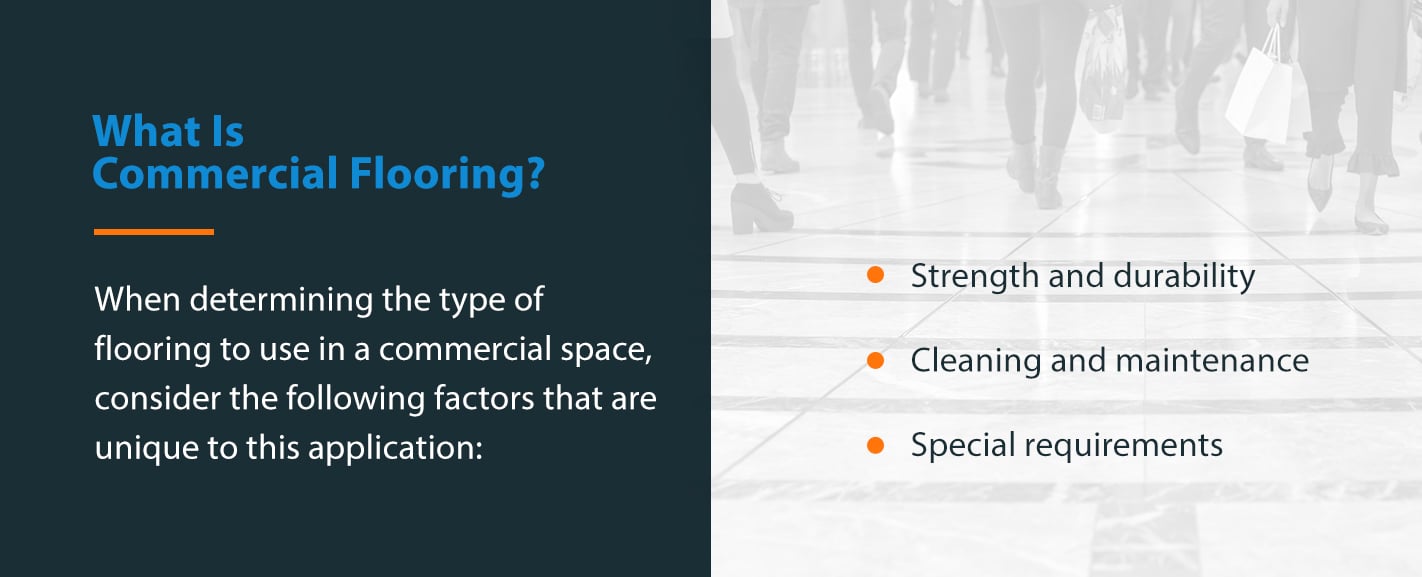 When determining the commercial flooring types to use in a space, consider the following factors that are unique to this application:
Strength and durability: Commercial spaces typically carry much more weight than the average home flooring. In a commercial building, there are many more pairs of feet coming and going — from employees to customers to suppliers, the traffic doesn't end on any given business day. Additionally, commercial flooring will have more heavy objects applied to it, such as business equipment and office furniture. Therefore, the flooring designed for a commercial space is meant to be strong enough to endure this long-term wear-and-tear.
Cleaning and maintenance: Commercial flooring also needs to withstand frequent cleanings often with harsh industrial products — especially in industries like restaurants and food service or healthcare. Some types of flooring, such as wood or tile, won't hold up as well after years of daily scrubbings. Synthetic flooring designed for commercial purposes can be cleaned repeatedly without wearing out or becoming damaged.
Special requirements: Commercial spaces also have unique considerations that commercial flooring can address. Many commercial spaces require sound-proofing, which specialized rubber or synthetic commercial flooring can provide. Additionally, commercial flooring is resistant to moisture, preventing rotting and bubbling in the flooring.
What Is Residential Flooring?
Residential flooring is meant for the home, meaning it needs to be warm and inviting and reflect your personal taste as a homeowner. Typically, homeowners are in search of new flooring when they're looking to modernize the look of their home. New flooring is a convenient and affordable way to update your home's style and improve its resale value.
When searching for the right residential floors for your home, consider the following factors to find the right floor for your needs:
Options and variety: A decision about residential flooring options usually falls between two broad categories: carpet or solid flooring. With carpet, you have a variety of options in texture and weave, including plush, frieze and cut pile. For solid flooring, you have choices like laminate vs. hardwood vs. vinyl as well as ceramic or porcelain tile.
Cleaning and upkeep: As all parents can attest, a home with kids and pets requires much different flooring than an empty nest. While light-colored carpets are elegant in any home, it's not practical when there's a high risk of spills and messes. When choosing residential flooring, always consider the type of cleaning responsibilities you have. Usually, solid flooring options like laminate, vinyl and hardwood are more convenient for regular cleaning.
When choosing new residential flooring, it's important to make a choice that you can live with for years to come. Many homeowners can get 10 years or more from their flooring with proper maintenance and care. Choosing high-quality flooring in a timeless style will ensure you get longevity out of your investment in residential floors.
Commercial vs. Residential Flooring
Because commercial and residential flooring have very different applications, the two types of flooring differ in how they're constructed. Though you can get the same type of flooring for either use, such as commercial-grade carpet or laminate, the durability of each type will differ and the installation methods will also be tailored to the application.
Here are some differences between commercial and residential flooring:
Features: Compared to commercial flooring, residential flooring generally doesn't have as many requirements. Commercial floors have characteristics for industrial settings. You'll see commercial floors listed with features like waterproof, heat-resistant, moisture-repellant, sound-proof, slip-proof, corrosion-resistant and more. Residential flooring usually has a smaller list of criteria — it needs to look tasteful and feel comfortable.
Selection: Residential flooring tends to be much more customizable than commercial flooring because there's a wider style selection. Because residential flooring needs to match a homeowner's unique style, residential floors come in a wider variety of textures and colors. Commercial spaces can get away with simple, neutral styles, such as with commercial-grade carpet vs. residential, which is usually less plush and luxurious than you'd find in a home.
Price: Commercial and residential flooring also tends to differ in price. In a home, you typically require much less flooring than you would in a commercial space. Homes also tend to use a variety of flooring types for each area of the home, meaning some rooms, like bathrooms, will have even smaller quantities of flooring needed. Generally, commercial floors will be more expensive. The price of residential vs. commercial flooring depends on the quality of the product and how long it's designed to last.
When reviewing the difference between commercial and residential flooring, it's important to understand that the true difference between the two doesn't come down to quality. In both categories of flooring, you'll find equal quality in their construction and installation. The true difference is in the density of flooring, as commercial flooring requires much harder material than cozy residential flooring.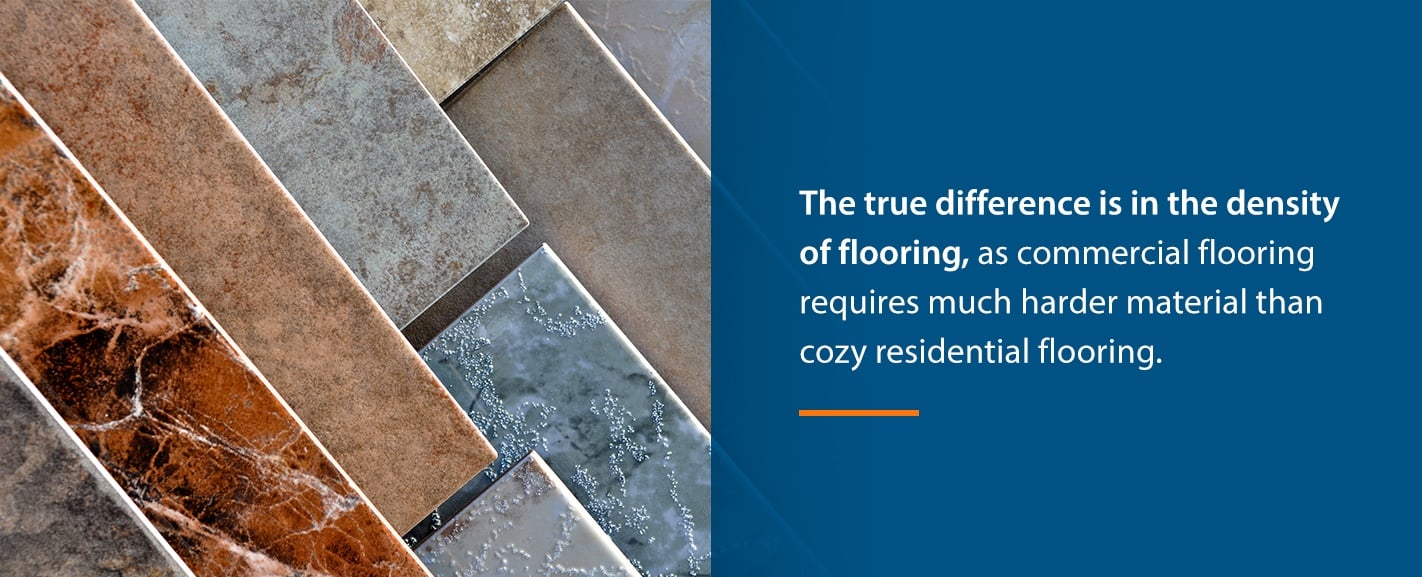 Choose 50 Floor for Quality Residential Flooring
Making the right choice of residential flooring can be an overwhelming decision. With so many materials, styles and colors to choose from, it's important to get expert advice from consultants that understand the materials and can meet your needs.
For high-quality residential flooring, choose 50 Floor. With a range of laminate, luxury vinyl tile, vinyl, carpet or hardwood, the flooring at experts at 50 Floor will provide flooring samples and thoroughly explain the differences in flooring types so that you can make an educated decision. After you've selected the perfect residential flooring, you can depend on 50 Floor for precision installation that will ensure long-lasting quality. Schedule an appointment for a free in-home consultation today.