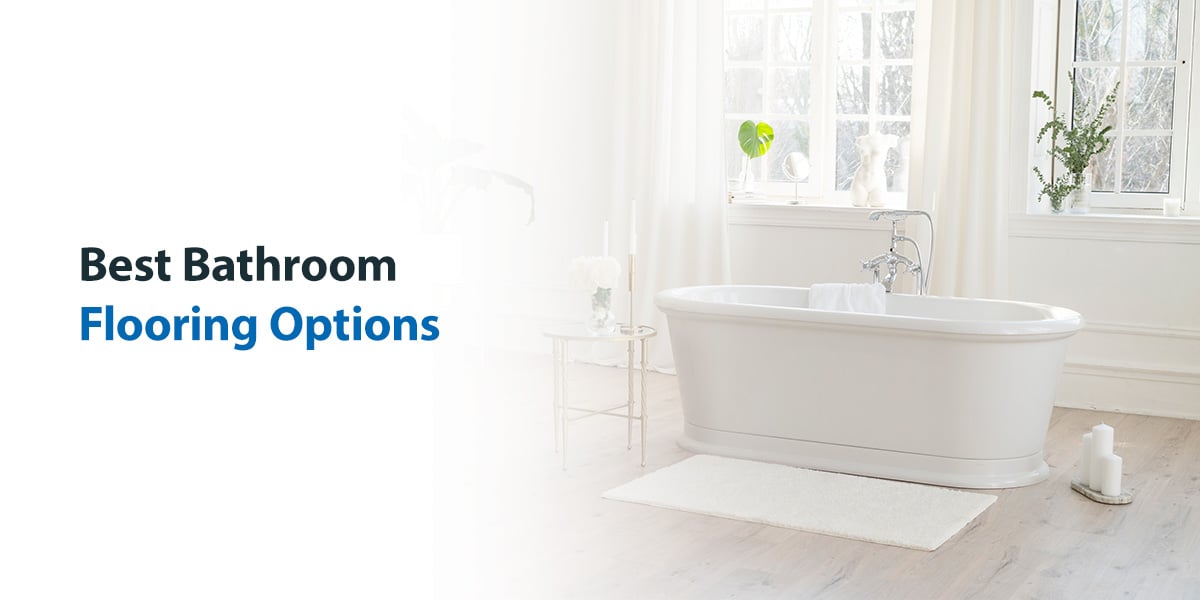 ---
Table of Contents
---
You bathe, wash the pets, shower, shave and may even do your laundry in the bathroom. Put together, what do these activities usually lead to? Often, a wet floor.
If you're considering updating your bathroom flooring, you may be wondering what the best flooring options are. Although looks matter when it comes to the best flooring for bathrooms, this is one room of the house where you want to emphasize function. Even if you don't end up dripping water across the floor after a bath or shower, bathrooms are the most humid rooms in the home. You want flooring that can handle humidity more than anything else.
Here are the materials to keep in mind when shopping for new bathroom flooring.
What to Consider When Choosing Bathroom Floors
What should you be thinking about when deciding between different types of flooring for the bathroom? It helps to take a step back and examine how your family uses the room and what your design or aesthetic goals are for the bathroom. Here are a few things to consider.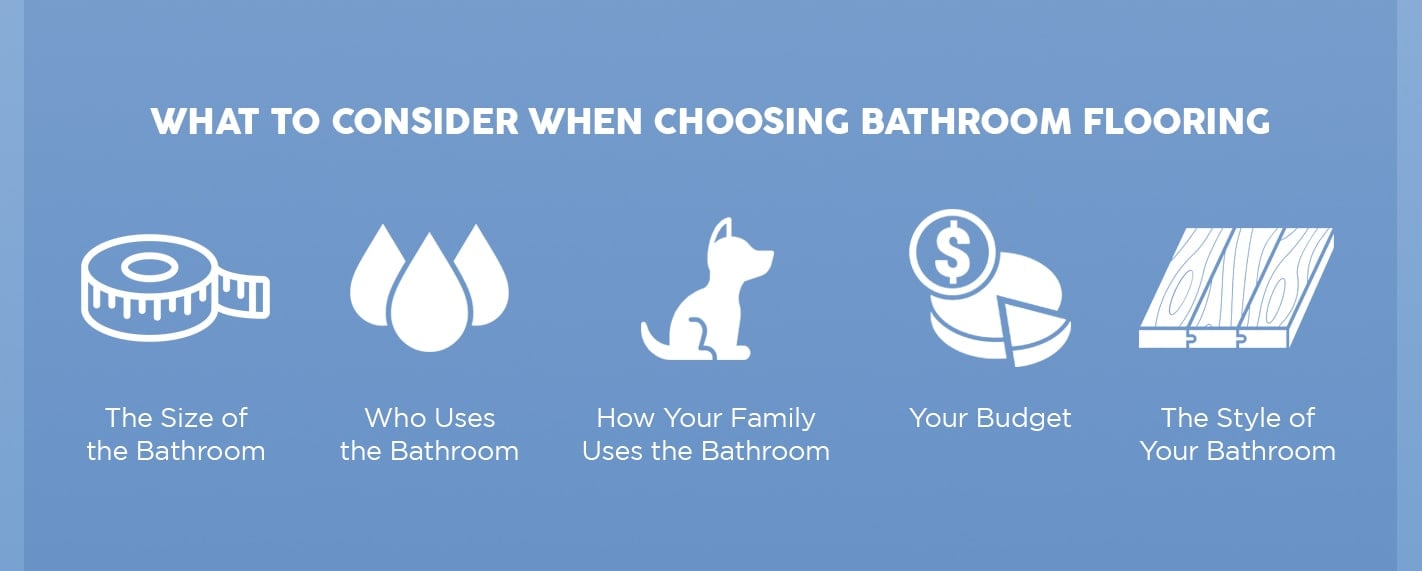 1. The Size of the Bathroom
Some bathrooms are as big as a bedroom, if not bigger, while others are smaller than a linen closet. The room's size can influence the flooring you choose, as it determines how much material you need and how long the installation will take. The materials required and the installation process have some effect on the cost of the flooring project.
If your budget is tight, but your bathroom is small, you might be able to work with a higher-end material, such as porcelain or ceramic tile. If you have a more modest budget but a larger bathroom, you may need to consider less expensive flooring options.
2. Who Uses the Bathroom
Another thing to consider when you're choosing bathroom flooring is who is going to use the room. If you're redoing the floors of the kids' bathroom or are adding a new bathroom to your home for your children to use, it can be a good idea to choose flooring that can withstand whatever kids throw its way.
Kids tend to be messier in the bathroom than adults. They're likely to splash in the tub, forget to close the shower curtain or drip water across the floor after bathing. Although moisture-resistant flooring is a good idea for any bathroom, you want to pay close attention to how well the flooring resists water and moisture for a kids' bathroom.
That said, if you are putting new floors in a bathroom that doesn't get much use, such as an en suite in a guest bedroom or a small powder room off of the foyer, you might be able to choose a material that's less durable or that has low moisture resistance.
3. How Your Family Uses the Bathroom
It can be helpful to take a few minutes and think about how your family will use the bathroom. If it is a kids' bathroom, will they spend hours playing and splashing water out of the tub? If your family has pets, will you give them baths in one of the bathrooms? Are you concerned that your family's dog will shake and spray water everywhere?
If you're redoing the floors in your primary bathroom, how much time do you spend there? Do you have a soaking tub to relax in during the evening? Do you hop in the shower for 10 minutes in the morning, then hop out again?
If you have a powder room or half bath downstairs, does it get a lot of use or only when guests come over? Do people tend to spill water on the floor in the half bathroom after washing their hands, or is it usually pretty clean and dry?
4. Your Budget
Your overall budget for your bathroom project will determine what type of floor is best for you. Some less expensive flooring options include vinyl and laminate, while tile and hardwood flooring tend to be pricier.
While your budget is an important consideration, it doesn't necessarily need to limit your flooring options. If you want tile but find that it is more expensive than you expected or might put you over budget, look for other places where you can cut back. If your budget is for an entire bathroom remodel, you might adjust other fixtures or decide not to add specific features.
5. The Style of Your Bathroom
Another thing to think about when choosing bathroom flooring is your decorative style. Whether you end up going with tile, vinyl or laminate flooring, you're likely to find that each option has various choices regarding colors and appearance. Vinyl flooring can resemble tile or wood planks. Laminate flooring often looks almost identical to tile or wood.
Some of the things to think about when deciding the type of style you like include:
The colors you like.
How you want the bathroom to feel.
The textures that appeal to you.
6. Safety
Since bathroom floors get slick with moisture from showers and steam, choosing flooring that keeps you safe from slips and falls is essential. Luckily, there are a few options that you can install in your bathroom that offer slip-resistant surfaces. The texture on top of vinyl and tile flooring can help make each trip to the bathroom safe for you, your guests and your children.
7. Maintenance
An easy cleaning routine can make a huge difference for those with busy schedules. Fortunately, several bathroom floor types have a nonporous, hard surface, so moisture and messes cannot get through the material. These factors make it easy to sweep or mop your floors so you can return to your daily routine without thinking twice about your floor's maintenance.
8. Installation
Installation costs, process and timeline can differ depending on your chosen bathroom flooring options. Tile, laminate and hardwood flooring have different installation procedures that take time and dedication to complete properly. Without a team of professionals to install your new bathroom floors, you can run into extended deadlines and extra costs. Before deciding on your bathroom flooring type, discuss the time estimate and prices with a trusted team of contractors so you can enjoy your new floor that meets your standards.
Schedule a Free In-Home Consultation
Best Types of Bathroom Flooring
Now that you know what to think about when choosing the flooring for your bathroom, take a closer look at some specific bathroom flooring options. Some of the best bathroom flooring options include:
1. Vinyl
If you're looking to replace the flooring in a bathroom that kids or teenagers primarily use, consider installing vinyl. Today's vinyl flooring options are available in a broader range of options compared to past flooring. You can choose from sheet vinyl, vinyl planks that imitate the look of wood or vinyl tiles that mimic the look of natural stone.
Like other bathroom flooring options, vinyl has many pros and cons.
Pros of Vinyl
Some of the benefits of vinyl flooring in the bathroom include:
It's water–resistant: A synthetic material, vinyl can resist water and moisture. You don't need to be concerned about the flooring absorbing water and becoming damaged or deformed.
It's available in a range of styles: Whether you choose vinyl planks, vinyl tiles or vinyl sheet flooring, you're likely to find that the flooring is available in various colors and patterns. Some types of vinyl flooring imitate natural materials, such as wood or stone.
It's budget–friendly: Vinyl flooring costs less per square foot than other materials. Vinyl planks or tiles that look like wood or stone are usually much less expensive than the materials they imitate.
It's easy to clean: Vinyl is pretty easy to keep clean. You can use most floor cleaners, vacuums or brooms to remove dust and debris.
Cons of Vinyl
A few potential disadvantages of vinyl flooring in the bathroom include:
Water can seep between the seams: Although vinyl itself is moisture resistant, if the contractors do not install it correctly, there is a chance that water can seep between the seams, causing moisture damage below. Using sheet vinyl in the bathroom or having the flooring professionally installed will help you avoid the risk of leaky, improperly sealed seams.
It can be slippery: Like tile, some types of vinyl have a grippy surface designed to reduce the risk of slips and falls. But some vinyl flooring is smooth and can be a slip hazard when wet.
2. Laminate
Like vinyl, laminate flooring contains synthetic materials and can imitate the look of wood or tile. It's also somewhat moisture-resistant, making it a good option for some bathrooms. Although laminate isn't ideal for every bathroom, it can be a good choice for some, such as a powder room or half bath. Take a closer look at the pros and cons of laminate flooring.
Pros of Laminate
Some of the advantages of laminate flooring for the bathroom include:
It's available in a wide range of colors and styles: If you want to imitate the look of wood or tile, you can with laminate flooring.
It's budget–friendly: Often, laminate costs less per square foot than natural materials such as tile or wood.
It can resist moisture: Laminate flooring is sealed and can resist moisture to some degree.
It's easy to clean: You can sweep, mop or vacuum laminate when cleaning it.
Cons of Laminate
Some of the drawbacks of laminate flooring include:
It's not as moisture resistant as other flooring options: Although the wear layer on laminate flooring can resist water, the flooring won't tolerate puddles or standing pools of water, as well as options such as vinyl sheets or tile.
It can be challenging to repair: If laminate flooring becomes stained or damaged, you often need to replace the entire floor rather than merely the damaged section.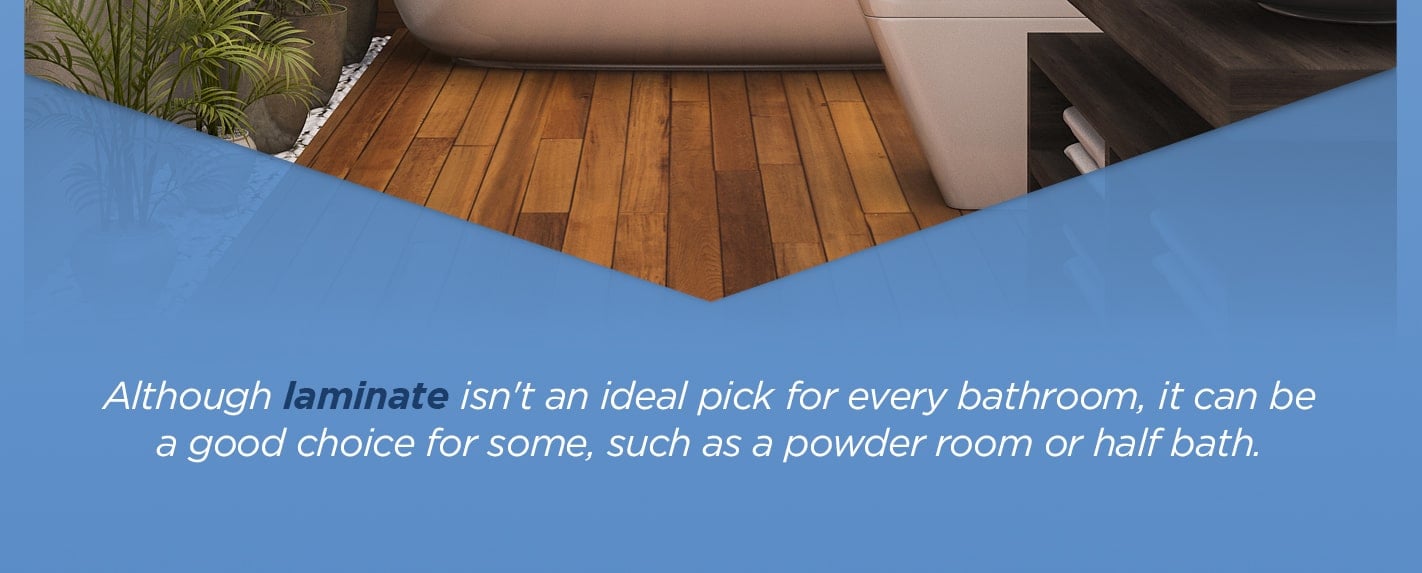 3. Tile
Tile might be the option that first comes to mind when people think of bathroom floors. Made from ceramic or porcelain, tile flooring can create a classic look in your bathroom. It's also water-resistant and relatively easy to clean. Like any flooring, tile offers a mix of advantages and drawbacks. Whether the pros outweigh the cons of tile flooring depends primarily on your needs.
Pros of Tile
Some of the benefits of a tile floor include:
Water resistance: You don't have to worry about moisture or water damage when you install a tile floor in a bathroom. Most types of tile in bathrooms aren't porous and won't absorb moisture.
Easy maintenance: Tile is relatively easy to keep clean. You can wipe it down with a soapy cloth or use a mop to clean larger areas. If a spill or a lot of water splashed across the floor's surface, you could use a towel to dry the tile.
Available in a wide range of options: Tile is available in pretty much any color, in various shapes and sizes, from small 1-inch squares to larger 12- or 18-inch squares.
It can provide traction underfoot: Since bathrooms tend to be wet, there is a risk of slips and falls. Some types of tile treatments offer them a grippy, slip-resistant surface. Smaller tiles with plenty of grout lines between them tend to be more slip resistant than larger tiles.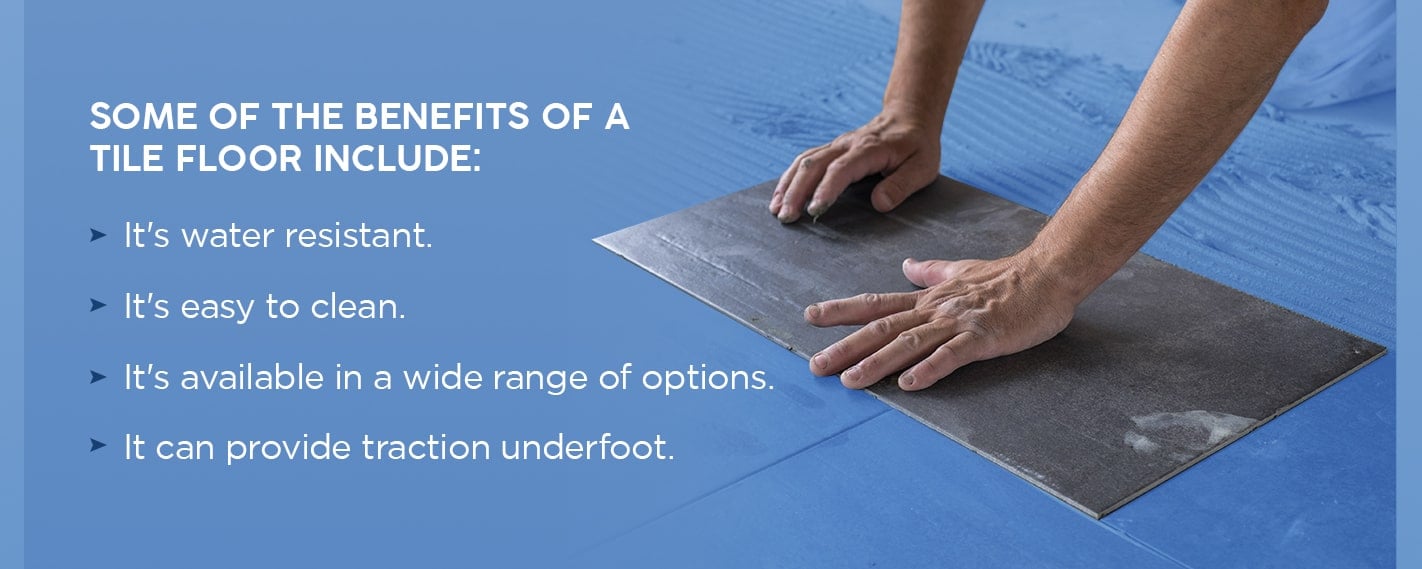 Cons of Tile
There are some potential disadvantages of tile, including:
It can be expensive: Tile does tend to cost more per square foot compared to other materials, such as vinyl.
It can feel cold: Since tile contains ceramic or porcelain, it can feel cold to the touch. That might not be a big deal in the middle of the summer, but it can be a little uncomfortable against your bare feet in the middle of winter.
It requires some maintenance: The grout between tiles can become damaged and need repair from time to time, which can either be a DIY project or something you need to hire a professional to do.
Best Types of Tile for Bathrooms
Depending on your lifestyle and intended style for your bathroom, you can choose between two of the best flooring for bathrooms with tile. Ceramic and porcelain tiles have several benefits that meet your aesthetic, durability and water-resistant preferences. Take a look at the following factors to see which option is best for you.
Ceramic tile: If you want a more budget-friendly option, ceramic tiles are your go-to choice for bathroom flooring. These tiles are popular among homeowners and come in various designs that can easily fit your aesthetic. Easy maintenance and repair allow you to enjoy stylish glazed floors that resist scratches, water absorption and stains.
Porcelain tile: You can benefit from installing porcelain tiles in your bathroom if you have children or pets. Unlike ceramic tiles, porcelain uses a consistent color throughout each tile piece. This factor means that chips, scratches and cracks are not as evident because they blend into the tile's existing color. Porcelain tiles are also harder and longer lasting than ceramic, so you can enjoy the look of your floors for years to come.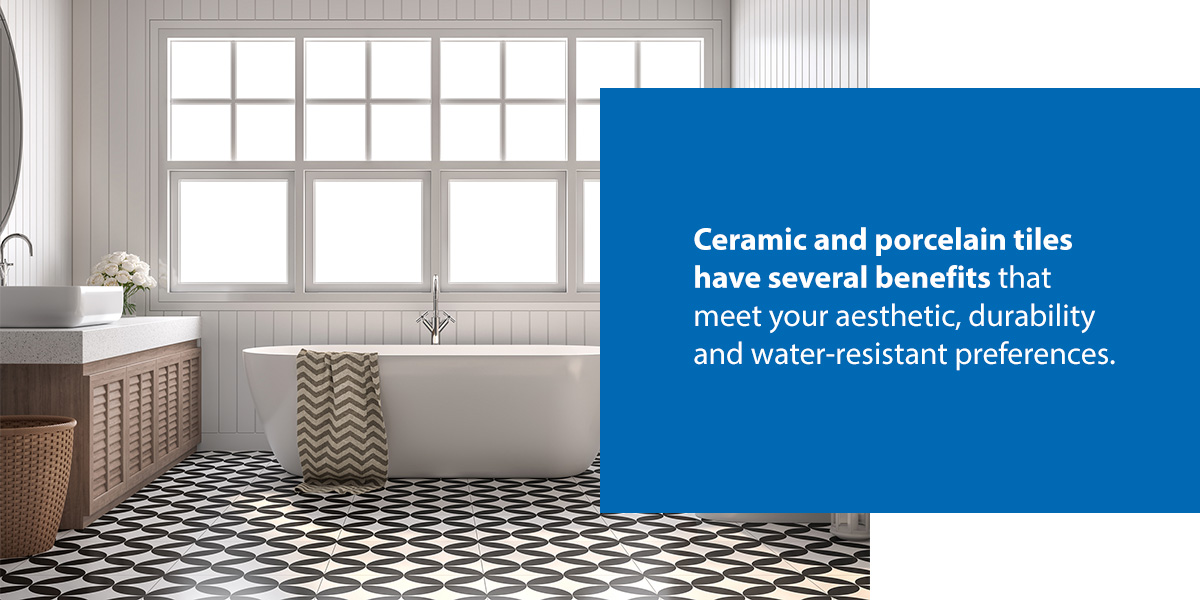 4. Hardwood
If you have a bathroom without a shower or tub, engineered hardwood is a great choice for stylish, durable and versatile flooring. If you have hardwood throughout the rest of your home, you might want to use it in a bathroom to create a cohesive, uniform look.
While solid hardwood flooring is usually not particularly moisture resistant and often isn't ideal for bathrooms, the engineered hardwood's design improves its moisture resistance. Like your other options for bathroom flooring, there are pros and cons to consider deciding whether hardwood is the right choice for you.
Pros of Hardwood
Some of the advantages of hardwood flooring include:
It is warm and attractive: There's a reason why hardwood is so popular. People often find that it looks good and creates an inviting environment in a bathroom or throughout a home.
It's available in various colors and species: Hardwood flooring contains many different species of wood, each with its own characteristics. The wood can be finished in a range of colors, as well.
It's durable: True to its name, hardwood is a hard-wearing surface that withstands considerable wear and tear.
Cons of Hardwood
A few disadvantages of hardwood flooring in the bathroom include:
Limited moisture resistance: Hardwood, even engineered hardwood, is considerably less able to repel moisture than other options. It's usually not a good pick for kids' bathrooms or other bathrooms where water will likely end up all over the floor.
It can be expensive: Hardwood often costs more per square foot than vinyl or laminate.
Take Our Quiz to Find Your Flooring Style
Flooring to Avoid in the Bathroom
The dampness of the average bathroom can limit how many flooring options you can choose. To avoid the extra costs of maintenance and repair that can occur when certain flooring goes into bathrooms, try to look at other options that don't include:
Carpet: Moisture and soft fibers do not always pair well, especially in rooms where multiple people will be showering daily. Carpet can easily trap water molecules and cause mold buildup, odors and dry fibers. You can still use rugs in the bathroom to wipe off excess water after a shower, but wall-to-wall carpet is more challenging to dry thoroughly.
Solid hardwood: Although the sealing layer can help prevent water damage to the floor panels, solid hardwood can absorb moisture over time. Water and condensation can cause the wood to rot, lift or fade. If you prefer the look of wood in your bathrooms, you can choose engineered hardwood that has more moisture-resistant properties than solid hardwood.
Tips for Choosing Bathroom Flooring
If you're ready to take a closer look at your options for bathroom flooring, the following tips can help you narrow down your choices:
Be realistic: If you have a feeling that easy bathroom flooring, such as a material that is relatively maintenance-free and easy to clean, is going to work with your lifestyle, don't trick yourself into thinking you need to have flooring that's higher-end but also more challenging to maintain.
Think of how you use the bathroom: The best flooring for your bathroom will withstand whatever you throw its way. If you're getting a new floor in a high-traffic, high-water-use bathroom, pick a flooring type that can handle it. If you don't use the bathroom much, you can choose a flooring option that's a little more delicate.
Try before you buy: The best way to get a sense of how a particular type of flooring will look in your bathroom is to see it in the room before installation. Have a flooring expert visit your home with samples to see how tile, laminate, vinyl or hardwood will look so you can find the ideal bathroom flooring for your space.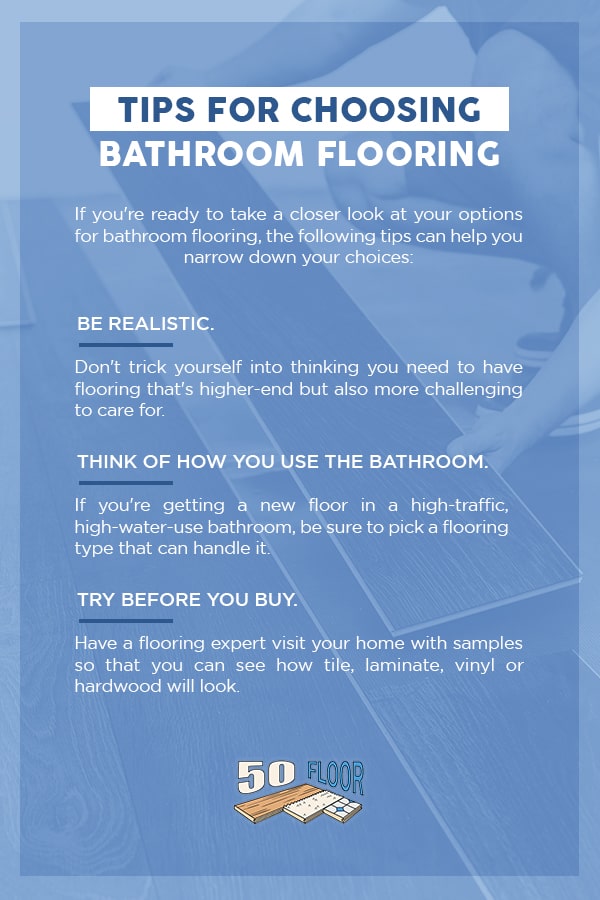 Bathroom Flooring Inspiration
With any of the bathroom floor types mentioned above, you can make this living space in your home stand out. You can match your floor to your wall colors and furniture for a consistent aesthetic. The possibilities are endless, and you can use your creative freedom and imagination to create a gorgeous bathroom.
To give you extra inspiration for your bathroom flooring, consider the following aesthetic choices you can implement into your project.
Colors
Vinyl, laminate, tile and hardwood floors come in many colors that complement any aesthetic. Choosing a flooring color that matches the existing wall hues is best to ensure the whole room ties together nicely. To do this, you can follow the warm and cool hue rule.
You have a warm-tone bathroom if your wall color is orange, yellow, red, brown or beige. If the walls use blue, green, purple or gray, your bathroom is cool-toned. These colors indicate different hues that match well together, so you can pick a bathroom floor color that pairs with the same type of tones. If your wall colors are black or white, you can choose any color you desire for your bathroom floor.
You can choose lighter colors, such as white, light gray or beige, to make the room appear larger. These shades draw attention to the bathroom features rather than the floor, so you and your guests can enjoy a spacious living space.
Styles
Vinyl, laminate, tile and hardwood floors also come in many different styles that can make your bathroom space come to life. Whatever aesthetic you picture for your bathroom, these floors can recreate it perfectly to match your standards. A few unique ambiances that you can implement in your bathroom include:
Cozy: Hardwood floors are your go-to option for a bathroom that's instantly relaxing and feels like home. This option is the best bathroom flooring if you want warm, rustic and timeless-styled panels that match almost any cozy aesthetic you have in mind.
Minimalistic: Modern-style bathrooms embody the simplicity and beauty of minimalistic designs. This aesthetic easily highlights the bathrooms' features and only requires one color on your floor. You can choose tile, vinyl, laminate and hardwood options that resemble wood, marble and stone with a single color. This small choice goes a long way for a gorgeous bathroom.
Boho: For a carefree yet beautiful style that works in any living space, you can create a boho aesthetic in your bathroom using patterned flooring. Tile and vinyl flooring can come in patterned designs that use white, pale blues, greens and earth tones to create a free-spirited aesthetic in your bathroom.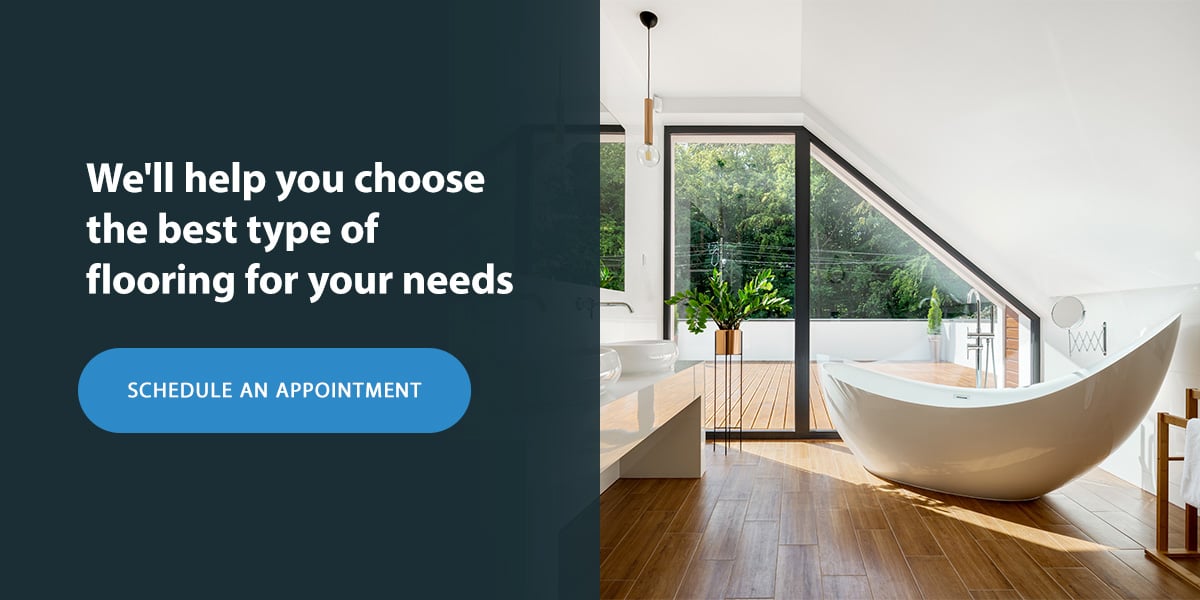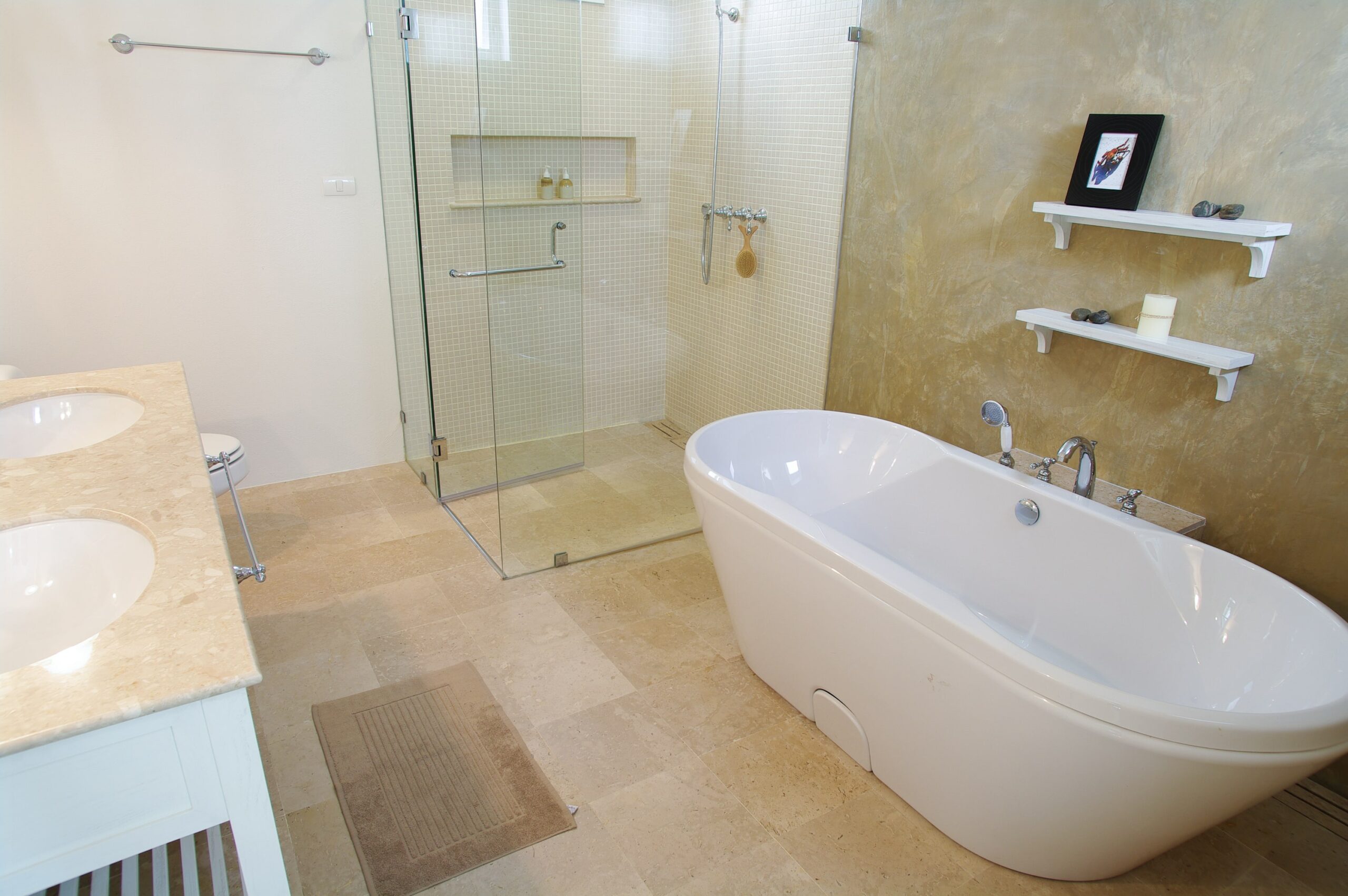 Schedule an Appointment With 50 Floor to Get New Bathroom Flooring
A lot goes into choosing a new floor for a bathroom. Luckily, you don't have to go through the process alone. 50 Floor offers in-home appointments and will bring our floor samples to you so you can see how each option will look in your bathroom. We'll also help you choose the best type of flooring for your needs, whether you're looking for something that can handle daily splash-filled bathtimes or a new floor in a bathroom with limited use.
Schedule an appointment with us today.