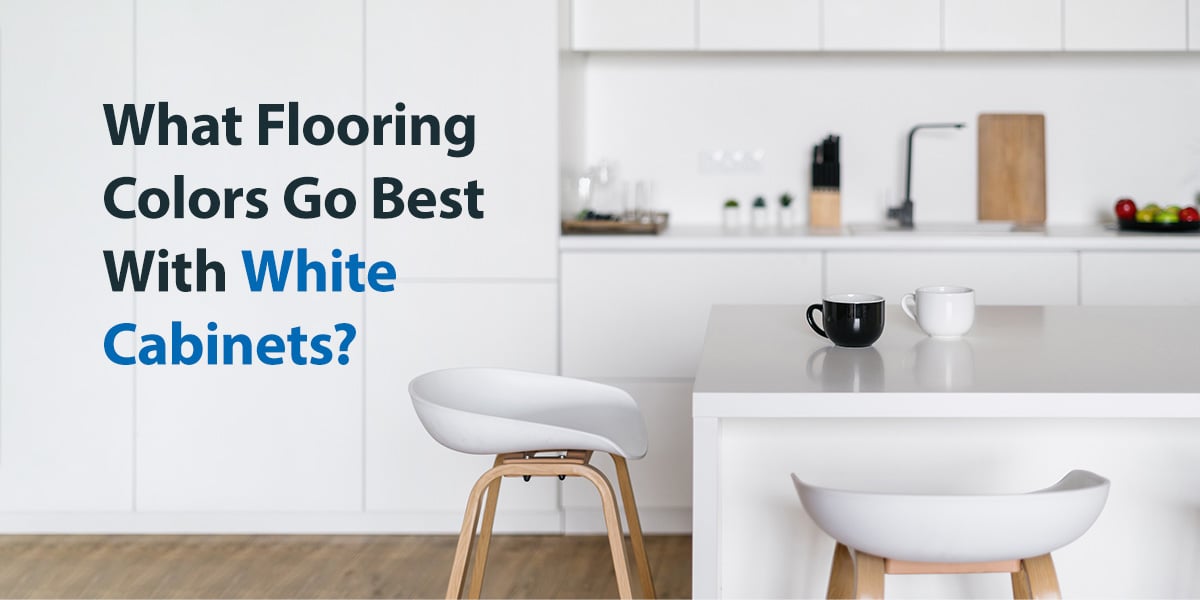 A white kitchen is luxurious, bright and welcoming. If you're planning a kitchen remodel that incorporates this neutral shade, you need to know what color floors go best with white kitchen cabinets. It can seem like a tough decision with so many options, but a bit of inspiration will help. Consider your style and accents in your kitchen, along with the suggestions below. You'll see how easy it is to find the best floor color for a white kitchen.
Best Flooring With White Cabinets
Before choosing what color flooring you want, you need to first choose the flooring material that best fits your interior design and lifestyle. The colors you consider for your floors will change based on the material you choose.
1. Hardwood Floors
Hardwood floors are the contemporary choice for kitchens today. Hardwood flooring is a timeless choice that can bring warmth and character to your space. Lighter-colored wood is the best floor color for white cabinets as it brightens up the space, making your kitchen feel airer and spacious.
2. Tile
A great water-resistant option is tile flooring. This flooring material is extremely durable and can make your kitchen feel classy and elegant. While the tiles themselves are water-resistant and easy to clean, the grout between tiles will require more maintenance.
If you want to use tile flooring in your kitchen, consider gray tile. The contrast between gray and white adds dimension and creates a clean, modern look, making it the best floor tile color for white cabinets.
3. Laminate
If you're concerned about the longevity of tile or hardwood in your kitchen, get a chic product appearance with enhanced durability in options such as laminate. You'll also find laminate options that look like tile or hardwood, giving you plenty of color and style choices. If you want to add a dramatic flare to your kitchen, choose a darker color laminate to create a bold contrast between your flooring and your bright white cabinets.
4. Vinyl
Vinyl flooring is very durable, making it a great choice for a high-traffic room like your kitchen. Plus, vinyl flooring has a layered composition which can make the floor more comfortable while standing for long periods of time to cook.
This flooring is also easy to clean and water resistant. If you have children or pets, vinyl is a perfect low-maintenance flooring option. Choose beige vinyl flooring for an elegant look or add some rustic charm with a darker brown color.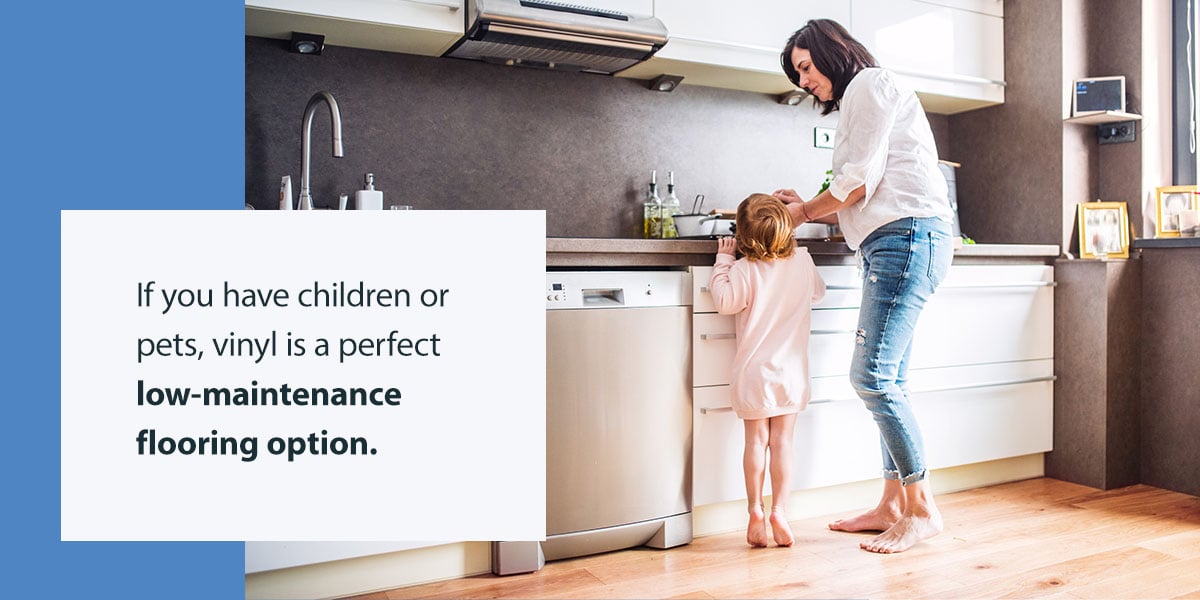 5. Luxury Vinyl Tile or Plank
If you love the look of tile or hardwood flooring, but you want a lower maintenance option, choose either luxury vinyl tile (LVT) or luxury vinyl plank (LVP). Luxury vinyl flooring is increasingly popular and a stunning, durable option for any kitchen. There are so many color and design options that choosing what color floor to go with white cabinets will depend on your personal design preferences.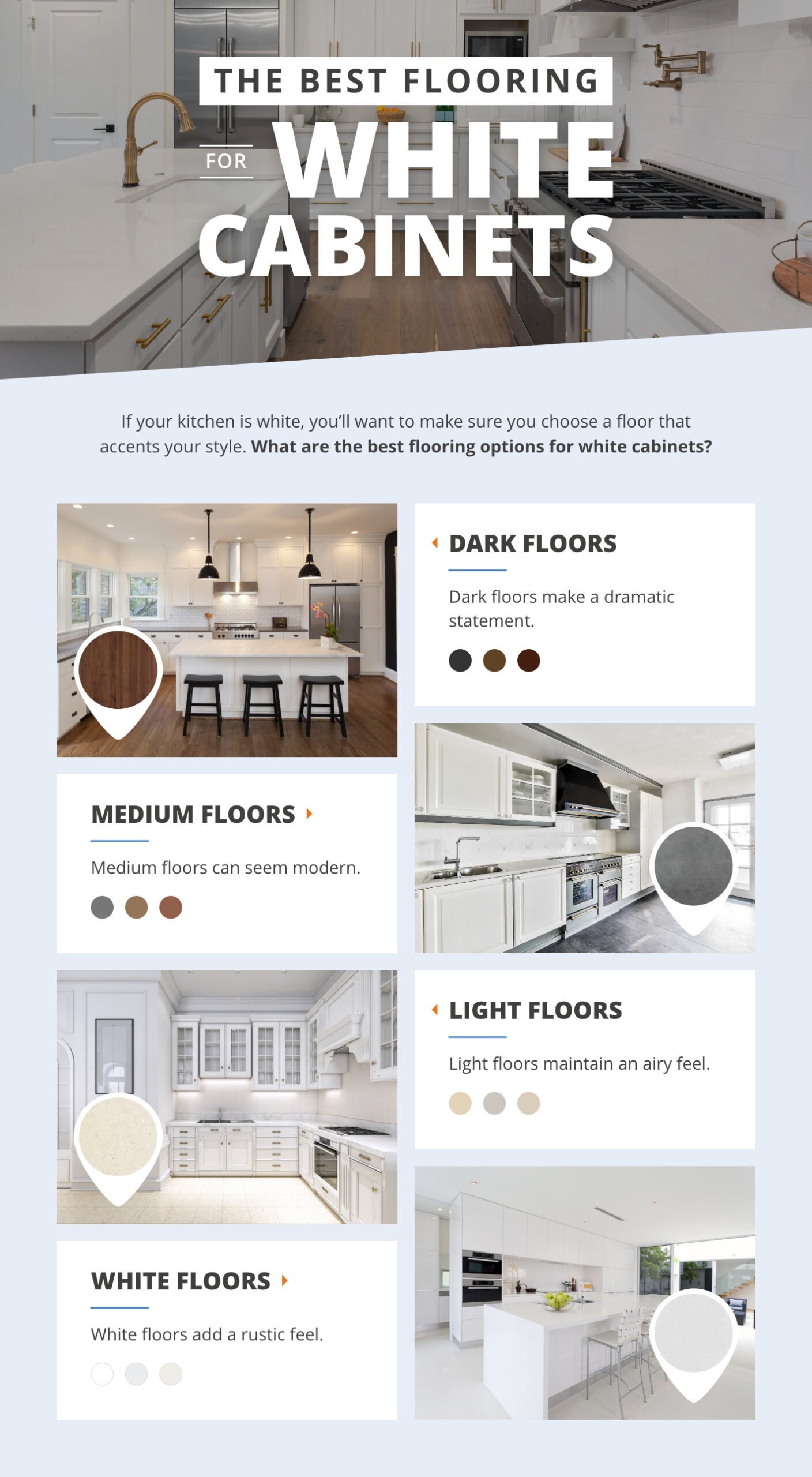 Picking a Colored Floor for a White Kitchen
Whether you only have white cabinets, or your whole kitchen from the walls to countertops is white, the flooring color you choose can make a huge impact on the overall design and feel of the room. By changing your flooring color, you can take your kitchen from cozy to airy, or from modern to vintage. What color flooring goes with white cabinets will depend on what type of feel you want your kitchen to have, your other decorative elements and the current design of your home.
No matter which flooring material you select, these options give you the flexibility to select a specific color that suits your kitchen's style and your home decor:
Dark floors: Dark colors, from shades of espresso to true black, make a dramatic statement with white cabinets. Dark options are best with white cabinets in modern spaces, especially if you have dark accents in your kitchen, such as your backsplash.
Medium floors: If dark feels a bit too overwhelming for your kitchen or style, going a few shades lighter may be a better fit. A slightly dark gray shade is modern, while natural beige wood tones are versatile. Avoid hues that are too orange, as they can look outdated and don't pair well with your white cabinetry.
Light floors: Light hardwood is the best color floor for a white kitchen if you want to maintain an airy feel. Golden oak or pine options — as long as they aren't too yellow — will add just enough color contrast to let your kitchen shine without overwhelming the room.
White floors: White isn't as common as the other options above. However, white hardwood or tile can fit with a white kitchen if you want a rustic look and feel. It's also best for households without pets or kids as white floors can easily stain and damage. Use a matte finish for your white flooring and balance it with brown or gray neutrals elsewhere in your kitchen.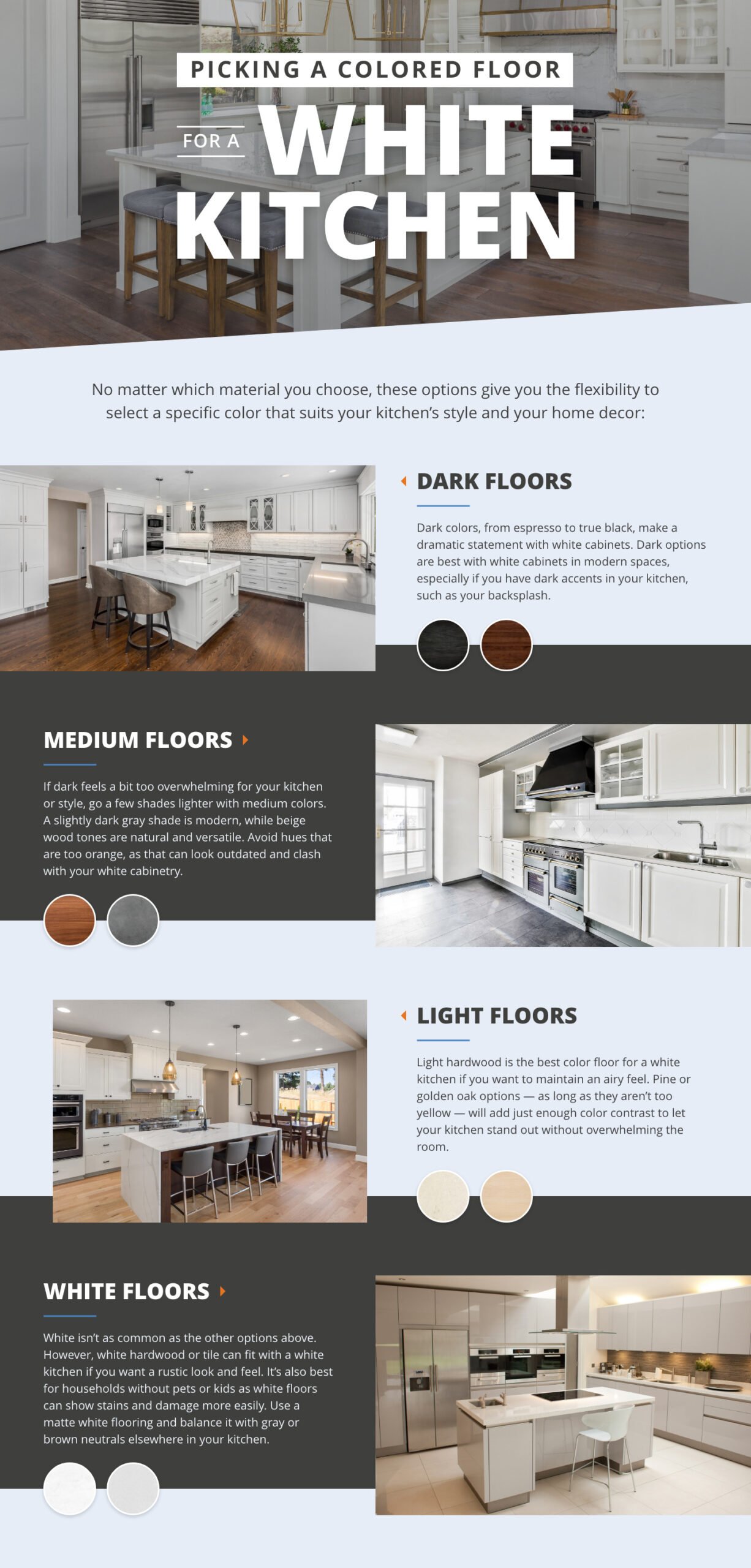 Kitchen Flooring Material Ideas With White Cabinets
You may have a general idea of what kitchen floor color or shade you like, but you'll need to know what type of material is right for your setup as well. Below you'll find common flooring materials found in kitchens with white cabinets to inspire you as you plan your space.
Vinyl Floors With White Cabinets
You know your lifestyle better than anyone else. If you need highly durable walking surfaces in your kitchen, vinyl floors will treat you well. Homeowners love working with vinyl selections because they offer a great deal of flexibility for color and design.
Those searching for creative white kitchen flooring ideas can look to vinyl solutions because these materials are available in almost any color. Where natural woods come in a few shades and showcase unique grains, vinyl is also available in black, brown, gray, beige and patterned designs.
Consider the following vinyl shades for kitchen floors with white cabinets and features:
Black flooring: Create contrast with black floors and white cabinets for a retro look. Place some colorful appliances on the counter to create eye-catching accents.
Brown flooring: Establish coziness with earthy tones. Brown flooring materials can add some depth to your floors and prevent your kitchen from feeling washed out.
Gray flooring: Gray is one of the more trendy floor colors for kitchens with white cabinets. Utilize vinyl materials that mimic marble for a one-of-a-kind layout.
Beige flooring: Beige floors enhance a warm environment. Beige vinyl leave room for you to paint the kitchen a different color later without drawing attention to the floor.
Patterned flooring: Using patterned vinyl infuses your kitchen with some much-needed life. Coordinate selections to complement backsplashes, wall paint and appliances.
Tile Floors With White Cabinets
Similar to vinyl flooring, tile comes in a variety of colors and patterns. So, what color floor tile goes with white cabinets? Well, with so many great options, it truly depends on your personal design style. While tile flooring comes in the traditional shades of black, brown, gray and beige, there are also some more unique options.
Terracotta tiles add a beautiful red warmth to the kitchen and pair well with white cabinets and natural greenery like potted or hanging plants. Another unique option is to create a natural stone look by mixing different shades of gray tile to add depth and dimension. To make a statement, create a checkerboard flooring design by using white and black tiles for a fun twist to the traditional kitchen.
Hardwood Floors With White Cabinets
Hardwood flooring has fewer color options compared to tile and vinyl flooring, but there is still a decent selection available of suitable kitchen floors to pair with white cabinets.
Light wood shades are great for making your kitchen feel bigger. Because these lighter shades are similar to your white cabinets, you'll want to add pops of color elsewhere, either through your paint color, wall art, or countertops.
Meanwhile, a rich, dark brown wood flooring color will make your kitchen feel cozy and inviting. The contrast between your dark flooring and white cabinets will be stunning enough on its own that you can opt for neutral-colored decor.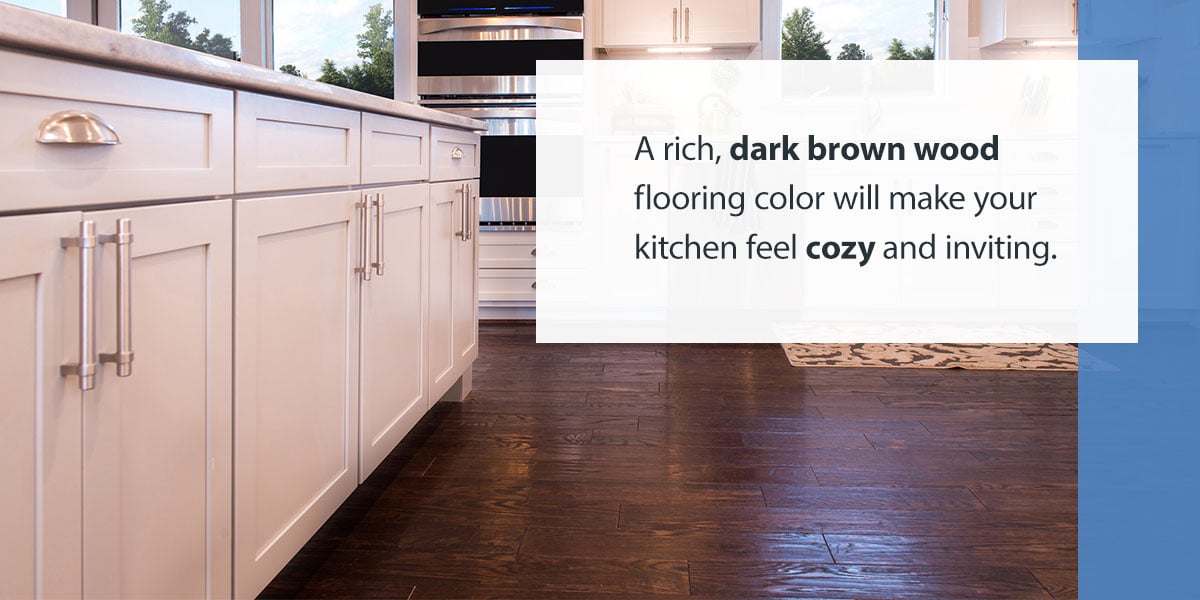 How to Coordinate Kitchen Floors With White Countertops
You can complement white countertops with flooring that suits your style. As you would when choosing cabinets, you'll want to define the aesthetic you want.
Come up with a general color scheme for the kitchen before your project begins. We recommend picking two dominant colors and one accent color for your design to avoid a setup that's too busy or one that lacks depth and contrast. Ideally, you'll pick out the countertops and cabinets you want first, and the flooring will complement them.
Your countertops and island should serve as the kitchen's main focal point, so choose the options that highlight those design elements. As long as you select a flooring style that pairs with your dominant color selections, you'll be in excellent shape.
There are two ways to choose a flooring color for your kitchen — coordinate the floor color with the countertop and cabinet colors or use the floor to create contrast. If you opt for the first approach, the colors of countertops and storage compartments serve as secondary colors. Setting up your kitchen with flooring that contrasts with those elements can separate your space from the remainder of the home.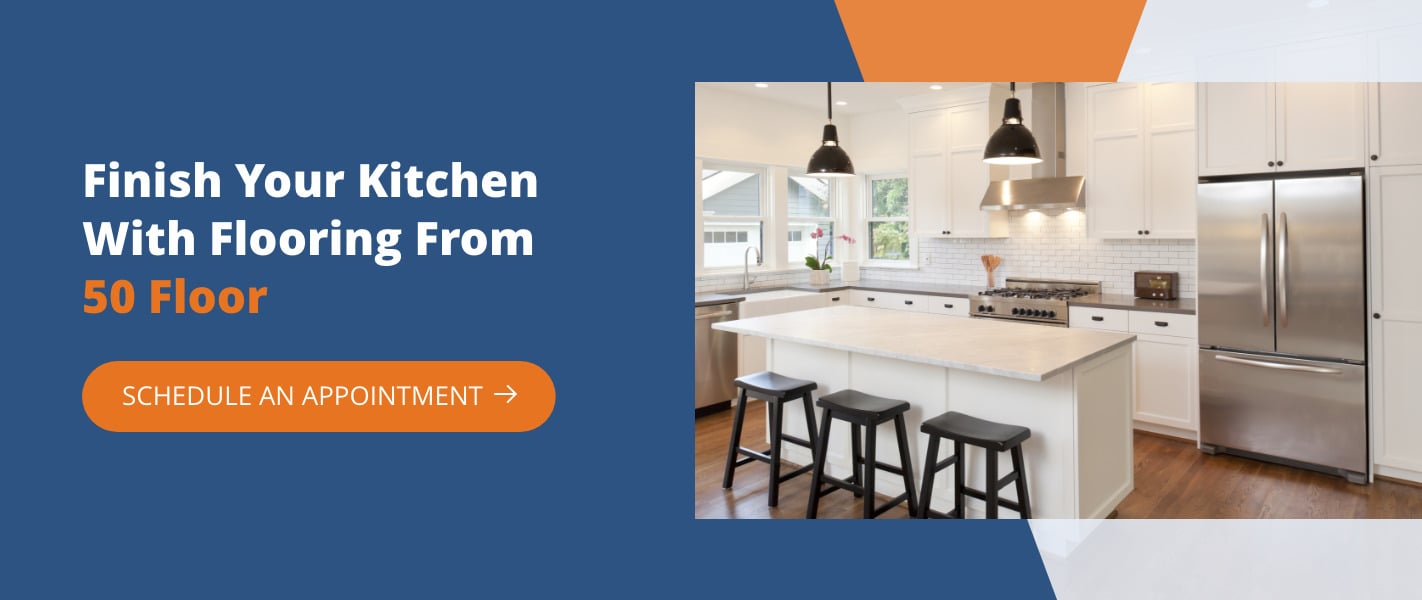 Finish Your Kitchen With Flooring From 50 Floor
When it's time for a kitchen upgrade, check out kitchen flooring options from 50 Floor that will coordinate with your kitchen cabinets. We know that flooring is a crucial decision when it comes to any room in your home. You want the best for your budget and comfort, and with 50 Floor's over four decades of combined experience, we make it easy for you to get just that.
Schedule an at-home consultation with us today for a convenient way to get the perfect floors for your kitchen or any room in your home.