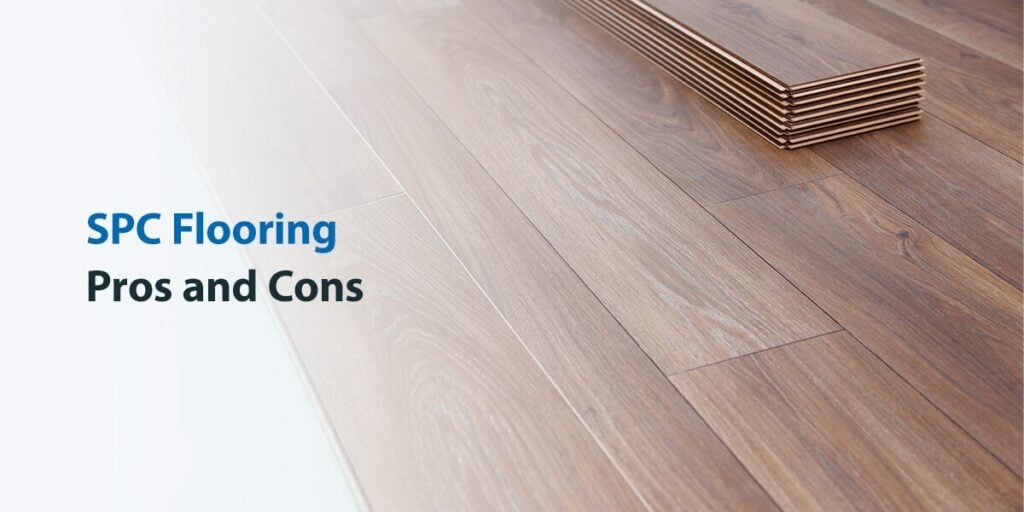 SPC flooring is a real game-changer in the vinyl flooring realm. With its incredible versatility, strength, affordability and many other benefits, it's easy to see why. If you're thinking of installing SPC flooring in your home, this article will explore the material in detail. We'll go over its construction, pros and cons, and best rooms for SPC flooring to help you make the most informed decision.
What Is SPC Flooring?
SPC stands for stone polymer composite. It's considered a premium type of vinyl flooring, as it's more rigid than traditional vinyl due to its mixture of polyvinyl chloride plastic and stone powder.
SPC's construction resembles that of wood polymer composite (WPC), another type of vinyl flooring, except it mixes plastic with stone instead of wood, making it far more durable. It's often less comfortable to walk on than WPC, but this can be remedied with a cushioned padding layer.
Additionally, SPC's sturdiness allows it to withstand changing seasons and temperature fluctuations. Unlike hardwood and basic laminate floors, it's highly water-resistant. This makes it suitable for many room types, including moisture-prone areas like kitchens and bathrooms. If you need a more affordable alternative to solid hardwood and tile flooring, SPC may be the choice for you.
The Layers of SPC Flooring
While this can vary by manufacturer, SPC planks generally contain the following layers:
SPC core layer: This rigid layer provides sufficient durability, serving as a foundation for the rest of the floor.
Design layer: The design or decorative layer is the printed pattern on the floor. The design layer can replicate nearly any color, wood or stone look.
Wear layer: The wear layer has a special coating to protect the floor's original color and embossing from dents and abrasions.
Ultraviolet (UV) layer: The UV layer helps resist staining, water and fading.
Bottom layer: The bottom layer typically has a foam or cork backing material, providing extra cushioning and underfoot comfort.
Pros of SPC Flooring
There are several advantages to installing SPC flooring in your home:
1. Waterproof
SPC is a popular choice for homeowners due to its waterproof properties. Regular humidity and moisture won't cause swelling or damage, making SPC flooring excellent for kitchens, bathrooms, laundry rooms and basements. It especially comes in handy if you enjoy the look of authentic hardwood but don't want to risk compromising its quality.
2. Cheaper Than Wood
Relatively low installation cost is another perk of SPC flooring. To put it into perspective, hardwood flooring installation can cost anywhere from $6 to $12 per square foot, while many SPC floors cost around $3 to $7 per square foot.
3. Installation Process
SPC flooring is generally installed with a click-style system, which is much faster to install than tiles. The flooring specialist doesn't need to use nails or glue — they'll simply cut it to size, then click it into place. While this technique is slightly less durable than traditional tile installation, its speed drives down labor costs significantly.
4. Aesthetics
SPC flooring is as stylish as it is functional. It can mimic a variety of wood species, patterns, grains and colors. Whether you choose bright and airy maple or a brilliant and rustic cherry, SPC allows you to achieve the look and aesthetic you want. If you aren't going for a wood look, SPC can recreate various tile and stone looks, as well.
Cons of SPC Flooring
Despite the numerous benefits of SPC flooring, it doesn't come without its drawbacks. Here are a few downsides to keep in mind:
1. Scratches Easily
SPC flooring isn't incredibly scratch-resistant. Its core layer may be highly durable, but the top wear layer can reveal noticeable scratches with excessive use. It's suitable for regular residential home use and light commercial use, but it isn't usually ideal for high-traffic commercial spaces — think busy restaurants, hotels, warehouses, health care facilities, office buildings and retail stores.
2. More Expensive Than Other Luxury Vinyl
While SPC is usually more affordable than hardwood, you still get what you pay for. SPC tends to be more expensive than other luxury vinyl types. However, the cost of SPC flooring installation is still beneath the average cost of hardwood flooring.
3. Less Cushioning
As we mentioned earlier, SPC flooring sacrifices some comfort for durability. That said, it may not be your first choice for a comfy bedroom. Fortunately, you can use a comfort-enhancing padding layer for the best of both worlds.
4. Not Fade-Resistant
While it often includes a UV layer for added protection, installing SPC flooring in a room with too much natural light can still cause it to fade over time. Therefore, it likely won't be the best option for a sunroom.
5. Must Be Installed on a Flat Surface
You can install SPC flooring over various subfloor surfaces including wood, concrete and many existing hard surface floors. However, it's important to note that the subfloors must be completely flat, smooth, clean, solid and dry to work effectively. The thicker the planks, the more forgiving they'll be on uneven surfaces. Remember not to install SPC planks over floors that are sloped for drainage.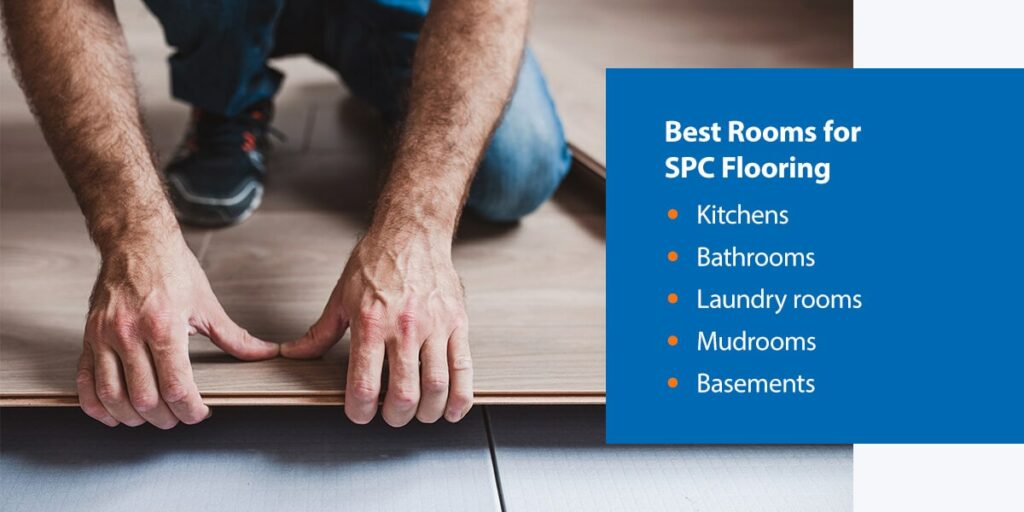 Best Rooms for SPC Flooring
While it doesn't always support high-traffic commercial spaces, SPC flooring's versatility still makes it a great option for many residential room types. Because it's waterproof, durable and able to withstand humidity and temperature shifts, you can install it in the following areas:
Kitchens
Bathrooms
Laundry rooms
Mudrooms
Basements
You can also install SPC flooring in bedrooms, offices, living rooms and even on stairs if desired, as it can support regular traffic and normal wear in many homes. Once again, try to refrain from installing SPC flooring in a high-traffic commercial space, sunroom, greenhouse or another window-filled room, as it can wear and fade with excessive sunlight and use.
Shop SPC Flooring From 50 Floor Today
After weighing the pros and cons of SPC flooring, you might consider adding it to your home. At 50 Floor, helping customers find and install the ideal flooring based on their budget, preferences and lifestyle is our specialty. With our convenient shop-at-home experience, you can enjoy browsing flooring samples from your own home to see how they fit with your space.
Our flooring experts will provide professional input and recommendations to guide you in your decision. Once you've made your purchase, we'll handle the ordering and installation arrangements to start creating your dream floor. If you're interested in SPC flooring installation, schedule a free in-home consultation with 50 Floor today!