---
Table of Contents
---
Your sunroom should be comfortable, inviting, light and bright. To get a comfortable entertaining or relaxing space, don't forget about your flooring. Sunroom flooring ties the room together, and, given how much of your wall space goes to windows, the flooring gives you the most space to express your style. You just need to know the best flooring options for sunrooms.
If you aren't sure what flooring to put in a sunroom, we've got tips and suggestions to help you decide. Transform your enclosed porch space with the right flooring for your style and this useful, relaxing room.
What to Consider When Choosing Sunroom Flooring
As you gather sunroom flooring ideas, think about how you use your sunroom and the elements it gets exposure to. You'll be able to make the right choice for your home's style and for a flooring option that will suit your sunroom. To get the best flooring for your sunroom, look for materials that are:
Fade-resistant
Given their wall-to-wall windows, sunrooms face plenty of sunlight exposure. You don't want your floors to fade with UV exposure over time. Choose a material or protective coating for your floor that prevents color fading due to sun exposure.
Sturdy
No matter what you use your sunroom for, you want it to have sturdy flooring. Maybe you rearrange the furniture in your sunroom often to suit your entertainment needs. Maybe you use it for storage during off-seasons. Either way, you'll want sunroom flooring that will withstand the test of time and partial exposure to the elements.
Moisture-resistant
Due to the number of windows often in a sunroom, the space can become humid or exposed to moisture when it rains. Consider flooring that's non-porous or protected from moisture so it won't warp or become damaged after rainy seasons. If your sunroom has an outdoor exit and entrance, you'll especially want moisture-resistant floors that hold up to people coming in with wet or muddy shoes.
Suited to the rest of your home's flooring
While the flooring in your sunroom doesn't have to match what's in the rest of your house, you may want to consider it. You may select the same flooring and have it installed in the same direction as the flooring in the adjacent room for a cohesive look, which works well if you're redoing floors throughout your home.
A functional color
If you aren't concerned with matching your sunroom flooring to the rest of your home, you could prioritize color. Lighter colors will make your sunroom feel fresher and larger. They'll also absorb less sunlight than dark flooring, meaning your floors will stay cool even in the hotter months. Fading is also less noticeable on lighter flooring materials, but choose something that cleans easily to avoid stains.
Another consideration when choosing sunroom flooring is climate control in the space. Your sunroom can get to some extreme temperatures, especially with plenty of windows and direct sun. Have air conditioning for the summer and heating for the winter to help maintain your flooring. Whether you use climate control in your space will help determine what flooring works best for your home.
Schedule a Free In-Home Consultation
Best Flooring for Sunrooms
Sunroom flooring is essential for your space's comfort, functionality and style. Depending on how often you use your sunroom, what you use it for and its exposure to the elements, you have several options for the floors. The best flooring for your sunroom includes:
Vinyl
Carpet
Laminate
Tile
Hardwood
Take Our Quiz to Find Your Flooring Style

Vinyl Sunroom Flooring
Vinyl flooring is a durable choice for your sunroom. With backing, a design layer and two protective layers, vinyl can resist stains, mildew, gouges, scuffs, scratches and other types of damage. Homeowners often use vinyl in kitchens and bathrooms because of its water-resistance, so you know it will be safe for a sunroom. Despite its resistance to certain elements, vinyl can discolor or even melt in extreme temperatures. Keep your sunroom cool if you go with this option to help maintain its durability.
Vinyl comes in a wide variety of styles and constructions, including:
Luxury vinyl plank (LVP): LVP has the warm appearance of hardwood with colors and textures that mimic the natural material. If you want the look of hardwood but also something even more durable for your sunroom, consider LVP for its slip-, moisture- and stain-resistance.
Luxury vinyl tile (LVT): LVT imitates the look of tile flooring in a more cost-effective option. This flooring is easy to clean and resists water and damage, like scratches or chipping.
Carpet in Sunrooms
If you want a cozy feel to your sunroom, consider adding carpet. Carpet may be better suited for sunrooms that don't exit to the outdoors since you won't want to deal with mud or water. Still, there are durable and easy-to-clean varieties that can withstand a bit of exposure, like:
Berber carpet: This durable choice is ideal for high-traffic areas. If you use your sunroom year-round or it features access to the outside, choose this easy-to-clean carpet variety. Berber features uncut loops of material, and in traditional styles, the fabric is a bit stiffer, making it feel like an outdoor carpet that's ideal for sunrooms. Modern options allow for soft fibers, making Berber a great choice for a multi-purpose sunroom that functions as an office or entertainment space.
Saxony carpet: A smooth and soft carpet, Saxony can have a formal or informal feel. It's a long-lasting choice and cleans easily, but given how soft and warm it can feel, you may want to use this carpeting in a four-season sunroom that you use even when it's cold outside.
Carpet is a smart option for sunrooms without climate control since it's more resistant to heat. It could also make your sunroom more comfortable in cooler temperatures.
Laminate for Sunroom Floors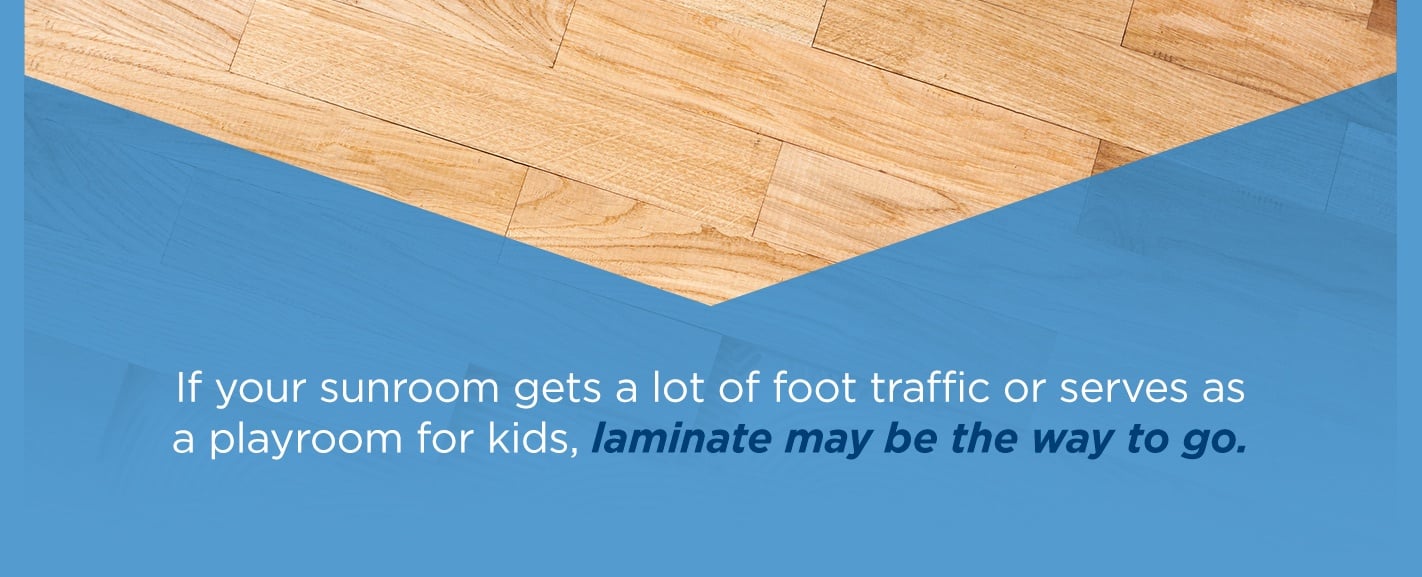 Get the look of hardwood or tile with cost-effective and durable laminate flooring. It's harder than natural alternatives, making it resilient to wear and tear. If your sunroom gets a lot of foot traffic or serves as a playroom for kids, laminate may be the way to go. Laminate is also known to be more fade-resistant than vinyl. That makes laminate suitable for sunrooms with plenty of windows and exposure to sunlight, but you'll still need to climate control the room to protect this material.
For sunrooms that serve as mudrooms and get exposure to moisture through the elements, go for the next generation of laminate flooring. Waterproof laminate flooring features a design layer and three additional water-resistant layers. The individual planks then have a tight locking design, which means spills can't get between the boards and cause damage.
Tile for Sunrooms
Tile flooring can help keep your sunroom cool, which is ideal if you mostly use the room during hotter months. While you may still want climate control in your sunroom, tile fares better than other materials in hot and cold conditions.
Sunroom tile floor will be long-lasting and moisture-resistant, perfect if you live in a wetter climate. Tile also comes in a wide array of sizes, patterns and colors, making it a suitable choice for any type of home and style. You also have options when it comes to tile materials, including:
Ceramic is durable and can imitate stone or wood, and manufacturers can treat it with a protective finish to prevent stains and make a waterproof surface.
Porcelain is more durable than ceramic. It's well-suited for sunrooms because it can handle shifts from hot to cold temperatures without cracking, and it's easy to maintain and clean.
You'll find tile flooring that manufacturers treat to resist stains, moisture, scratching and slipping. That level of protection is great for sunrooms that also function as mudrooms for coming and going outside.
If you have younger kids who use your sunroom as a play space, you may want to consider a softer sunroom flooring option, even if the tile you'd select is slip-resistant.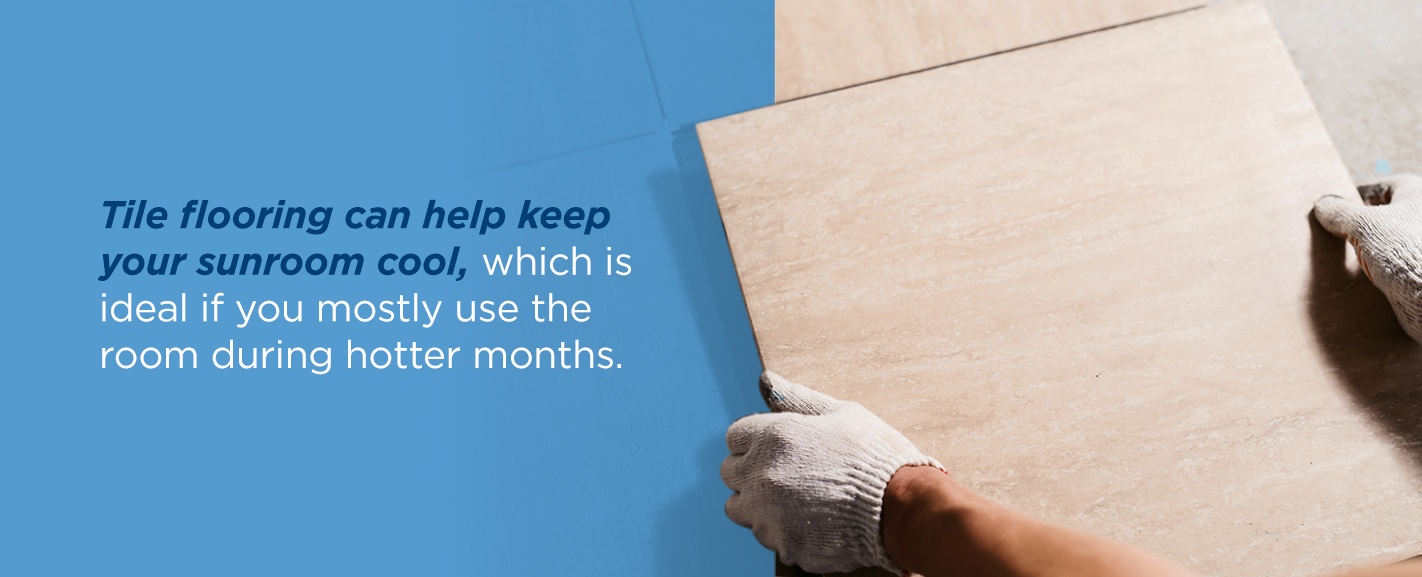 Hardwoods for Sunroom Floors
A natural and classic choice, hardwood flooring could make your sunroom feel like a bonus room in your house rather than an enclosed porch. Get even more use out of your sunroom and protect the investment in your hardwood floors with climate control. Wood floors expand with heat and contract with cold, which could lead to warping over time. Maintain a comfortable temperature for your sunroom, and your floors could stay in better condition.
Hardwood flooring comes in many stains and sizes, with different types of wood grain for more natural and textured or smooth and subtle looks. It has a flexible style that suits anything from rustic homes to modern designs, making it a stylish addition to any sunroom. It's durable and long-lasting, but if you do select hardwood, be sure to have it treated to prevent moisture and UV damage with time. You could also choose an engineered hardwood flooring that's less susceptible to moisture damage than other hardwood styles, which will be suitable for your sunroom.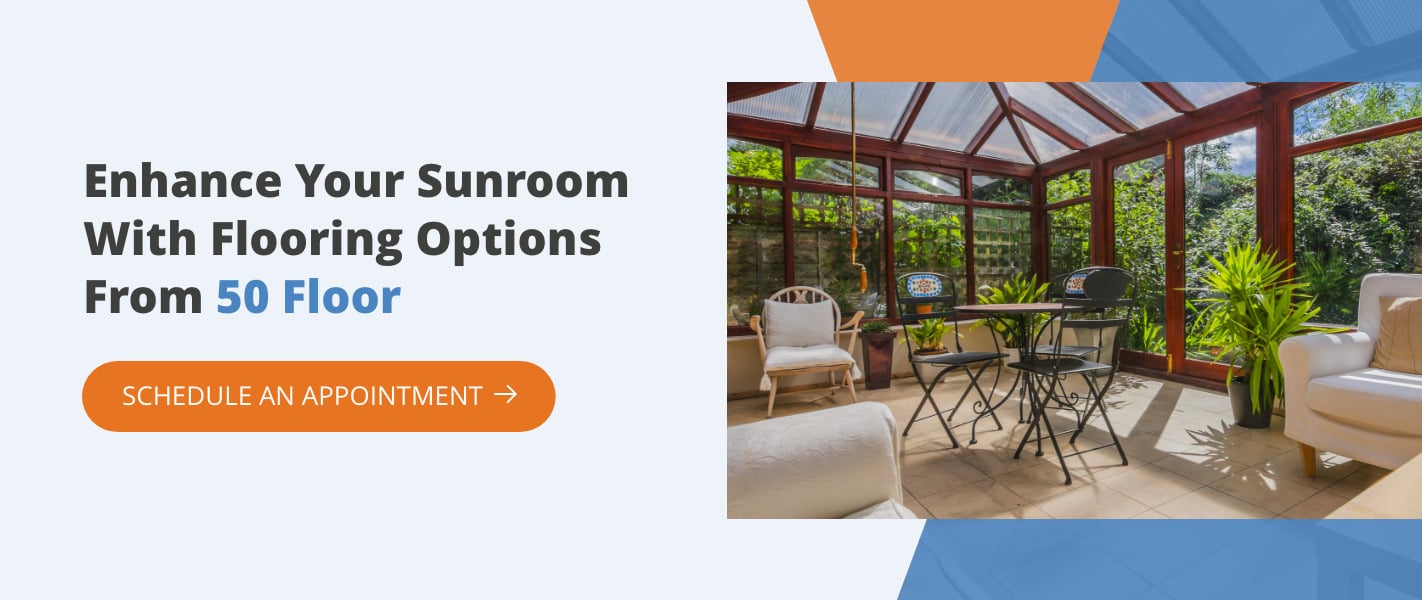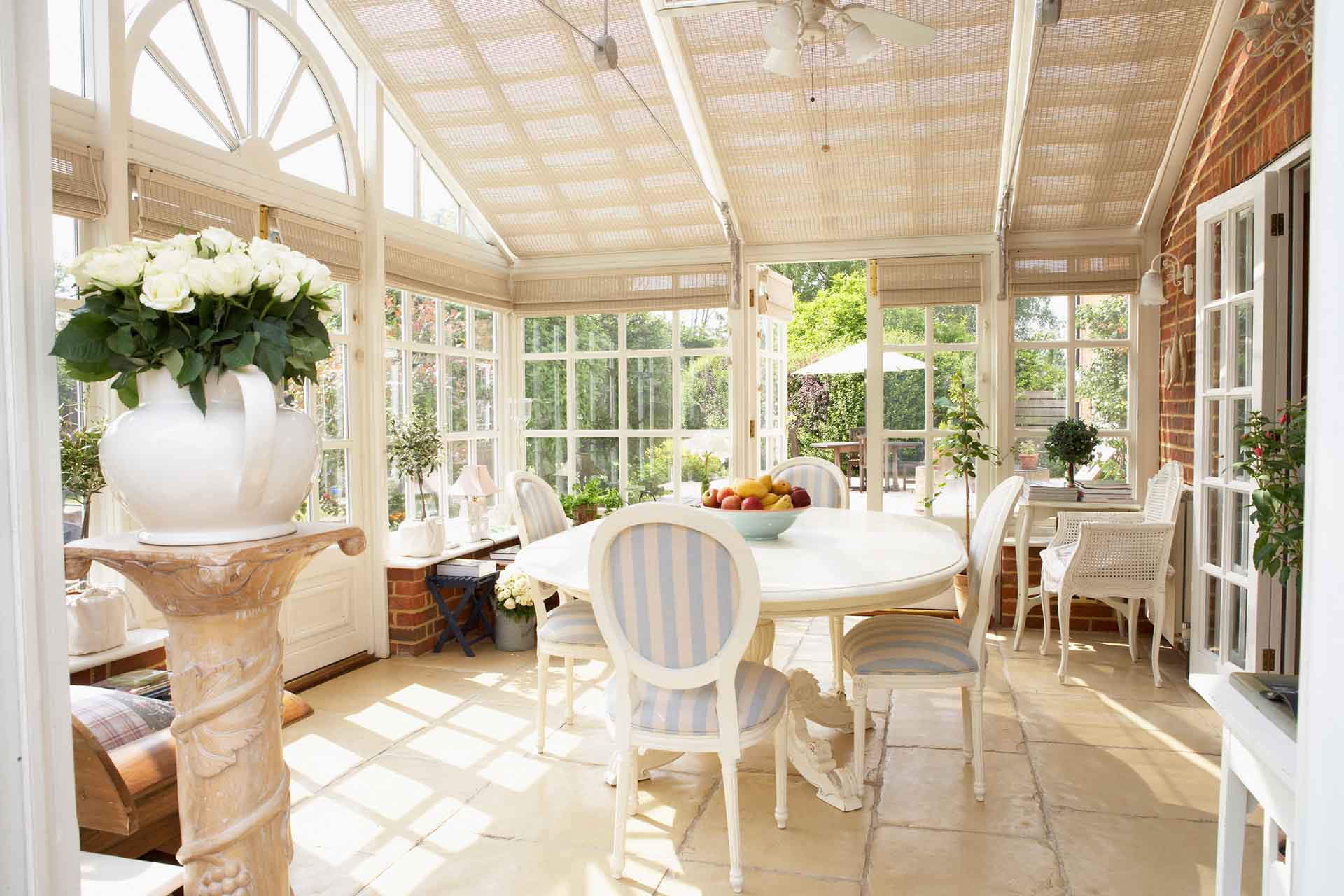 Enhance Your Sunroom With Flooring Options From 50 Floor
When you want the best flooring options for sunrooms, 50 Floor has what you need. Our tile, hardwood, vinyl, laminate and carpet selections are suitable for any style home, and they're sure to improve the look and feel of your sunroom.
Our shop-at-home experience lets you see exactly how our flooring will look in your sunroom, helping you make the right choice. No rushing to and from the store to see what flooring works for your home. Instead, you'll get help from a flooring expert who will explain your options and the process.
Schedule your appointment today to learn more about how 50 Floor can transform your sunroom!