Don't wait!
Finish filling out the free in-home estimate form today to get started!
Schedule Now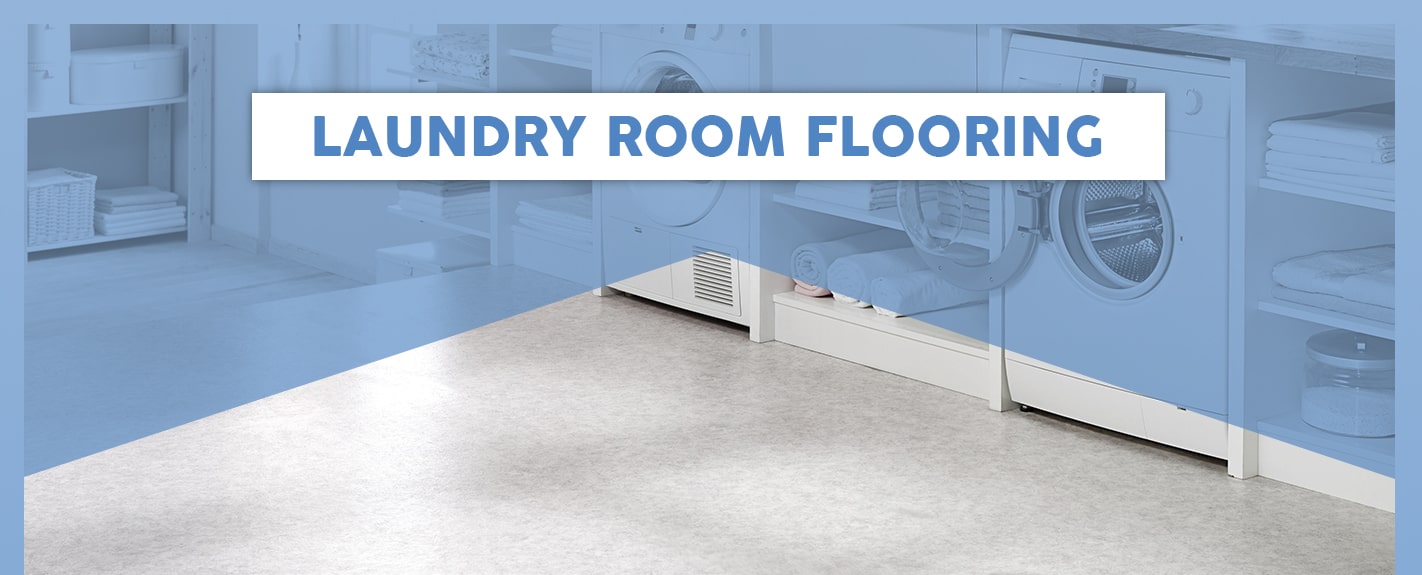 ---
Table of Contents
---
You spend a lot of time in your laundry room washing, drying, folding and organizing your clothes and other linens. So, you want the flooring in your laundry room to be both attractive and easy to clean and maintain. Your laundry room will likely see lots of different types of messes that your flooring will need to be able to handle. For example, if your washer or dryer were to malfunction and cause a leak, you want flooring that will be able to withstand significant water damage.
Deciding the best flooring for your laundry room will require you to do some research and weigh out the pros and cons of each option. You'll have several factors to consider when choosing your laundry room floors, and your decision will ultimately depend on your personal preferences, lifestyle and how you plan to use your laundry room.

What to Consider When Choosing Laundry Room Flooring
As with any big decision you must make as a homeowner, upgrading your laundry room flooring will require you to weigh out your options. A few factors to consider when choosing laundry room flooring include:
Purpose: How will your family usually use the laundry room? If it's a mudroom that also serves as an entrance to the home, for example, you might want flooring that's able to withstand heavy foot traffic and muddy sneakers. If, on the other hand, it's a separate room in an entirely different area of the house, your flooring might not have to be quite as heavy-duty. Ask yourself how often you and your family will be using this area, then make your decision about the remaining factors accordingly.
Price: How much money are you willing to spend on your laundry room flooring? Every type of flooring will vary in price based on the material. Depending on how often you plan on using the laundry room, it might be worth it to invest a bit more money into a more durable or attractive type of flooring. If, on the other hand, your laundry room likely won't see too much use, you might decide to choose a more affordable type of flooring. Remember to also think about the size of your laundry room when you set your budget, as it will cost more to purchase flooring materials to cover a larger room.
Aesthetic: Is the appearance of your laundry room's flooring important to you? People who plan on spending a significant amount of time in their laundry room may prioritize how aesthetically pleasing the flooring is. You might also want a great-looking laundry room if it also serves as an entrance to your home that guests may use. In general, hardwood and vinyl are the most aesthetically pleasing flooring types for laundry rooms.
Durability: Does your laundry room flooring need to be more durable than anything else? This is an especially important consideration for households with pets that might be running around with long nails and tossing around hard chew toys and bones. Kids might also be rough on your laundry room flooring if it's in an area of the home where they might run through it. Think about how much activity this room will see, then decide how durable your flooring will need to be to withstand it.
Location in your home: Where is your laundry room located in your home? It could be in your basement, the garage, on the second floor, the first floor or another area of the house. The placement of the laundry room will affect the type of flooring you should choose because it changes the environment the material must be able to exist in. For example, basements typically have more moisture than other rooms of the home, so you'll need a more moisture-resistant type of flooring if your laundry room is downstairs.
Maintenance requirements: How easy to clean do you need your laundry room flooring to be? If you can already see the kids tracking their muddy sneakers and dirt-covered soccer cleats through the laundry room or anticipate there will be lots of spills and other messes in this room, make sure you choose a type of flooring that can stand up to this. Remember, you may be using cleaning products such as laundry detergent and fabric softener that contain chemicals that could leave stains on some types of flooring. For households that might not use the laundry room quite as often, however, easy maintenance may not be as important to you as saving money.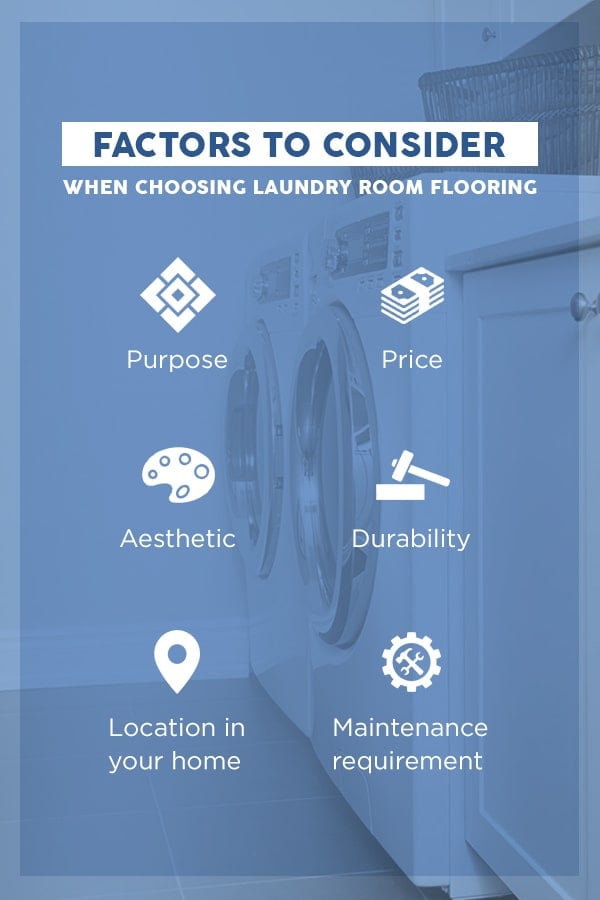 Schedule a Free In-Home Consultation
Best Flooring for Laundry Rooms
Now that you know what to consider as you update your laundry room flooring, you might be wondering about the specific choices you have. Although everyone's preferences and situations will vary, there are a few types of laundry room flooring, which are typically the best option for most households.
Here are four of the best types of flooring for laundry rooms.
1. Hardwood
Hardwood flooring is often seen as the most luxurious option for laundry room flooring. It looks elegant and comes in many different types, so homeowners can customize their flooring in terms of color and stain pattern. You can even adjust the thickness of the wood, depending on your aesthetic preferences.
Pros of Hardwood Flooring
The pros of using hardwood flooring for your laundry room are that:
It's attractive: Almost everyone can appreciate the beautiful appearance of real hardwood flooring. It's elegant, classy and timeless. Hardwood is known for its warm texture and color that contributes to a welcoming environment.
It's customizable: Since there are so many different wood species to choose from, you can completely customize your hardwood flooring to satisfy your taste.
It's durable: Hardwood flooring can last for 10 or more years with proper maintenance and cleaning. They're extremely durable and can withstand wear and tear from households with both pets and children.
It's popular: Since hardwood flooring is so popular, it will boost your home's resale value to install it anywhere in the house, including the laundry room.
Cons of Hardwood Flooring
Hardwood flooring may be a great option for many homeowners, but it does come with some drawbacks, such as that:
It's not completely moisture-resistant: While it's easy to clean up small spills from hardwood flooring, it's not great at resisting long-term moisture, such as a leak or spill that goes unnoticed for several hours and eventually turns into a puddle.
It costs more: Since hardwood flooring is both attractive and durable, it's usually more expensive than other flooring options.
It requires lots of maintenance: Hardwood floors are easy to clean, but they also require more regular maintenance than other types of flooring. For example, you might have to reseal the wood from time to time.
2. Laminate
Laminate flooring is made of synthetic materials that are designed to replicate hardwood. Although they don't have the exact same look and feel, they come close and are typically lower in price.
Pros of Laminate Flooring
Some pros of laminate flooring include:
It's mostly water-resistant: Laminate flooring can withstand small spills and leaks. As long as the material isn't completely soaked, it will be able to withstand some moisture.
It's easy to clean: It's easy to wipe up spills and dirt from laminate flooring, and it's also exceptionally stain-resistant.
It's budget-friendly: Laminate flooring is a more economical option than some other materials, such as natural hardwood.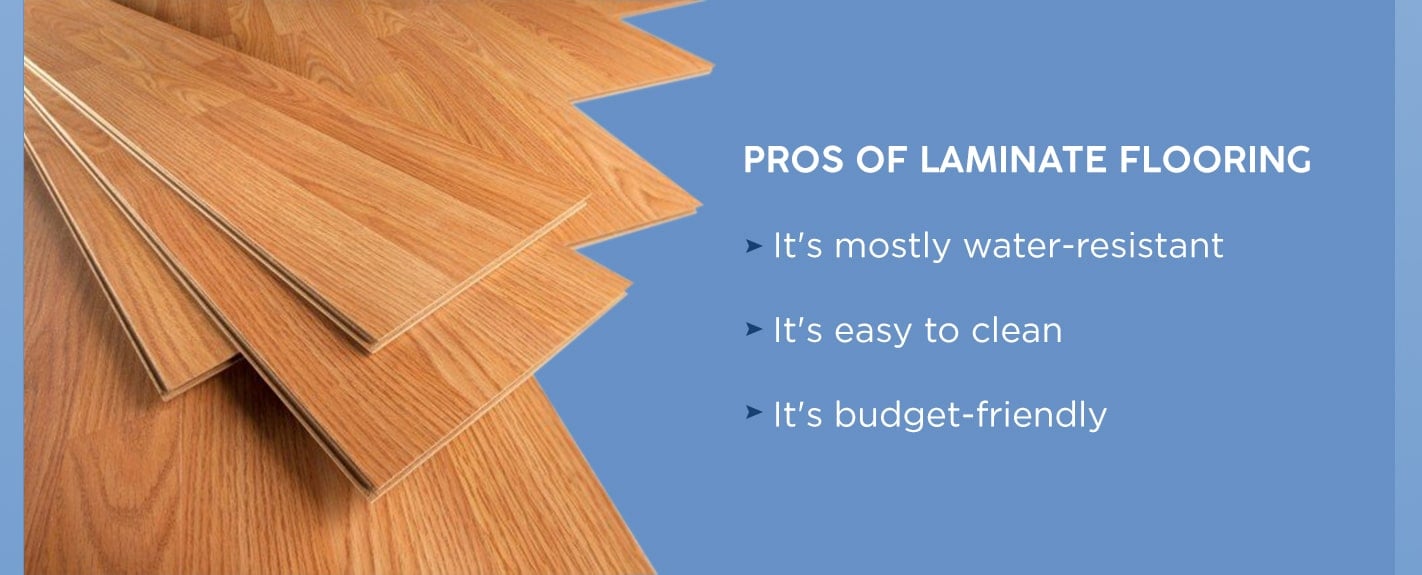 Cons of Laminate Flooring
Meanwhile, laminate flooring also has a few drawbacks:
It can be challenging to replace: If laminate flooring becomes scratched or damaged, you may have to replace the flooring in the entire room to fix it. Since most laundry rooms are relatively small, though, this may not be an issue.
It's not completely moisture resistant: Laminate flooring isn't quite as moisture-resistant as some other flooring options, such as vinyl and tile.
3. Vinyl
Lots of homeowners choose to use vinyl flooring for laundry rooms because it's one of the best materials in terms of durability and endurance. Vinyl flooring is ideal for laundry rooms that will see lots of use, such as those that also serve as an entrance to the home through the garage.
Pros of Vinyl Flooring
You might choose to install vinyl flooring in your laundry room because:
It comes in several styles: You can choose from vinyl flooring that comes in planks, or other styles that mimic the look of stone or wood.
It's water-resistant: Vinyl flooring is ideal for laundry room use because it can withstand significant spills and moisture from wet clothes or shoes.
It's an economical choice: If having a beautiful or luxurious aesthetic in your laundry room isn't a top concern for you, vinyl flooring is a cost-effective way to get durable flooring.
Cons of Vinyl Flooring
Of course, every option has its cons. For vinyl flooring, they include that:
Its surface is too slippery: Vinyl flooring has a finished surface that could cause it to get slippery when wet. Even though vinyl is moisture-resistant, be sure to clean up large puddles quickly to avoid slipping or having the water seep between the panels.
It creates a casual vibe: Vinyl flooring doesn't create the luxurious aesthetic that hardwood or well-made laminate may be able to. If aesthetics are a primary concern for you, you might want to go with another option.
4. Tile
Another common choice for laundry room flooring is tile. Tile flooring is one of the most durable and longest-lasting options for laundry rooms, as long as the owner follows proper maintenance routines.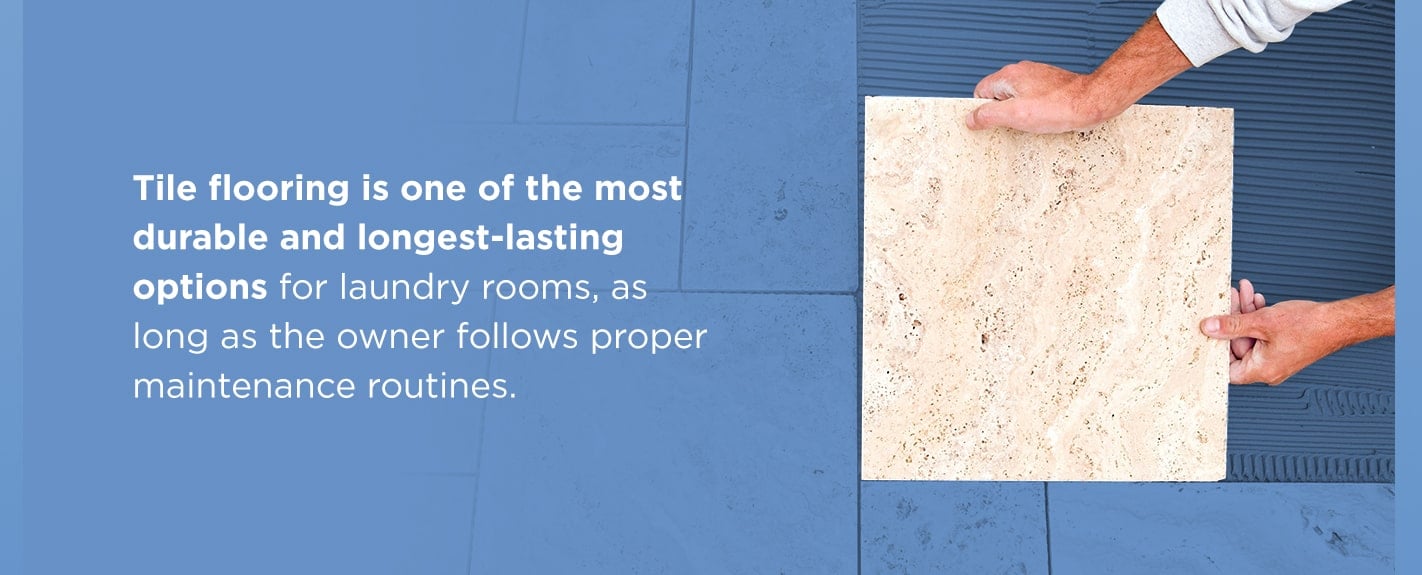 Pros of Tile Flooring
The pros of having tile flooring in your laundry room include that:
It's water-resistant: You're probably used to seeing tile flooring in bathrooms and kitchens, and one reason for this is because of its excellent water-resistant properties. Tile flooring is ideal for laundry rooms because it will be able to withstand any accidental spills and other moisture.
It's easy to clean: Tile is extremely easy to clean in the case of dirty clothes, shoes or other items making their way into or through the laundry room.
It's possible to get slip-resistant tiles: You can choose from several types of slip-resistant tiles that can prevent you from falling even if the floor gets wet while you're doing laundry.
Cons of Tile Flooring
The cons of installing tile flooring in your laundry room include the following:
It requires maintenance: When you have tile flooring in your home, you need to maintain and clean it regularly. The grout between each tile can become dirty or damaged over time, an issue you can either fix yourself or hire a professional for.
It's cold: If you like doing laundry barefoot, tile flooring can get cold on your feet in the fall and winter. It also doesn't create the warm ambiance that some types of flooring do.
It's somewhat pricey: Depending on the type of tile flooring you choose and the size of your laundry room, your material costs can quickly add up.
Tips for Choosing Laundry Room Flooring
Now that you're familiar with your options for laundry room flooring materials, you might still need some guidance on how to make the decision. Here are some tips to help you choose the best route for your laundry room flooring:
Be realistic: Whether it's in regard to your budget or how much use your laundry room will see, be realistic about your needs and make your decision based on them. Don't spend extra money on extremely durable or attractive flooring for a laundry room you'll only use a few times a month. Instead, you can put that money into nicer flooring for your living room or other high-traffic areas of the home. Also, we wouldn't recommend choosing carpet flooring for your laundry room ⁠— although, you could buy a small carpet to put over the flooring if you want to give the space a cozier feel.
Examine your current flooring: Look at the flooring that's currently in your laundry room. Is it extremely damaged or dirty? If so, you might want to invest in flooring that's more durable and easier to maintain than what you have now. On the other hand, if you've had the same flooring for years and it has absolutely no sign of wear and tear, you might not use the space enough that it calls for such high-quality materials.
Consider your home's resale value: If you're planning on selling your house eventually or in the near future, you might want to consider how the flooring you choose will impact its resale value. It may be worthwhile to invest in top-of-the-line laundry room flooring if it will boost your home's resale value and help the house stand out in the real estate market. Be sure to consider both quality and appearance if you're planning to sell soon.
Look at samples in person before deciding: Everything looks different in person compared to online, including types of flooring. You want to be able to see the material, color and style in person before going through the installation process only to realize it doesn't look quite right. Whether you visit a store or have a flooring expert bring samples to your home, taking the time to look at your options in person will pay off in the long run.
Get advice from a professional: Talking with a flooring specialist is a smart way to make sure you're covering all your bases when you choose your laundry room flooring. They'll be able to bring up points you might not have thought of, as well as suggest laundry room floor ideas specific to your unique situation. By working with a company that will send an expert to your home with several flooring samples, you can see each option in person in your home's environment while also getting individual assistance from a professional.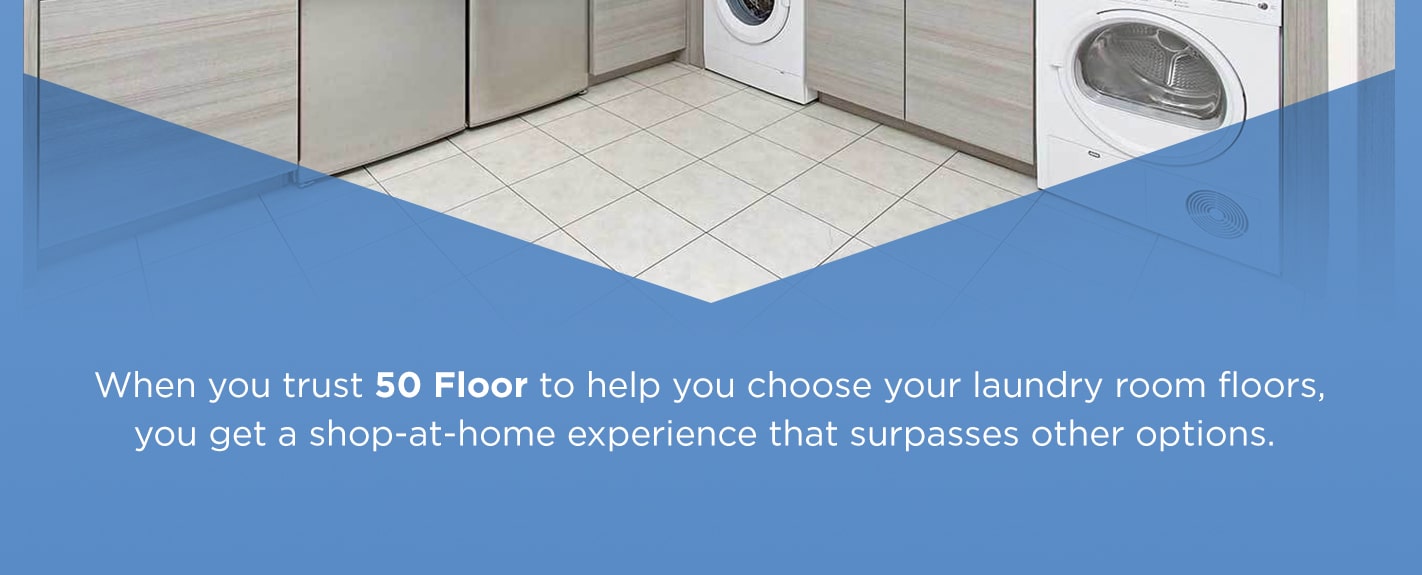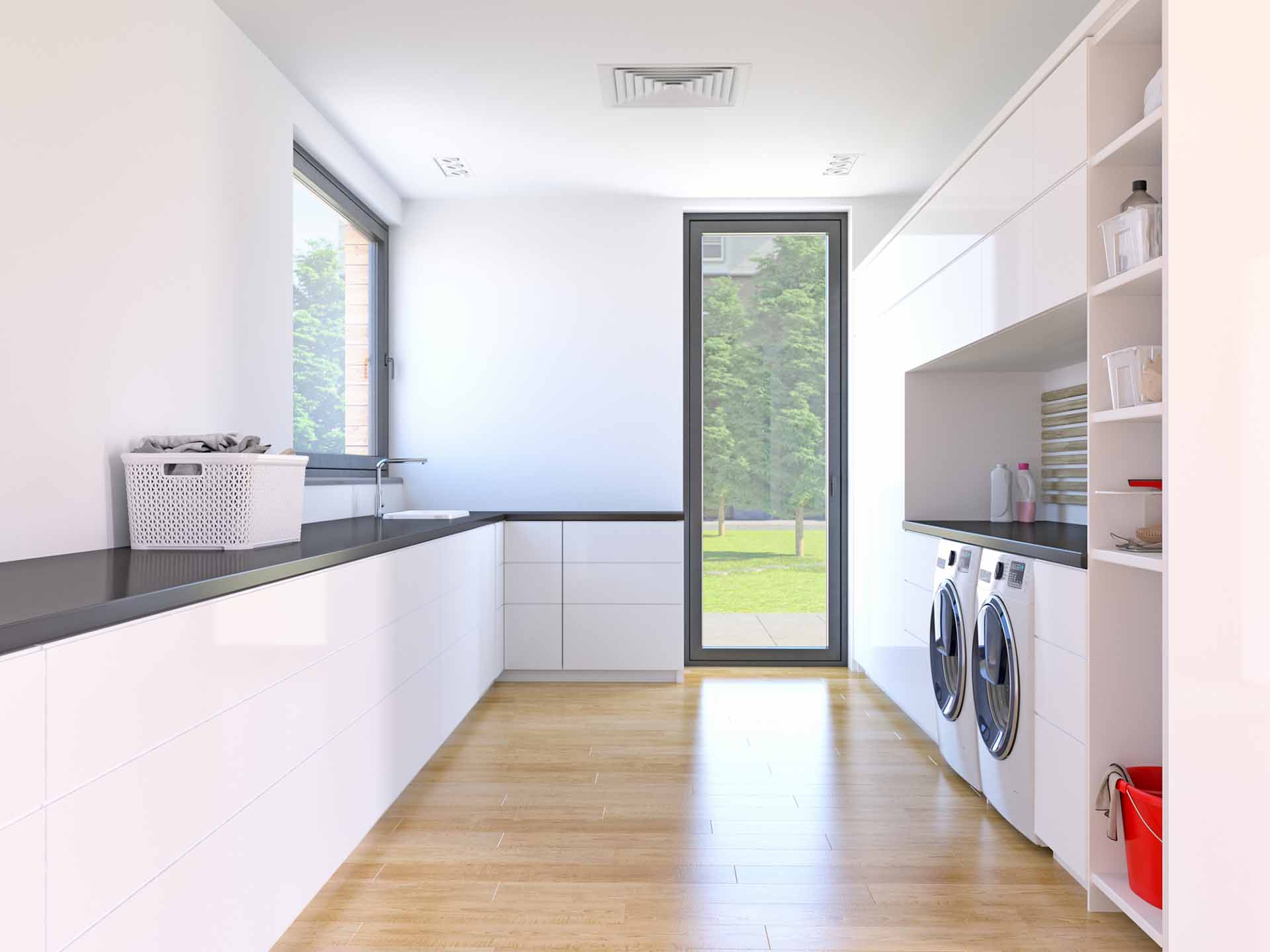 Schedule an Appointment With 50 Floor Today
When you trust 50 Floor to help you choose your laundry room floors, you get a shop-at-home experience that surpasses other options. A trained expert from 50 Floor will come to your home with several flooring samples for you to choose from. You'll be able to look at each option in the room where you plan to install it, so you can see how it will look in your home's lighting and setting. Everyone's laundry room flooring preferences are different, so being able to see your choices in person and have assistance from a flooring professional will make your decision much easier.
If you're ready to update your laundry room flooring, schedule an appointment with 50 Floor today. You can also contact us with any flooring questions you have or to request more information about our products and services. We look forward to helping you with all your laundry room and other flooring needs!