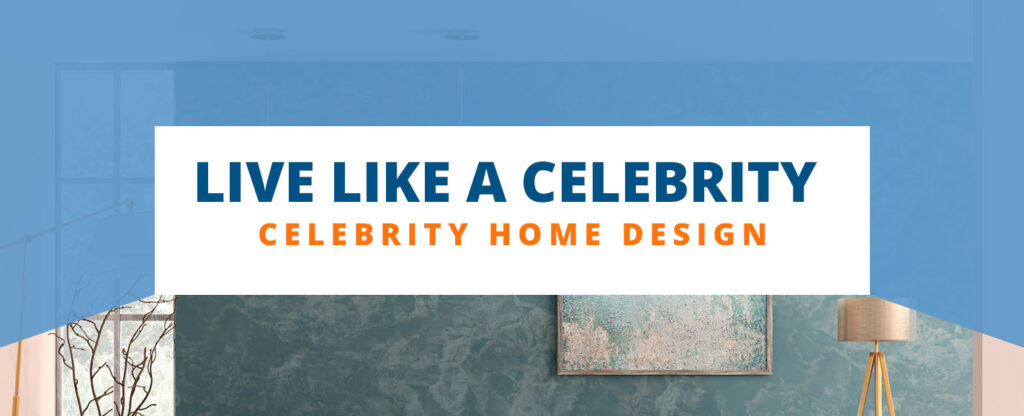 Whether you are flipping through magazines or scrolling through social media, you are bound to see celebrity lifestyle photos that showcase one-of-a-kind home design schemes. If you see a favorite look, it's possible to replicate it in your own home without spending a fortune.
Celebrity Home Style Ideas
When thinking of the life of a celebrity, famous people do not get where they are without being extremely creative and inspiring. Their homes also often reflect their creativity, featuring amazing spaces with beautiful decor that will delight any homeowner.
It is possible to bring the designs your favorite celebrities use in their homes into your space as well. You can create the home of your dreams with the right inspiration, affordable resources and some do-it-yourself creativity. Here are some gorgeous celebrity home designs you can incorporate into your home's aesthetic.
Take Our Quiz to Find Your Flooring Style
Kourtney Kardashian
Reality television star Kourtney Kardashian lives in the type of home that acts as an inspiration to Pinterest boards everywhere. Her home utilizes a variety of design techniques throughout the home that makes it appear as one cohesive look.
Some of her most impressive spaces throughout the home, including the living room, home office and kitchen, feature dark hardwood floors, each covered with a unique accent rug. The consistent use of dark hardwood gives the home a clean and cohesive feel, while also allowing each room to have its own unique aspects.
For example, in the living room, a black, white and gray area rug covers a portion of the floor and brings a color scheme that matches the brown textured wallpaper and the cream-colored couch. The dark flooring coordinates with the black mantel, fireplace and media stand.
While the living room features dark flooring with black furniture pieces, the kitchen has a dark floor with light cabinets, brass hardware and patterned wallpaper backsplash. The kitchen has a white island with gray marble and black and brass seats. Instead of an area rug, the island breaks up the dark floor, keeping the room light and modern.
You can easily replicate this design by replacing any largely carpeted areas or light-colored wood floors with dark hardwood. You can do this in various rooms in your home. This creates a more connected feel throughout your house, while also allowing you the freedom to decorate each room individually. To mimic the design of Kourtney Kardashian, use mainly blacks, grays, browns and whites with minimal accent colors to keep each room looking modern.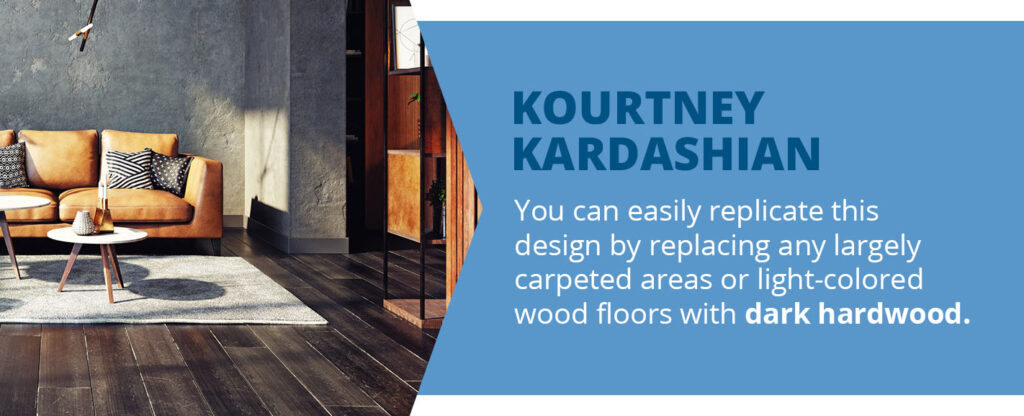 Maggie Gyllenhaal and Peter ​​Sarsgaard
One famous couple who has shown off their eye-catching home designs is Maggie Gyllenhaal and Peter ​​Sarsgaard. Some main features of their home include high ceilings that give them maximum space for decorating. Their walls feature various fireplaces, art, photographs and shelves.
Possibly the couple's most unique room in the home is the dining area. Quaint and cozy, this room also gives off a very modern feel. The room features wooden floors, a large area rug, a dining room table and chairs, a large potted plant and a glass chandelier. Notably, this room has three different wall textures and materials, including a regular plaster wall, a brick wall and a mosaic tile hearth for the fireplace.
Commenting on the blue tile wall surrounding their fireplace, the couple said that it was originally the top of their old coffee table. They continued by saying that they like their decor to include a mixture of things that have meaning for them, incorporating remastered and repurposed materials into their home whenever possible. They also enjoy including sustainable aspects in their home, such as reclaimed wood and other reusable materials.
This is something you can easily and affordably do at home. If you own a certain piece of furniture you really love but feel no longer suits your needs, see if you can repurpose it. You may need to think outside of the box to turn a table into a wall material as Gyllenhaal and Sarsgaard did, but that piece will definitely add something special to your home.
Sheryl Crow
While many homes of celebrities often use sleek hardwood floors to enhance their home's aesthetic value, Sheryl Crow seems to take a different approach. In her Spanish Colonial home in Los Angeles, there are multiple rooms, such as the kitchen, bathroom, piano room, and even the library, that rely on the tiled floor to make a statement.
One room's tile work that stands out as a bold accent to the rest of the home is the master bathroom, which has black tile covering every inch of the floor. The tile has a consistent pattern of black tile and white caulking, with smaller alternating black and white tiles that fit snuggly into place at the edge of the floor, creating an elegant yet striking appearance. Other details of the bathroom include a white old-fashioned style sink, a raised white bathtub, a simple modern mirror, and a chic area rug.
As elegant and unique as this bathroom is, it is definitely something you would be able to pull off in your own bathroom. The main feature of this room is the tile work, so you just need quality, affordable tiling to create a beautiful space. Using black tile instead of white gives a very modern and stylish twist to a classic look and gives you a lot of creative freedom for the decor you choose for the space.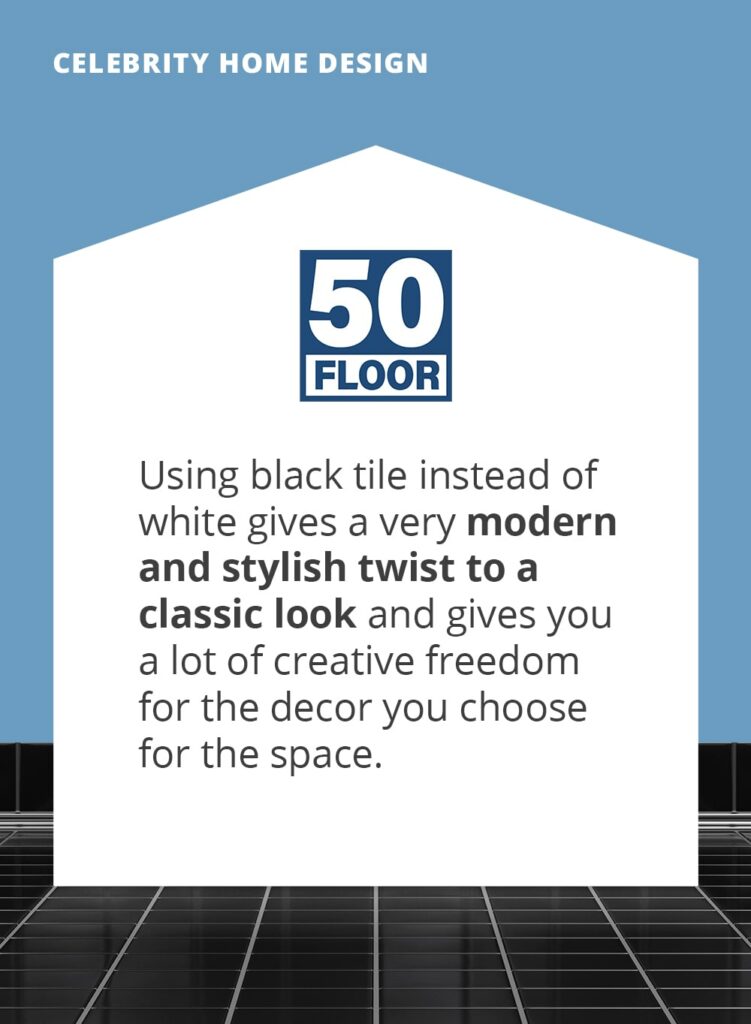 Christian Siriano
Fashion designer Christian Siriano obviously knows a thing or two about style, as shown through his career choice and his home decor. Siriano achieves a sleek and clean-looking home through his use of pairing wood floors and wood furniture.
While multiple rooms throughout the home have wood floors and many rely on extravagant colors, his bedroom uses a lot of white and neutral hues to create a quiet and comfortable space. The room features a brick wall painted white, a slanted white roof with wooden paneling and a wooden door frame, white bedding and an accent chandelier. The floors of this room are whitewashed wood with a white area rug, giving the room a natural and rustic yet stylish feel.
Another room that uses multiple wood pieces throughout is his modernist-style kitchen. With natural-looking wood floors and natural wood cabinetry slightly lighter in color than the floor, the kitchen features mostly wood. However, many small details and appliances use matte black to tie together the appearance of the wooden floor and cabinets with the stone-top island, including matte black handles and cabinet knobs, window panes and restored bar stools.
If you want to feature different wood floors, paneling and framing throughout your home, Christian Siriano's house might be a great inspiration for you. His home has multiple wood features throughout that create different aesthetics. For instance, if you'd like a natural and rustic feel, you might consider whitewashed matte natural flooring with darker wooden accent pieces. If you are looking for a modern and polished room, look into using wood flooring and cabinetry with a glossy or shiny finish. This gives everything more of a new and fresh feel than the rustic feel of natural-looking wood.
Frank Zappa
Musician Frank Zappa's former Hollywood Hills home has many beautiful features that give it a subdued elegance. Between the vaulted ceilings with wood beams, the floor-to-ceiling windows and the different accent staples throughout, everything coordinates together perfectly.
One of the most beautiful rooms in the home is the large kitchen that opens up into the dining room. This space has a wood-paneled ceiling, tiled walls and marble floors with white cabinets and light brown and beige furniture. The main feature of these two areas is the graphic marble floor designed with splashes of muted orange, teal and cream colors.
While marble floors may be gorgeous additions to a home, they are not cheap. If you want to replicate the intricate beauty of Frank Zappa's elegant marble floor, you can do so by using luxury vinyl plank flooring. While it may not be the expensive marble floor you dream of, you can use luxury vinyl flooring to create a striking modern floor for the interior of your home, just as celebrities do.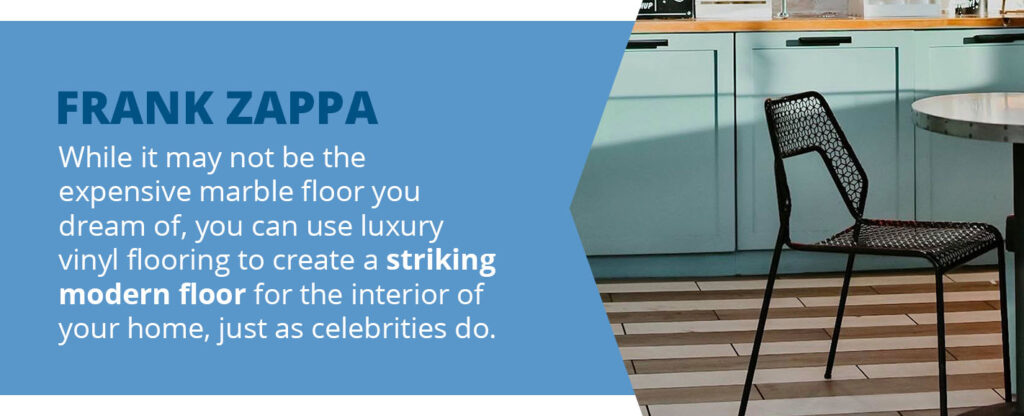 Hayden Panettiere
Actress and model Hayden Panettiere's former Nashville home features unique design elements and decor to make it a very modern and beautiful creative space. A common decorative theme you can see throughout the home is the use of dark and dramatic tones with pops of color throughout for dramatic flair.
This home uses a variety of textures, materials and patterns that work together to create comfortable and creative spaces. One room that showcases this concept is a space that can be used as a space for watching movies or enjoying music. The room is very open, aside from the slanted wall with window openings on one side. It has a black roof, an emerald green, gold, and black printed wallpaper with a lighter-colored textured carpet. Furniture in this room is minimal, only including two black chairs, a burnt orange leather sofa, a tree stump coffee table, large checkered window shades and a few wall decorations. The variety of patterns and colors gives the room a contemporary style with tasteful accents.
If this is a style that you want to incorporate in your home, you have to think carefully when choosing so many different patterns in one space. You will need to select patterns that work well together, such as stripes and floral, for instance. Using similar colors can also help the patterns complement each other rather than clash.
Also, if you place carpet in a small room, you can make the room appear bigger by using certain colors and patterns. This will help keep the room minimalist and avoid a cluttered or claustrophobic vibe that can come from a room that has a lot going on.
Jessica Alba
Another actress with a gorgeous home and classy decor is Jessica Alba. While the majority of the home appears to use natural hues along with blacks and whites, some parts of the home utilize bright colors to make them stand out from the rest.
In the home's nursery, for instance, Jessica Alba kept the modern aesthetic of the rest of the home, while also incorporating brighter colors. The nursery features white walls with one very pale blue accent wall with white tree decals. Bright pink and blue accents the doorways and furniture, and an adorable pink and white area rug ties everything together. You will also find a neutral-colored crib that matches the floor and other minimalist aspects throughout the room.
If you are looking for a nursery that uses these subtle tricks to keep the overall aesthetic of the house the same while giving the room a more comfortable feel for children, Jessica Alba has a great example nursery. An important piece of advice she suggests for children's rooms is to avoid carpet, instead opting for tiles or refinished hardwood floors. Add some natural-fiber rugs instead of synthetic ones to give the room a pop of color and make the floor a safe space for your child to play.
Transform Your Home Into Your Dream Home
With all the different interior design and style inspiration that media offers today, there is no reason your home should not be everything you have ever dreamed of. With the right resources, you can replicate any elegant, extravagant or beautiful room designs all using affordable and long-lasting materials.
If you are ready to update or transform your traditional home, you can start your redesign with the help of 50 Floor. With decades of flooring experience, we believe that finding affordable quality flooring should be easy and cost-effective. We strive to give our customers the best experience possible to make the journey of remodeling or updating your home as seamless as possible.
At 50 Floor, we bring flooring options right to your home so you can see exactly how they'd look in your space. With a vast selection of flooring and low prices, we also take care of flooring installation and will answer any questions you may have. Schedule your appointment with us today!