Don't wait!
Finish filling out the free in-home estimate form today to get started!
Schedule Now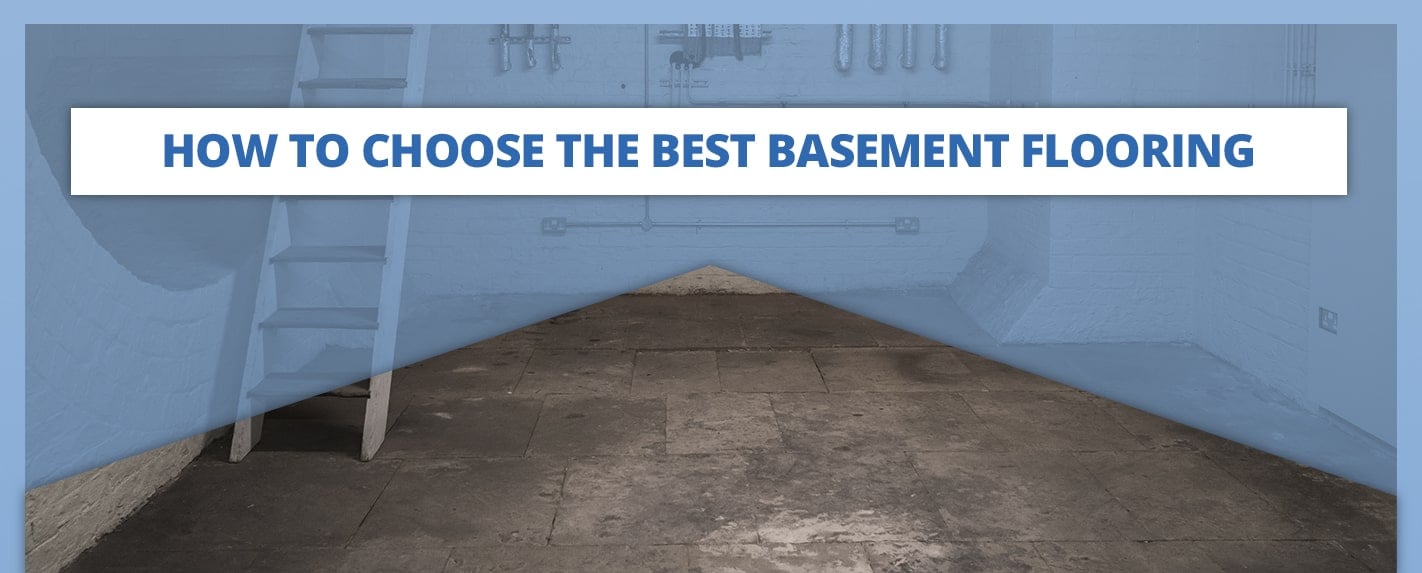 ---
Table of Contents
---
How to Choose the Best Basement Flooring
Updating your basement is an exciting project, and the flooring you choose has a significant impact on how the finished space will look and feel. Selecting a basement flooring is a little different than picking a floor for any other room. You'll likely find that there are some trade-offs to make if you want to complete your basement on a budget, but understanding the pros and cons of your flooring options will get you far in choosing the best flooring for your basement.
What Is Your Basement's Purpose?
The first thing to solidify is your vision for the basement overall. What will you use it for and who will spend time there? A kids' playroom where children will be running around, falling down and sitting on the ground will need different flooring than you would want for a basement living unit you plan to rent out. Common uses for basements include family rooms, home gyms, offices or just plain storage and laundry. Ask yourself these questions to start narrowing down the best basement flooring options:
How important is cushioning and a soft feel?
Is your basement generally warm or cold?
Does your basement get a lot of moisture or dampness?
How vulnerable is your basement to flooding?
Do you have a concrete or plywood sub-floor?
Is the sub-floor level and smooth?
If your basement is big enough, you may even consider choosing more than one type of flooring. For example, if you plan to use part of the space as a guest room and part as a recreation room, you might use carpet in one half and vinyl in the other. Mixing and matching can sometimes help you get the best value for your money while ensuring the room serves multiple needs.

Schedule a Free In-Home Consultation
The Five Best Options for Basement Flooring
You've got a lot of options to choose from when it comes to flooring your basement. We've narrowed the field down to five of the most suitable choices and broken them down to their most essential pros and cons to help you clarify which basement flooring ideas fit your needs and vision.

1. Carpet
Of all the flooring options for your basement, carpet is almost always the least expensive. If you have a lot of ground to cover and budget is your main priority, carpet can be a great option. Sub-floors that aren't entirely smooth or level benefit from carpet, as it can hide the unevenness.
Carpeting is suitable for basements that get very cold, as they are significantly warmer than hard options like tile or vinyl planking. In addition to warmth, carpet offers softness that makes basement bedrooms or family rooms feel luxurious and cozy. If you need flooring for your basement stairs, carpet is the safest option as it offers more traction than hard surfaces.
The biggest downside to living with carpet every day is that it can get dirty in a hurry, and it needs to be replaced more often than other options. If, for example, your basement is accessible from the outside and you expect a fair amount of shoe-clad foot traffic coming in and out, carpet may not be the best choice for your space. If your basement will function as a family room where people will be lounging around with their shoes off, carpet can work well.
Basement carpet is definitely not a good choice if your home's location makes the basement susceptible to flooding. Additionally, if you live in an area where moisture is a common occurrence, you may not want to go for carpet. If frequently exposed to moist conditions, carpets can start to harbor mold or mildew. However, if your basement has only minor problems with moisture, a carpet cushioning designed with a moisture barrier can be effective.
Here are some of the advantages of basement carpet:
Most affordable option
More warmth and comfort
Works well for uneven sub-floors
Here are some of the disadvantages to carpet:
Susceptible to soiling
Wears out quicker
Not suitable for areas with high moisture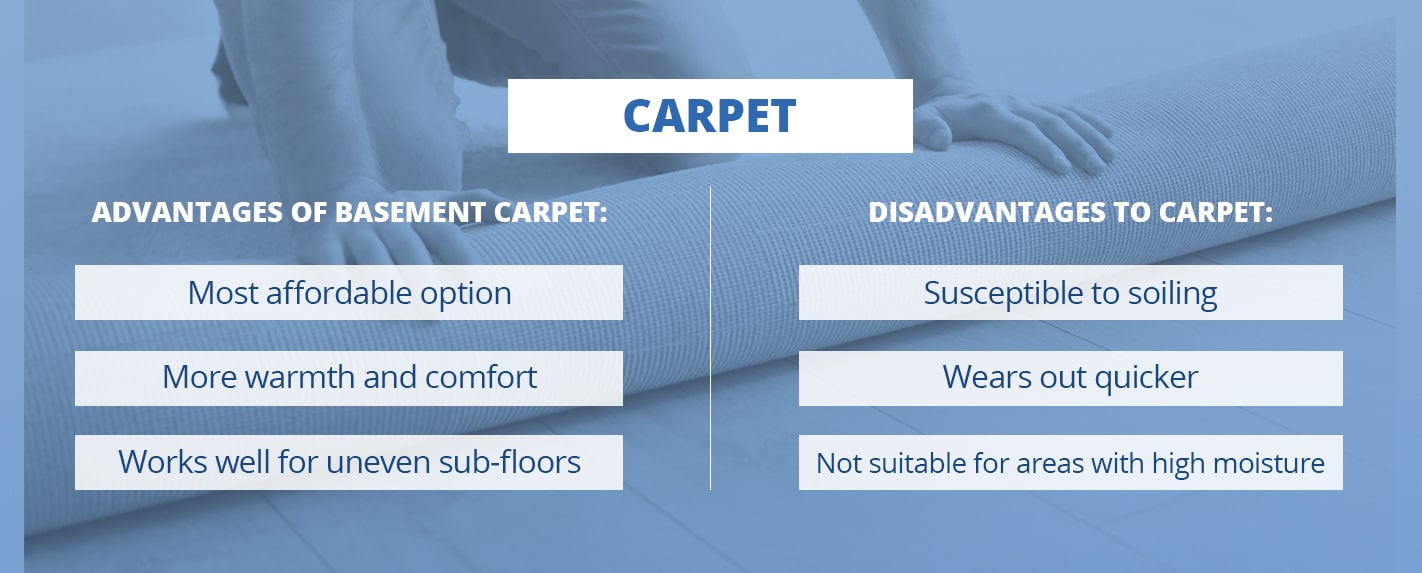 2. Sheet Vinyl
Vinyl flooring is a good option if you want a hard surface but are still putting budget first. Vinyl is more expensive than carpet but more affordable than other hard surfaces like tile or engineered hardwood. It's often viewed as a dated option, but today's vinyl comes in a huge variety of patterns that can suit any home style. Sheet vinyl usually comes in one big piece which must be carefully measured and fitted to your basement floor.
Unless you're a skilled DIY enthusiast, installing sheet vinyl yourself may lead to fitting problems. Because the flooring comes in one or more big sheets, making a mistake affects the whole floor. If you accidentally trim one side too short, you will either have to start over with a new sheet or fix the issue with small pieces of vinyl that create an obvious seam.
This flooring option does require some floor prep to ensure the sub-floor is smooth. If it isn't, you'll start seeing and feeling the unevenness of the sub-floor coming through the vinyl within about six months. Sheet vinyl installation looks and functions best when performed by professionals.
When properly installed, sheet vinyl creates a waterproof surface perfect for basements that get a bit damp at times. It's ideal for spaces where aesthetics aren't as important, like laundry rooms or storage spaces.
Here are some pros of sheet vinyl:
Inexpensive
Waterproof
Warmer and softer than other hard surfaces
These are the main cons of sheet vinyl:
Requires smooth sub-floor
Looks less high-end
Needs experienced installation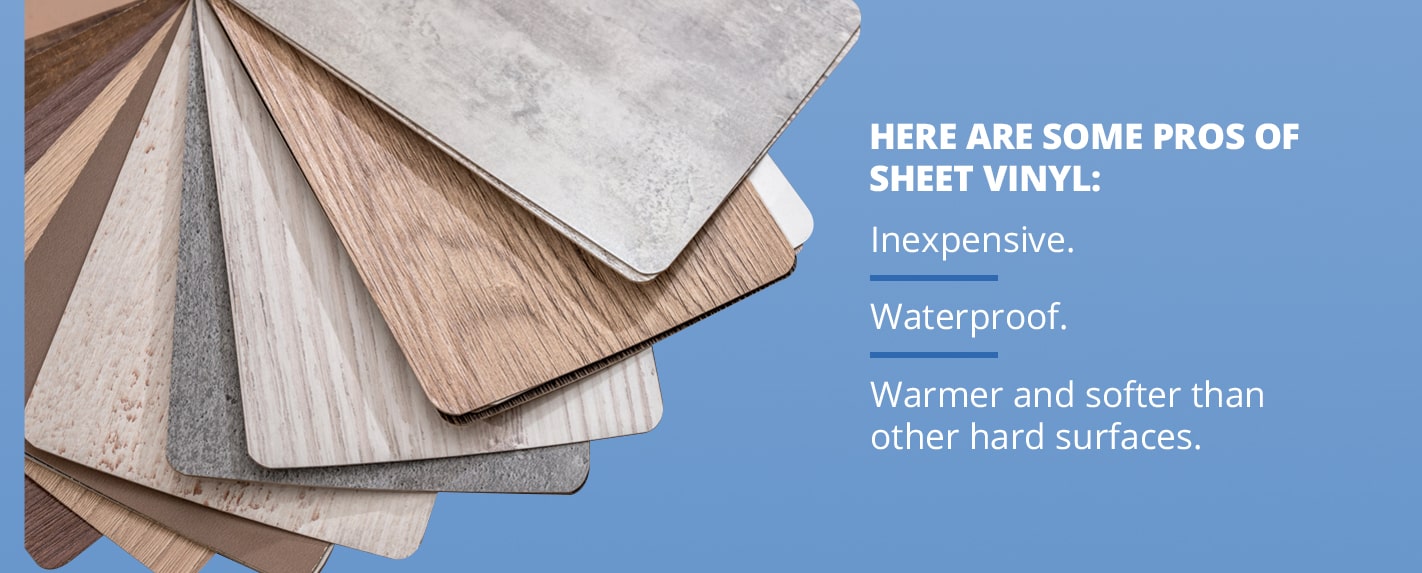 3. Luxury Vinyl Planks and Tiles
If you're after a more high-end look, vinyl can still be the way to go if you choose planks or tiles over the sheet style. This type of flooring is often called engineered vinyl planks. This floor style is similar to laminate floors in terms of installation — any handy individual should have a reasonably simple time installing it if they have the right sub-floor. If your sub-floor is a bit of a rough ride, luxury vinyl planks or tiles won't work too well.
Luxury vinyl planks are a type of floating floor, which means you don't need to worry about gluing or nailing them down to the sub-floor. Instead, luxury vinyl planks or tiles have tongues and grooves which allow you to snap them together easily, board to board. For DIYers, this is a critical quality.
This type of plank is an excellent choice for basements as it can stand up well to moisture. Be aware that if you install vinyl planks on a concrete sub-floor, you'll need a vapor barrier in between. The planks and tiles themselves are waterproof, but if there's no barrier, water can fill up and get trapped within the space between sub-floor and vinyl.
Vinyl planks are often installed on a cork backing, which has several benefits. In addition to providing a softer step than other flooring types, the backing can last up to 30 years and prevents the need for buying another underlayment.
Luxury vinyl makes an excellent basement flooring for nearly any application. It has the appearance of hardwood but has a soft enough touch that it works well for home gyms and anything else you can think of.
These are the benefits of luxury vinyl:
Mimics hardwood in look and feel
Waterproof
Long-lasting
These are the downsides of luxury vinyl:
Requires smooth floors
More expensive than sheet vinyl
Sometimes requires a vapor barrier
4. Engineered Hardwood
Engineered hardwood is made from several layers of wood compacted tightly together. This type of flooring is often designed with the layers perpendicular to each other, which minimizes the expansion and contraction the wood undergoes.
Engineered hardwood flooring can be easily installed on a concrete sub-floor with glue, or you can float them. This is another basement flooring that needs a smooth sub-floor to work. If the sub-floor is uneven, the hardwood planks will start to pull away. This happens when the adhesive loses effectiveness, or when moisture levels spike. If you're floating the floor rather than gluing it down, an uneven sub-floor can cause unpleasant bouncing as you walk on it.
Another element to consider is wear. While engineered hardwood is very long-lasting, you generally won't have the option to sand and refinish it due to its composite construction.
This basement flooring option is one of the most attractive, but it's not built to withstand much moisture. If you're thinking about going with this gorgeous flooring option, you should invest in a moisture meter and make sure levels are low enough to make it work. If you're concerned about the moisture element, a dehumidifier can work wonders in preserving your engineered hardwood floor.
These are some of the pros to engineered hardwood:
Looks extremely high-end
Boosts your home's value
These are some of the cons to engineered hardwood:
Requires floor prep
Not completely waterproof
5. Tile
When waterproof is your most desired element, it doesn't get much better than tile floors. Today's tile floors come in traditional squares for those who like the classic look, but tile planks are also available. Planks imitate the look of wood while retaining all the benefits of tile. The ease of cleaning and unmatched durability make tile one of the best basement flooring options if you aren't planning to update your floors any time soon.
Tile may not be a suitable option due to its hardness. If you anticipate kids running around, older relatives coming to visit, or using your basement for high-impact exercise, a softer option may work better for you. If your basement is especially cold, tile will only amplify that effect.
Tile is also one of the more expensive options because it requires sub-floor prep and more intensive labor than other flooring choices. Tile should be installed right onto a concrete sub-floor, as wood will crack the tiles in the process of regular expansion and contraction. An uneven sub-floor may also result in cracked tile and will prevent the tiles from lining up properly.
Here are some of the benefits of tile flooring:
Waterproof
Extremely durable
Improves the value of your home
Here are some of the downsides of tile flooring:
Fairly expensive
Cold and hard
Requires significant sub-floor prep
Basement Flooring to Avoid
Although the best flooring for basements are all listed above, your eye may wander to some other options that aren't suitable for this area of your home. If you find yourself considering the following floor types, you should know why they aren't the best choice for your basement.
1. Cork Flooring
While the soft feel and eco-friendly qualities of cork floors work well in many areas of a home, the basement is not one of those areas. The edges of a cork floor are difficult to seal, so even though the floor is resistant to moisture overall, issues can easily crop up around the rim of the basement. It's not a terrible option, but it does pose a risk you may not want to take on.
2. Bamboo Flooring
Bamboo is often mistaken for hardwood, but it isn't. As one of the cheapest options around, you get what you pay for with bamboo floors. Bamboo is susceptible to scratches and dents, a quality that makes it unsuitable for any area you plan to use regularly. Above all, it doesn't stand up to moisture at all.
3. Solid Hardwood Flooring
While solid hardwoods are among the most beautiful flooring options available, you shouldn't consider them for your basement. The moisture element is crucial here, as are the temperature fluctuations that come with the changing seasons and can buckle a hardwood basement floor. Even more importantly, installing a solid hardwood floor below grade will almost always void the warranty, making this flooring more of a risk than most people want to take.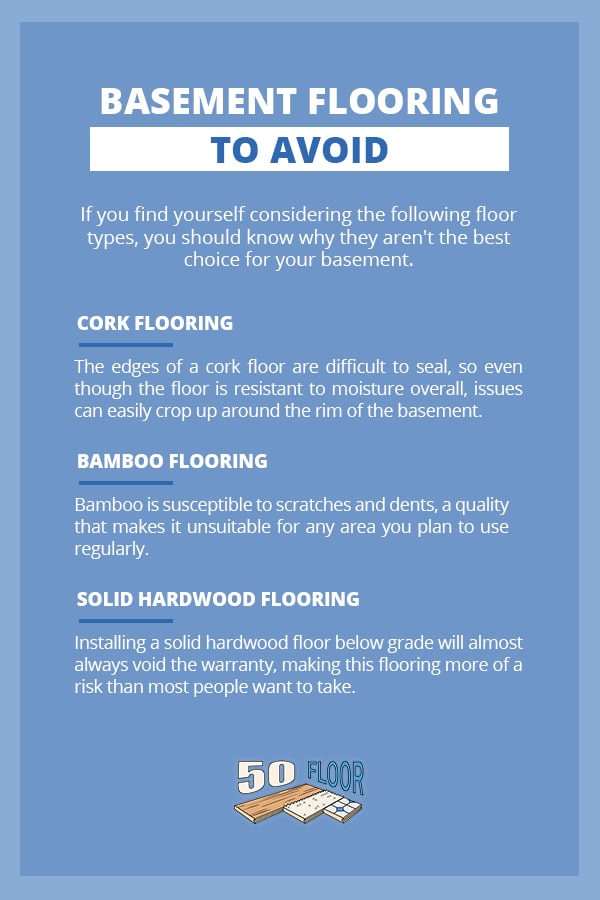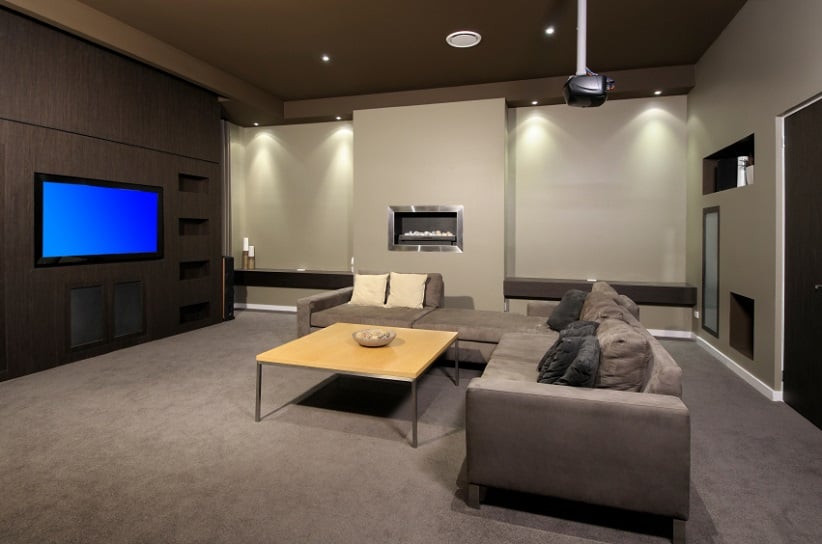 Discover Options for Basement Flooring With 50 Floor
Flooring your basement is a big decision that you'll enjoy for years to come — so it's essential to choose a flooring company you can trust. 50 Floor goes above and beyond to ensure our materials and installation are the best in the business. We price-match identical products so you know you're getting the best deal, and our low overhead means our prices are sometimes up to 80 percent lower than competitors.
Our manufacturers are the best of the best, and back it up with comprehensive flooring warranties. On top of that, we offer our own one-year warranty on installation, so you have confidence and peace of mind that your floor is installed to all current standards. We only work with vetted installers to ensure your home is in good hands.
Service is essential to 50 Floor, and we do everything we can to make flooring your basement simple and painless. Don't spend hours driving around to flooring stores. We come to you with an array of excellent options for you to compare during our free appointments. When it's time for installation, we've got the details covered from moving your furniture to cleaning up afterward.
If you're ready to update your basement with high-quality flooring, 50 Floor is at your service. Fill out our contact form with your information and some details about your flooring project, and we'll set up an appointment as soon as the next day. With 50 Floor, you'll get the best options for basement flooring.