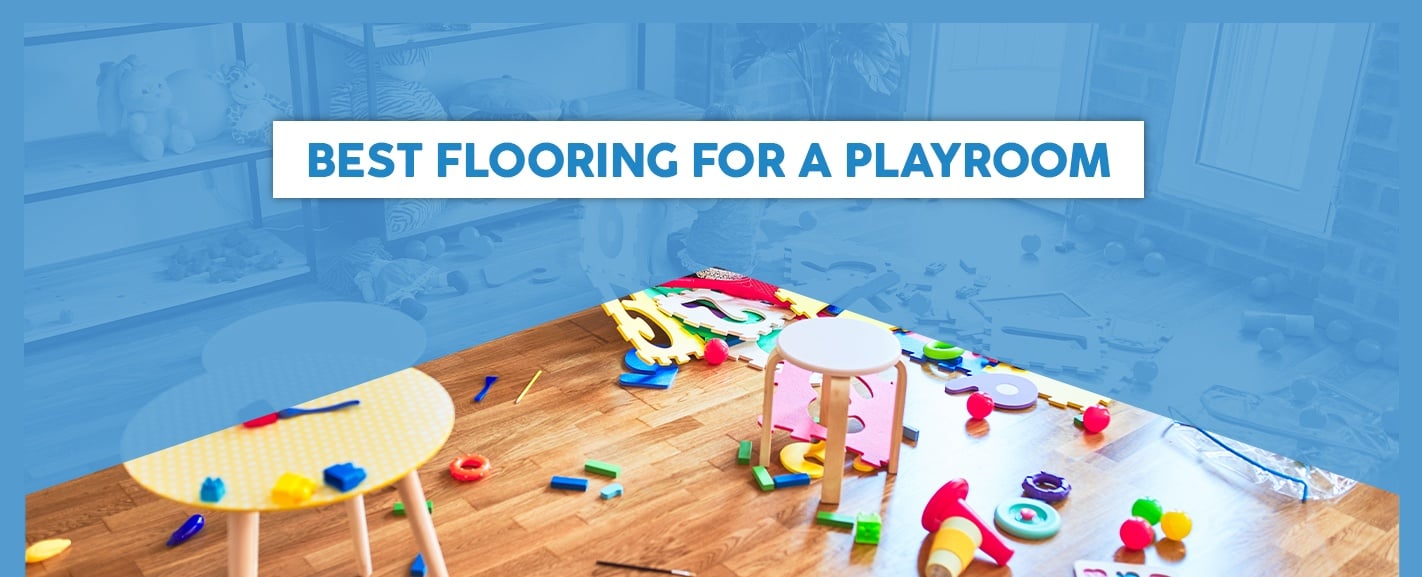 A kids playroom is where your little ones can be themselves and make messes. The floors should be able to withstand all the activity that takes place as your children explore. These playroom flooring ideas can help you find the best options for you and your family.
What to Consider When Choosing Kids Playroom Flooring
Kid-friendly playroom flooring promotes imagination and healthy development. Think about these factors as you look for a flooring material:
Aesthetics: Your flooring should be appealing to children to stimulate their creativity. Choose flooring materials that offer a variety of colors and patterns to help achieve your desired look. If possible, you may also want to consider installing a flooring material that matches the rest of your house.
Durability: Your flooring should be able to withstand all the activities your kids enjoy. Think about what spills and messes could occur from the snacks and toys they have in their playroom.
Sound control: Since you want your kids to make as much noise as they want, you could invest in a flooring material that offers excellent sound control.
Comfort and safety: As your kids learn to walk and spend time on the floor, look for comfortable, safe flooring. It's also helpful to get flooring that doesn't trap dirt or allergens to protect their developing lungs.
Ease of maintenance: Since so much activity happens in the playroom, you'll need to have a plan for cleaning it. Having a convenient maintenance routine will reduce your children's allergies and prevent pests.
Budget: Even though you want your flooring to last a long time, you might need to replace it as your kids get older and their interests change. Try to find budget-friendly flooring that you don't mind replacing in the next few years.
Schedule a Free In-Home Consultation
Best Flooring for a Kids Playroom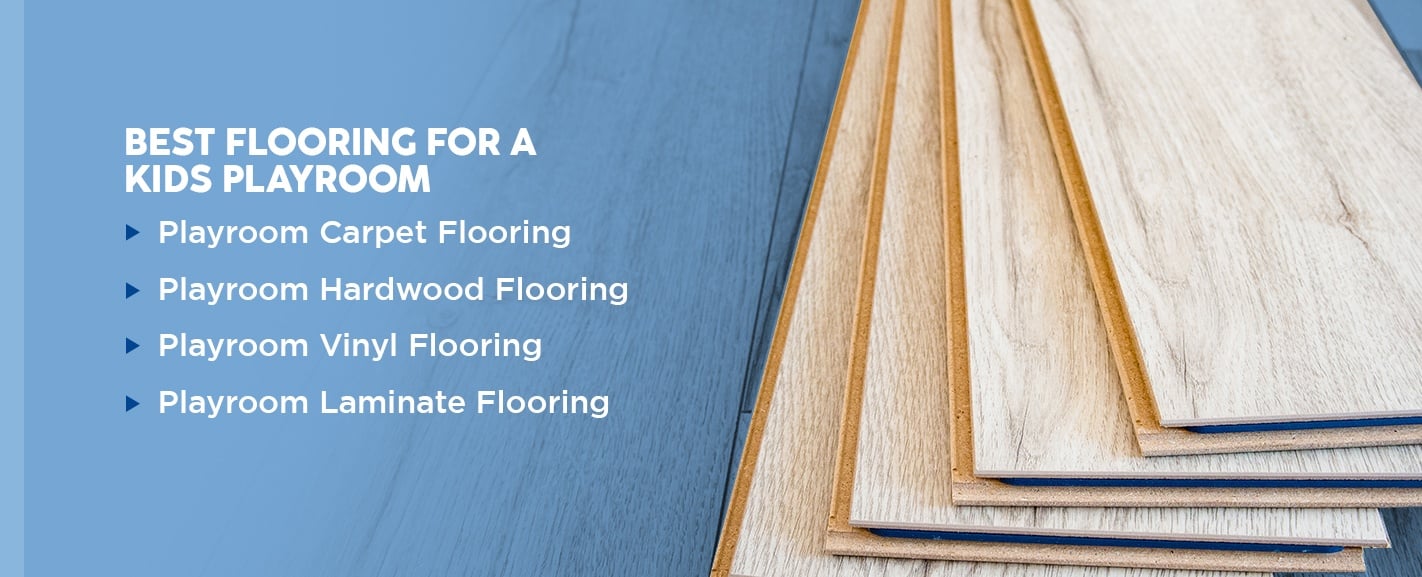 You have a few options when it comes to the best flooring for a playroom. Consider these ideas to create a fun and comfortable space for your kids to play in:
Playroom Vinyl Flooring
Vinyl flooring is an excellent option for playroom flooring because of its:
Price: Vinyl has a low upfront cost, so you can replace it as your children grow. If you choose the right colors and textures, your vinyl flooring can complement your design when you repurpose the room.
Aesthetics: Luxury vinyl flooring comes in different colors and textures to match your desired look. You can even find vinyl planks that look and feel like natural wood or tiles that look like natural stone.
Durability: Vinyl flooring is naturally resistant to moisture and scratches to stay resilient against falling toys or spills.
Comfort and safety: Vinyl floors are more comfortable to walk on than other hard surfaces, such as hardwood and tile. Since this material doesn't trap dirt or debris, it's safe for children with allergies.
Ease of maintenance: Vinyl flooring is easy to maintain because of its hard surface. You can vacuum or dust mop the debris and wipe up spills with a paper towel or cloth.
Playroom Carpet
Carpeting is a soft, textured flooring that works in the playroom because of its:
Price: Carpeted flooring is a cost-effective option that you can easily replace when your kids develop new interests. You can also find carpeting that fits within a limited budget.
Comfort and safety: The soft plush fibers of a carpet provide a warm, comfortable place for your kids to walk and kneel. This material also makes the room warmer, allowing you to regulate the temperature and keep your kids comfortable all year long.
Sound control: Carpeting also controls the sound in the playroom. Your kids can be free to make noise and play without disturbing the rest of the house.
Aesthetics: Carpeting comes in various colors and materials to go with your playroom's design theme. You can easily choose colors and patterns your kids will enjoy.
Playroom Laminate Flooring
Consider laminate flooring for your playroom because of its:
Price: Laminate has a lower upfront cost than other flooring materials. This budget-friendly option comes in handy if you need to repurpose the room as your child grows. You can also keep it if it matches the rest of your house.
Aesthetics: Like vinyl, laminate comes in various colors and textures to fit your home's design. You can even find laminate that looks like natural wood.
Comfort and safety: Since it's a hard surface, laminate doesn't hold onto dirt or debris, so your children with allergies can breathe freely.
Ease of maintenance: Like other hard flooring materials, you can easily clean laminate with a vacuum, dust mop or paper towel.
Playroom Hardwood Flooring
Hardwood flooring is a natural option that works in a playroom because of its:
Aesthetics: Solid hardwood is a naturally beautiful flooring material that instantly adds warmth and charm to any room. This option can match the whole house and grow with your children as their interests change. It comes in different stain colors and graining patterns to make your living space unique.
Durability: Since it's a hard surface, hardwood flooring can withstand spills and crumbs from food residue, especially if you apply a water- or oil-based polyurethane finish to increase its strength.
Comfort and safety: Hardwood floors are safer for children with allergies because they don't trap dust or dirt. To make it more comfortable for your kids' feet and knees, you can add a colorful area rug to the floor.
Ease of maintenance: Hardwood flooring is easy to clean because of its hard surface and resistance to spills. All you need to do is dust it with a mop or vacuum to get rid of debris. You can also wipe up liquids with a paper towel or cloth.
Take Our Quiz to Find Your Flooring Style
Tips for Choosing Playroom Flooring
Now that you know the pros and cons of each type of playroom flooring, follow these tips to make your final decision:
Plan for the future: The playroom is a temporary spot in the house. You'll only need it as long as your kids are young. Think about investing in a flooring material that'll match your home when you need to repurpose the playroom in the future. If you want kid-friendly flooring, consider a cheaper option to get the most out of your money over time.
Consider the rest of the house: Even though your floors should appeal to your kids, they should also fit in with the rest of your property. Consider your overall design theme to get color and texture ideas.
Get your kids involved: Since you're designing the room for your kids, you may want to have them help pick out a flooring material if they're mature enough. They'll enjoy sorting through colors and patterns and choosing ones that appeal to them.
Bring home samples: It's much easier to see your flooring options at home than trying to remember what your playroom looks like when you're at the store. Schedule an in-home appointment for 50 Floor to bring samples directly to your house.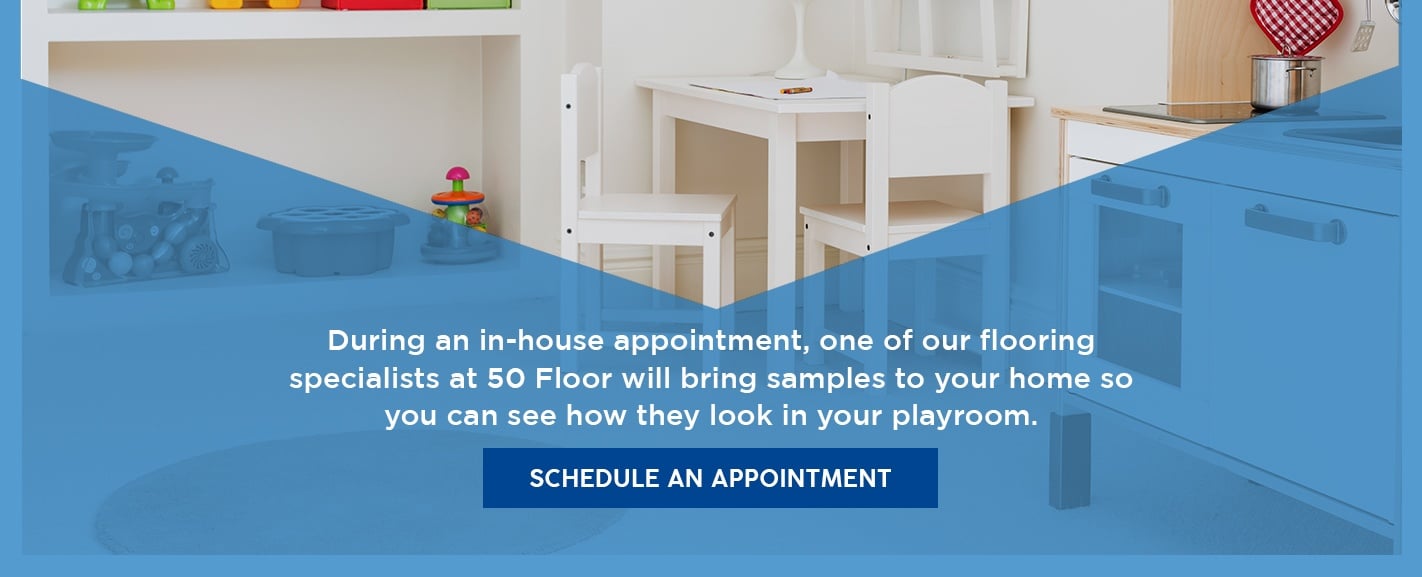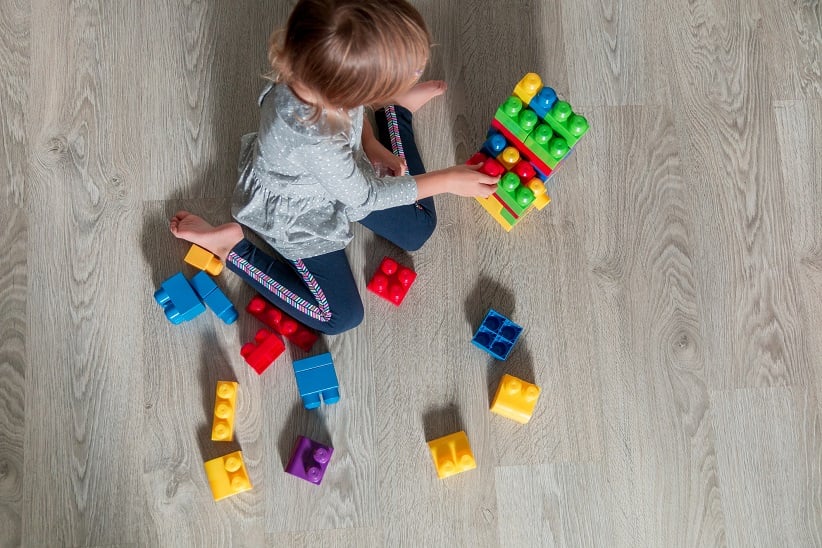 Schedule an In-Home Appointment With 50 Floor for Your Playroom Flooring
During an in-house appointment, one of our flooring specialists at 50 Floor will bring samples to your home so you can see how they look in your playroom. It's also a great opportunity for kids to check out their flooring options and weigh in on your decision. If you're ready to redesign your playroom flooring, schedule an appointment with us online or call 1-877-50-FLOOR.