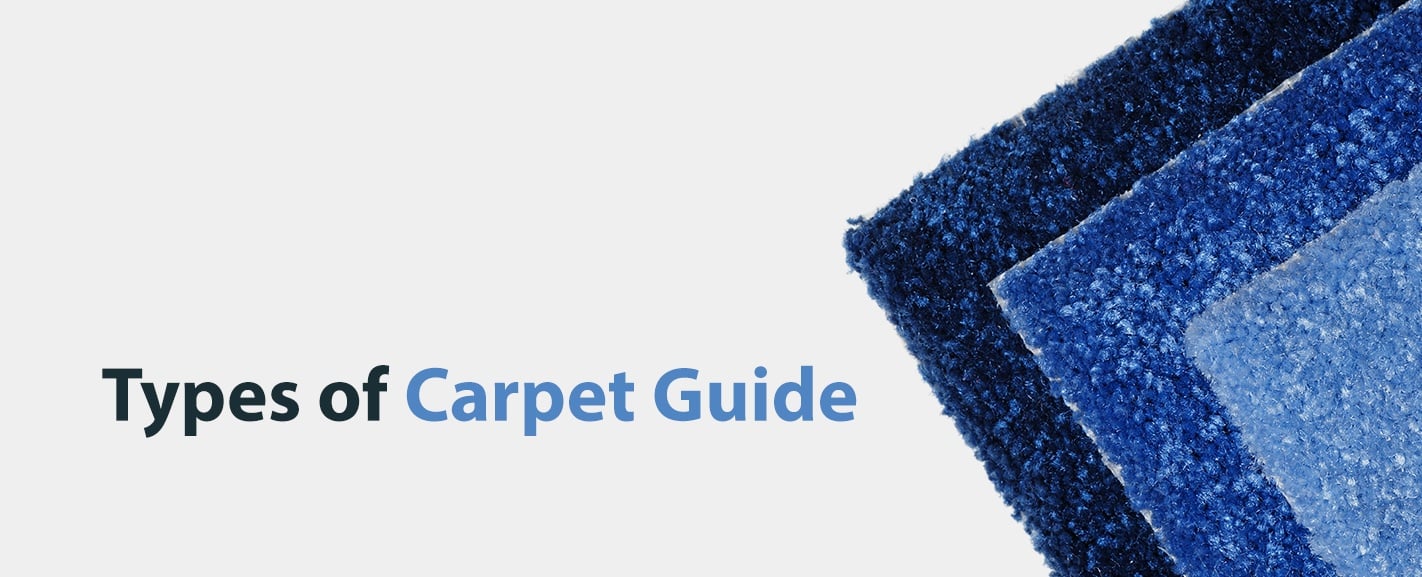 Table of Contents
---
Carpeting is a popular, cost-effective flooring material that can add warmth and texture to any part of your home. It's especially useful in bedrooms and second-floor spaces because of its ability to reduce noise and trap heat for a cozy living environment.
If you're looking for a carpet to put in your property, you can find plenty of color, material and style options to complement your home's design aesthetic. Consider the various carpet styles we offer at 50 Floor to find the best type of carpet for your living space.
Different Carpet Styles
The style of your carpet determines its texture and appearance in your living space. Explore the various carpet styles that you could use.
1. Saxony
Saxony carpeting is a cut-pile carpet that features upright and even fibers, providing a clean yet dimensional appearance for your floors. This style would enhance the visual appeal and comfort of your dining or family room. You might choose a Saxony carpet for your home because it's:
Versatile: You can use Saxony carpet in a formal setting like the dining room or a casual setting like a bedroom. It comes in a variety of colors and patterns to accommodate the aesthetic of the room. This carpeting doesn't go out of style, and it can last for at least a decade with the proper maintenance.
Luxurious and comfortable: Manufacturers of Saxony carpet cut and heat the tightly-woven, twisted fibers to stand upright. As a result, the material has a luxurious, smooth texture like velvet that's pleasant for your feet.
Easy to clean: Since its fibers are relatively short, Saxony carpet is easy to vacuum and keep clean. It doesn't tend to hold onto dirt like longer carpets do

.
2. Frieze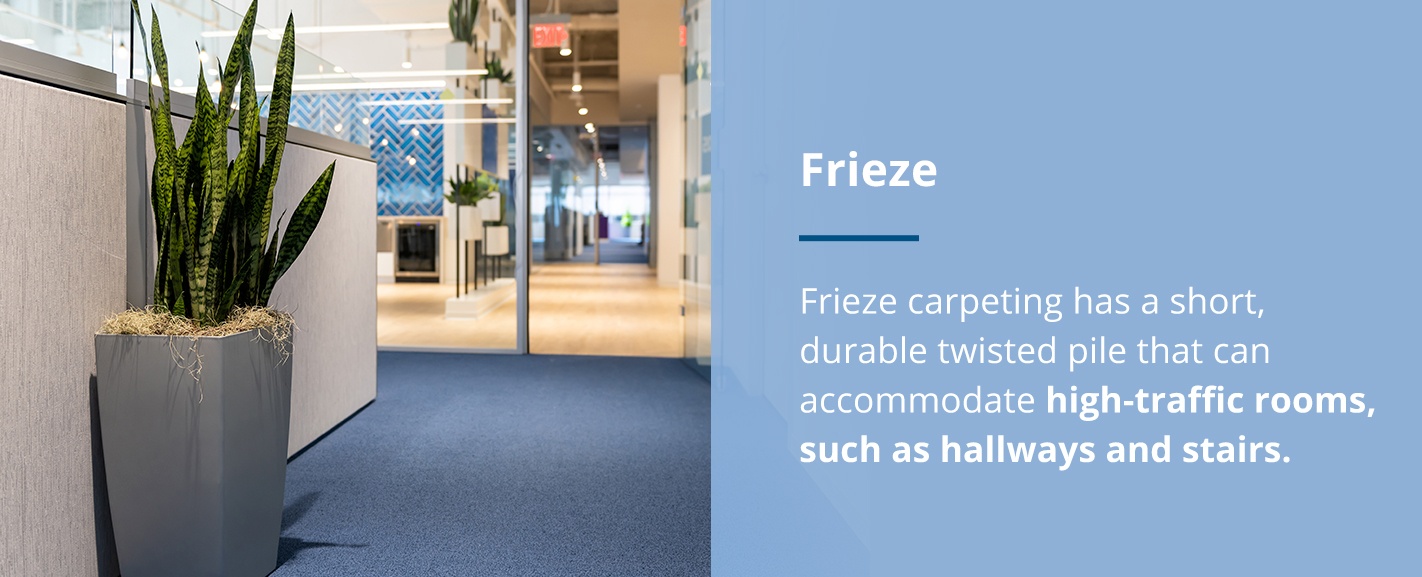 Frieze carpeting has a short, durable twisted pile that can accommodate high-traffic rooms, such as hallways and stairs. Some of the features of Frieze carpet include:
Thick pile: Traditionally, Frieze resembles the appearance of a shag carpet because of its tall, thick pile, but the modern version of it is twisted, shorter and neater.
Clean: Since the fibers curl in different directions, they hide footprints and carpet marks, along with dirt and debris. While you don't need to clean it as often as other carpet types, regularly vacuuming helps maintain its vibrant color.
Comfortable:

Along with its durability, Frieze carpet retains its appearance and texture, which is softer than that of other carpet styles.
3. Berber
Berber carpeting features large, uncut loops of natural-tone fibers that vary in size. As a result, the carpet takes on a distinctively low and tightly-woven appearance. For this carpet style, wool and nylon are the most effective materials because of their resistance to crushing. You might want to install a Berber carpet in your home because of its:
Thick pile: Its thickness gives Berber carpeting a luxurious look and comfortable texture.
Resistant to stains: Berber carpet is resistant to stains, making it a useful style in high-traffic areas.
Cost-effective: This style is relatively inexpensive because it features cost-effective materials, and manufacturers don't need to cut the fibers.
Clean: The patterns of this style of carpeting hide dirt and vacuum marks to provide your floors with a neat presentation.
4. Plush
Plush carpeting features closely-packed yarn with a smooth surface that can accommodate the style of dining rooms and other formal areas due to its elegant appearance. Since it's soft, you can also install this carpeting in a child's bedroom or a nursery so that your children have a comfortable, safe place to walk and play. You would want plush carpet in your house because it's:
Thick and even: The clean, symmetrical pile in plush carpet reflects the appearance of velvet or a well-manicured lawn.
Comfortable: Plush carpeting has the texture of a warm blanket. It's cozy for your feet as you walk on it, and it can serve as additional seating for your family in the entertainment room.
Versatile: You can dress up the plush carpet to use in the dining room or install it in a casual part of the house. Plush carpet is also available in a variety of eco-friendly, low-maintenance materials for your selection.
5. Pattern
Pattern carpeting features a mixture of cut and loop pile with a wide selection of textures and designs available. In some cases, it looks like the manufacturer cut into the carpet to heighten its dimensions. Here are some of the unique features of pattern carpeting that you could appreciate in your living space:
Colorful: Pattern carpeting contains several colors from the same palette, but this variation in shades could give your floors a dimensional appearance.
Clean and neat: To create a patterned carpet, manufacturers use varying heights of loops to enhance the visual appeal of your carpet. This effect also helps hide soiling and wear.
Versatile: You could put any design on your carpet to

complement your curtains

or display your unique personality. You could make it formal or informal, creating an intentional focal point in your bedroom, living room or family room.
Tips for Choosing Which Type Is Right for You
As you look for the best type of carpet for your bedroom, living room, office dining room, stairs or family room, consider these tips.
1. Pick the Right Pile for the Foot Traffic
When you select a carpet, you need to decide on the height of the pile, which consists of the loops of fabric within the material. Most carpeting either features a low pile or deep pile. Choose a pile height that accommodates the level of maintenance you want to put into your floors and the busyness of the living space:
Low pile: Low pile carpeting is useful for high traffic areas, but you could use it in any part of the home. It's easy to clean with a vacuum, and it doesn't trap debris. You can also place heavy furniture on top of low pile carpeting without worrying about noticeable dents. Since the loops are shorter, they use fewer materials, so they're less expensive to purchase and install.
Deep pile: Homeowners choose deep pile carpeting because of its aesthetic qualities. It tends to be warm and comfortable, providing a cozy place to sit in the family room or a bedroom. This luxurious carpet could act as a focal point in your house, and as a natural insulator, it holds heat better than a low pile carpet.
2. Weight and Density Determine the Quality
Typically, the weight and density of your carpet will help you figure out its condition. The weight of the carpeting describes how many fibers are present within the material. When there are more fibers present in the carpet, it tends to be bulkier, and it has a higher quality.
On the other hand, carpet density indicates how many fibers are in the pile and how closely the manufacturers packed them together. A dense carpet means that it's in excellent condition. When you run your fingers through the material, if you feel the backing, it has a low density.
3. Certain Materials Are Easier to Maintain
While carpeting is easier to maintain than other flooring materials, some carpet fibers and styles are prone to stains and marks. You can take care of your carpeting by vacuuming it regularly to reduce allergens and prevent stains from setting into the floors. However, consider installing a carpet that doesn't cost you as much time, energy and money to clean and repair.
If you want a low-maintenance carpet to accommodate your busy lifestyle, look for these features in a style or material:
Resistance to moisture damage, including mold and mildew
Ability to hide stains and vacuum marks
Protection against indentation from heavy furniture
4. Consider the Colors of Your Walls, Furniture and Decor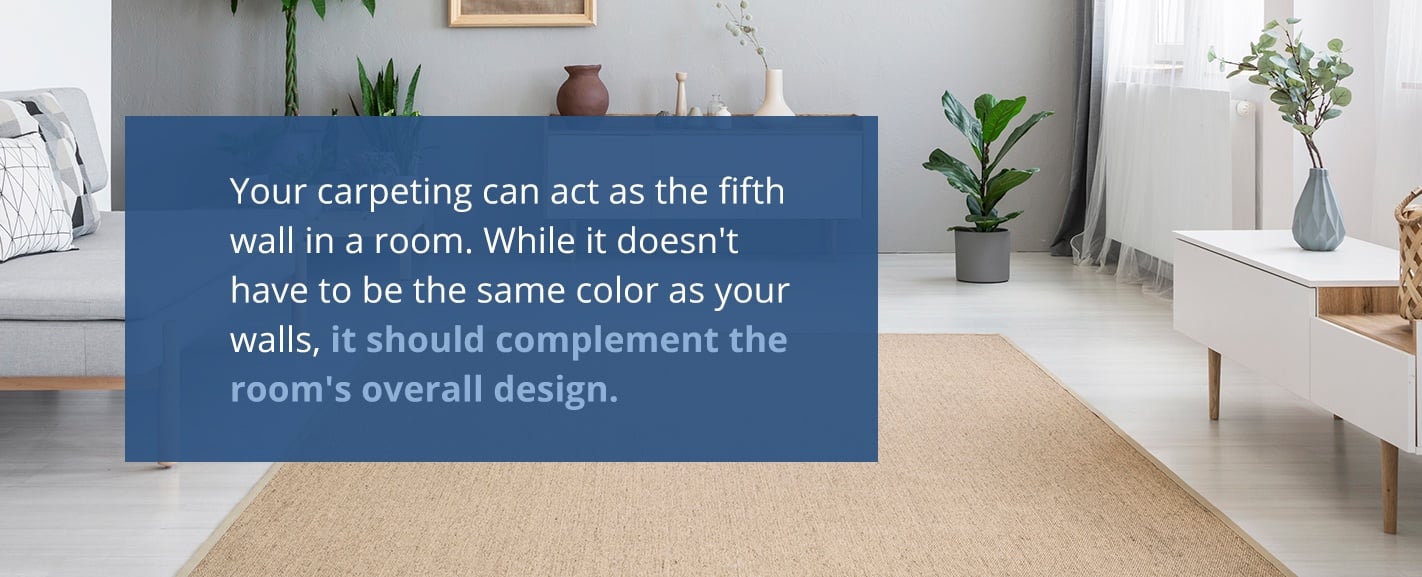 Your carpeting can act as the fifth wall in a room. While it doesn't have to be the same color as your walls, it should complement the room's overall design. You want to make sure you choose colors that go with your neutral walls or colorful furniture. To find out the shade you should use for your carpeting, answer these questions:
How many people will use the room? A darker carpet can hide dirt and stains from areas with a lot of foot traffic.
What size is it?

A lighter carpet can make a small room look more spacious.

What color are the walls, furniture and decor? Choose a color that brings out the beauty of the decorations you already have in your home.
5. Remember the Padding of Your Carpet
When the flooring company installs your carpet, they need to apply carpet padding under it to protect against the subfloor. This protective layer usually contains recycled foam or hypoallergenic materials.
You need to find high-quality padding to install under your carpeting because:
It adds to the thermal insulation of your carpeting to reduce utility costs.
It makes the floors softer so you can sink your feet into the carpet.
It slightly raises your carpet so you can vacuum more easily.
It protects the subfloors from moisture damage if you use a steam cleaner or spill a drink on the floor.
It muffles noise to provide additional sound control.
6. The Part of the House Affects the Carpet You Should Install
Carpeting can withstand most parts of the house, but the purpose and size of the room where you want to install it will affect the type of carpet you need. For example, if you choose to carpet your stairs, you should use a material that resists pilling, dirt and snagging. To help you find the right carpet for each room, be prepared to answer these questions:
How are you going to use the room? If the carpeting is going into a child's bedroom, you need a comfortable material to go under their feet.
How much traffic does the room experience? In busy areas of the house, you need carpeting that hides stains well and is easy to clean.
Can you access the outside of your house from this room? For parts of the home near the back or front door, you should install a moisture-resistant carpet that's easy to clean.
Different Types of Carpet Fiber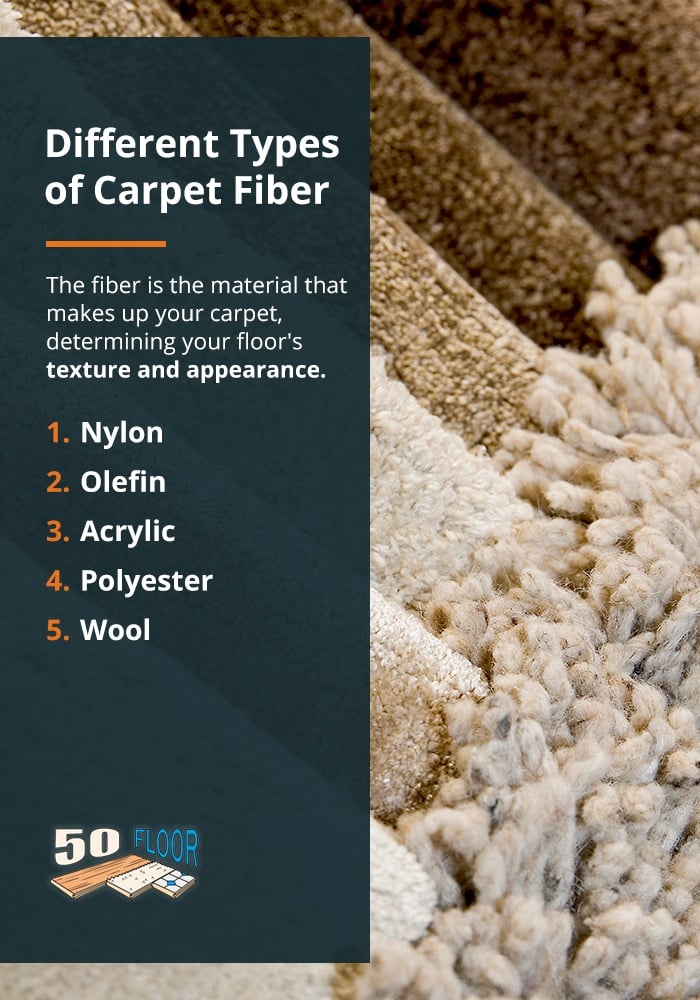 The fiber is the material that makes up your carpet, determining your floor's texture and appearance. Here are the different types of carpet that are available today.
1. Nylon
Nylon is one of the most popular carpeting materials you'll find, especially among those who own pets, because of its:
Ability to withstand heavy traffic: Nylon carpeting effectively resists stains and maintains quality in the busy areas of your home.
Durability: Along with its resistance to stains in rooms where many people gather, it also guards against mildew, staining and crushing from excess wear.
Safety: Nylon is practical for people with allergies and pets because it doesn't trap dander or odors.
2. Olefin
Olefin carpeting is useful for both indoor and outdoor applications. This material would enhance the quality of your home because of its:
Moisture resistance: Due to its resistance to mold, mildew and moisture damage, olefin is useful in basements and areas that lead to the outside.
Colorful: It's available in a variety of color options to complement the design of the room.
Durable: Besides its resistance to moisture, it also doesn't stain, pill, shed or hold onto static.
3. Acrylic
Acrylic has a similar appearance and texture to other carpet materials, but at a fraction of the cost. This material is beneficial for your living space because it's:
Durable: Due to its resistance to soiling, static, mildew and moths, it's easy to clean and maintain.
Colorfast: Acrylic comes in a variety of colors and doesn't lose its vibrancy after exposure to direct sunlight.
Versatile: This carpet material can resemble wool or polyester, depending on the pile and texture.
4. Polyester
The synthetic fibers of polyester carpeting offer the following benefits:
Water-resistance: Polyester

resists stains, mold and mildew as a result of excess moisture.

Safe for those with allergies: This carpeting material doesn't trap odors and dander, so people with asthma and allergies will have relief from their symptoms.
Low maintenance: Polyester carpet is easy to clean with a vacuum.
Versatility: You could choose from a variety of color options for polyester carpeting.
5. Wool
Wool from sheep is a soft, elegant carpet material that could trap heat and keep you cozy in the winter. Some of the benefits of wool include:
Luxury: Wool is a natural carpet material that has a luxurious, comfortable texture.
Eco-friendliness: This material comes straight from the hairs of an animal, so it's eco-friendly and humane.
Durability: Wool carpeting retains its color and shape for years, even after excess wear and foot traffic.
Schedule an Appointment With 50 Floor
Schedule an in-home estimate with 50 Floor when you're ready to buy carpeting for your home in one of our service areas. We offer high-quality carpeting in various weights, densities and materials that can accommodate any design style. If you're not sure what type of carpet would look best in your living area, we'll bring samples to your house so you can see them next to your furniture and decor. Book your appointment online or call 1-800-50-FLOOR.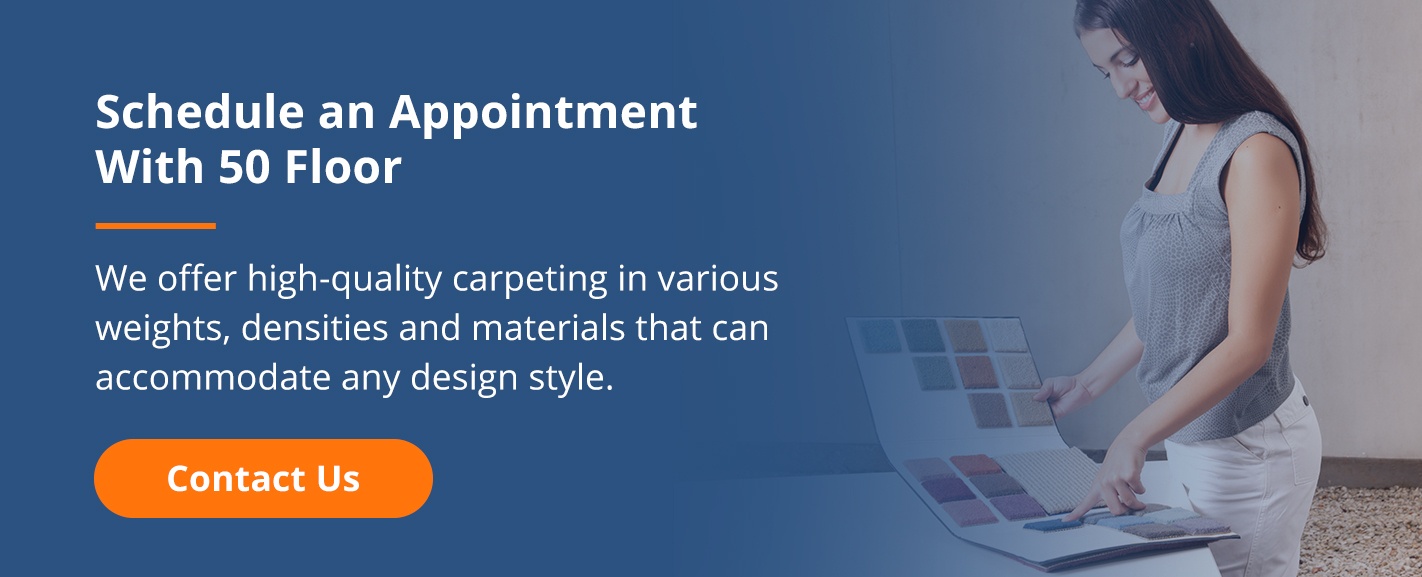 Carpet FAQs