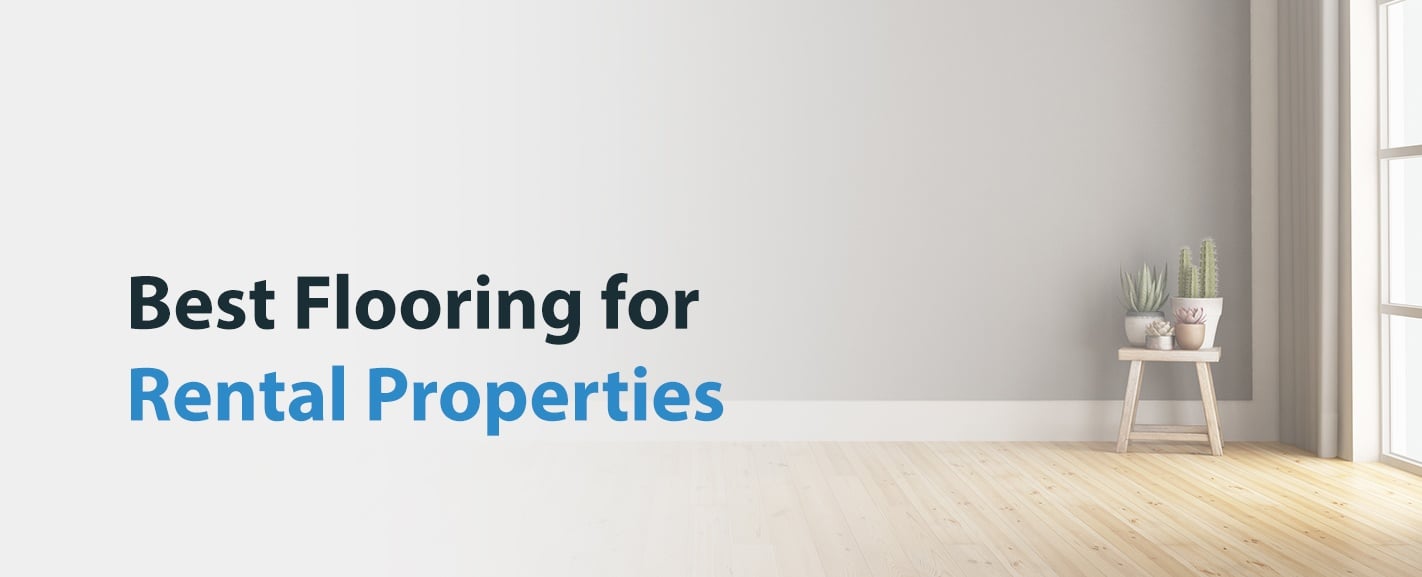 If you own a rental property, you may notice some wear and tear on your flooring. Whether your tenants have pets or have been renting from you for a long time, you don't know what marks or stains you'll find on your tile, carpeting or vinyl floors. Update your flooring to charge more rent and make a clean space for your new tenants. This guide will help you discover the best flooring for rentals.
Things to Consider When Choosing the Best Flooring for Rental Units
When you're trying to figure out the best flooring for rentals, think about the following factors:
Price: You most likely have a rental property because you want to make more money. Increase your revenue by investing in inexpensive, low-maintenance flooring material.
Property value: If you're going to attract a high-end clientele with your rental space, you should invest in quality, aesthetically pleasing flooring materials. While elegant flooring is more expensive, you can charge higher rent and increase your property value.
Durability: After replacing the floors, you shouldn't have to change them again for decades. The best flooring for rentals is a material that will attract potential tenants but also withstand the wear and tear of families and pets. Think about the amount of time and money you're willing to spend cleaning and maintaining your floors, including replacing broken panels and resealing surfaces.
Local climate: When deciding on the most durable flooring for your rental, the weather of your local area will determine what material would last the longest. If you live in a humid climate, you need water-resistant flooring, but in a cold environment, you should install floors with sufficient insulation.
Design: Since you may have multiple tenants over the years, you need a material that will complement different design aesthetics and attract the eye of potential renters. While you may like pink floors, not everyone shares your unique design taste. Instead, pick neutral colors and let your tenants bring their preferred color palette into the living space with furniture and decor.
Part of the house: The various rooms in your rental property have different humidity and

foot traffic

levels. Think about which part of the unit you need to upgrade and choose a flooring material that can accommodate its function. For example, a bedroom may need flooring that reduces noise, while a kitchen needs flooring that's resistant to spills.
What Is the Best Flooring for Rentals & Rental Properties?
As you're trying to decide on the best flooring for your rental property, search for some flooring photos online to give you an idea of how each floor material would look in your designated rental area. Here are the pros and cons of the most common rental flooring options.
Hardwood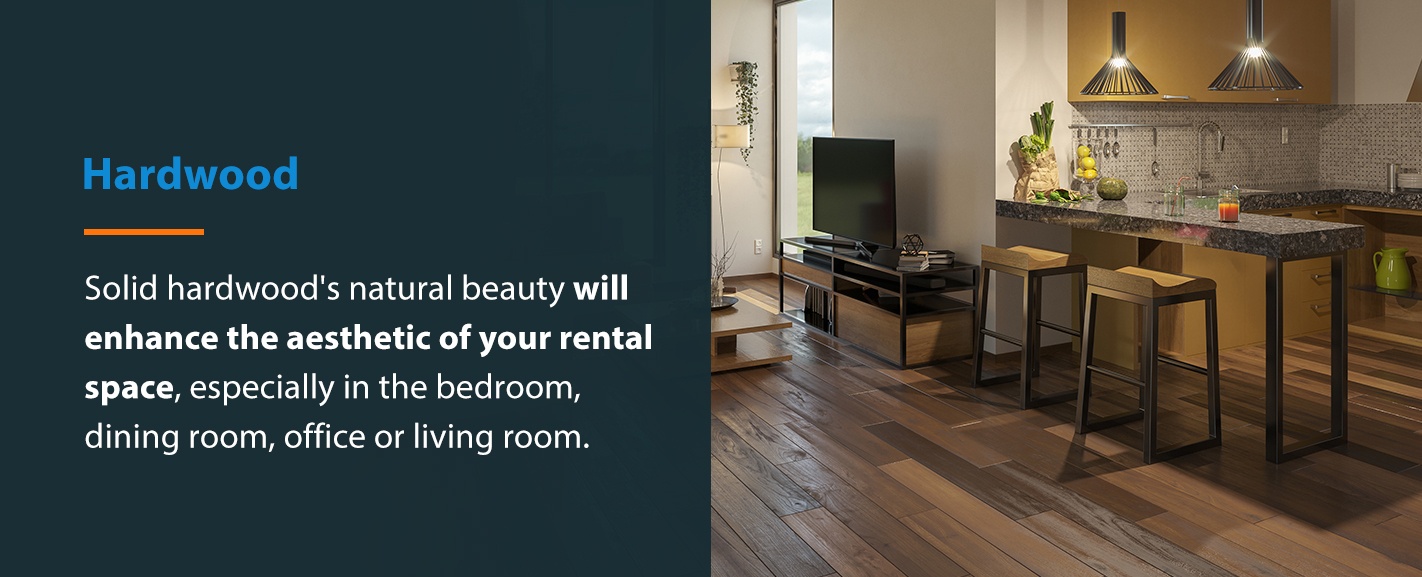 Solid hardwood's natural beauty will enhance the aesthetic of your rental space, especially in the bedroom, dining room, office or living room. You can install various species of wood that come in different colors and sizes. If you're looking for a material that's easier to maintain than solid hardwood, engineered hardwood flooring is a composite of wood mixed with other durable fibers.
If you're looking for high-class flooring, solid or engineered hardwood will give your home a luxurious appearance. Some of the other benefits of hardwood flooring are:
When maintained properly, wood flooring could last for longer than you'll live in your home.
You can refinish solid hardwood to change its color or repair minor scratches.

If you want consistent flooring throughout your rental space, you could put moisture-resistant engineered wood in the bathroom.

To clean or dust your wood floors, you only need a broom, cloth or vacuum.
While hardwood flooring is a sophisticated material for your rental property, it also has the following disadvantages:
It's the most expensive flooring material.
If you don't refinish your hardwood floors over the years, the wood is prone to scratches and dents.
Solid hardwood is prone to moisture damage.
When in contact with direct sunlight, hardwood floors could lose their color.
Laminate
Laminate is made from a combination of plastic and wood fibers to give the floors the appearance of natural wood but with less maintenance. You could install laminate flooring in the bedrooms, dining room, living room or office. Waterproof laminate is useful in humid areas like the kitchen or the bathroom.
Here are some of the benefits of laminate flooring for your rental property:
Laminate is less expensive than solid hardwood flooring.
It's easy to clean with a vacuum or a floor sweeper.
Instead of replacing the entire floor, you can change out one broken panel.
It's resistant to scratches.
Laminate flooring may be affordable and easy to clean, but it also comes with these weaknesses:
It's not resistant to damage from excess moisture.
Unlike solid hardwood, you cannot change the color of your laminate flooring.
The laminate panels can be slippery as you walk on them.
Laminate has a shorter lifetime than real hardwood.
Carpet
For your rental property, carpeting would be useful in bedrooms and on the second level. It comes as a roll of thick fibers that the flooring company cuts to fit within the size of the living area.
Here are some of the advantages of installing carpet in your rental property:
Carpet is more cost-effective than other flooring materials.
The thick fibers of the carpeting help regulate the temperature of the space and help you save money on your energy bills.
Since carpet is an excellent insulator, it's also good at reducing noise.
Even though carpeting is an affordable insulator, it also has some drawbacks:
Carpet can be dangerous for people with allergies because it traps dust and animal dander.
Carpeting stains easily and requires frequent vacuuming to keep it looking its best.

If you're going to replace the carpet, you're going to have to rip up the entire flooring instead of changing out a small piece.
Vinyl
Vinyl is available as a large sheet, tile or plank form and is often installed in bathrooms or kitchens. As a more aesthetically pleasing alternative, luxury vinyl flooring can go anywhere in the house because of its unique design and versatility.
Here are some of the other benefits of vinyl:
Even though it's called

luxury vinyl flooring

, it's the least expensive option for flooring.

You can easily clean vinyl with a wet mop and a little brush to get rid of stains.
If you invest in vinyl tiles or planks, you can easily switch out a damaged piece instead of replacing the whole floor.
Vinyl is waterproof and resilient, making it a useful material for high-traffic areas.
Vinyl also comes with the following drawbacks:
It can rip and tear easily.
If moisture gets underneath a tile or plank, mold and mildew can grow.
Tile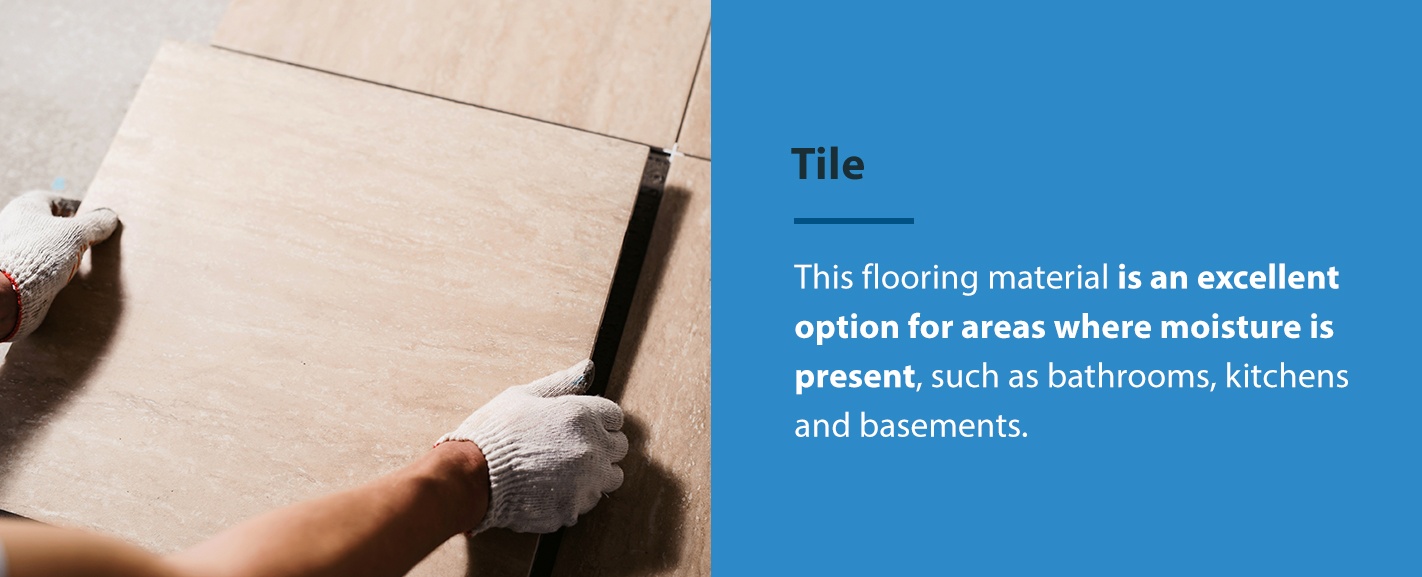 In a rental property, you can install hard ceramic or porcelain tile. This flooring material is an excellent option for areas where moisture is present, such as bathrooms, kitchens and basements.
Check out these reasons to install tile to determine if it'll work for your rental unit:
You can find tile that looks like natural stone but with a lower price tag.
Porcelain and ceramic tiles are easy to clean.
If you break one, you can easily replace it instead of ripping up the whole floor.
Tile is resistant to moisture damage and stains.
However, tile also has the following disadvantages:
It's not a good insulator, which could make your bathroom or kitchen uncomfortable in the winter.
While you can easily clean the tile's surface, grout can be challenging to clean because of its porous nature.
Schedule an Appointment With 50 Floor
At 50 Floor, we'll help you find the most durable flooring for your rental property. We provide in-home estimates, where we'll show you floor samples to view in your rental property and order on the spot. If we have a location in your local area and you want to schedule an appointment with us, contact us online or call 1-800-50-FLOOR.