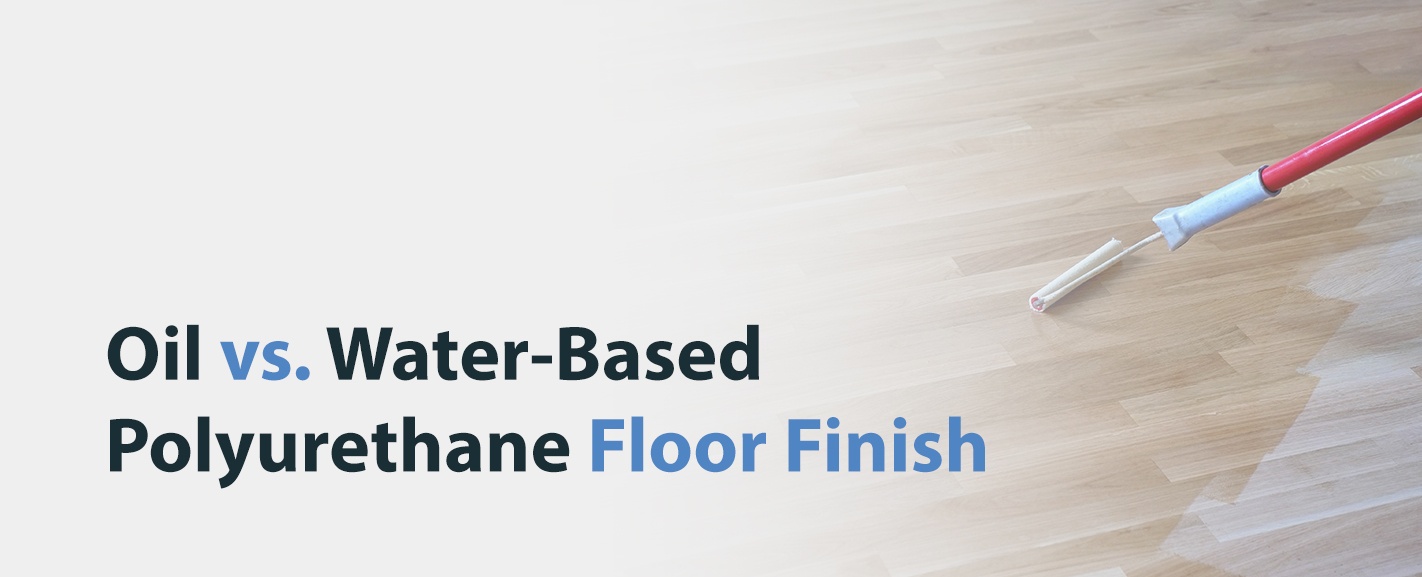 If you want to refinish your old hardwood floors because they have some scratches or dull spots, choose a high-quality polyurethane floor finish to restore them. Hardwood floors respond well to oil-based or water-based finish, but which application is better? Use this guide to compare oil-based vs. water-based polyurethane for floors.
What Is Oil-Based Polyurethane?
Oil-based polyurethane is a wood finish that contains linseed oil, plasticizers and synthetic adhesive resins. It has a slight amber tint that can add a vibrant, warm glow to your hardwood floors. Choose an oil-based lacquer if you want a durable finish that provides long-lasting care for your flooring.
This polyurethane floor finish is effective on hardwood floors in high-traffic areas, such as a hallway, living room or stairs. Keep in mind that the application process for an oil-based wood finish may take a few days, so make sure you arrange alternative accommodations for your family.
Benefits of Oil-Based Polyurethane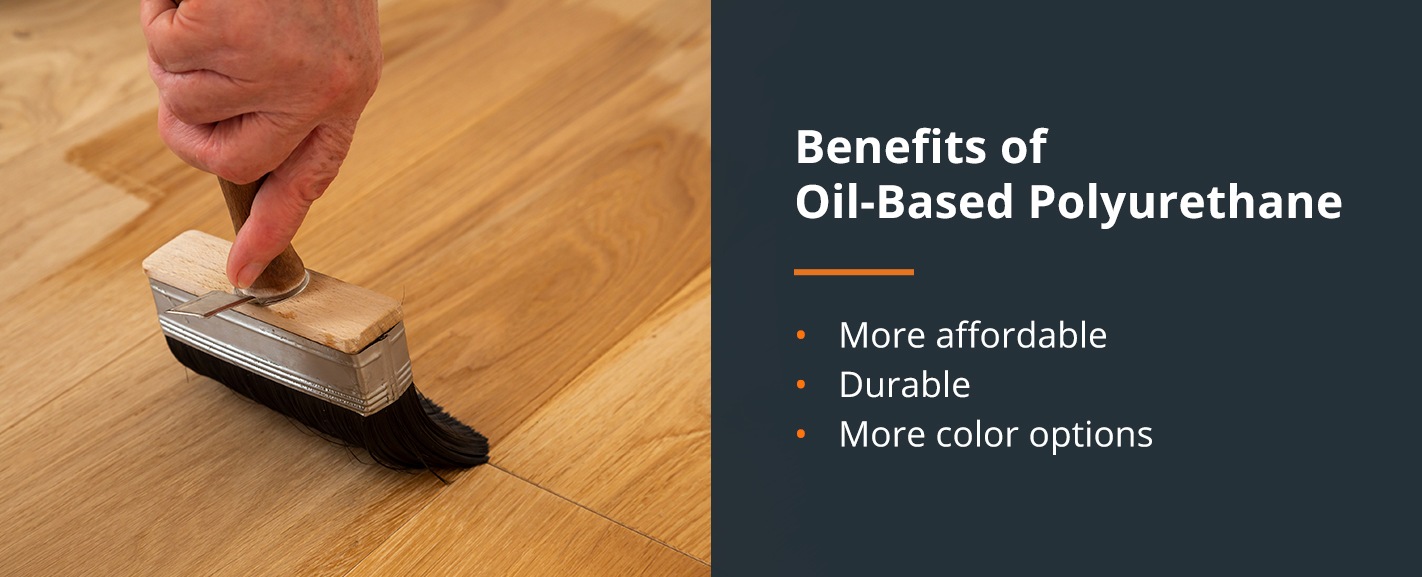 Oil-based polyurethane is a practical choice for homeowners with hardwood floors because of its durability and aesthetic appeal. Consider these advantages of oil-based lacquer vs. water-based to determine if it's a proper application for your hardwood floors:
More affordable: Oil-based wood finish is about half the cost of its water-based counterpart. Quality water-based polyurethane comes at a high price to get the same level of protection that you would get with an oil-based finish.
Durable: You need to reapply water-based hardwood floor sealer every couple of years to maintain its protective coating. With oil-based polyurethane, you wouldn't have to refinish your floors as often. Since it contains mostly solids, an oil-based floor sealer is a long-lasting and protective substance for wood flooring. As a result of using this finish, the hardwood floors in your property will resist moisture, heat and scratches for up to a decade.
More color options: Oil-based polyurethane offers more ways to

choose the color of your hardwood floors

to achieve the visual appeal you want to have in your living space. While you can apply a transparent oil-based finish that enhances the natural beauty of the floors, you could also change the color to complement the rest of your house. If you want to change your hardwood floor color, keep in mind that

light-colored floors

make a small room look more spacious, and dark-colored wood planks can increase your home's property value.
What Is Water-Based Polyurethane?
Water-based polyurethane is a wood finish made with water instead of linseed oil. Like an oil-based finish, this substance contains the same synthetic resin adhesives and plasticizers to protect hardwood planks. A water-based sealer is useful if you have a limited timeline or want an eco-friendly coating on the flooring.
Unlike oil-based polyurethane, water-based hardwood floor sealer has a transparent, shiny finish, and it doesn't add a yellow tint to your hardwood floors. Keep in mind that the finish may look a little milky in the can, but it dries clear. Besides color, you can also choose whether you want a high-gloss, satin or semi-gloss shine on your flooring.
Benefits of Water-Based Polyurethane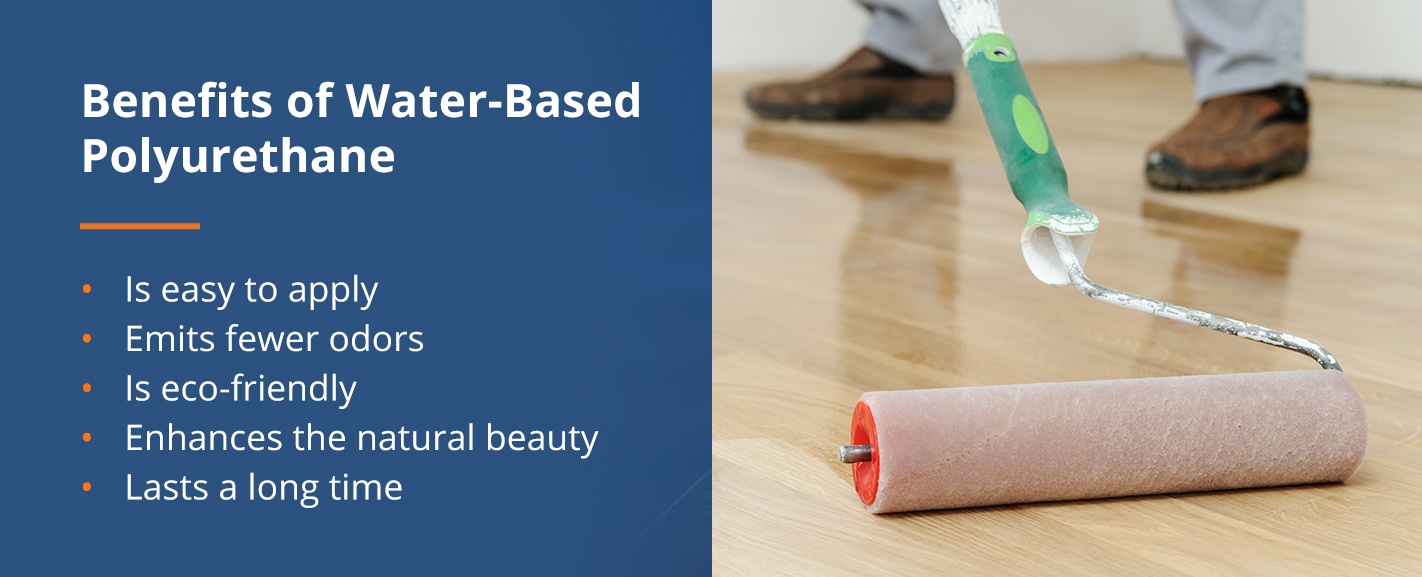 Homeowners enjoy water-based polyurethane wood finish because it:
Is easy to apply: Water-based polyurethane dries quickly and only takes a few hours to install. With oil-based polyurethane, you would have to make arrangements for your family to stay at a hotel or with friends for a few days. If you start the project early enough in the morning, you can apply the water-based finish and sleep in the house that night.
Emits fewer odors: One of the drawbacks of oil-based polyurethane is the overwhelming odor that it produces. Water-based polyurethane may give off a slight odor, but it's not as noticeable. This application provides better indoor air quality and eases the process of finishing the floors yourself. However, it would be best to hire a professional to apply the finish to your home since the quick drying time could result in bubbling or overlapping without the proper care.
Is eco-friendly: Water-based polyurethane is better for the environment because it releases fewer volatile organic compounds (VOCs). You won't need to use a respirator to apply it, and you won't need to prepare living arrangements for your family. A water-based hardwood floor sealer provides a better air quality for the people in your household who may have asthma or other respiratory symptoms.
Enhances the natural beauty: Water-based polyurethane produces a smooth and shiny finish for your hardwood floors. Since the finish doesn't result in a yellow tint that you would get from an oil-based wood sealer, it maintains the natural appearance of your hardwood floors.
Lasts a long time: High-quality water-based polyurethane can be as durable as an oil-based finish. It resists moisture reasonably well, and it makes the floors easier to maintain. Make sure you invest in high-quality water-based polyurethane so that the finish can last up to a decade.
Is Oil-Based or Water-Based Better for My Hardwood Floors?
There's no right or wrong answer about which polyurethane floor finish is a better option for your home. Oil-based used to last longer, but manufacturers are now developing high-quality water-based hardwood floor sealers that provide the same durability level.
Even though there are many differences between oil-based and water-based wood finishes, here are their similarities:
Contain polyurethane: The active ingredient in both wood finishes is polyurethane, which is effective at coating hardwood surfaces to protect them from scratches and damage due to heat and moisture. This substance increases the quality, appearance and durability of your wood flooring.
Allow you to choose a color: Water-based and oil-based floor finishes each offer several wood finishes for your hardwood floors. If you like the natural color, you can select a transparent finish, but you can also make it darker or lighter based on your design preference.
Require maintenance and care: Even though both finishes are effective at preventing scratches and maintaining the integrity of your hardwood floors, you still have to clean your floors properly to prolong their lifespan. Make a habit of removing grit from hardwood by sweeping or vacuuming

, and apply protective pads under the legs of your heavy furniture. For areas with heavy foot traffic, use colorful area rugs to protect the hardwood and provide a pop of color. For extra protection, trim your pet's nails often and avoid wearing shoes on the floor.
View Our Hardwood Flooring Care Guide
Schedule an Appointment With 50 Floor
At 50 Floor, we offer hardwood floors that can increase your house's value and enhance the visual appeal of your living space. We also have a selection of engineered hardwood flooring that doesn't need refinishing. Schedule a free in-home estimate with our professionals at 50 Floor to bring our flooring samples to your house.