The quality of your flooring matters — it's the part of your home that will be used every single day. One increasingly popular choice is luxury vinyl flooring. Built with planks or tiles that form a thick and floating floor, luxury vinyl provides a realistic and beautiful look. It also comes with tried-and-true benefits to both increase the value of your home and make it more enjoyable while you live there. Learn more about the top five advantages of luxury vinyl flooring.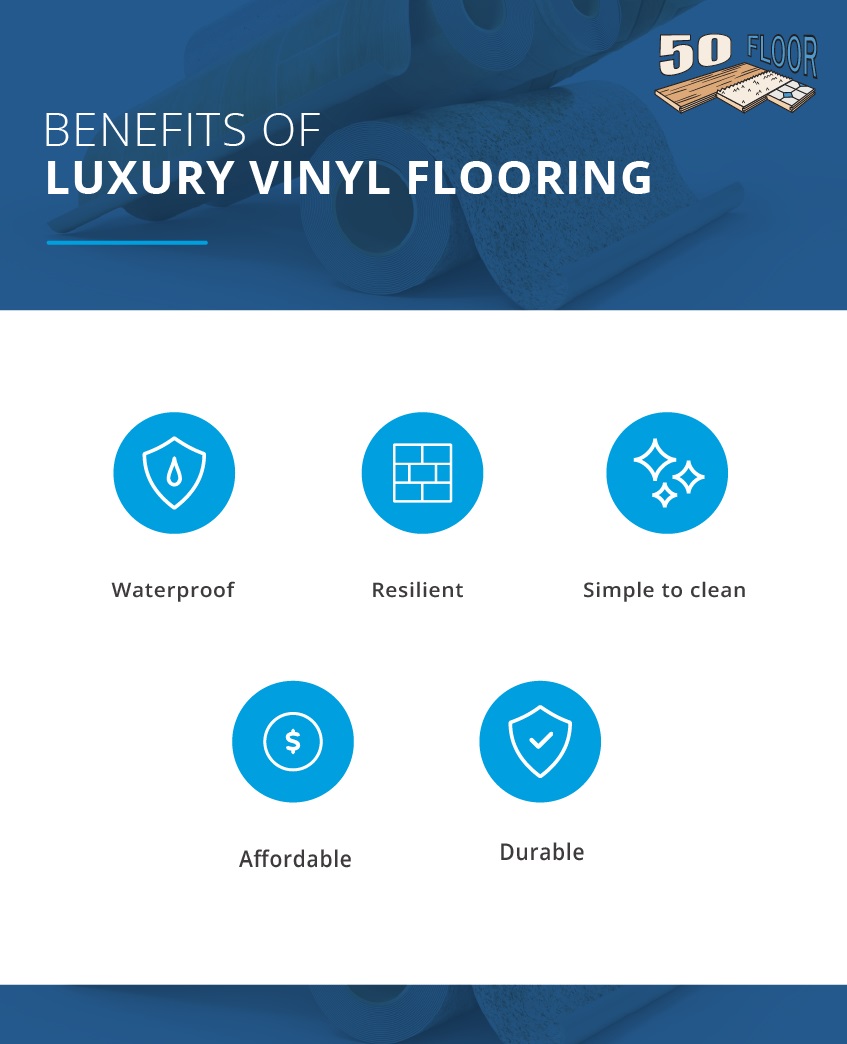 Luxury vinyl plank flooring is a popular flooring choice for the following reasons:
1. Waterproof
When you've got people walking in and out with wet shoes or kids spilling their drinks, it's important to have flooring that can take on its share of water. Luxury vinyl flooring is known for being made with 100% waterproof materials that are able to withstand water immersion and can be dried and reused without damage. This makes it the perfect flooring for bathrooms or damp locations like basements.
2. Resilient
Luxury vinyl flooring provides a tough surface that can handle regular traffic and rough wear and tear. It typically comes with a protective layer that's resistant to scratching, scuffing, chipping or cracking. The combination of durability and low-maintenance care leads to greater resilience.
3. Simple to Clean
No matter how visually pleasing a floor may be, no homeowner wants to spend hours giving it a deep cleaning with elbow grease. Luxury vinyl flooring combines beauty with convenience. It's easy to keep clean, as its waterproof nature ensures you can use a wet mop, and its resilience allows you to give it a good scrub. Normal care just involves a simple sweep and a damp mop, with no special treatment required.
4. Affordable
Despite the word "luxury" in its name, this flooring style is an affordable alternative to many others. It provides excellent value thanks to a long-lasting shelf life. This is particularly true for thicker luxury vinyl flooring that consists of a substantial protective wear layer. This flooring style typically costs less than other popular choices like ceramic tile or hardwood flooring, making it a smart choice for those on a budget.
5. Durable
Luxury vinyl flooring is built to last and able to withstand a high amount of pressure even in an intense environment. It is typically designed to resist heavy wear and tear, fire and moisture, and offers a high level of performance throughout a 25 to 30-year lifespan. For this reason, it's a popular choice for high-traffic areas like kitchens, laundry rooms, bathrooms and throughout the house.
Schedule an In-Home Appointment With 50 Floor
Interested in discovering the perks of luxury vinyl flooring for yourself? 50 Floor offers a shop-at-home experience that brings flooring options right to your doorstep. You can see how this flooring style would look in your own home, giving you an unmatched perspective into whether it's the right choice for you. Our trained flooring experts can offer seasoned advice and answer your questions to help you make an informed decision. Schedule an appointment with 50 Floor today!