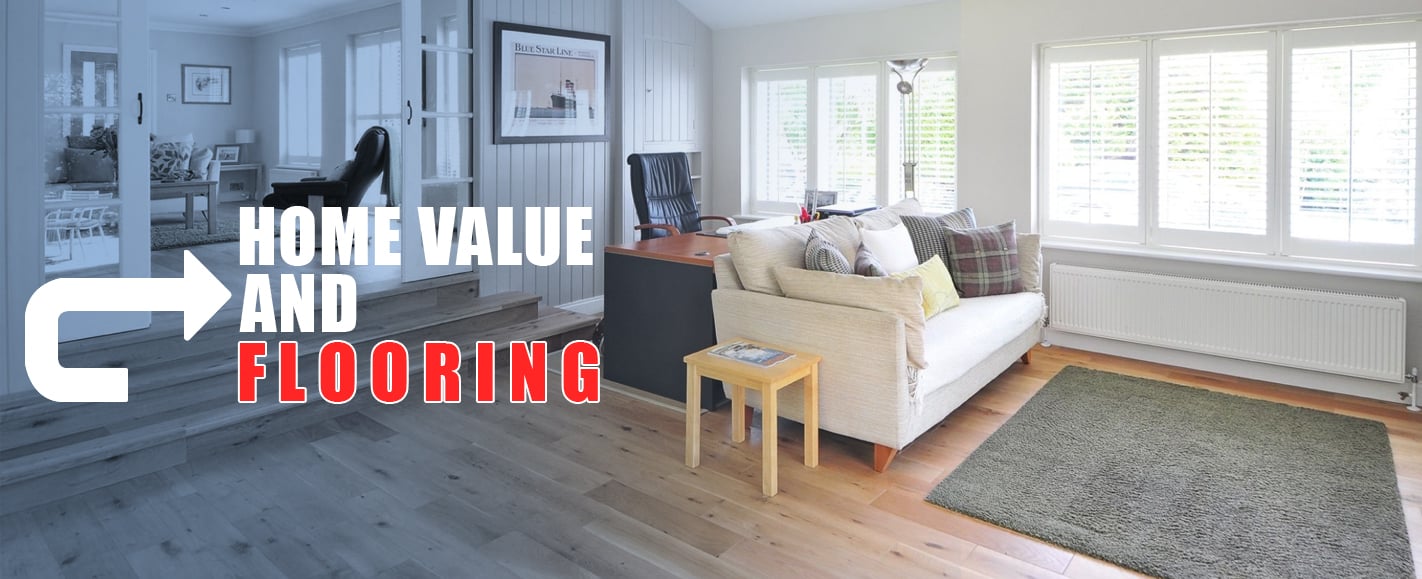 Your home is an investment. And whether you're planning on listing your house for sale within the year or within the decade, it's critical that any alterations or remodeling you complete add to that investment. Though many homeowners wisely invest in kitchen or bathroom remodels that have significant resale value, some homeowners don't realize that a feature of their home with an exceptional return on investment potential is right at their feet. Redesigning the flooring of your home is an excellent way to add value and attract buyers.
50 Floor understands that you want the best flooring to increase your home's resale value. We appreciate how important this investment is to you and your family, which is why we're committed to enhancing your home with high-quality flooring materials at incredibly low prices. Our vast selection of stunning hardwood, laminate, carpet, vinyl and tile flooring options will transform the rooms of your home into inviting spaces that potential homebuyers can see themselves living in. We're here to help you identify which flooring options homebuyers want the most.
What Floors Do Buyers Look For?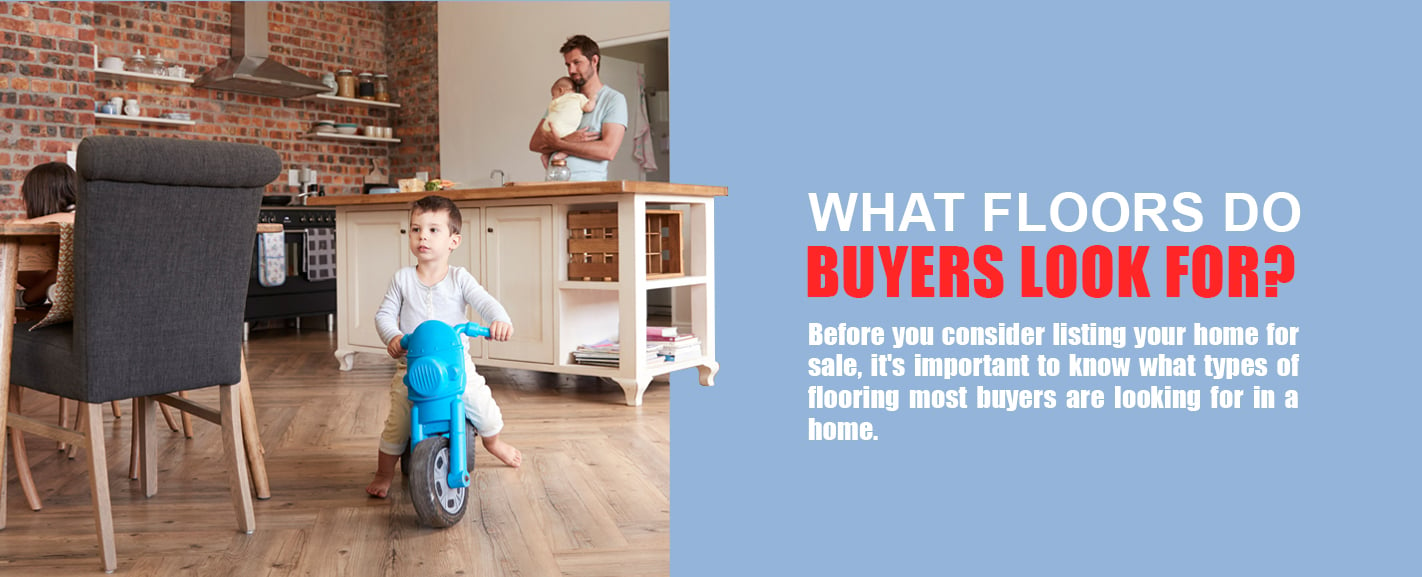 Before you consider listing your home for sale, it's important to know what types of flooring most buyers are looking for in a home. More specifically, buyers may want each individual room in the home to be outfitted with a particular flooring material.
From hardwood and carpet to tile, vinyl and laminate, these diverse flooring materials can make a significant difference in the way a potential buyer views your home. Here are some flooring preferences homebuyers tend to have when viewing each room of a house:
Bedrooms: There are two types of flooring homebuyers will want in their bedrooms. More than half will desire hardwood flooring, while the rest will want carpet. Though both have their advantages in terms of aesthetics and comfort, most homebuyers will not keep existing bedroom carpet and will instead replace it with new carpet or another flooring option.
Kitchens: The kitchen is often the heart of a home, which means it's a critical factor in the decision to purchase a house. Many homebuyers will look for either hardwood flooring or tile flooring for their kitchens. Both have a variety of design options that can dramatically complement the aesthetics of the room. Hardwood is much easier on bare feet, while tile is virtually waterproof, making each extremely beneficial. However, some homeowners may also prefer laminate or vinyl in this space.
Bathrooms: Similar to the kitchen, bathrooms can make or break the decision to purchase a home. While hardwood is stylish in many rooms of the house, tile is the best flooring surface to place in your bathrooms due to its ability to withstand moisture. If the appearance of hardwood flooring is something you can't live without, you can use luxury vinyl flooring as an alternative. Homebuyers will also appreciate the look of vinyl and its ability to withstand water.
Living Areas: Again, the most popular option for living, dining and family areas is hardwood flooring. Hardwood throughout the main living areas of a home can create a stylish and elegant appearance that homebuyers love. It's also a logical choice to have hardwood flooring in areas like the kitchen and entryways, as it will help the entire level of the home flow together beautifully.
Dens: Lower-level areas such as dens may act as rooms for entertaining or relaxation depending on the owner's preference. When remodeling your den to appeal to prospective homebuyers, either hardwood or carpet will suffice. Choose hardwood if the floor is above ground level and has a plywood base, and choose carpet if the den is on a concrete slab.
Basements: Basements are another area of the home that is up for debate. Some homebuyers will want hard surfaces like hardwood or vinyl to protect against moisture, while others will desire carpet to help trap heat and make the area comfortable and cozy. Homeowners should be aware, though, that the basement will typically not give you a large return on investment. If you do plan on remodeling this area, choose an economical flooring option like carpeting, vinyl or laminate.
Entryways: Since this area will see a lot of foot traffic and potential abuse from substances like water, mud, snow or dirty shoes, hardwood or tile flooring is definitely the most logical option. Homebuyers will prefer the entrance way to flow into the other rooms if possible, which means matching the entryway flooring to the rest of the floor is a smart decision.
Steps: Yes, even the flooring of your steps can have a huge impact on the appeal of your home. It seems that most homebuyers will want either hardwood, carpeting or hardwood steps with a carpet runner. Though each buyer will have their own preference, it's always a wise decision to default to hardwood steps, especially if the rooms around the steps also have hardwood flooring.
Which Floors Will Give Your Home the Best Return on Investment?
If you're considering replacing your flooring as you remodel your home, it's important that you choose the type of material that's going to give you the best return on investment. Whether you're getting the home ready to sell this year or you're looking to list the house a little later down the road, it's wise to make remodeling decisions that will have the most positive financial impact for the longer term.
Let's review how five popular flooring options could potentially add value to your home.
Hardwood
Hardwood flooring is perhaps one of the most important features new homebuyers want in their houses. Nearly 90 percent of buyers want this feature. Take one look at a beautiful stretch of hardwood flooring and it's not difficult to see why this is such a popular choice for many rooms of the home.
Existing homeowners and prospective homebuyers prefer hardwood flooring for a variety of reasons. Some of the most significant benefits of hardwood floors include:
Natural Beauty: Hardwood flooring lends a high-quality appearance to any room. The rich coloring and texture of wood flooring create a high-quality look that many homebuyers fall in love with.
Ease of Cleaning: All types of flooring do require responsible maintenance habits and cleaning routines to keep them looking their best for years to come, and hardwood flooring is no different. Any small amounts of dirt or dust that accumulate on the surface can be easily swept, vacuumed or mopped up.
Durability: Hardwood flooring can last for ages with proper maintenance and attention. Harder species of wood will stand up to daily wear and tear. If needed, it can be easily sanded and refinished to remove any scratches that may occur from accidents, furniture edges or pets.
Long-term Investment: Many of the reasons you've chosen hardwood are the same reasons buyers desire it. Hardwood is more than a feature of the home. It's a long-term investment in the house itself.
The beauty, durability and ease of care for hardwood flooring all make it a very attractive option for homebuyers. More than half of buyers are willing to pay more for homes with hardwood flooring, and real estate agents report that hardwood homes sell faster and for a higher price. Homeowners can expect to see up to a 78 percent return on their initial cost for hardwood flooring.
Tile
It's difficult to find a home that doesn't have tile flooring. At the very least, most homes will have tile in areas of heavy moisture, such as bathrooms. Tile flooring is important to homebuyers for both fashion and function — it's available in stylish designs that are extremely durable. Homeowners and homebuyers choose tile flooring for the same reasons:
Style: Tile flooring is available in a diverse range of colors and styles. Tile designs can even mimic hardwood flooring, which offers homeowners the opportunity to have a reliable flooring material that still lends the elegant design features that natural wood possesses.
Durability: A tile floor is virtually waterproof, which makes it one of the top flooring applications for a bathroom. Ceramic tile can also withstand wear and tear, as it is difficult to crack. Combine that with its stain resistance and you've got a tough flooring option that will last for years.
Desirability: Homeowners want tile flooring in their bathrooms and may prefer this flooring option in other rooms of the house such as mudrooms, entryways, kitchens or laundry areas. Tile is perhaps the most desirable flooring option aside from hardwood and is definitely the most practical material for those who desire a beautiful yet durable flooring option for their bathrooms.
Because of its impressive strength and the various designs, colors and patterns available, ceramic or porcelain tile flooring can increase the value of your home. Though hardwood is desirable, some homeowners may need certain areas of their home to have a tough flooring material. For instance, those with large pets may require the durability that tile lends.
Vinyl
Vinyl flooring has evolved over the years and can transform a room in ways that homebuyers may be pleasantly surprised to discover. Today's vinyl is available in both sheet and tile forms, which give homeowners plenty of options when choosing a style. Because a vinyl floor is layered with a soft foam or felt layer, it is much more comfortable to stand on for longer periods of time.
There are three perks that vinyl provides for homebuyers:
Affordability: In the event that the homebuyer wants vinyl but prefers another color, they can easily and affordably replace it. In many cases, a new layer of vinyl can be installed directly over the previous vinyl surface.
Durability: A vinyl floor can last a new homeowner for decades, as they are highly resistant to dirt and water, and won't easily fade, scratch, dent or stain.
Limited Maintenance: Homebuyers want to enjoy their beautiful home, but some may not want to commit to extensive or consistent cleaning routines. Vinyl floors require virtually zero maintenance after installation and may only need to be swept or mopped on occasion.
Although vinyl flooring can mimic the look of wood or tile, it doesn't have the widespread appeal that other flooring materials may offer, which can make its return on investment slightly lower than anticipated. However, that doesn't mean that vinyl cannot add aesthetic value to your home. It is a low-cost and durable alternative to other options, which means the homeowner's investment may be much lower than more expensive materials such as hardwood.
Laminate
Laminate flooring is another great alternative to hardwood or tile flooring that can impress homebuyers. It can even emulate other surfaces, like marble, and offers homeowners a soft flooring surface that is easy on the budget. The vast design potential and decent durability of the laminate are two features homebuyers will appreciate:
Design: Laminate can mimic hardwood and tile flooring in ways homebuyers would be happy to see. This material is even available in textures that display coloring and graining that looks just like ceramic tile or real wood flooring. It can even be manufactured in finished strips, planks or squares that make it difficult to distinguish from tile or hardwood.
Durability: Laminate flooring is very durable, offering homebuyers a material that is highly scratch-resistant and will endure much of the normal wear and tear of daily life. Waterproof laminate flooring is also now available, making it a cost-effective option for homeowners and appealing for homebuyers.
Laminate is an affordable option for flooring that can mimic some of the most beautiful flooring options available at a fraction of a price. It typically will not provide an exceptional return on investment and may not add significant value to the home. However, both homebuyers and homeowners should be realistic when assessing home expectations. Replacing old vinyl flooring with a new layer can affordably enhance the look of a home that may show its age in other costly areas.
Carpet
The soft cushion of a carpeted floor is an attractive feature for some homebuyers. Carpet has a style all its own and can be a fresh and welcoming alternative compared to other rooms in the home that primarily utilize hard surface flooring.
Although the array of carpet colors and patterns available can create aesthetic appeal, the two features that homebuyers may value the most are its feel and insulation properties:
Feel: Carpet does something no other flooring option can do — provide bare feet with the most comfort and support. Carpet simply feels nicer on the feet and is a soft material for young children to play on. It also adds an element of safety in children's rooms and on steps that may be dangerous for those with mobility issues to climb.
Insulation: Carpet will provide a room with insulation, both in temperature and in sound. This material can reduce heat loss, which is great for bedrooms or dens in climates that may face colder seasons. It will also dampen sound, which makes it a great option for limiting noise from second-story rooms.
Unfortunately, carpet tends to offer a low return on investment. Some buyers will prefer other types of flooring surfaces, while others may simply not enjoy the color, feel or age of the current carpet. While replacing an old, worn or damaged carpet with a new carpet will remove one potential detractor from the buyer's eyes, homebuyers could easily decide to replace the new carpet with another flooring option soon after moving in. Carpeting could enhance the look of some rooms, but it won't likely increase the home's value.
Tips on Getting Floors Ready to Sell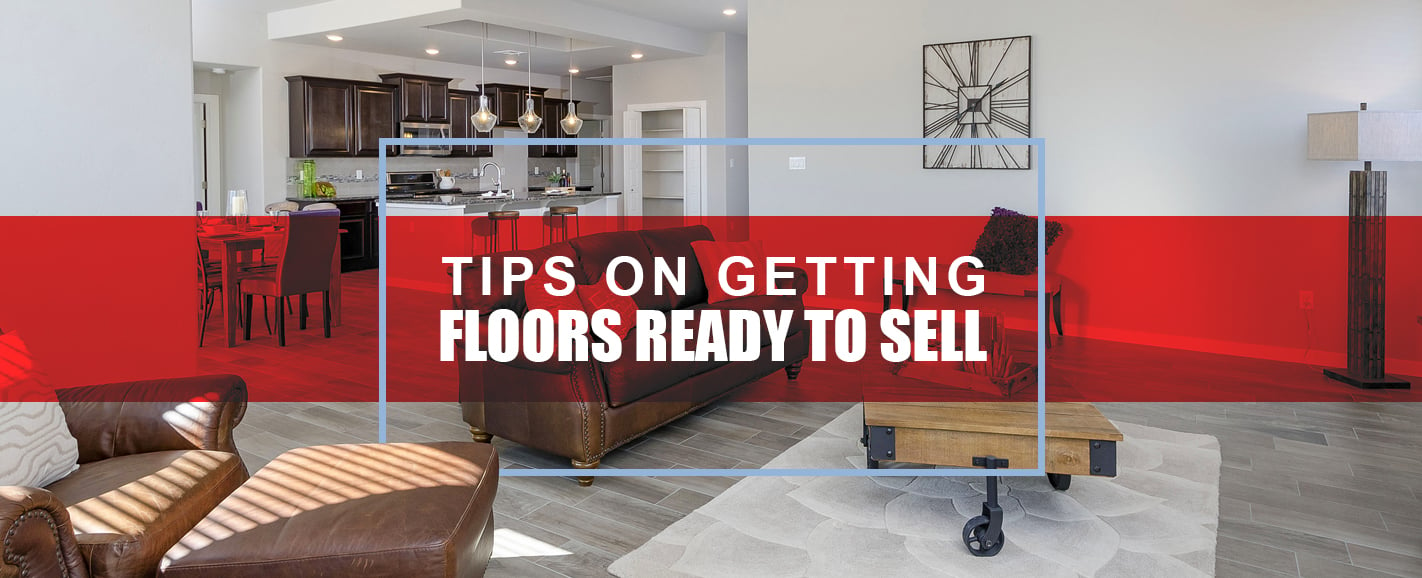 When the time comes to begin showing your home to potential buyers, you want to be sure that all areas of the interior look as presentable as possible.
One of the biggest mistakes sellers make is not getting their homes in the best possible condition. Dirty flooring is a huge turnoff for prospective buyers. Putting in the extra effort to make your flooring as nice as possible can make your home much more appealing. 50 Floor suggests the following tips for getting your floors ready to sell.
Lending Hardwood a Helping Hand
In old and new houses, hardwood flooring can be a gorgeous feature in many rooms. But even wood that's been properly maintained and cared for is sure to show signs of age over the years. You want the hardwood flooring in your home to dazzle and delight new homebuyers the moment they lay their eyes on it.
You may need to refinish or recoat your floors depending on their condition. However, most hardwood floors will clean up beautifully with a good sweep, a thorough mopping, and drying via buffing. Many stains and scratches on the floor can be removed by stripping, sanding and resealing the area, or by using special cleaners that were designed for use on either finished or unfinished flooring.
Tidying Up Tile
With such a long lifespan, tile can be a homebuyer's best flooring friend. Aside from large cracks or chipped tiles that simply need to be replaced, you should be able to keep your tile looking good through a normal cleaning routine of sweeping and mopping. Stronger cleaning solutions or electric scrubbers may help you remove tough stains. Commercial refinishing is also an option to give the floor a great shine and restore its durability.
It's likely that the majority of the distracting dirt and discoloration on your floor will be in the grout. Heavy scrubbing will help you remove these stains, while a sealer will help prevent against water intrusion and keep the grout looking great. A sealant can also be used for the entire floor to bolster its protection and ensure that the tile remains stain-free.
Making Vinyl Stand Out
A vinyl floor can be an attractive and durable feature within a home. Even in a high-traffic area, vinyl flooring will endure wear and tear. This material can be easily cared for by minimizing the chance of foreign objects creating debris, scratches or scuff marks. Dust and dirt can be removed with a vacuum, while a wet sponge can instantly contain spills. You should never use abrasive cleaners or ammonia to clean the floor, but you can use commercial cleaning solutions that were specifically designed for vinyl.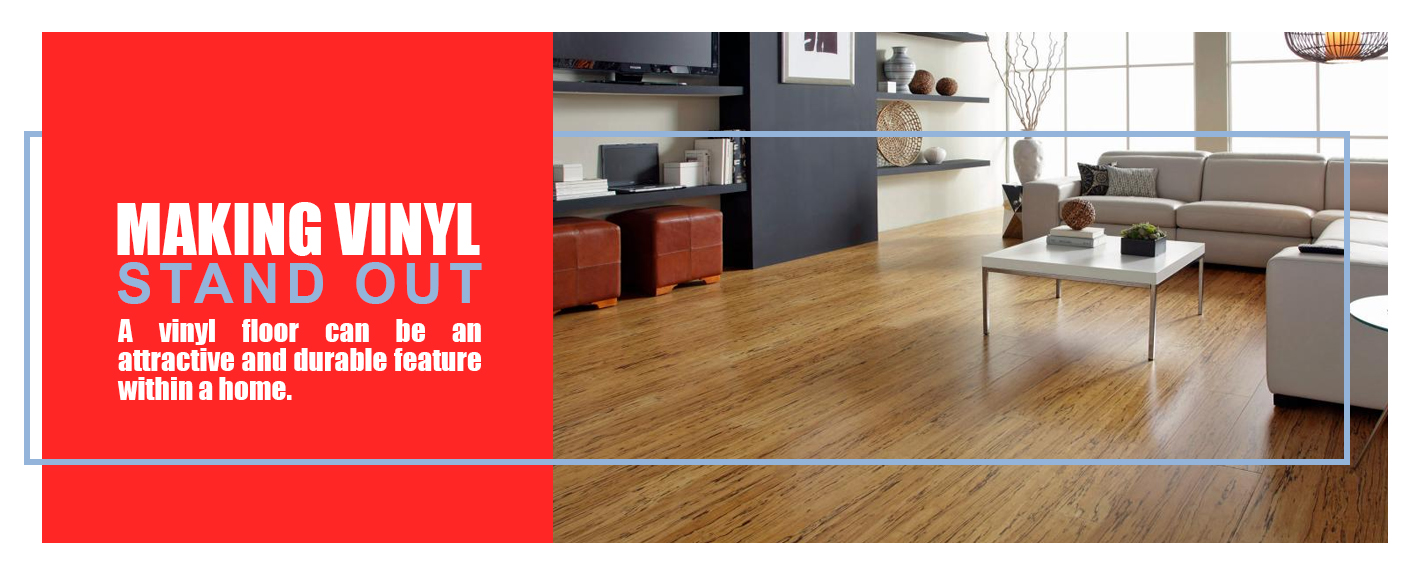 Letting Laminate Shine
Laminate flooring can look as great as hardwood flooring, and regular cleaning can help maintain its amazing appearance. Unlike hardwood floors, laminate can't be refinished, so it's important that you try to prevent as much staining and damage as possible. Wipe up liquids as soon as possible. Use a soft bristle broom when sweeping. Don't mop or use wax or polish on laminate flooring. Instead, use a laminate cleaner if necessary and only apply a small amount to a microfiber cloth.
Clean Up the Carpet
If there's one type of flooring that will scare potential homebuyers away, it's a dirty carpet. Although you may keep your home in great condition, the typical wear and tear of carpet can be enough to detract buyers. Worn fibers, discoloration from staining and unpleasant smells can make your home seem like it wasn't cared for.
However, even if you decide not to replace your old carpet, you can still take measures to make it presentable and inviting for those who view it.
Remove all furniture and run the vacuum cleaner over the entire room. Rent a carpet cleaner from a local hardware store that will shampoo and clean the surface. If some stains or signs of wear still do not improve after a thorough cleaning, consult with your realtor to determine whether replacing the carpet will make the room more presentable for homebuyers.
Exceptional Flooring for Your Home by 50 Floor
When the time comes to sell your home, you want to make it as presentable as possible. Installing new flooring around the house is a great way to potentially add value to the home and meet the needs of homebuyers.
The flooring experts at 50 Floor are ready to help you find the perfect floor for every room. Schedule an appointment and we'll bring samples of our quality flooring right to your home. Enhance your home with quality flooring at incredible prices from 50 Floor today.