Are you in the process of choosing flooring and wondering how to narrow down your options? With so many choices available, it can be tricky to know which pros and cons to weigh and which flooring style is best for your home. 50 Floor has got you covered. Consider the following factors when selecting flooring for your home to help you land on the perfect pick.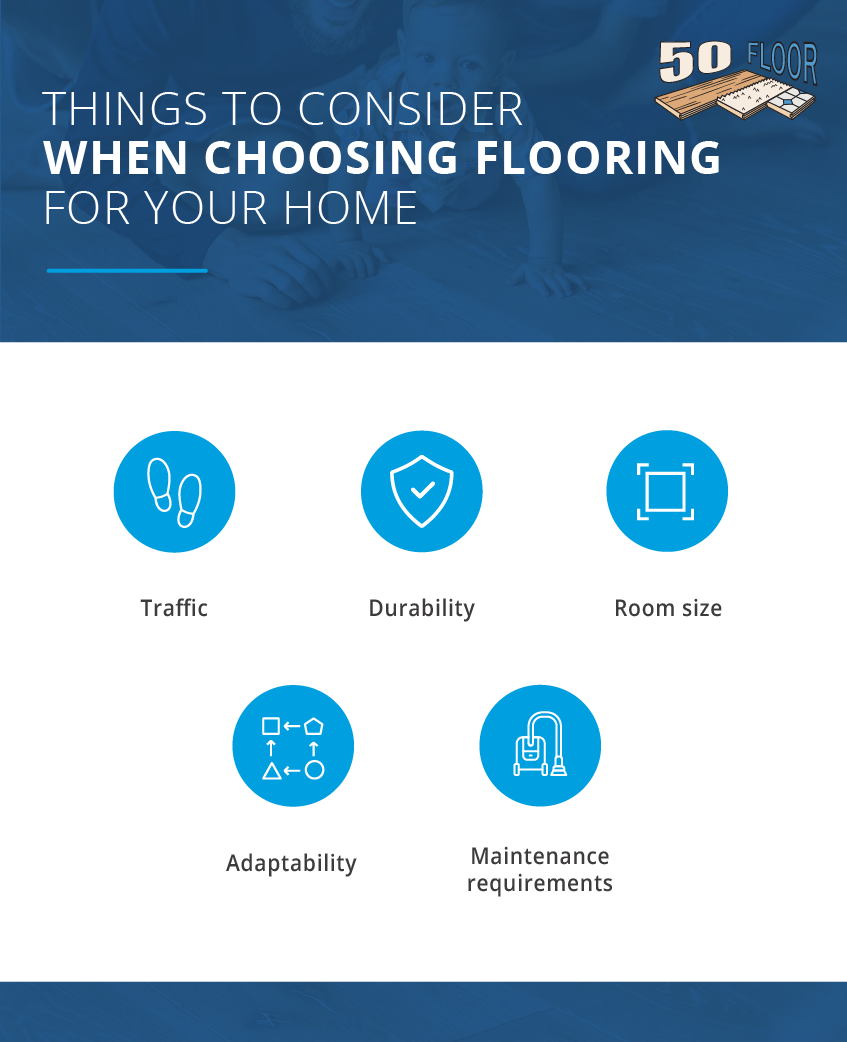 1. Traffic
Some parts of your home will receive more regular use than others. For example, bathrooms, kitchens and living rooms will likely experience a high amount of traffic, compared to rooms like the laundry room, offices or spare bedrooms. The more foot traffic your flooring receives, the more durability and versatility you'll need. In addition, high-traffic floors will need a significant amount of cleaning, so consider how easy it will be to care for your flooring type.
2. Durability
Flooring is an investment, and one that often pays for itself with improved home value and ease of living. Think about the lasting shelf life of your flooring choice. Luxury vinyl tile, laminate and vinyl flooring are known to be long-lasting options that provide the visual benefits of wood flooring with much higher durability.
If you have pets or children, consider the durability needed to handle extra scuffing and damage. Finally, you'll want to make sure certain rooms of your house have the toughest materials. Flooring for bathrooms and kitchens should be water-resistant as they'll have to handle regular spills and moisture.
3. Room Size
The size and level of your room will also come into play as you choose flooring. Larger rooms will require a higher amount of upkeep, particularly if they contain big pieces of furniture. You'll want to consider a low-maintenance flooring option, like luxury vinyl or laminate. In a smaller room, you may want to opt for lighter colors — like a neutral carpet or a light-colored wood — to make the room feel airier.
Bear in mind that flooring on higher levels can flex as it ages, which may not bode well for certain tiles or stone. Hardwood is not recommended as a basement flooring.
4. Adaptability
Not sure exactly how you're going to decorate your home? Choose a flooring style that allows for easy changes in the future. Whether it can handle stains, be easily refinished or even be painted, look for versatile options. You'll also want to consider that your life and home may look very different in five or ten years. Whether it's a new child, an energetic puppy or a wildly different interior design style, adaptability will help your flooring change as your life does.
5. Maintenance Requirements
Think about the amount of time and effort you're willing to put into maintaining your flooring. Each style of flooring will need a certain amount of polishing, sealing, refinishing, vacuuming or deep scrubbing. If you expect to be tight on time and want low-maintenance, easy-to-clean flooring, keep this in mind before committing.
Bring the Showroom to Your Home With 50 Floor
Not sure which flooring style is the best fit for your home? Let 50 Floor help. We can bring our seasoned eye and flooring samples right to your home to give you a realistic idea of how each style will look. If you're still debating what to consider when choosing flooring, 50 Floor can give you a glimpse into the finished product in real-time. Reach out to our team to schedule an appointment today!